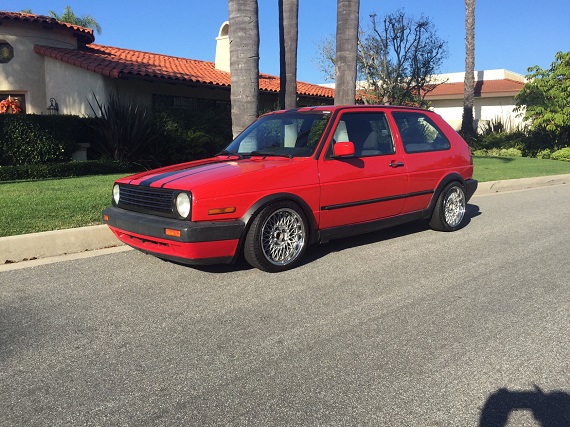 It's hard to say which is more popular – S50/52 swaps into E30s or VR6s into everything Volkswagen. But there's a reason they're so popular; they're relatively cheap and they work. Can you achieve VR-power levels in a 9A 16V? Sure. Will it cost you and be a pretty compromised road motor? Yes, so suddenly the appeal of the ubiquitous VR-swap makes a bunch of sense. The results here turn what was a butch looking but relatively slow 8 valve GTI into a performance machine. That's helped by a dose of performance parts including a trick Schrick intake, but it's the supercharger that will really motivate you here. With over 100% more power the ride should be exhilarating!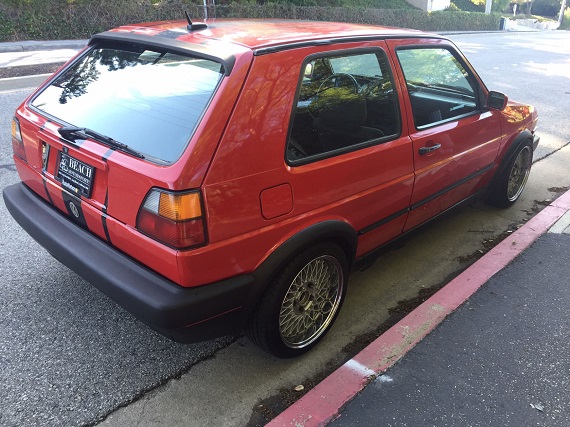 Year: 1992
Model: GTI
Engine: 2.8 liter supercharged narrow-angle VR6
Transmission: 5-speed manual
Mileage: 129,777 (TMU) mi
Price: $8,000 Buy It Now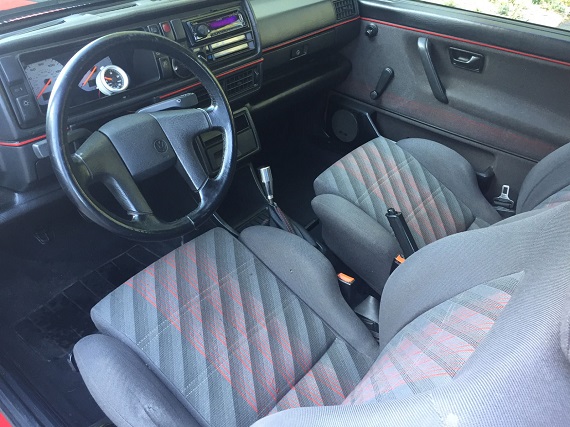 Clean 1992 VW GTI VR6 SUPERCHARGED! VERY POWERFUL!

PLEASE SEE VIDEOS OF CAR: note ebay does not allow me to add a link so please go to youtube and with video ID. or type in 1992 MK2 gti supercharged

walk around video:
youtube Search video ID: PN9hnFyYro4

Take Off video from stop (1st through 3rd)
youtube Search video ID: uwHi_pwQGII

Engine Bay at idle:
youtube search video ID: TcX8LXIshwE

Original Top gear GTI video:
Search youtube: 7sxN5GV8ywY

Selling a 1992 GTI: this car has been heavily modified via a Vr6 ob2 with Vortech v9 supercharger, Schrick built vr6 Intake and Cam,Giac tune and MUCH MUCH MORE! This car is not perfect it ,however it is a very clean example of a STREET LEGAL RACE CAR and much cleaner than most MK2 you are going to see. At some point it appears title was rebuilt however I have the arkansas title to the car in previous owners name which appears to be clear.That being said Im making sure its listed as rebuilt though it likely is clean. All and all it will need a few things sorted im sure however the major stuff has been done, its solid on the road and the car is an absolute blast to drive!

I had been searching for clean stock MK2 when I found this car and bought it, I drove it and had to have it…absolutely the most powerful MK2 I have been in. That being said its just a little too powerful for me and I have recently purchased a older bone stock 84 audi 4000s quattro and thus have decided to let the MK2 go for storage reasons. I WILL MISS THIS CAR!

Im not sure if its the close ratio gear box or just the huge smile on my face every time I drive it, but this car feels like every bit of 300hp!

Exterior: Car looks great for a 92 vw sitting on the Ewing 16″ wheels and Coilovers. I have not seen any major rust on this car. It comes with a Gti red paint job complete with multi black stripes.She has minor dings and blemishes around and some clear coat peel on roof however all and all I would say the car looks good and much better than most that I see. not perfect but very presentable in my opinion. see pics for further details as I feel pictures tell the story best.

Interior: The inside of this car is very complete and well kept for a 92′ though it will need a headliner, however overall its in great shape including the seats and almost all the little interior bits and pieces are intact which is very rare for an MK2(speaker grills,Buttons,trim, Door panel,handles ect..99% of the stuff is there and in great shape). Most importantly, It has a clean smoke free cabin, WORKING SUNROOF, working Mk3 Dash Cluster showing 129K (exempt) w/Engine light on which should be expected due to all the performance upgrades, Nice complete dash with a few expected cracks but looks great! Upgrades include Kenwood CD w/ipod connect and New Kenwood 6×9, Corrado steering wheel, Cluster mounted boost gauge, Innovate Motorsport Air Fuel gauge (digital), New GTI red stick shift boot cover in leather, and stainless shift knob. I would rate this interior way above average!

Driving:Car runs and drives quite smooth. Engine is smooth on a morning start,runs strong and produces incredible power. The 5 speed shifts very smooth and the clutch in strong and easy to drive. Brakes are smooth,steering is tight and very responsive and the car handles corners with ease due to the strut bars,new tires on 16″wheels along with Raceland coilovers. Car drives great and is rather comfortable for a car on coil overs and could be driven daily!

Performance: This car is a BEAST! (once again) Im not sure if its the close ratio gear box or just the huge smile on my face every time I drive it, but this car feels like every bit of 300hp and then some!
THE NOISE THIS CAR MAKES VIA the BUILT VR6 and VORTECH V9 SUPERCHARGER ARE ABSOLUTELY INTOXICATING! Please see videos for more!

walk around video:
youtube Search video ID: PN9hnFyYro4

Take Off video from stop (1st through 3rd)
youtube Search video ID: uwHi_pwQGII

Engine Bay at idle:
youtube search video ID: TcX8LXIshwE

Here is the list of improvement as stated by previous owner:

vr6 12v Obd2
Vortech V9 Supercharger
Rebuilt Head
Shrick Intake
Shrick cam
Shrick Valve springs
Giac Tune
Boost Gauge on cluster
Innovate Motorsport Air/Fuel (Digital)
APR Head Studs
Newer Chains,/Guides
Walbor 255 Fuel Pump with new lines
Raceland Ultimo Coilover
Strut Bars/crossbrace
BFI motormounts
2.5 Magnaflow Exhaust and Header(no cat conv)
Temp sensor relocated to intake
Ford Coil pack conversion
New clutch
New Manual Steering rack
Relocated battery to trunk
Modified Hood to fit Schrick intake
Modified Engine bay to fit Vortech v9
Heater/AC removed
MK3 dash cluster installed
External oil cooler with mocal thermo adapter
Work Ewings 16×7 w/5×112 adapters
New Tires All the way around

THIS LIST IS MUCH LONGER HOWEVER THIS IS WHAT I CAN REMEMBER! THIS CAR IS A BEAST MK2 AND PULLS VERY STRONG. STREET LEGAL RACE CAR! THE PARTS ALONE EXCEED THE ASKING PRICE!

PLEASE ASK ANY QUESTIONS AND I WILL DO MY BEST TO ANSWER!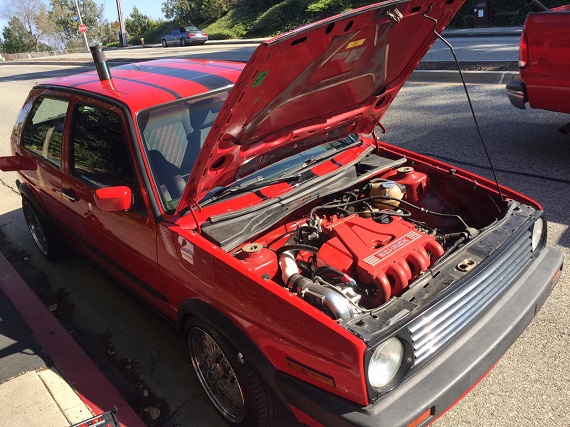 This car suffers from some typical VW faults; a rebuilt title (maybe?) with total mileage undisclosed, some dings and dents, missing a headliner, and a set of wheels that don't look like they fit. It'll be a tough drive, too – it has no heater or air conditioning and a manual steering rack. It's also not clear that the Raceland Coilovers, which have mixed reviews online, are up to the task of driving this minuscule missile, or if the other running gear – especially the brakes – has been upgraded.
What you do have, though, is what appears to be generally a clean Mk.2 shell with GTI bits. There are more GTI bits inside and that interior looks very nice. Those things are coupled with what should be one screamer of an engine in the Schrick/Vortech modded VR6. I'd have to agree with the conclusion of the seller that the parts may be worth the asking price alone. Will you need to sort things? Undoubtedly, but then it's hard to conceive of a package for this asking price with the same performance.
-Carter