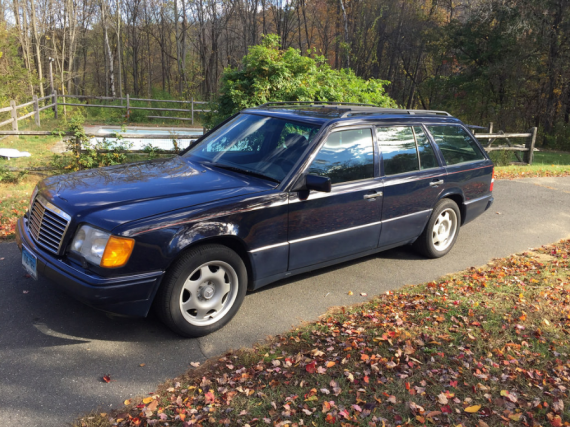 I really enjoy a well done engine swap. Three months ago I featured a W113 Pagoda with a M104 3.2 inline-6 swap. Today's car is another M104 swap but with a little more displacement and a lot more AMG. What started out as a nice W124 E320 wagon was transformed to a hybrid C36/500E/E320 borrowing various parts from both cars. It's a unique build that I haven't seen and sure is an improvement over what Mercedes offered from the factory. So let's take a closer look at this uber W124 wagon for sale in Connecticut.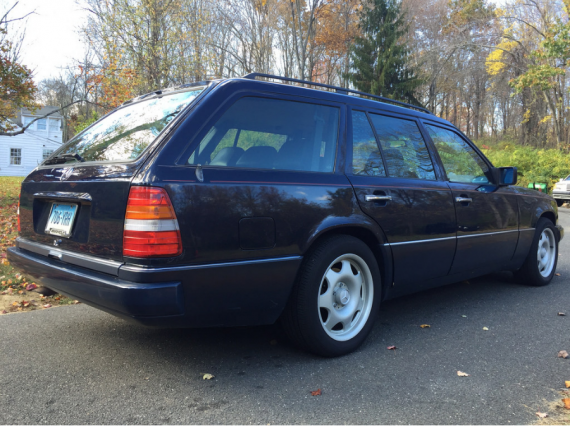 Year: 1995
Model:Â E320 Wagon
Engine: 3.6 liter inline-6
Transmission: 4-speed automatic
Mileage: 202,956Â mi
Price: $10,000 Buy It Now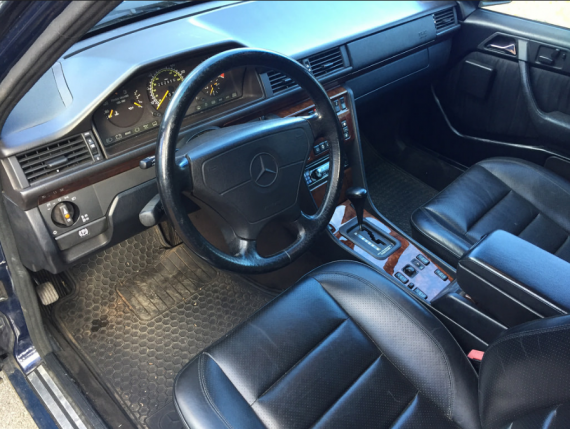 The basics: 1995 E320 wagon with C36 AMG engine swap. 202,000 miles on the chassis, midnight blue over black, ASR, heated seats, replacement wiring harness & throttle body, Cold AC, rebuilt and upgraded suspension all around, fresh brakes all around.

The wagon has much of the appeal of the 500e, but has the extra utility of a wagon. Regular body w124 cars spare body parts are far less pricey and much more common than a 500e. The midnight blue paint is original and has normal wear expected from a 21 year old driver quality car. I have a porter cable buffer and have used it to the best of my ability on the paint. The black interior looks outstanding with the burl wood trim, 500e heated front seats, and 500e steering wheel. All of the leather has been treated with leatherique.

The car's exhaust is not running any cats at the moment, but will come with an extra set of factory catted pipes. It has a current CT emissions and has never had any issue passing. I have replaced the heavy Mercedes factory resonator for a more performance oriented piece. The exhaust has slightly more sound than stock, but it is still pretty quiet. The top end is noticeably improved with this set up. The non cat 3.2 m104 was good for around 20 hp more than the catted USA version so the engine should be putting out close to 300 horse power as is.

The suspension on the car is on point and the ride quality is superb. The self leveling system works 100%. In my opinion, the car drives best on the light weight CLK wheels. Everything on the front and rear suspension is new and has been upgraded to 500e or Mercedes sportline spec. The car handles like a much smaller car and stays planted during any sort of spirited driving.

The car has the stock 2.65 gearing so it takes a good stab of the gas pedal to get it moving. The 3.6 engine comes life above 3500 rpm and has a very strong top end compared to a 500e. The engine is reminiscent of a 190e 16v. It is possible to mate this engine to a manual transmission. I have a line on a 3.06 ASR differential which would really transform the car off the line.

Many, many hours have (and $) been spent bringing the car up to where it is at now. I have a giant stack of receipts for all the work that I have done and by the previous owner. It has taken the better part of five years to get to where it is now. I wouldn't have been able to do any of this without the help out w124 guru David Hendy who's eBay store is Blitzen Motorsports.

The car does not have any mechanical needs and just needs a new owner. I am confident that the first person that drives this car will buy it. These cars have a very special feel that exudes quality and this one delivers that feeling in spades.

Below is a list of maintenance and upgrades done on the car since I have owned it.

1st engine swap:
3.6 engine with approximately 120k
Tie rods
Steering damper
Center link
Shock mounts
Neutral safety switch
Shifter bushings
Motor mounts
Trans mount
Flex disks
Coolant hoses
Drive belt
ECU tune by Speedtuning USA in MD

Done after 1st swap:
Fuel injectors professionally cleaned
Coolant temp sensor
500e steering wheel
500e front seats
Coil packs, plugs, and wires
K&n air filter
Trans cooler line replacement
Mercedes rebuilt throttle
SLS fluid change and filter
Hood and hatch swapped for used ones
Black interior color change

Suspension rebuild:
500e front and rear sway bars and bushings
Front bilstein sports
Sportline subframe bushings
Adjustable camber arms for rear
500e springs
Firm sportline control arms
Differential bushings and diff fluid change
Rear links
Rear wheel bearings both sides
e-brake shoes
Fuel filter and fuel line
Front and rear brake rotors and pads
Sportline alignment

2nd time engine out:
Transmission swap- a lot of seals and easy parts were replaced
Valve cover gasket
AC drier, condenser, and compressor
Oil pan gasket
EGR pipe clean and egr valve swap
Replaced intake manifold along with new gaskets
Oil pressure sender
Powder coated valve cover
Cooling fans
Radiator
Hood pad
2007 Delphi wiring harness
Speedo cable
Headlight and headlight wiper swap
Cabin air filter
Grease wiper motor arm
Spark plugs
AC refrigerant refill
CLK lightweight wheels with 205/55/16 tires
SLS lever arm
Belt tensioner and pulley
Air pump swap
Convert interior to Burl wood from Zebrano
Repack front wheel bearings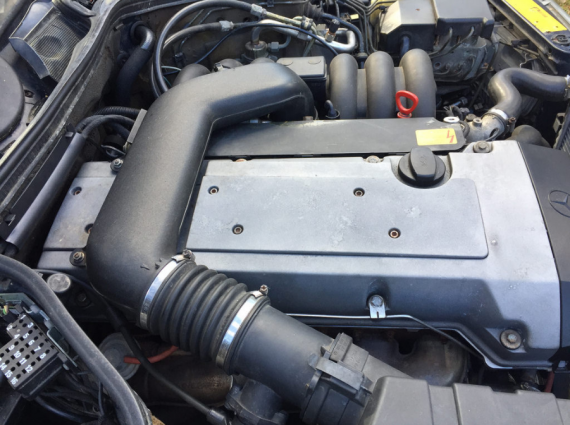 Taking a look at the long list of modifications and changes in this wagon, you can see this wasn't a quick weekend swap. Everything looks well planned out and I'm having a tough time spotting anything that doesn't look OEM. The 3.6 litre M104 from AMG isn't the biggest power marker in the world, but 275-ish horsepower is enough for this car. Inside the car, the interior was completely swapped out from the original caramel colored leather to 500E seats and steering wheel.
It's really tough to put a value on cars like this. The sum of all the parts replaced and swapped in probably exceeds the $10,000 price tag for this car. The body having over 200,000 mils on it with some iffy paint on the hood as well as some rust starting to bubble on the front fender isn't ideal, but that can be fixed without much issue. The key here is that all this work looks like Mercedes did it themselves and there are no outstanding issues that you need to button up. If you love the W124 wagon, which a lot of people do, then I could see someone justifying the $10,000 it would take to buy this car.
– Andrew