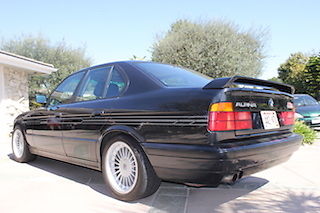 Alpina has always struck me as one of the most thorough tuners in the world. Their research and development of engines, suspension and exhaust is second only to perhaps Ruf and AMG, thanks largely to their close associations with the factory. Inside the fit and finish of the cars is perhaps even better than they came originally; beautiful details that make the cars stand apart. And visually Alpinas have always been the best looking BMWs out there in my opinion; subtle aerodynamic tweaks, beautiful wheels and striking but tasteful "go faster" stripes that distinguish Munich's best. But even amongst Alpinas there are special models, and the E34 B10 BiTurbo is one of them. Alpina took a normal 535i and made it's own interpretation of what the M5 could be; instead of a high-revving twin cam S38, you got two turbochargers with enough torque to embarrass those boys from Affalterbach. Alpina achieved this through a full custom build; Mahle pistons, custom oil sprayers to cool the them, stronger connecting rods, sodium-filled valves and bespoke intake and exhaust systems – but then, Alpina's never been shy about producing it's own items. While all Alpinas are rare, the B10 BiTurbo was fairly popular; of the 1600-odd E34s Alpina built, a full 507 of them were B10s. There are quite a few kicking around Canada, but not many are in the U.S., making this 1993 example quite rare: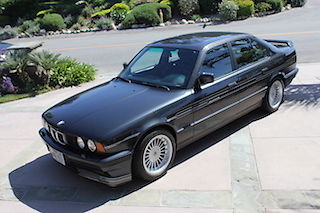 Year: 1993
Model: B10 Biturbo
Engine: 3.5 liter twin-turbocharged inline-6
Transmission: 5-speed manual
Mileage: 100,000 mi
Price: Reserve Auction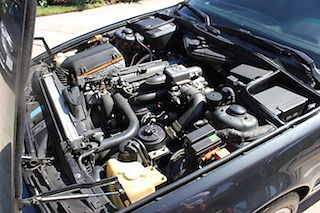 1993 Alpina was never sold as an American model car. Was originally sold in Europe an exported as a used car to the USA. Unique vehicle and might be the only one in the USA. Car has been federalized and is registered in Wisconsin though it is stored and maintained in California.
The B10 Bi-Turbo is officially rated at 360 HP (DIN) and 384 lb-ft of torque at 4000 rpm. Getrag 290 / 5 speed manual transmission. Adjustable turbo boost to maximum power.

Q: Can you give me the VIN of the car . what have been done to it during the years, what is not working and needs to be fixed. are you okay with an independent inspector inspecting the car like Lemon Squad. May-18-15
A: Thank you. The VIN is on the form but not in the prescribed place. It is WAPBATL001B750362 Shocks were changed as was the clutch. Fly wheel was resurfaced. You can call Joe at the M Shop about the car. His number is 323.257.5773 the Alpina was serviced by his shop earlier this year. He is in Los Angeles. The car does not need any work. Ask Joe about the noise from the differential at low speed turns while under power. Does not happen at normal speeds. YOu can have someone inspect the car.
Q: Hi. Have you tried to register this car in California? May-17-15
A: The car was registered in California at one time. The plate was 5XOD141. I have a photo of the car that was published in a magazine that told the story of the car. I have the magazine. I attempted to register the car in California and was unsuccessful. I went to a referee but decided not to proceed since it was registered in Wisconsin where my son lives. Very complicated. What I did not do was give the DMV the old plate number.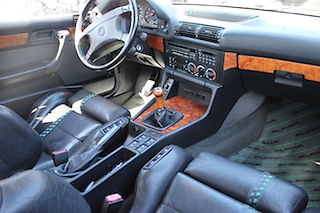 Usually with these tuner cars, the original factory examples are arguably more valuable than the modified examples. But in the case of Alpina, AMG and Ruf, the tuned examples tend to bring greater value. Looking at the horsepower figures, one could easily argue that the much more easily attainable M5 would be a simple solution if you wanted a fast E34. But the Alpina churns out a full 50 horsepower more than the standard U.S. spec M5, but that's not the headline grabber. The BiTurbo's trump card is the torque – a full 120 lb.ft more than the standard M5. That's like having an extra M42 stuffed in the trunk pushing you, but without the extra weight. All of this, uncharacteristically for modern Alpinas, was mated to a manual transmission, making this a real M5 beater.
What's a bit surprising about this listing is the lack of detail and detailed photos; for such a rare car, usually we see a thorough description and many good pictures. There are no real closeups of the condition, and I included the questions asked by eBay members since they were relevant to the listing. The description of the car's registration process is particularly interesting and perhaps a bit concerning. Still, this is one seriously desirable E34 and appears to be all original. For a potential future collectable, any of these Alpinas in original spec would be a good option – but a BiTurbo is one of those really special ones that will get everyone talking.
Thanks to our reader Craig who also spotted this E34!
-Carter