Almost exactly a month ago, I took a look at "The One" – the single yellow Alpina B12 5.7 produced. With little information and a staggering price, it was hard to conceptualize how it would reasonably trade hands. But if that was the package you exactly desired, that was about as good as it got. Alpina produced only 57 of the 5.7 Coupes, after all. About half of those produced were opted with an early form of semi-automatic transmission. Dubbed the "Shift-Tronic", Alpina offered this electronically controlled clutch as an option only of the 5.7 models, and a reported 32 were so equipped. Though not so wildly optioned with color, today's 5.7 is claimed to be number 30 of the run: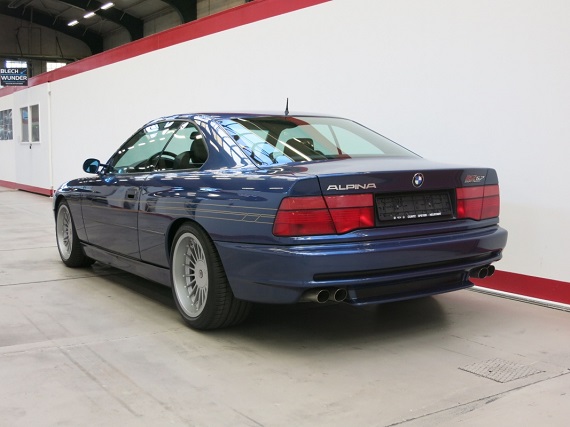 Year: 1994
Model: B12 5.7 Coupe
Engine: 5.7 liter V12
Transmission: 6-speed Shift-Tronic automatic
Mileage: 132,110 km (82,084 mi)
Price: $105,000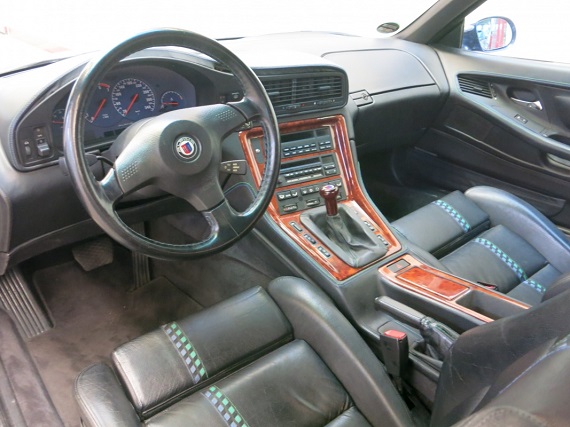 One of the rarest and most exclusive cars!

Alpina B12 5.7 Coupé

Only 57 B12 5.7 Coupes were built – 32 of them as Shift Tronic. This vehicle is the number 30th

The B12 5.7 Coupé is one of the fastest cars, which was of Alpina ever built. The sporty 12-cylinder coupe with Formula 1 technology is reputed to be the first German series production at a rate of more than 300 km / h.

Alpina introduced after launch of the BMW 850 CSi enlarged to 5646 cc B12 5.7 Coupé before. The already optimized by BMW Motorsport engine power increased by Alpina engine and gearbox modifications to 306 KW (416 hp) and max. Torque of 570 Nm. It reached a top speed of over 300 km / h. In the Shift-Tronic available as an alternative in addition to the six-speed manual clutch pedal accounted for. This was the forerunner of the SMG. When changing gear, the clutch is operated automatically with the shift lever.
The hood is made of carbon with additional cooling of the engine. There were wider Alpina wheels mounted and optimized aerodynamics. The interior is made in full grain leather with the typical green-blue stitching.

The car was in third-hand since of 2005. Before that it was logged six years and stored properly. It is full service history and has just got a new Service and rear wheel bearing.

The car is in original condition without modifications.

A rare opportunity to acquire such an exclusive vehicle.

Financing from 3.9% possible!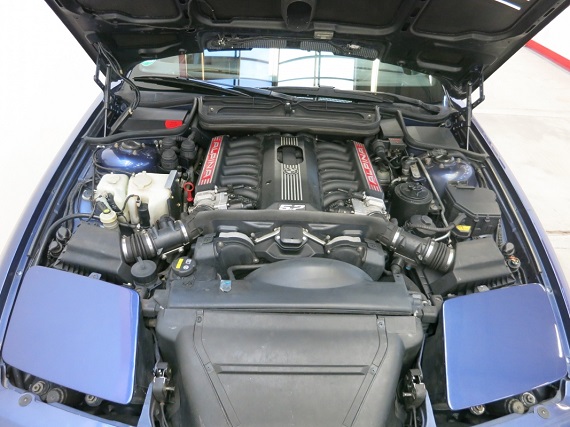 Compared to the yellow car, I'm not sure that downstream of new many would be excited by the Shift-Tronic system on an expensive car like this. It's gimicky, I suppose, and for the playboy who wants to claim he has everything, it might be a selling point. The exclusivity of the car in general is the big draw, though, and the looks are perfect when coupled with classic Alpina Blue. There do not seem to be any condition issues to speak of, and the car is well presented. Without the wild color and lower miles of the previous example, you get a substantially lessened price. The ask of $105,000 is still gargantuan by some measures in the E31 world, but with a few CSis trading north of $50,000 it doesn't seem all that outrageous to me – at least, on paper. For most, ownership of such a car will remain as much of a dream as the look this car pulls off.
Thanks to our reader John for a great spot!
-Carter