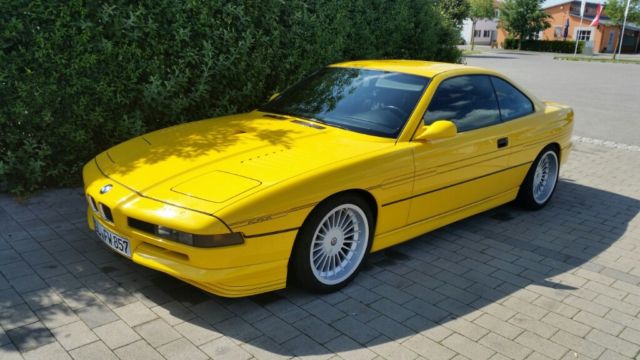 Bold. It's a word not often associated with Alpina. In fact, if anything traditionally Alpinas have been anything but bold. Tasteful, certainly, but they seem to almost blend into the BMW lineup as if they were originally part of it. Indeed, today they are – offered through your local BMW dealership almost as a factory option like floor mats, you can get a monster Alpina tuned version of your car. But if bold is loosely defined as being striking or vivid, few Alpinas would really capture the attention of the general public as anything more than a normal production BMW. But the design of the E31 was bold with the wedge shape redefining production series BMWs. And this particular version of the E31 – the Alpina B12 5.7 – is pretty striking too, with giant wheels filling out the design nicely. The drivetrain of the B12 5.7 was pretty bold too, with a over 400 horsepower from a naturally aspirated V12. But it's this singular example of the B12 that is perhaps the most bold. Painted Giallo, it's arguably the most eye catching color to coat a E31, yet somehow suits it well with the black striping. Bold also is the strategy of trying to sell the car with only one photo and no description outside of a telephone number and some very basic details of the car. But perhaps the most bold thing about this E31 is the asking price, which despite the 90,000 miles on the clock is advertised at a stunning $221,000: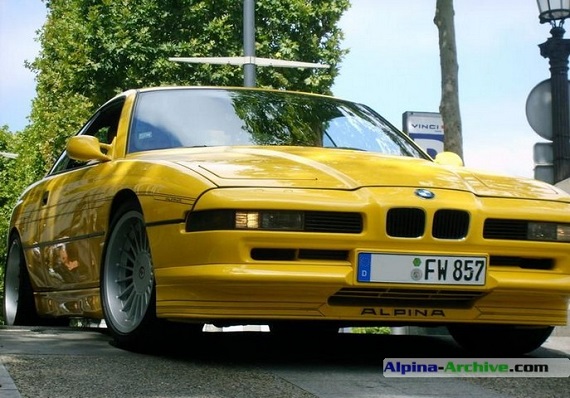 Year: 1995
Model: B12 5.7 Coupe
Engine: 5.7 liter V12
Transmission: 6-speed manual (I hope)
Mileage: 146,000 km (90,720 mi)
Price: E. 200,000 ($221,294)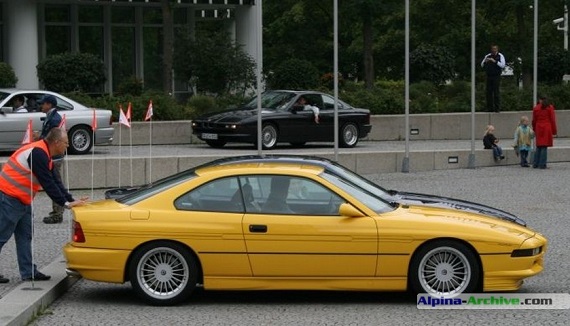 51399 Burscheid, Deutschland

Tel.: +49 (0)172 2932356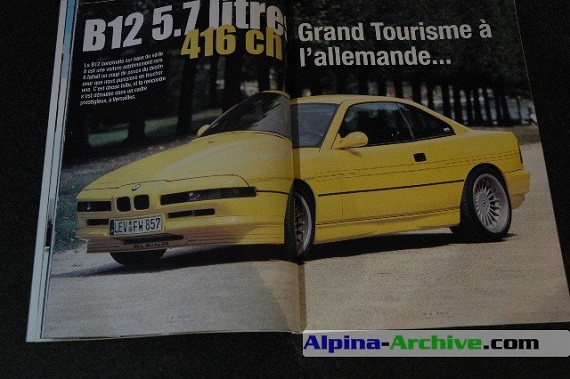 Thanks to some research on the Alpina Archives I was able to track this one down as the only yellow example. Number 19 is listed as Giallo with black Alpina decore and anthracite leather. Indeed, the photos I've provided outside of the first are from the Archive pages, as only one photo was included in the original listing. Underneath, the B12 5.7 is the ultimate 850CSi – in typical fashion, it received the normal boost in displacement, custom cams, intake and exhaust with a net result of 416 horsepower and 570 lb.ft of torque. That was supercar numbers, but such was the platform of the Motorsport developed 850CSi that Alpina opted to not change most of the suspension or brakes – unusual for them. The heavy 8 hustled to 60 in around 5.8 seconds and was reportedly capable of at least 190 mph. Now, does all of that equate to a $220,000 car today? In terms of exclusivity, if you thought the 850CSi was rare there were only 57 5.7s produced – clever. But I think this seller is going to have a hard go of it trying to shift this B12 with no information, one photo, higher miles for an exotic and such a high ask.
Thanks to our reader John for the great spot!
-Carter