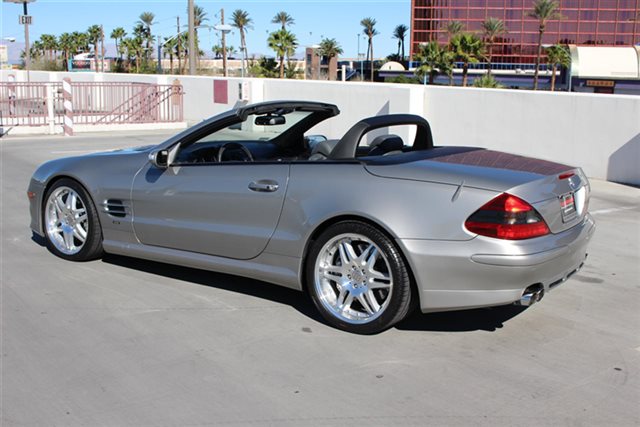 I don't think many people would consider Brabus to be a particularly conservative tuner. However, something interesting has occurred since AMG was brought in-house by Mercedes-Benz; Brabus has rather turned into what AMG was in the 1980s. Just like AMG used to offer, Brabus turns up the Benz models to the next level with power increases, suspension and brake modifications and plenty of special details to help set their cars apart. And while at times they may have been garish compared to some of the more sedate AMG cars were, they've even become attractive – with just enough flare to make their modifications stand apart without being outrageous. Of course, there's one major difference; AMG started with stock Mercedes-Benz models, while Brabus is standing on the shoulders of the already turned-up AMG models. The result is supercar performance from an unexpected package, such as this R230 SL55 K8: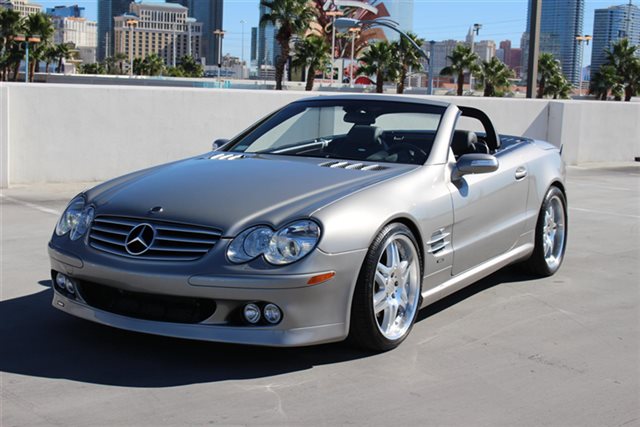 Year: 2004
Model: SL55 AMG Brabus K8
Engine: 5.4 liter supercharged V8
Transmission: 7-speed automatic
Mileage: 11,417 mi
Price: $79,998 Buy It Now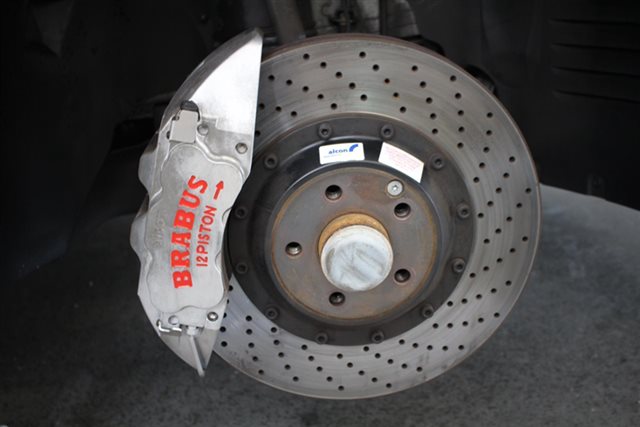 2004 MERCEDES-BENZ

BRABUS K8 SL55 AMG!

OVER $200,000.00 INVESTED REAL DEAL BRABUS K8!

AMAZING CONDITION + HISTORY + BRABUS UPGRADES!!!

OVER $80,000.00 INVESTED AT BRABUS PLUS THE PRICE OF THE CAR! UPGRADES!
BRABUS K8 Package: $25,000.00 Upgrade

550 Horsepower
601 Lb – Ft Torque
BRABUS ECU Upgrade
BRABUS Pulley Kit Upgrade

BRABUS Exhaust System: $3,500.00 Upgrade

BRABUS Front Spoiler with Quad Lights + Paint Package: $4,250.00 Upgrade

BRABUS Rear Diffuser + Paint & Install: $3,000.00 Upgrade

BRABUS Carbon Fiber Interior Package Including Steering Wheel: $8,500.00 Upgrade

BRABUS Lowering Module: $3,000.00 Upgrade

BRABUS/Alcon 12 Piston Front & 6 Piston Rear Braking System With 2 Piece Alcon Rotors Package: $30,000.00 Upgrade & ONLY 5 CARS IN COUNTRY have this braking system BRABUS

BRABUS 19″ Staggered Wheel Upgrade Package: $10,000.00 Upgrade

19″ X 9.5″ Forged BRABUS Multi Piece Front Wheels
19″ X 10.0″ Forged BRABUS Multi Piece Rear Wheels
Pirelli PZero 255/35ZR19″ Front Tires
Pirelli PZero 295/30ZR19″ Rear Tires
NOTE: New Pirelli Pzero Rosso Tires Installed Less Than 1,000 Miles Ago Front & Rear
Professional Mount & Balance

FEATURES & OPTIONS!

Color Options
Desert Silver Exterior
Magno Alanite Grey Premium Leather Interior
BRABUS Carbon Fiber Trim $8,500.00 Upgrade

Performance / Handling Features
550 Horsepower BRABUS Enhanced
601 lb-ft Torque BRABUS Enhanced
AMG 5.5 Liter 24-Valve V8 Engine
5-Speed AMG Automatic Transmission w/Manual Mode & AMG Speed Shift
AMG Sport Suspension
AMG High Performance Braking System
AMG Aerodynamic Body Work w/Rear Trunk Lid Spoiler
AMG Sport Exhaust System with Four Chrome AMG Outlets

Comfort / Convenience Features
Retractable Hardtop w/Easy Pack Feature
AMG-Design Nappa Leather Interior
AMG-Design Aluminum Trim on Dash and Console
AMG Sport Seats w/Dynamic Multi-Contour Seatbacks
12-Way Adjustable Heated Seats with 3-Position Memory
AMG Multi-Function Steering Wheel with AMG Speedshift Paddles
Power Adjustable Tilt / Telescoping Steering Column w/Easy-Exit Feature
DVD Command Navigation Audio System
8-Speaker Bose AudioPilot Digital Surround Sound System
AM/FM/Weatherband Radio, In Dash CD Player and 6-Disc CD Changer
Hands-Free Communication System (Multi-handset or Bluetooth Interface Sold Separately
Dual-Zone Automatic Climate Control w/Dust Pollen & Integrated Charcoal Filter
Electronic Cruise Control
Auto-Dimming Rear &b Driver-Side Mirrors
Automatic Ambient Lighting
Integrated Garage Door Opener
Enclosed Storage Compartments
Speed-Sensitive Variable Assist Power Steering

Safety/ Security Features
24-Hour Roadside Assistance
Mercedes-Benz Maintenance System
Tel Aid Emergency Calling and Communication System
High Strength Steel Reinforced Cabin with Front and Rear Crumple Zones
Supplemental Restraint System (SRS) with Occupant Sensor
Dual Two-Stage Front Airbags
Head Thorax Airbags Side Impact Airbags
Drivers Knee Airbag
Xenon Automatic Headlamps with Twilight Sensor and High Pressure Washers
Baby Smart Child Recognition
Automatic Pop-Up Rollover Bar
Integrated Seatbelts Including Emergency Retractors and Force Limiters
Electronic Braking System (SBC)
Anti-lock Braking System (ABS)
Brake Assist (BAS)
Electronic Stability Program (ESP)
Automatic Slip Regulation (ASR)
Anti-Theft Alarm System with Engine Immobilizer

OVERVIEW!

Mercedes-Benz fanatics will immediately fall in love with this car after reading this listing. Stuffed with an AMG BRABUS enhanced 550 horsepower & 601 lb. ft of tq hand-built V-8 engine, this top of the line 2004 Mercedes-Benz SL55 AMG will offer you an updated level of performance, luxury and look like no other car on the market! The best part is, we are offering this car at a fraction of the price of what the previous original owner invested in this car new. When BRABUS was done upgrading this SL55 the previous owner invested over $200,000.00 in this build! This car was purchased brand new in sunny Nevada and owned exclusively by one mature adult male who demanded the best SL55 available and after BRABUS completed the build that is exactly what he got after spending over $80,000.00 in BRABUS upgrades! If you want bragging rights as being an owner of the best looking and one of the best performing SL55 AMG's on the planet then the decision is already made with this car! You won't find ANY 2004's on the market to compare this car to and in fact, at the time of this listing there are less than half of a dozen to compare it to on eBay none are REAL BRABUS cars and none have 11K miles like this one. Basically this car has what is more or less the Mercedes-Benz AMG Performance Package but with more power that was installed at BRABUS. The factory Performance Package cars aren't any faster than a normal car, they only bump the top speed limiter. And who really wants to go 186mph? Acceleration is the key to a real performance AMG machine and this car is the only one that slices the butter the best out of those available right now! BRABUS is one the leading Mercedes-Benz tuner companies in the world and with a subtle 50 horsepower and 70 lb. ft. of torque bump under the hood, you will feel this car wake up beyond belief over a normal SL55 AMG!

The exterior condition of this BRABUS AMG flagship is stunning to say the least. If you notice, the car was updated quite extravagantly with the BRABUS K8 Package, BRABUS/Alcon Front & Rear Braking System, BRABUS 19″ Staggered Wheel/Tire Package, BRABUS Lowering Module, BRABUS Aero Styling Package and BRABUS Exhaust System all done at BRABUS. This sultry 11k mile one-owner car was previously owned by one of the most demanding meticulous people we have ever come across. To take a perfect car and send it off to BRABUS for more than $80,000.00 in BRABUS upgrades just solidifies how much of an obsessive aficionado he truly was. Owned by a car fanatic you can bet the ranch this car was never ran hard or abused with an ultimate level of care applied to it. Not many people spend over $80,000.00 on top of the price of the car on upgrades! After speaking with BRABUS they advised us this is a very special rare SL55 K8 car with the 12 Piston BRABUS/Alcon Braking System at a cost of $30,000.00 which BRABUS advised us that only 5 Cars in the country have this braking system upgrade! It has only been hand washed & waxed since day one and our high resolution pictures show it! To be honest, we could have taken pictures of this car the second it came in and listed it for sale, that's how nice and remarkable it is! Our protocol is to go completely through all of our cars prior to selling them so it did get our full treatment of service and detail. Upon inspection we noticed only a few tiny small chips and nothing that requires any attention to. There are no dents, no dings and no signs of damage anywhere. The lower bumper spoilers do not come painted/finished so naturally they were professionally painted and installed to factory standards by BRABUS. The Upgraded BRABUS 19″ wheels are in excellent condition. The paint has a super high gloss to it and when you see it roll off of the enclosed car carrier at your door step you will be in love! A very detailed conversation with the previous trustworthy owner is 100% in line with all history reports showing a perfect & accident FREE Certified Carfax Vehicle History Report with a clear & clean title which you will promptly receive after payment has cleared. The last thing worth mentioning about the exterior is that this car was kept garaged since day one!

The interior of this AMG beast is in outstanding condition and the luxury along with the healthy options list you will find inside this car is unprecedented! There isn't another car on the market that allows you so much sophistication than this car! A few have copied a few options but nobody does it like Mercedes-Benz does! As mentioned above, this car was maintained flawlessly by a sole professional NON SMOKER owner with the utmost care since it rolled off the showroom floor when new. With ONLY 11k miles this was obviously a much deserved pleasure vehicle and not a daily driver as many other cars in his fleet served for normal daily use. Once you sit down on the Exclusive Designo Premium Leather you will be in heaven and know that you have reached the pinnacle of European first class luxury! Mercedes-Benz gives all of the AMG cars special interior treatment with this incredible leather and you will love the feel. The leather is in phenomenal LIKE NEW condition along with the optional BRABUS Carbon Fiber Interior Trim & BRABUS Carbon Fiber Steering Wheel, all of which has also been maintained/treated regularly and it shows! Once you are inside the plush and options will surround you like none other! The AMG Sport Seats, AMG Instrumentation and Alcantara treatments will have you begging for more! Look up and you'll notice the lush Alcantara headliner that calms your mood like none other. With the few cool nights we have left the heated seats which are standard are a welcomed feature and with the summer on the horizon the optional Active Ventilated Cooled seats will keep the comfort manageable at all times. Push the starter button and the 550 horsepower come to life! Hold on, you're on for one heck of a ride!

Bottom line, this car is equipped with an enormous amount of highly desirable equipment and major BRANUS upgrades that you will not find on a 2004 or any other prior year SL55 on the market. On top of all that, this is a Nevada One-Owner Non-Smoker car with no stories other than the enormous upgrades & condition. Finding another 2004 right now with the pedigree along with super low miles is next to impossible. The market is hot right now for rare cars like this and we are selling rare beauties like this quickly. Just check our 100% Positive eBay Feedback Rating and see for yourself. We specialize in incredible finds just like this. Please feel free to bid with the utmost confidence and by all means call us for any further information. Thank you and good luck! Don't let your dream car slip away…

SERVICE + MAINTENANCE + BUYER PROTECTION!

We have conducted a FULL History and Safety Inspection of this car to ensure you are buying the best car possible, we take the guessing game out of it! After our inspection was complete we pulled the Mercedes-Benz Service History to determine if any services were due and to see how well it was kept. All services are up to date and we will pass along the service records to the next lucky owner. The miraculous Mercedes-Benz Service history is impeccable and this gem needs nothing but a new owner

Mercedes-Benz In-Service-Date: 4/14/2004 (Warranty Start Date, 2004 Model Year)

After the History & Service Inspection was complete and up to date we did the following;

Complete Comprehensive Inspection, Road Test and Full Function Test
Restore Fluids & Tire Pressures to Factory Specification
Brake Pad Inspection = Approximately 75% Brake Pad Life Remaining
Tire Inspection = Approximately 90% Tread Life Remaining

After the service history was determined to be perfect and up to date we sent the car to our VIP Detailer who in turn went completely through the car giving it a super high end cleaning and polishing so that when this car gets delivered it will be immaculate this car looks unbeatable!

We offer extended term financing up to 144 months and in most cases have same day approvals. Please call for details. O.A.C.

We facilitate all shipping requests to ensure your new car arrives home safe and sound. Please call for a quick and easy quote.

With nearly 40 years combined highline and exotic sales & service experience we know the intricate details in which to inspect & service all of the cars we sell. If you've seen our other cars you know how extensive of a job we do to accurately represent the condition of the car, pass on what we know and deliver a fully serviced ready to go vehicle.

EXTRAS!

Complete with your purchase will be:
Main Full Function Key
All-Season Floor Mats
Three Cargo Nets
6 CD Changer Cartridge
Spare Wheel/Tire, Jack, Tool Kit
Mercedes-Benz Zippered Storage Case
Mercedes-Benz NetStar Printout
Mercedes-Benz VMI Maintenance Service Records & Warranty Service Records
Certified Carfax Vehicle Report
Clear & Clean Title

For a Personal Vehicle Presentation or Viewing Please Contact:

Dustin Prunty @ 702-596-8090

Thank You and Good Luck!
CONTACT sales@lasvegasmc.com FOR MORE DETAILS!

Options & Packages
OEM Code
Description
MSRP
GAS GUZZLER TAX

GAS GUZZLER TAX
$1,700.00
ADDITIONAL OPTIONS
401
ACTIVE VENTILATED SEATS
$1,220.00
614
BI-XENON HEADLAMPS
$750.00
889
KEYLESS GO
$1,040.00
Features & Specifications
Standard Features
– MECHANICAL

5.5L SOHC SMPI AMG supercharged 24-valve V8 engine
5-speed automatic AMG driver-adaptive transmission-inc: touch shift, optimum gear programming, comfort mode, AMG SpeedShift, fingertip manual mode
Automatic slip control (ASR)
Electronic stability program (ESP)
Rear wheel drive
Independent 4-link front/5-arm multilink rear suspension
AMG enhanced Active Body Control (ABC)-inc: coil spring & electronically controlled hydraulic cylinder w/shock absorber at each wheel, sports mode, automatic 4-wheel level control, driver-selectable ride-height control, automatic speed-sensitive lowering
P255/40YR18 high-performance front tires
P285/35YR18 high-performance rear tires
Tirefit puncture sealant & portable electric air compressor
18″ x 8.5″ AMG ultrathin-spoke monoblock alloy front wheels
18″ x 9.5″ AMG ultrathin-spoke monoblock alloy rear wheels
Rack & pinion vehicle-speed-sensitive pwr steering
8-piston AMG perforated/internally ventilated front disc brakes
4-piston AMG perforated/internally ventilated rear disc brakes
Anti-lock brake system (ABS) w/brake assist system
Sensotronic brake control-inc: soft stop, automatic brake drying, predictive brake priming
Quad polished stainless-steel exhaust tips
Vehicle Name : Mercedes-Benz SL-Class
Body Style : 2 Door Convertible
Drivetrain : Rear Wheel Drive
EPA Classification : Two Seater
Base Curb Weight (lbs) : 4319
Engine Type : Gas V8
Displacement : 5.5L/332

Fuel System : SMPI
SAE Net Horsepower @ RPM : 493 @ 6100
SAE Net Torque @ RPM : 516 @ 2750-4000
Trans Type : 5
Trans Description Cont. : Automatic w/OD
First Gear Ratio (:1) : 3.59
Second Gear Ratio (:1) : 2.19
Third Gear Ratio (:1) : 1.41
Fourth Gear Ratio (:1) : 1.41
Fifth Gear Ratio (:1) : 0.83
Reverse Ratio (:1) : 3.16
Final Drive Axle Ratio (:1) : 2.82
Maximum Alternator Capacity (amps) : 143
Suspension Type – Front : Independent 4-Link
Suspension Type – Rear : 5-arm multilink
Suspension Type – Front (Cont.) : w/Coil Springs
Suspension Type – Rear (Cont.) : w/Coil Springs
Steering Type : Pwr Rack-and-pinion
Lock to Lock Turns (Steering) : 2.6
Turning Diameter – Curb to Curb (ft) : 36.2
Brake Type : Power
Brake ABS System : 4-Wheel
Disc – Front (Yes or ) : Yes
Disc – Rear (Yes or ) : Yes

+ EXTERIOR
+ INTERIOR
+ SAFETY
+ EPA Fuel Economy & Specification
Buyer Resources
Contact Dustin Prunty for more information
Phone: 702-596-8090
Mobile: 702-596-8090
Fax: 702-735-6699
Request More Info
Vehicle Condition
Service History
11,417 Miles
One Owner
Non-Smoker
Passed Thorough Dealer Inspection
Dealer Maintained
Have Service Records
No Known Mechanical Problems
Warranty
As-Is – Extended Warranty Available. Contact seller for details.

Condition Report
Excellent Interior
Excellent Carpets
Excellent Seats
Excellent Dashboard
Excellent Panels / Headliner
Excellent Exterior
Excellent Paint
Excellent Trim Condition
Excellent Glass Condition
No Visible Dents
No Visible Rust
No Known Accidents
No Known Bodywork
Fully Detailed

Tires & Wheels
Pirelli Tires
Front Size: 255/35/ZR19
Rear Size: 295/30/ZR19
90% Tread Remaining
19″ Premium Wheels
BRABUS 19″ Forged Wheels With Almost New Tires!
Spare
Excellent Condition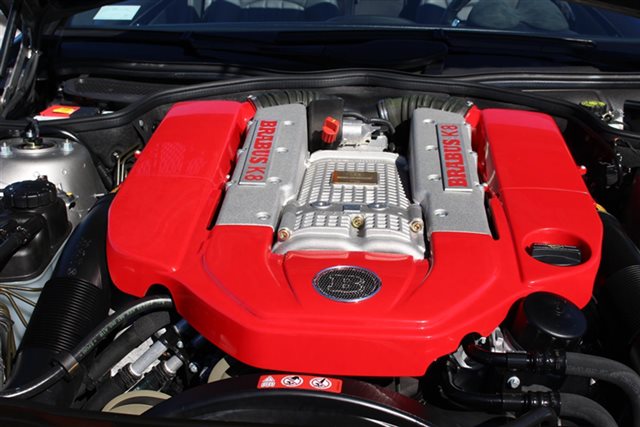 Compared to the E63 Brabus 850 Estate from a few weeks ago, this is indeed quite a conservative car. It only has 530 horsepower, after all – not enough to stop the rotation of the planet, but certainly enough to rip your face off. How fast is it? The benchmark for speedy convertibles still seems to be the bare-bones, barely legal Cobra 427. It was a monster of a car which only recently modern supercars have been able to replace as the benchmark for speed. But in a straight drag race, this civilized, leather-clad Armani-suit wearing warrior would eclipse the old guard; it's .1 seconds faster to 60 at 4.4 seconds. By a 1/4 mile in, the K8 is over half a second ahead – 11.9 seconds versus 12.5. And the K8 will outrun the mighty flared Cobra up high, too – to the tune of nearly 30 miles an hour faster top speed. Then, simply put the top up and you've got a sedate boulevard cruiser, more luxurious and quiet than a Cobra could ever be even turned off. Is it a fair competition? No. But it shows the level of performance the K8 is capable of and the amazing package that you get in the Brabus. Take a look at those brakes, for example. They're Alcon-made, and 12 pistons each side. TWELVE. I'm still subsiding on one piston in my Coupe GT, for goodness sake. There are plenty of special details in the cabin to help you justify the $80,000 in upgrades, too. Just count how many times the listing shows "Brabus" embossed pictures. Yet, for me the entire package works and is still relatively understated. On top of that, condition is effectively new on this 11 year old, 11,500 mile example. Now, that said, is it a $80,000 package? No, not for me. That's because you can get the still nearly as potent SL55 R230 with about the same mileage for just under half of that price as Andy showed with his 12,000 mile example from the other day. While the Brabus is an impressive package, it's a headline grabber from over a decade ago, and times have moved on. You can, in fact, get into a newer SL63 for less money than the ask on this car, and old Brabus models don't seem to have the same appeal as old Ruf or AMG models right now. In many ways these cars remind me of MC Hammer's mansion "Hammertime"; built when he was at the top of his game at huge expense, it was a symphony of excess and showing off. However, it was sold for pennies on the dollar once he was bankrupt and ultimately most of the details were considered in bad taste once it was no longer the rage to wear parachute pants.
Thanks to our reader Nik for sending this K8 in!
-Carter