Warning!
This post is in our archives. Links in this post may have been updated to point to similar cars available to bid on eBay.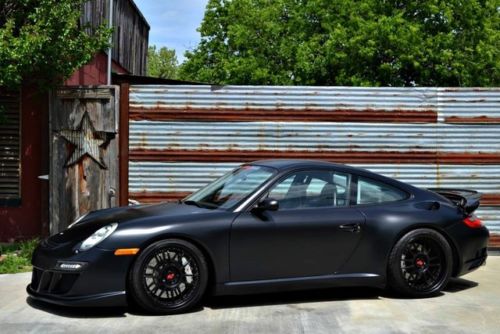 In a strange comparison to earlier's 500SL 412, here's another matte black car. It, too, is German. Outside of that, the two share little in common.
That's because unlike the Mercedes-Benz which was primarily a piece of marketing, this is from the workshop of Alois Ruf. And Ruf's cars are all about performance. So even though this 997-based turbocharged RUF RT12S is over a decade old, it still produces more power than the current 911 Turbo. Over 100 more. It's faster, too – get the launch just right and mash the gas, and RUF claimed you'll hit 60 m.p.h. in 2.8 seconds. When Road and Track tested it, the R12 did a standing mile in 28 seconds at 187.5 mph. In the time it's probably taken you to read this first paragraph (35 seconds), the RT would be past 200 on its way to the 224 mph top speed. Yet it wasn't just about raw speed; like all RUFs, it was beautifully built and full of exquisite detail work on par with leading manufacturers.
But while the speed is certainly impressive, it's not the reason why I decided to feature this car…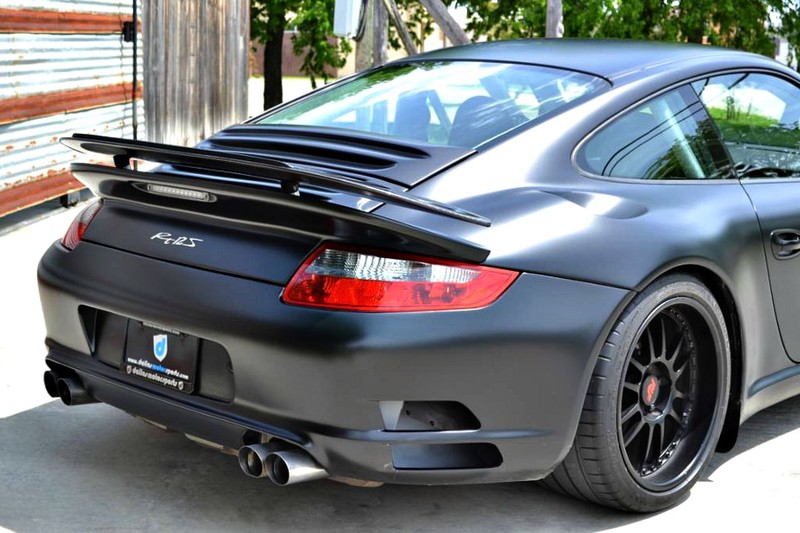 Year: 2006
Model: RT12S
Engine: 3.8 liter twin-turbocharged flat-6
Transmission: 6-speed manual
Mileage: 27,693 mi
Price: $209,000 Buy It Now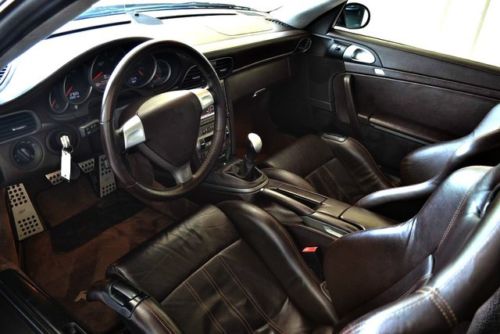 2006 RUF RT12S

Dallas Motorsports presents this extremely rare 2006 RUF RT12 "S"!

The RT12S being offered is a true W09 RUF Vin numbered production vehicle; not a RUF conversion. Like all RUF VIN creations, this car started its life as a "body in white" purchased from Porsche and delivered to the RUF factory in Pfaffenhausen, Germany. It's there that the team at RUF applied their R&D team to develop the RUF Aero package, a RUF engineered 3.8 twin turbo engine, large cross-drilled brakes, integrated roll cage, static suspension, plus many other modifications that make this car among the fastest production cars in the world. Topping out at just over 220mph and with a 0-60 time of right at 2.8 seconds, this car leaves no doubt about its supercar status. Just like the famed Porsche GT-2, this car is rear wheel drive only, creating a driving experience like no other. The factory matte black exterior delivers a modern aggressive look, while the interior is the perfect blend of carbon fiber and rich cocoa leather.

A few highlights of this RT12 "S" include:

685 HP (conservatively rated)
RUF integrated roll cage
RUF hydraulic suspension lift (Raises the front suspension 50mm for clearance)
Full leather interior
Recaro Sport seats ( like the Enzo )
Rear seat delete with Rear compartment storage area
Taller gearing for 224 mph top speed
Sunroof delete
Built in Valentine 1 radar detector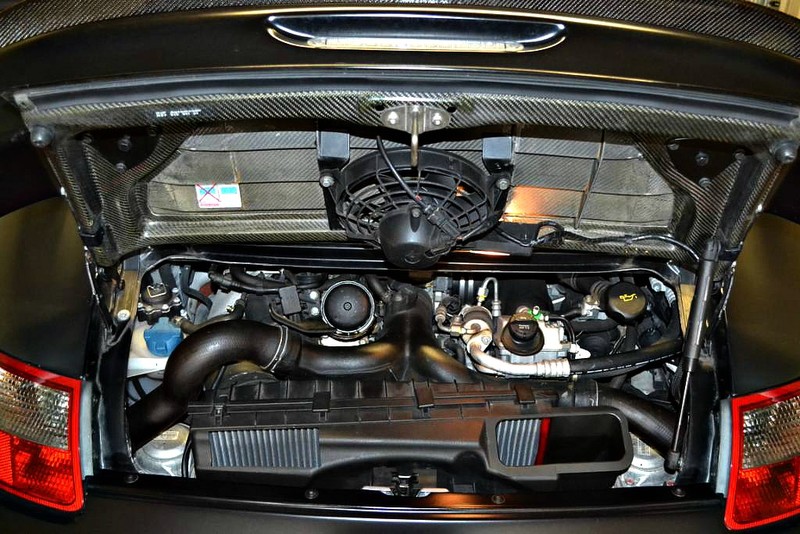 THAT INTERIOR. Oh my.
When my son was 2, he had a strange habit of saying "I want to eat it" at inopportune and awkward times – for example, one time when we stopped to pet a puppy, his trademark expression was all he could shout, much to the chagrin of his parents and the horror of the puppy's owner. Well, I want to eat that interior. It is gorgeous and just looks like a giant chocolate bar. Modern Porsche interiors have, for the most part, failed to impress me, but this one is certainly incredible. The outside, in all honesty, I can't say the same about. I'm not a fan of the matte paint though it's all the vogue. To me, it cheapens the aesthetic of a car which cost a third of a million dollars.
Problems? Well, a few question marks, I suppose. One is the choice of the OZ Racing modular wheels in place of the traditional RUF Speedline alloys. More puzzling is the W09 VIN and 2006 build year. While the real RUF (rather than conversion) build is beneficial in value, the question is regarding the "S" designation. The RT12S was a refresh of the RT12 and not launched until 2009; properly, that would mean this car has either been upgraded or is wearing the wrong badges. It's a small difference in performance (the RT12 has only 35 horsepower less, at 650), but it's a strange thing to me.
Lastly, there's the price. At $209,000, it's a bargain compared to what it originally cost, and the RUF VIN means that it should retain value reasonably well downstream. However, a standard 911 Turbo isn't exactly slow, and you can get them all day long for a third of this price with even lower miles. Since the performance is mostly unusable, you're then paying most of a $150,000 premium because it says RUF and for that lovely interior. For me (and I'd expect many), that's a bridge too far.
-Carter