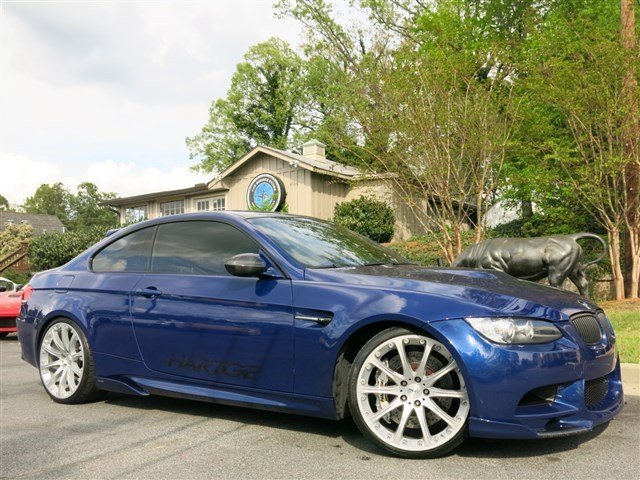 In the wonderful world of tuning, there's taking it to the edge, and then there's stepping over the edge. For every tasteful example of a tuner-modified car, it seems that there are several that take it one (or many) steps too far, creating a bit of a monstrosity in the process. While modifying cars is and will always be a form of individual expression, tuning firms always attempt to produce what will sell, not necessarily what is in the best taste. In the spirit of this, today I want to look at a car which I feel was taken a few steps too far; a 2008 Dinan and Hartge modified M3: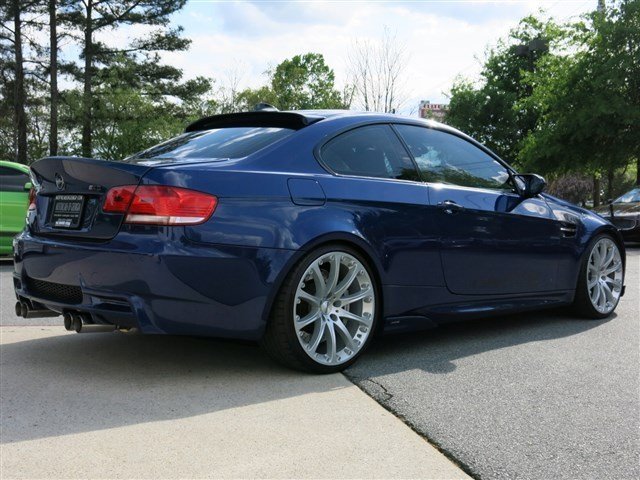 Year: 2008
Model: M3
Engine: 4.6 liter V8
Transmission: 7-speed DCT automatic
Mileage: 25,959 mi
Price: $67,500 Buy It Now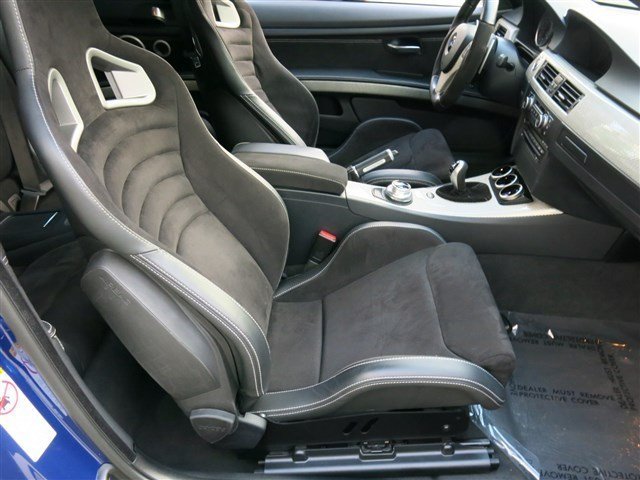 Please call or text BART @ 724-630-1170 or NICK @ 770-899-0962 to ask any questions regarding this vehicle.

BART @ 724-630-1170

NICK @ 770-899-0962

ONE OF A KIND BMW M3! ALL THE GOOD STUFF AND MORE! DINAN 4.6L STROKER MOTOR, FULL BMW PERFORMANCE INTERIOR, AND TONS OF FACTORY EQUIPMENT TO BOOT! YOU'LL NOT FIND ANOTHER ONE LIKE IT ANYWHERE! OVER $100K SPENT IN MAKING THIS THE MOST RADICAL AND WICKED M3 AROUND!

THIS ISN'T YOU'RE ORDINARY M3 SO IF YOU'RE LOOKING FOR SOMETHING THAT DEFINES THE WORD SPECIAL AND ARE LOOKING FOR A FANTASTIC VALUE, THIS IS THE ONE!

NEW FRONT TIRES! DCT TRANSMISSION, TECHNOLOGY PACKAGE, PARK DISTANCE CONTROL, IPOD AND USB ADAPTER, BMW ASSIST, HD RADIO, ENHANCED PREMIUM SOUND! TWO KEYS, ORIGINAL WINDOW STICKER, OWNERS MANUAL SET IN BMW LEATHER BINDER!

Aftermarket Upgrades:
Motor:
– Dinan 4.6L Stroker with the Under drive Pullies – Clamed 527 HP
– Grouppe M Carbon Fiber Intake
– Custom Painted Hartge Engine Cover

Exhaust:
– Active Autowerke Catless X-Pipe
– Active Autowerke Rear Mufflers

DCT Tranny/ Differential:
– DCT Flash (No lag in-between shifts)
– Dinan 3.62 Limited Slip Differential

Wheels/Tires:
– Front – Hartge 20×9 Conti Sport 3 Tires
– Rear – Hartge 20×10 Conti Sport 3 Tires

Brakes:
– Front – Brembo 380mm 6 Piston Painted Silver with Black
Hartge Logo
– Rear – Brembo 380mm 4 Piston Painted Silver with Black Hartge Logo

Suspension:
– RD Sport Springs
– RD Sport Front Sway Bar

Body:
– OEM Front Bumper with Hartge Molded Front Lip and Carbon Fiber Tabs
– OEM Rear Bumper with Hartge Molded Diffuser
– Hartge Side Sills
– Hartge Carbon Roof Spoiler
– Vorstiener E92 Double sided Carbon Truck
– Hartge Front and Rear Emblems
– Hartge Ghost Graphic on doors that matches the Interlagos Blue
– Flat Black Front Grills
– Carbon Fiber Kidney Grills
– Top half of mirror is Carbon Fiber low half is Interlagos Blue
– Carbon Fiber Hood Vents

Interior:
– BMW Performance Seats
– BMW Performance V1 Steering wheel
– Hartge Sliver Carbon Fiber interior
– Hartge E-brake Lever and I-Drive wheel
– Hartge Pedal Set
– Custom Suede Matched rear BMW Performance seats
– Custom Suede Matched Door Panels Front and Rear.
– Macht Schnell gauge panel in place of Ash Tray
– Macht Schnell Passenger Occupancy Sensor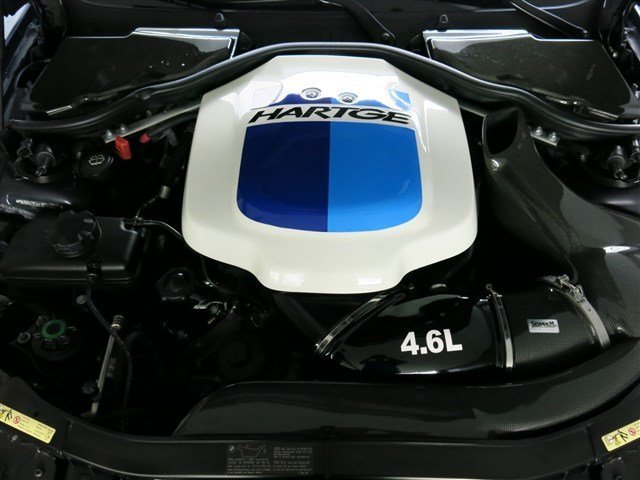 Indeed this is not your ordinary M3, and I was able to write that without caps lock on. In fact, I don't think you'd need to write that this wasn't your ordinary M3 if you just look at it. There are so many items that are to like here, and well engineered components at that. First, there's the superb M3, made even more superb in the beautiful shade of Interlagos Blue. You could have stopped there, and I would have been sold. Then there are the Dinan upgrades; well, who doesn't like a bit more power? How about one hundred bits? The Dinan upgrades also extend to the transmission reflash and rear end. Okay, I'm still on board. We move on to the Active Autowerks exhaust. I've heard these cars opened up, and it's pretty glorious. Haven't lost me yet.
Then there are the Hartge bits; wheels, rockers, bumper add-ons and roof spoiler. It's here where I start to loose some enthusiasm for this build; these items are a bit too blingy and take a bit away from the understated performance of this car. Still, they're Hartge pieces, and that carries some weight, so I'm not completely lost. However, the shouty "Hartge" custom graphics, the custom painted engine cover, the pedal set, badges everywhere….I just don't know, it seems akin to digitally inserting Jabba the Hutt into the original Star Wars. Does it add anything? No, you're just sitting there saying "Okay, I get it, you just wanted to show off that you have money and can do whatever you want". It goes even farther downhill for me from there, with a few more badges and names thrown into the pile. It's as if the owner decided to make a sunday at Cold Stone Creamery and added every single item from the toppings menu. Sure, it may taste great for a bite, but in the end you just have a brown pool of melted ice cream with gummy bears and soggy oreo bits floating all over.
While I have no doubt that the asking price of this car doesn't come close to claimed $100K build costs, the reality is that I don't really see much value in this car over a stock ZCP car. For all it's Hartge bragging it's not a Hartge, and doesn't identify as a Dinan either, and that leaves it a bit of a "dog's breakfast" to quote Clarkson. That's sad because it has all of the right ingredients; I just really wish they hadn't dumped all of them in at the same time. What do you think?
-Carter