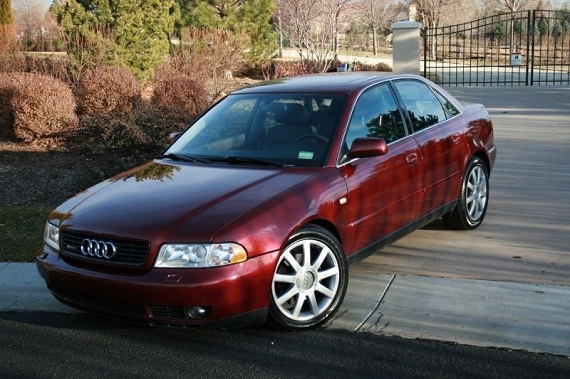 The Audi B5 was really the first Audi chassis that gained mass appeal for modifications. Sure, the Quattro, 5000, 200, S4 and S6 all had crowds that followed them and modified them, but it was really the B5 that took the Audi tuning theme to the masses. Most of those masses focused on two models; if you were new to the brand you bought and modified the plentiful and relatively cheap 1.8T, and if you could swing the hefty payments you bought the twin-turbocharged S4. Both accepted increased levels of boost easily, making them a no brainer for the tuning crowd. But quickly forgotten in the mix was the silky-smooth 2.8 V6. Initially available in 12 valve form, in 1998 Audi upgraded to the 30V heads. For the first time, the Audi V6 produced power levels near its competition, and the smooth and responsive V6 was a nice match for the slick look of the A4. But easy to tune it wasn't; you weren't left with many options outside of exhaust and intake if you wanted to turn the wick up on your 2.8. Unless, of course, you turned to unnatural forms of aspiration – happily supplied by PES in the form of a supercharger:
Year: 2001
Model: A4
Engine: 2.8 liter supercharged V6
Transmission: 5-speed manual
Mileage: 97,496 mi
Price: $7,995 Buy It Now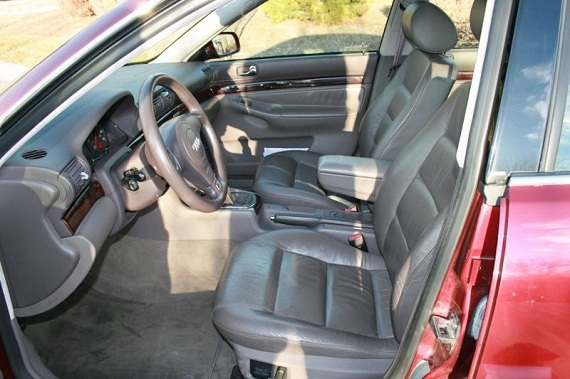 This is a unique A4, it is a fully customized and loader 2.8 liter Quattro with every factory option available and includes unbelievable upgrades such as a turbo charged engine not found on other Audi A4's

The car has been customized and has the Performance Engineering System professionally installed supercharger system currently producing 300hp to the rear wheels. This system utilizes the highest quality components including; an Eaton M62 Roots style blower, aluminum manifold, and custom ECU for the ultimate drivable performance sedan. To further enhance the driving experience, a lightened flywheel and high performance clutch have been added. Learn what European Car has to about this turbo charger package at: http://www.pes-tuning.com/docs/SuperchargerAudiA4.pdf

The car was just upgraded with a new S4 wheel package with fresh Pirelli P-Zero tires. The timing belt was just replaced by McDonald Audi, Littleton, CO and comes with a 2 year guarantee. The car has a stainless steel cat-back free flow exhaust system to balance and add to the overall performance. This system gives the car a growl of authority without being obnoxious or tiresome.

Interior is a beautiful dove gray leather in excellent condition. The unusual factory Magnolia exterior color paint is above average condition. Factory installed HID Xenon headlights provide clear night time driving, while listening to your high end stereo system.

This car may not be for everyone, if you are a driver who:

demands quality, high performance, and enjoyment from your car; you will be pleased with these upgrades
wants a sedan that performs like a sports car; this is the car for you
needs to be places without wasting time; this car will get you there with time to spare
wants pure leather comfort with an excellent sound system; this car has it
understands how a turbo charger, lighten flywheel and a free flow exhaust system improve performance; this is your car

This car has never been wrecked, and is for sale by owner. We will be happy to arrange shipment of the car to your home, or pick you up at the Denver Airport so you can drive it home.

We can provide under carriage photos or additional photos as needed.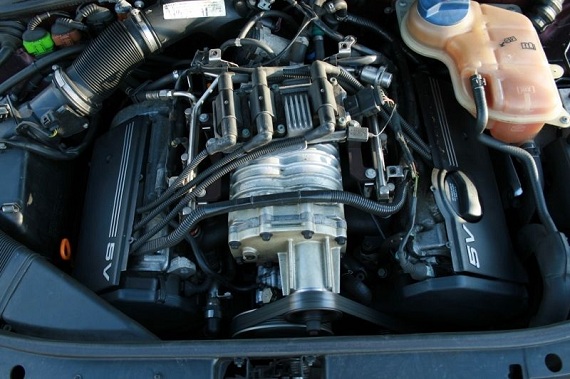 A few statements in the seller's description give me a bit of pause, especially for a car the owner seems to be pitching as specialized. First, the claim is that the engine develops 300 horsepower "at the rear wheels". Aside from the obvious quattro omission, PES claims only 295 horsepower at the crank for this system. That is of course combined with the seller referring to the engine as "turbocharged" when it is supercharged. Then, the seller claims the car is rare "Magnolia" paint when I'm fairly certain it is not so rare "Hibiscus" Red. Wrong tree, my friend. Also, the seller lists the wheels as "S4" wheels though I believe them to be replica Celebration/RS4 wheels and that the car has never been wrecked, though there is an accident showing. Most of these things are minor points, though I'd like to see how bad that accident was before paying S4 money for an A4. Still, condition appears to be quite good, it's a stealthy alternative to the S4, and overall it's not priced outrageously for what it is. It, however, is not the only PES supercharged A4 on Ebay right now: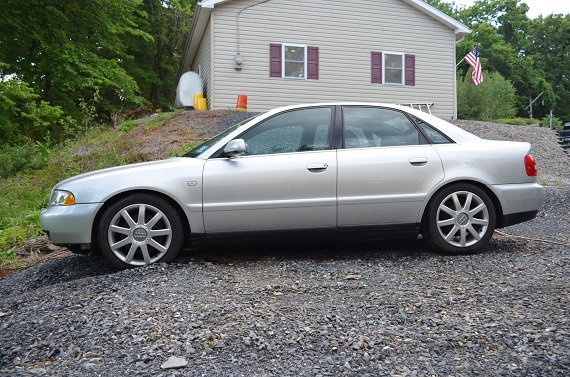 This car has popped up before on our Facebook Fanpage, a project car that is in need of some love. As shown, it's one of the rare ultrasport cars that additionally was supercharged. Unfortunately, it was also apparently stolen and was bought by the current seller as a project. In need of a new transmission, it's available for less than half the asking price of the Hibiscus car: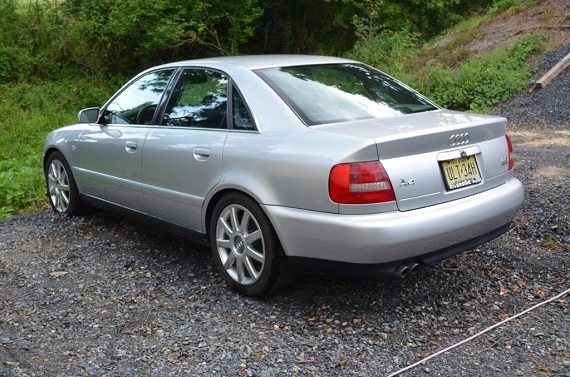 Year: 2001
Model: A4 quattro
Engine: 2.8 liter supercharged V6
Transmission: 5-speed manual
Mileage: 55,620 mi
Price: $3,500 Buy It Now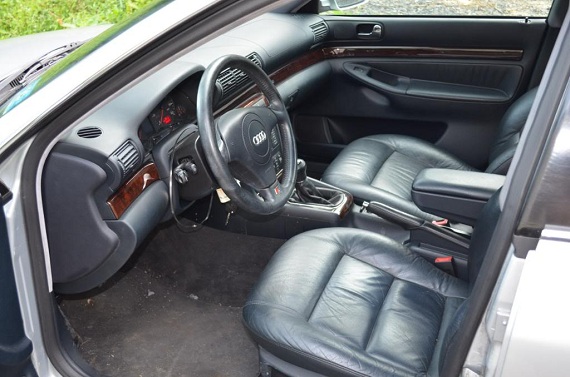 Up for sale is a 2001 Audi A4 2.8 with 55k original miles on it that has some very expensive modifications done to it. It was purchased from a salvage auction, sight unseen, as a theft recovery. I expected it to only need light bodywork, and a new ignition. Unfortunately, it had a blown clutch/transmission when it arrived.

Car has a PA salvage title

The trans was pulled, and when pulled it was discovered that one of the mounting bolts on the block was broken. At that point, the shop that was doing the work and I had a falling out over another vehicle. I had both cars picked up, and that's where this car sits now. It needs the clutch (comes with a brand new clutch kit), flywheel (you need to get that), and the transmission put back in. It will also need downpipes/catalytic converters. The rest of the parts are all in the trunk.

Now the car has some very expensive modifications done to it. It has a PES supercharger kit installed on it that is practically brand new. That kit alone by itself is $4,000. It bumps the horsepower up to ~300hp. It also has a Bilstein cup kit suspension on it. Has brand new cross drilled and rotors all around (need to be cut not because they have rust from the car sitting), AWE drivetrain stabilizer, and a K&N air filter.

The interior is probably the nicest I've seen in any B5 series Audi in a long time. It is VERY nice. Nearly perfect.

The exterior is also very clean. It does have a hole in the driver door by the handle (how thieves steal these cars) and a damaged passenger fender (needs to be replaced, will post a pic later), but for a car that is a 2001, its really nice. The paint shines very well too.

THE CAR HAS SNOW TIRES/STEEL WHEELS ON IT NOW, THE ONES IN THE PICS ARE NOT AVAILABLE!

Basically this car has a ton of potential for the right buyer, or you can use it for parts on your own B5.

It is sold as-is, where is.

I know that is a lot to read and try and take in! Please feel free to email/call/text me at 484-560-1136 with any questions or if you need clarification! Thank you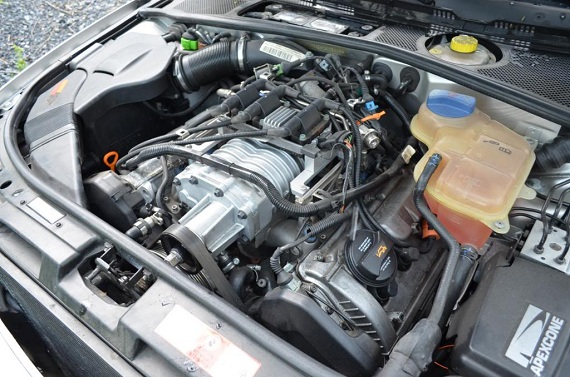 If you just look at the pictures, you'd be about ready to put a deposit down. However, there's a fair amount of work to do here. Assuming you can fix the broken bolt in the block, the transmission fix isn't too bad, and offers you the chance to swap in a 01E 6-speed transmission if you were so inclined. If that was it, it would probably still be reasonably priced. Then it turns out there's some minor body damage; again, not the end of the world but not the best news, either. But for me the disappointment is that the 17″ Celebration wheels aren't included; sure, they're replaceable, but I think they really make the car pop and that's easily $1,000 plus if you can find OEM undamaged ones. As it sits, with salvage title and disclosed problems, it's easy to see why this car hasn't moved. For me, the Hibiscus car is a better option even at double the price and with replica wheels. For a real stealth look, I'd try to source either some of the A4 option Borleos or the 18″ Swing option and have a sleeper-status daily driver.
-Carter