Warning!
This post is in our archives. Links in this post may have been updated to point to similar cars available to bid on eBay.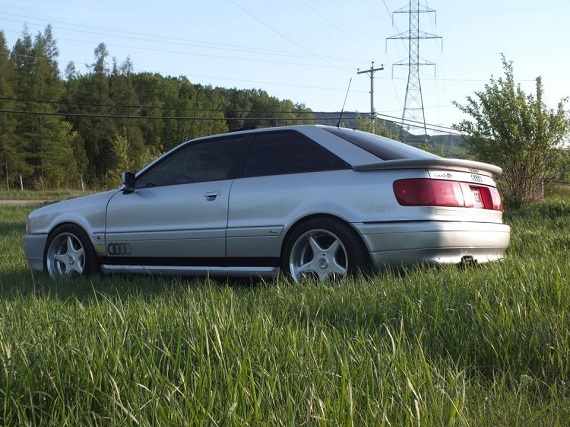 For some time, if you wanted to go fast in a two-door Audi in the U.S., you had to make your own car from pieces of others. Even if you selected the much praised Quattro, you had a fairly heavy car to start with that was coupled to a rather measly 160 horsepower. Unless it's snowing, a bone stock Ford Fiesta ST will pretty thoroughly stomp all over the legendary boxflared wonder in just about every situation. So people began modifying the turbocharged cars to produce more boost and bring them into line with their European counterparts. Of course, when it came to the replacement for the Quattro, those that waited longingly from 1985 until 1989 for the next turbocharged coupe were greatly disappointed. Sure, the new 90-based B3 Coupe Quattro had 20 valves under the hood – but no turbo came here. Europeans enjoyed several iterations of the turbocharged B3 and B4, including the Porsche tuned RS2, but in North America only the normally aspirated, slightly portly 2-door hatch came here. Again, it was no surprise that as soon as they were outside of warranty, people began to tinker; in this case, making their own S2s out of pieces from their bigger brother 200/S4s. Installing the 20V Turbo into the engine bay instantly transformed the Coupe Quattro from competent cruiser to sleeper assassin: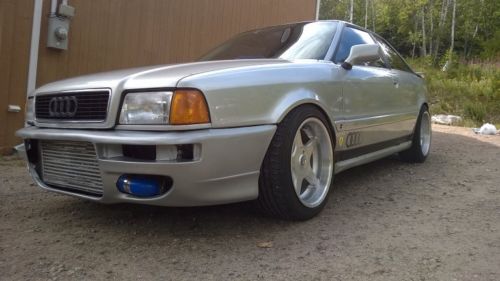 Year: 1990
Model: Coupe Quattro
Engine: 2.2 liter turbocharged inline-5
Transmission: 5-speed manual
Mileage: "302" mi
Price: $10,000 Buy It Now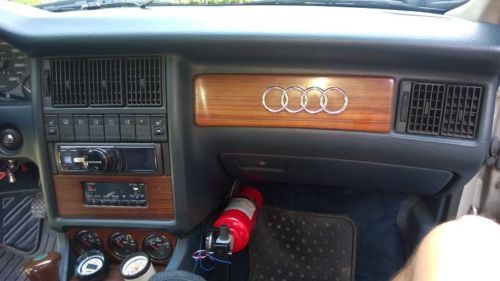 audi 90 coupe quattro S2 replica for sale!!!
brand new engine with 20 000km
-big turbo t3/t4 garret .60 trim
-big frount mount intercooler
-big injector
-manifold 034 motorsport
-water/Methanol AEM

-intake custom
-catch can
-&a cam
-full adjustable cam autotech
-Rod kit
-head porting
-programation 034motorsport stage 2 ( the best set up he need its an fully programable computer from vems tuning)
-engine mount 034 motorsport
-bushing subframe 034 av et arr
-suspension KW variant 2
– rear camber kit adjustable
-exhaust 3po borla
-S2 front bumper
-S2 rear bumper
-wheel Brock B1 on falken tire
-etc

for the shipping enter contact with me!

for more information jsut email me and sorry for my bad english im a french canadian! have a nice day
While there are some aspects of this car that are a bit overdone, there's still a fair amount to like here. First off, the 20V Turbo is running programmable EFI, meaning if you'd like to head down the high horsepower road these inline-5s are capable of, you've taken the first step. The install looks reasonably clean, though it's tough to see detail. Detail is lacking outside, too – but overall the rare-to-see silver appears to be clean, and sports a B4 hood conversion and S2/RS2 bumpers. The Brock B1s are a bit too much for my liking, but are popular and could easily be sold for a fair amount if you wanted to swap for other wheels. There is no indication if the brakes are upgraded to deal with the extra power; it's probably something that should be considered, since the Coupe Quattro really is a fairly hefty car and the brakes weren't outstanding from the factory when it only sported 164 horsepower. However, the KW suspension is a quality setup, as is the Borla exhaust. There is a striking lack of detail overall with both the description but more importantly we don't get many good photos of the car; perhaps a well placed call or email to the owner would be in order if you were really interested. However, ultimately the price isn't that outrageous considering what you're getting. For some time, the Coupes have enjoyed an exaggerated price point in my opinion, with clean examples trading well above $5,000 – $6,000 for stock examples. For a bit more, you can have this S2 replica that offers the performance many feel Audi should have brought here in the first place.
-Carter