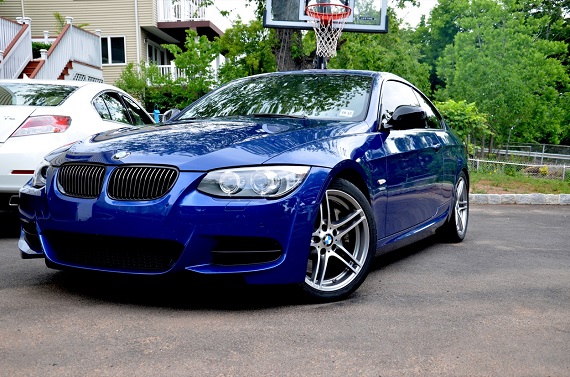 Like this past weekend's 135i, a potential alternative to the M3 that I've considered quite a few times is the 335i. Upping the ante a notch, in 2011 BMW introduced the 335is; ostensibly, the spiritual successor to the ZHP package that the E46 had in the 330i. As they had with the 1M, BMW kept the N54 twin-turbo motor in the 335is instead of the usual N55 single turbo that was in the 135i and 335i. Tuned up to a reported 320 horsepower and 332 lb.ft of torque, the N54-equipped 335is also enjoyed a revised short-shift 6-speed gearbox and M-Sport styling outside, bringing it closer visually to the M3 – along with unique split 5-spoke wheels. While the 335is wasn't much of a match for the high-revving V8 of the M3, in real world conditions it wasn't much slower – and notably, with a healthy bump in torque over the S54, the 335is matched or bettered the reported E46 M3 acceleration numbers. Having just driven an E46 M3 this past weekend, the soundtrack is great but there's a notable lack of grunt under 3,000 RPM – certainly to be expected, but when I get into even my considerably less powerful Passat, the fun of the turbo engagement at lower revolutions to provide a healthy kick in the pants – even at partial throttle – is something it's hard to get out of a normally aspirated car without huge displacement. On top of a bit of extra grunt and some go-faster body kit, this particular 335is was optioned in one of the better blues BMW has offered in recent generations; LeMans Blue Metallic: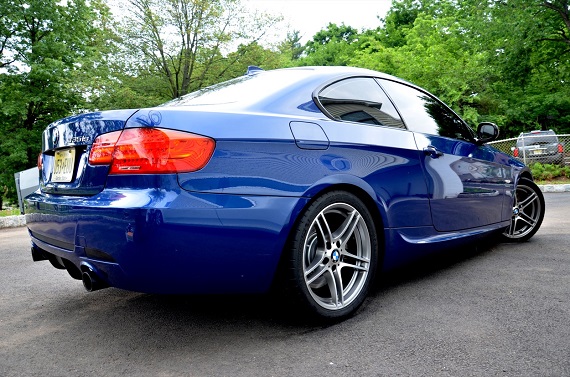 Year: 2012
Model: 335is
Engine: 3.0 liter twin turbocharged inline-5
Transmission: 6-speed manual
Mileage: 44,500 mi
Price: $29,750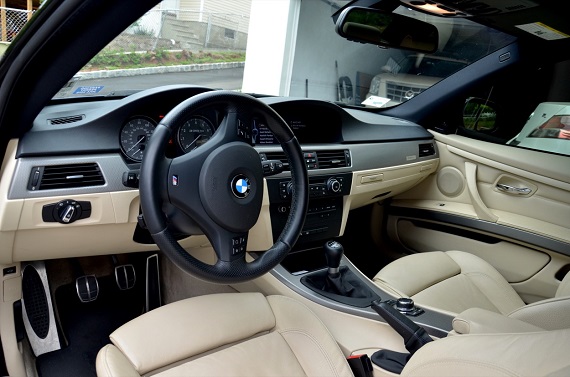 More Information
2012 BMW 335iS For sale!!
Mileage: 44,500 Miles
Price:: $29750
Transmission: 6 Speed Manual
Warranty Status: Till 50K or June 2016 [In Service Date: 6/14/12]

Options:
Cold Weather Package – Heated Seats, Front headlight washers
Premium Package – Power seats, bluetooth, etc.
Navigation (iDrive System)
18″ 335iS Wheels
Harmon Kardon Sound System
Front and Rear Park Distance Control (backup parking sensors)
Rear Sunshade

Modifications: Almost Stock
– Clutch Delay Valve Modification
– Michelin Pilot Super Sports (Currently on the car)
– Front Reflectors removed and replaced with paint matching reflectors
– Windows tinted – 20% Llumar Pinacle
– M5 illuminated shift knob
– Hardwired Valentine One

Service Record
– Car was a European Delivery Car (I have deduced this based on a German address left in the Navigation System
– Oil changes at the following miles: 5700, 15000, 22800, 24309 (Fist oil change done in my ownership), 27307, 34036, 37xxx, 38701
– Brakes: Front brakes replaced at 27K miles (warpage), Rear brakes replaced at 37K miles
– Spark plugs: replaced at 25K and 38K miles
– Injectors: replaced at 25K miles
– HPFP: Replaced at 25K Miles
– Walnut Blasting: Performed at 25K miles
– Coils: Replaced at 25K miles
– Knock sensor replaced in 5/2013 (before my ownership)
– Brake Fluid: Changed by me at 37K miles
– Tires: Michelin PSS all with 7/32nd or newer tread

Any known issues or scratches:
1. Front bumper has rock chips on it and should be repainted – estimated cost to fix ~500
2. Rear Quarter Panel has a .25″ dent with no paint damage -estimated cost to fix ~150
3. Some slight scratches on the car that can be buffed.

Can arrange for a PPI and send you more photos at your request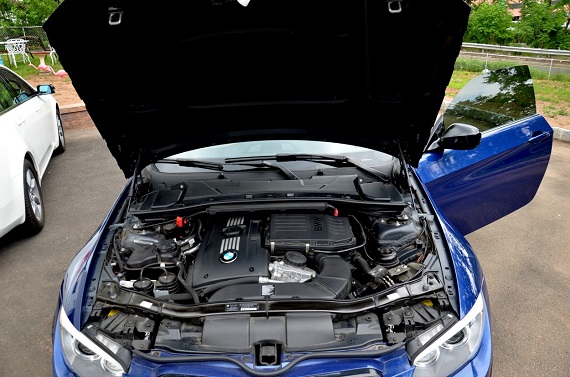 The honest presentation of this car is spectacular once again to see, with a clean bill of health and regularly recorded maintenance. The car appears nearly stock, with only a few choice upgrades. Again, this was both a loved and cared for example; newer brakes, injectors, and coils along with the fuel pump replacement are maintenance that fell under the warranty, but items like the big-dollar Michelin Pilot Super Sports are an indication that money was not spared in maintaining this car. Mileage is average at 44,000, but the car appears near new and in great shape. Keeping you comfortable are the premium and cold weather packages, along with the premium sound and navigation. Together with the Park Distance control, this car had over $7,000 in options selected, making a well equipped model. Once again, the color combination was well chosen, with the light leather interior with silver and black trim giving a decidedly Scandinavian feel to the modern interior of the E92. Outside, the LeMans Blue Metallic is such a great and vivid blue, and the 335is wheels hint at the added performance of the model better than the standard 335i wheels. All in all, this is really a stellar example of what you can get if you're willing to once again overlook the M badge; the same performance with more luxury in a more modern package, this car is offered around the same price as many of the ZCP-equipped M3s. While you may not have the badge credentials to make everyone cruising down the street envious, you'll have a discrete personal luxury coupe capable of attacking a track on the weekend and keeping you comfortable to and from. I think we'll look back on the 335is as one of the more compelling packages BMW offered in its modern lineup, and this is a great chance to get one while they're still quite new but much more affordable than rolling down to your dealer and getting into a new 435i. This was the last of the great non-M 3-series Coupes, after all!
-Carter