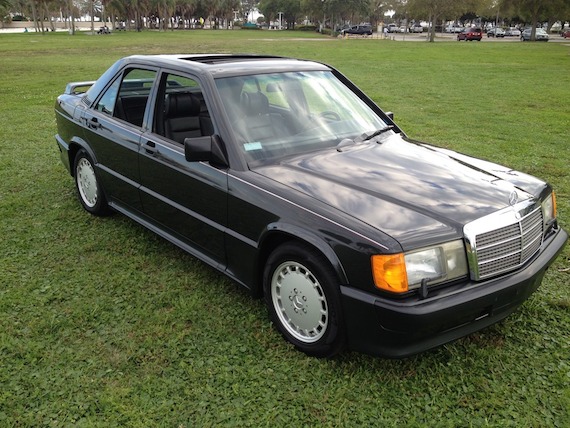 The Mercedes-Benz 190E 2.3-16 is still one of the best bargains for eighties speed hunters. Sure, it's well known this isn't the fastest sports sedan of the era, but with Cosworth tuning, a tasteful bodykit and that dog-leg 5-speed manual gearbox, it's the stuff of dreams for enthusiasts. It also has a colorful touring car race history in its portfolio. As such, many of these 190E 2.3-16s were run hard and put up wet. Every now and then, we'll come across a really well preserved example, such as this example for sale in Florida. With just over 50k miles, this one is a minter.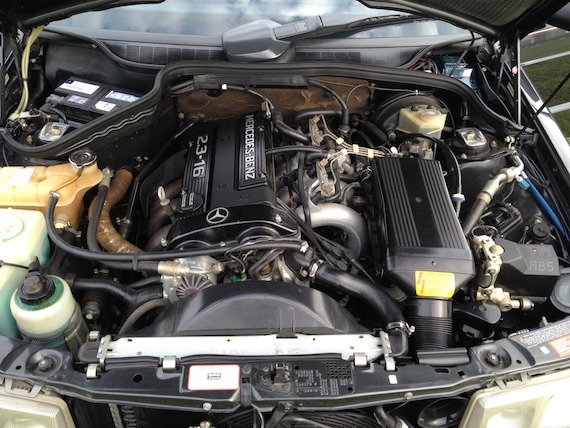 Year: 1987
Model: 190E 2.3-16
Engine: 2.3 liter inline-4
Transmission: 5-speed manual
Mileage: 52,000 mi
Price: Reserve auction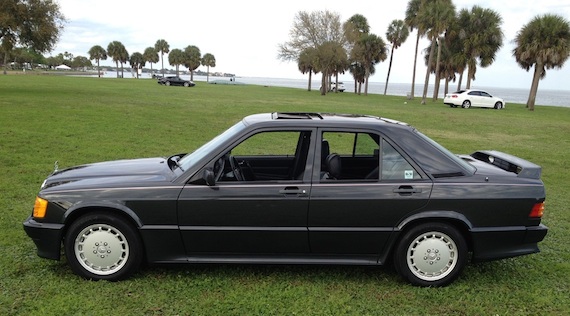 This is my 1987 Mercedes Benz 190E 2.3-16V. Black pearl on black leather, 5 speed dogleg transmission. Purchased new in March of 1987 by its one and only female owner. I just purchased the car from her a month ago. This is my second 190E 2.3 16V. Great cars! Both of mine are pearl black and 5 speed! Anyway, not much to say about this car except that it has to be one of the cleanest most original 16v cars in the country. It was used very gently as you can see. This was a concourse show car from New Jersey and shown in the North East area Mercedes Benz owners club shows and events from 1988 until 1994 when it was retired along with its owner to sunny Florida where it now resides. The show car treatment this car received is clearly shown in its preservation. Its never seen rain or snow, no accidents, clean carfax. The level of documentation and originality this car has is simply unbelievable! I will let the pictures do most of the talking. I has every possible original document pamphlet or brochure that it came with new including the temp tag, window sticker and all factory booklets and manuals. I have tried to take pictures of everything I possibly could to help the buyer and next owner.

The car drives and pulls hard, brakes good and handles amazing! In late 2013 the self leveling suspension (SLS) was completely rebuilt at Mercedes of Sarasota. This is a BIG ticket item on these cars and it is now functioning as new! It also received new tires, factory battery and a complete overhaul of the fuel system at that time. The bill came to over $5300. It then received a complete A/C overhaul including compressor and drier a few months later at the same dealership. I am including all receipts and documents that go back to 1987.

KNOWN ISSUES

*Clock in gauge cluster does not work

**Cigarette lighter internals broke when I plugged my valentine 1 radar into it/easy fix under $100 (cigarette lighter has never been used).

***Drivers side sun visor mirror lid doesn't stay up/open when opened. Visor/mirror lights function but the lids plastic clips broke/$172 for complete new visor if you must have it perfect.

**** Table fell from overhead shelves and landed on passengers side front roof, door and hood. Small ding in hood (paint less dent repair can fix) see images, 2 small creases in roof near windshield, no paint breakage. Small scratches through paint on upper front passengers door near passenger side mirror, see images.

Besides that everything works and functions as it should. I recently installed a new A/C blower switch and knob, new rheostat (internal bulb dimmer switch), new hood strut, new hood pad. All items were factory Mercedes parts. All power seats including headrest and memory functions work! Outside temperature gauge works! Lap timer has new screen and works! Becker radio works along with the powered antenna in mid and full settings! No disappointment's with this car folks! Its the real deal and you will be flashed back into 1987 when you get in this car! It even smells brand new still!

I have sold a bunch of collector cars on and off eBay. I will help with anything the buyer may need including shipping or you can pick the car up here in Saint Petersburg, Florida. I am selling it because its to pure of a car for me. I like to modify cars and this car is to clean for that. Its a shame because I have some brand new BBS RS wheels sitting in boxes that would look great on the car. But I cant do it! This is a collector quality honest vehicle ready to drive! I will send my phone # to the winning bidder and we can discuss payment and pick up or delivery. Only when we both are comfortable with the transaction will I move forward with completing the sale! That's how I do business. Thanks for looking!

PS I'm sure I forgot a bunch so please feel free to contact me with any questions!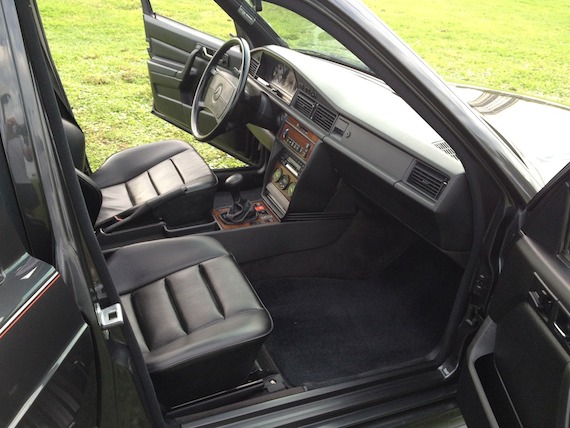 This 190E 2.3-16 has a few flaws that need sorted, but the fact the rear suspension has been taken care of is the big worry which can be laid to rest. I was never a fan of the Smoke Silver on these Cosworth W201s, so the black on black with the 5-speed manual combo is certainly how I would want my 190E 2.3-16. We saw a 190E 2.3-16 with 55k miles sell for $10,000 last May. Bidding for this car is way above that point as we speak and the reserve still has yet to be met. Has the market for these cars moved on? We'll be watching closely to see if it sells.
-Paul