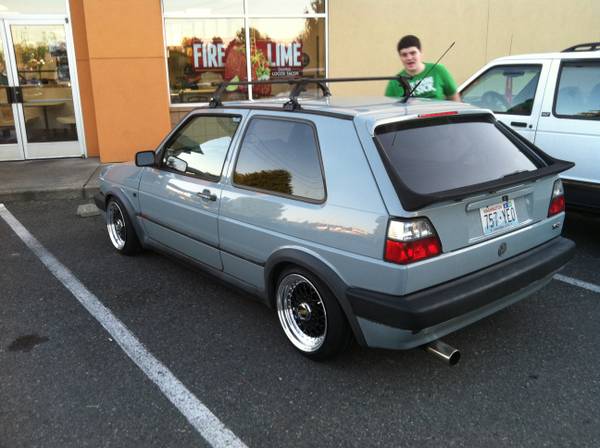 Hang on for the ride, folks. I have not one, not two, but six Mk.2 GTis to cover here. Like all good Mk.2 GTis, none of these cars is stock, so you're going to have to pick you poison. From engine mods to suspension, interior and exterior mods, we've got it all here – but don't judge a book, because I don't think they're all bad. Let's start with the one I think it the strongest example – a neat grey example with a VR6 swap: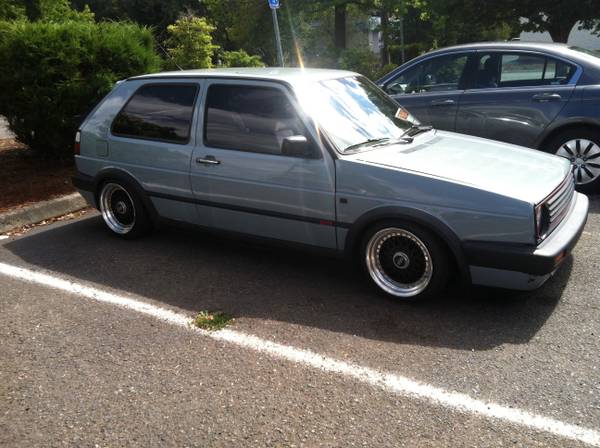 Year: 1990
Model: GTi
Engine: 2.8 liter VR6
Transmission: 5-speed manual
Mileage: 125,512 mi
Price: "$5"?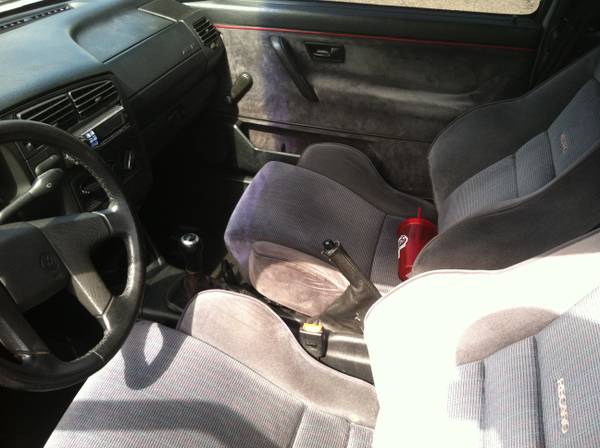 Hi everyone i have a 1990 gti up forsale. Its a got a vr6 that came out of a 94 passat. The swap is super clean and looks awesome. Only upgrade as far as i know is a ported stock intake manifold. I just replaced- valve cover gasket and intake manifold gasket, ignition wires, intake hose, pcv valve, and new pod filter, brand new exhaust, And more. Its got avid bbs rs reps 15×8 with 175/50/15 tires. Tires have good tread an bbs rs reps are in perfect condition. Interior is minty fresh its got the 1990 recaros up front in amazing condition with no rips or tears or flaws. It has a mk3 dash and center console swap the look amazing and was done very well. The car is in H&R ultra low coilovers, rides really nice. I just replaced the upper strut mounts with mk3 vr6 mounts. Also has a brand new pioneer stereo with aux port and bluetooth with a 12″ kenwood sub. The overall car is a couple hairs away from perfect. I think the paint color is a Porsche grey but not sure. The worst part about the car is the dented hood. Mainly looking for cash but i would be interested in anything bmw vw for trade must be clean.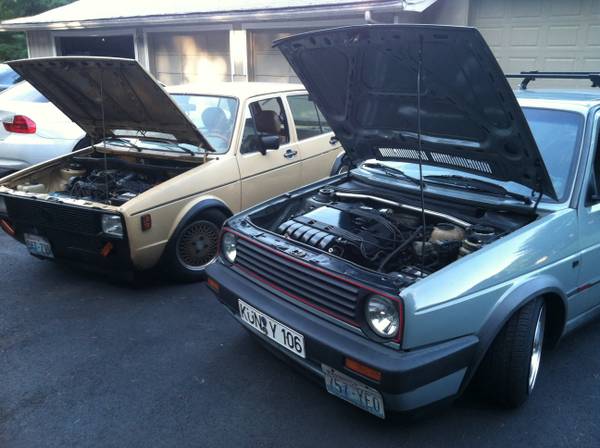 There's a lot to like – the Recaro interior, the Passat VR6 swap, the BBS-replica wheels, and the Mk.3 dash conversion, not to mention the repaint looks pretty good. There's suspension work as well, with refreshed items and H&R coilovers. I even like the wing, which I think is one of the Zender wings. I could do without the monster stereo but I think it comes with the territory. Like any good watercooled ad, it's a bit vague and no price is listed but figure it's probably around a $5,000 car. Like a bit more color?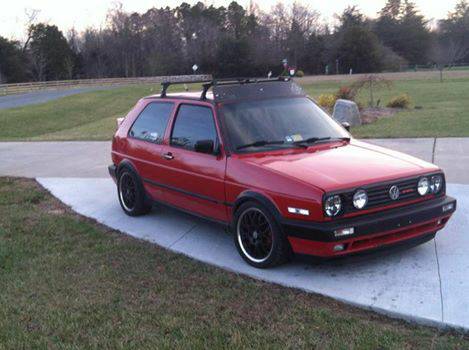 Year: 1988
Model: GTi
Engine: 2.8 liter turbocharged VR6
Transmission: 5-speed manual
Mileage: Not listed
Price: $5,000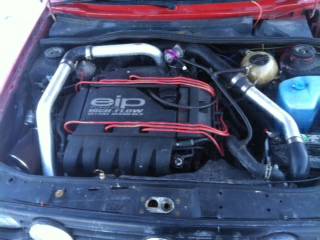 Great little project car. 1988 VW GTI Turbo, 2.8L. VR-6 Turbo. 2 door hatchback. New headgasket, crank, clutch, pistons. Oil/fitler just changed. No trades, please. Price negotiable.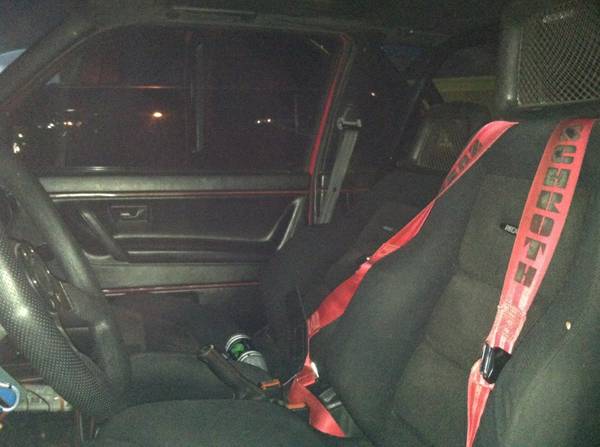 Requisite in any Volkswagen Mk.2 GTi ad are bad photos, lack of information, and a dirty interior. I'm not sure why Mk.2 folks can't clean their interior up, but they never seem to be able to. This car seems to leave out most of the good items that it appears to have; from what I can tell, it's an EIP turbo VR6 swap, 5-bolt swap probably from either a Passat or later GTi with bigger brakes and running BBS RX2s, looks like it also has a Zender wing, and some Recaro seats complimenting the updated Mk.3 dash and big bumpers outside. There, I wrote the ad for you, now just tell us how many miles it has, please. Want something even a little more wild?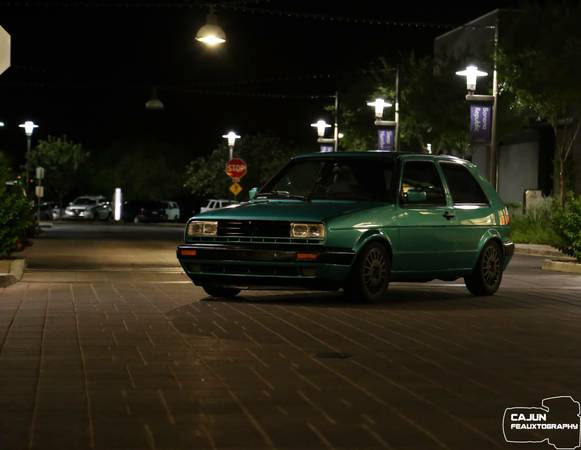 Montana Green is a great color, and coupled with the Rallye grill this is a unique look at the Mk.2. Like the previous example, there is a turbocharged VR6 hiding under that hood, boosting performance to another level in this light hatch: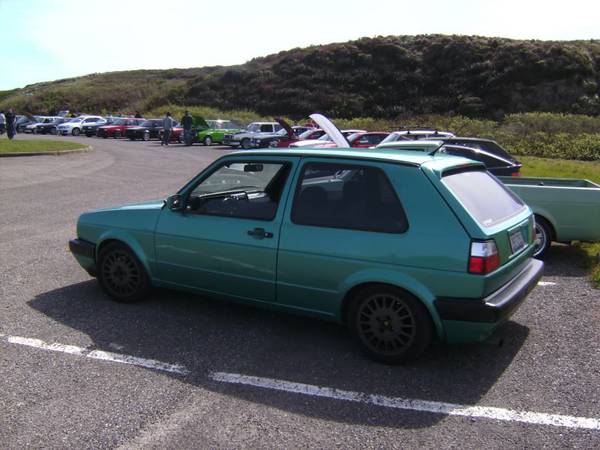 Year: 1991
Model: GTi
Engine: 2.8 liter turbocharged VR6
Transmission: 5-speed manual
Mileage: Not listed
Price: $7,999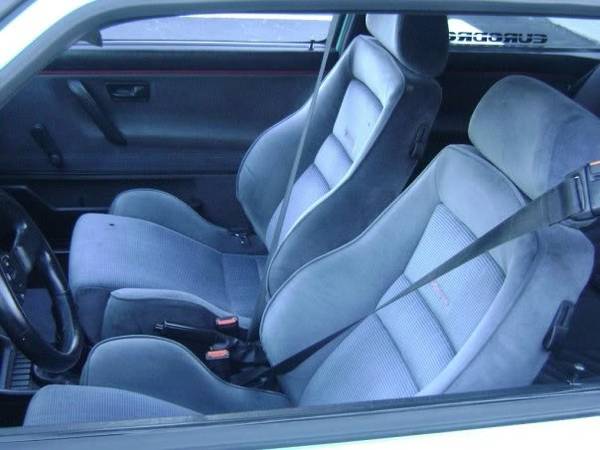 Solid 98 vr6 with about 80k on stock block and 100 miles on fresh head
all new gaskets, seals, chains and guides 100 miles ago
new oil pump
new starter
new serpentine belt and tensioner pulley **
autotech 262 cams
Garrett t3/t4 turbo with .60 cold side
BOV sounds nice
C2 fueling and software stage 1
heavy metal headgasket 8.5:1*
3inch downpipe and exhaust
38mm Tial wastegate open dump 7lb spring
stock tranny with new spec clutch kit
full samco hose kit
new battery
Oil always changed at 3k with Mobil 1 full synthetic
AC works just needs recharge
never been on dyno but thinking 240-250whp, thing hauls ass!
could easly handle 10lbs daily and 12-15lbs with intercooler

last of diesel Geek short shifter
280mm Momo team Wheel
Recaro grey cloth seats, rears removed
clean dash with one small crack
sony cd player with USB and AUX
Nice stereo system with 6 new MB quart speakers, clean clear sound
Needs headliner

Respray in the original color Montana Green
deleted banana lights and all trim
badge and rear wiper hole deleted
rallye front end with yellow city lights
tinted windows
G60 sebring wheels with lots of tread left
euro spec crystal rear lights
G60 brakes all around with euro spec drilled/slotted rotors and mintex pads
SS brake lines
patec holeshot coilovers (decent ride)
new strut mounts, ball joints, tie rods, poly mounts throughout
new hood latches

Call or Text 480-603-five522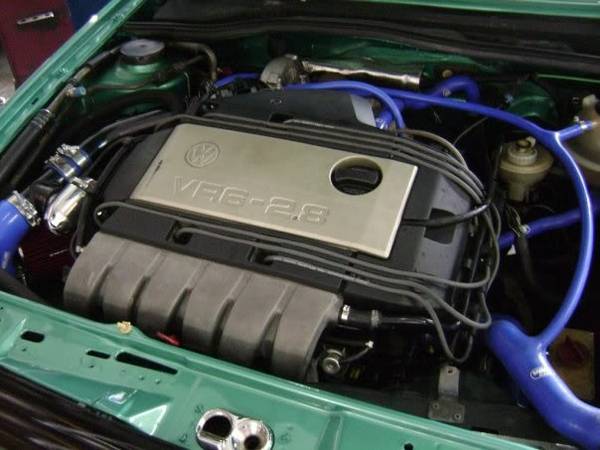 I like the combination of the G60 Sebring wheels with this GTi, it's really unique looking. The paint, though fresh, seems a little off in color to me; it just doesn't seem to pop like most Montana Green examples. The standard Recaro trophies are there, but like the previous example we're missing some critical details to support the quite high asking price. Not convinced by this example? How about a little more subtle VR6: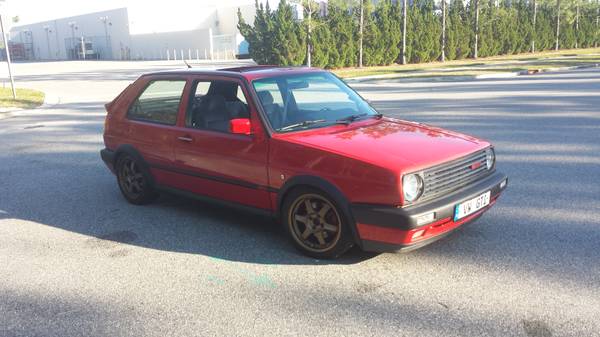 Back to Tornado Red, this example seems to sport the requisite rear Zender spoiler and VR6 swap that most of these cars have. It's also got some trick looking Ray's gold wheels that are pleasing and a little different to look at, but unlike the previous two examples it's unboosted…for now: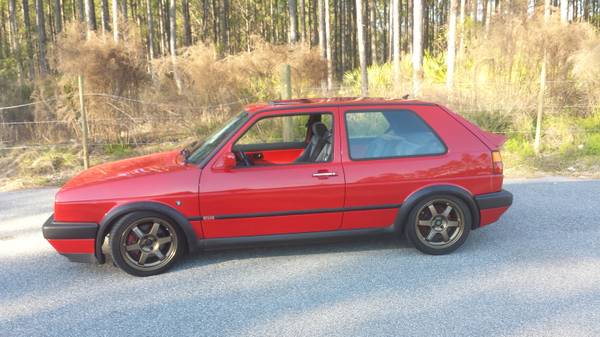 Year: 1991
Model: GTi
Engine: 2.8 liter VR6
Transmission: 5-speed manual
Mileage: Not listed
Price: $5,500
For sale is a 1991 VW Golf GTI with a VR6 swap from a corrado with 51,877 miles. Asking $5,500 obo. The car is a real head turner. I have with it but not installed is a turbo, intercooler, headers, (2) Sparco bucket seats, (2) 4 point seat belt harness and one custom bench seat for the backseat. I was planning on putting these in but I have too many projects. I love this car and put a lot of time into it.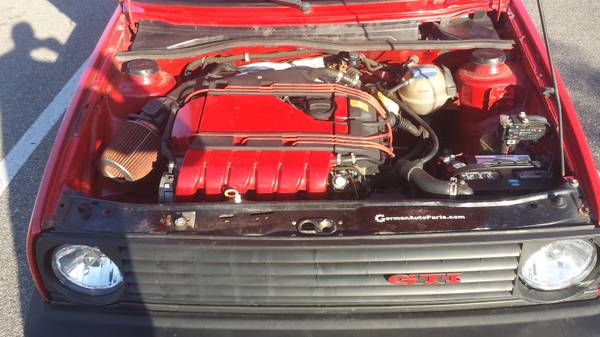 You guessed it, not much info and no miles listed. Overall, the condition appears good and it's nice to see a little less extreme example than the Montana example. I like the individuality of the wheels, but would probably rather see some original BBS RMs on there. The Recaros are present and the car comes with additional turbo parts and Sparco seats. Price is around par for these VR6 swapped examples, so if you like the mods this one doesn't look too bad. Rather have a stocker?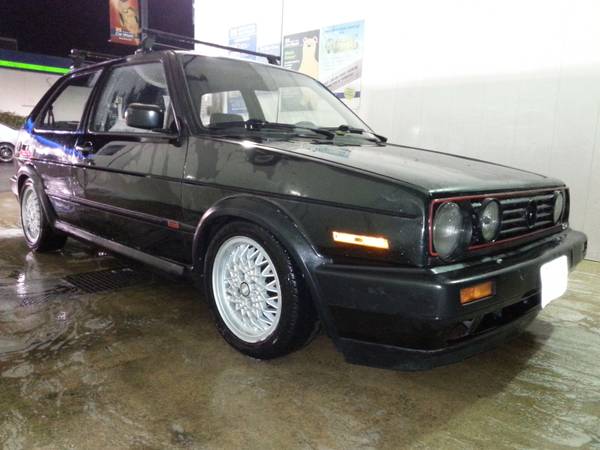 The 8V GTi was the unloved brother of the 16V. Sporting the looks of the high-revving 16V but not much more performance than a standard Golf, the 8V was none-the-less snapped up as a great looking hatch that was slightly more practical in many ways than the more highly sought after 16V. This particular example has been lightly changed from stock to include some great looking BBS RA wheels that adorned the GLi stablemates: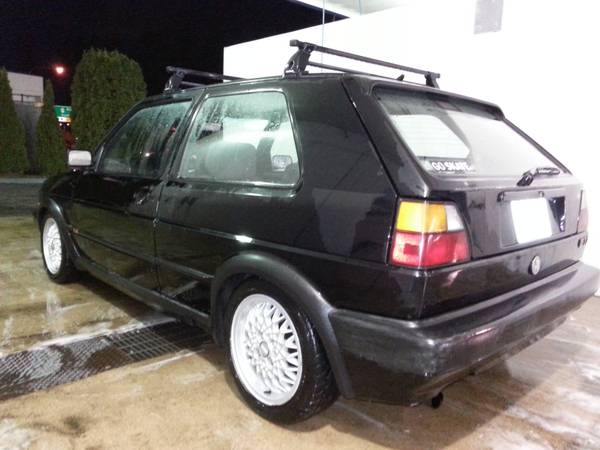 Year: 1991
Model: GTi
Engine: 1.8 liter inline-4
Transmission: 5-speed manual
Mileage: 240,000 mi
Price: $1,800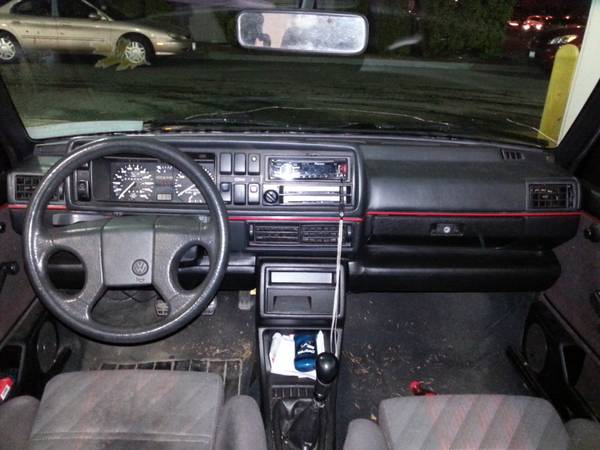 Good project car! I've put a lot of work into her but she still needs some love. The car runs and drives fine. New tires and tie rods when I got the alignment done.

New:
Alternator
Clutch
Battery
Ignition coil
Head gasket
Spark plugs and wires
Distributor cap
Front brakes
Fuel filter
Air intake
…engine rebuild about 100,000 miles ago.

Also re-did most of the wiring under the hood.
Car is still having electrical issues somewhere under the dash but I just don't feel like messing with it anymore. There's some damage to the front end…little dents and dings. Nuthin too crazy.
Price is $1,800
Text me if you're interested: 206-331-5510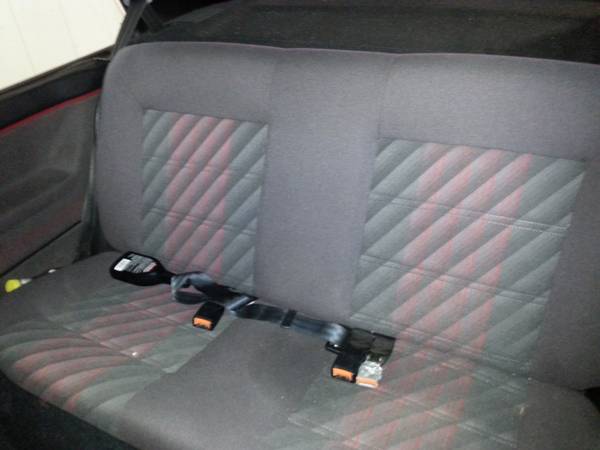 Here's the scenario: you're at the carwash to clean the car for impending sale. You wash it off, glance over at the vacuum and think "Nah, that's a dollar I don't need to spend". That sums up the watercooled crowd pretty well. Information is typically spotty at best and the pictures are VW horrible, so I'm assuming it's a 1.8 8V and it probably doesn't look as good as the washed photos make it. Still, there are BBS RAs on it, it looks the part and isn't a wreck with modifications. It could be a good platform and is priced reasonably at $1,800. Rather have something a little nicer with less miles? Prefer the early bumper look on your 16V? Have no fear, the solution is here: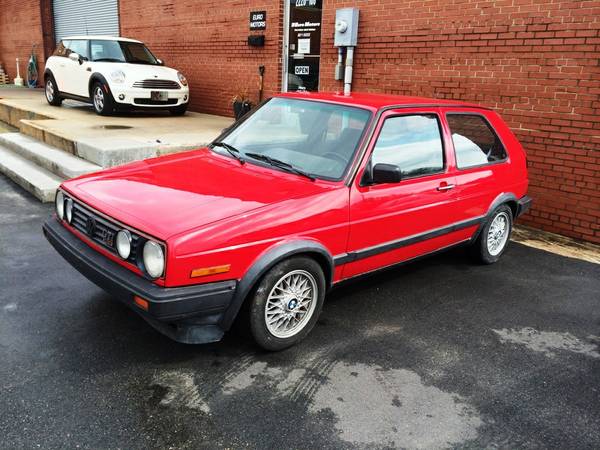 The Volkswagen crossover period from 1989-1990 has always mystified me. There doesn't seem to be much rationalization to how or why they did things that they did; occasionally, you'll see a GTi from this period and think "that should be a later big-bumper car" but it's got early bumpers, or a later grill, or a 90 and up interior. Now, obviously these things can be swapped, but early in my VW life I had a fairly new 1990 8V that had the smaller early bumpers just like this car. In any event, here's another Hodge-podge VW 16v: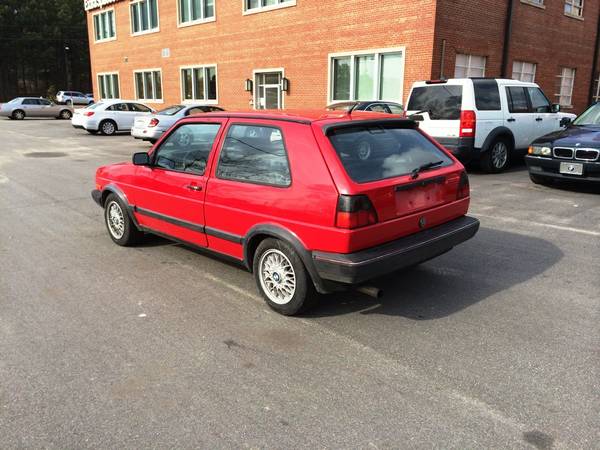 Year: 1989
Model: GTi 16V
Engine: 1.8 liter inline-4
Transmission: 5-speed manual
Mileage: "225" mi
Price: $6,995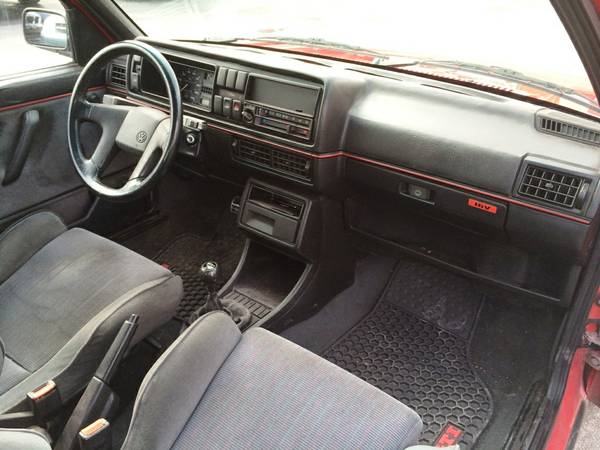 Hard to find 1989 Volkswagen GTI 16v! Manual crank sunroof and Cold AC! Previously mechanic owned and well-maintained. No mechanical needs at this time. Recent paint and NC State inspection and good tires. Runs and drives fantastic! Extensive list of upgrades done by the previous owner are available via email. Interior is in very good condition for the vehicle age, headliner and door cards are in excellent shape and super supportive factory Recaro seats are installed. Contact Kurt at 919-271-8655 for more details.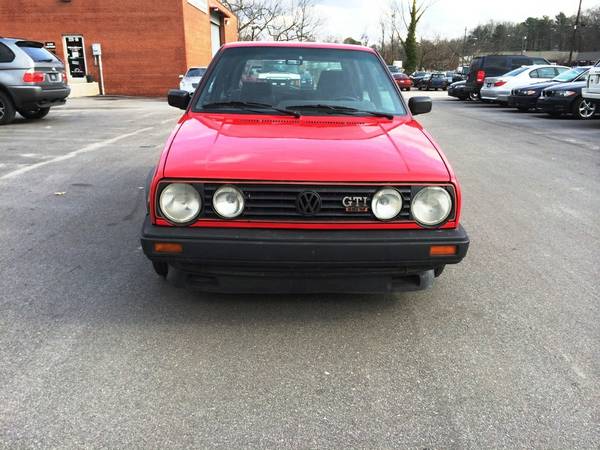 Hey Kurt, we need more details – such as miles, for example. I'm guessing the previous owner made the 4-round light grill swap and later Recaro interior swap. The exterior does look nice overall, though I'd opt to stick the original GTi 16V badge back on, personally. I think the rear of the Golf looks a little too naked without it. The only other real gripe is the out of place BMW alloys; they just look silly. Buy some correct teardrops and call it a day, this is a nice looking car. However, it's well overpriced; I'd peg its value around $4,000 in current state though it does present well.
Hopefully, if nothing else, you've learned from this group exactly how not to post a car for sale. We need good photos, all of the information such as mileage, maintenance, engine, and for Pete's sake, clean the car up inside and out when you do it.
Which is your favorite (or, least favorite)?
-Carter