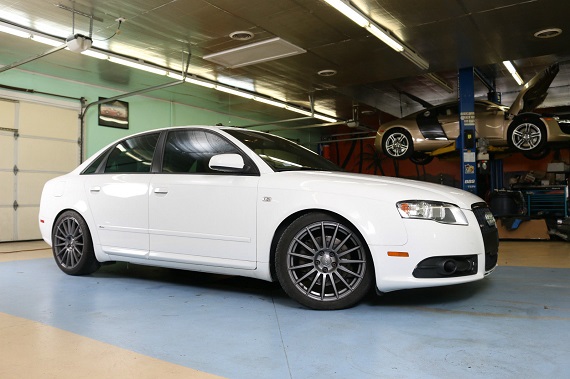 If you walked in to your Audi dealer a little under a decade ago, an A4 sedan started at $31,000. That sounds like a lot, but consider for a moment that all these years later, the base price is still under $35,000. Click the S-Line package on your order form, as many did, and you snuck an extra $2,000 out of your bank account. That got you a black-only leather interior, the 1BE sport suspension, brushed aluminum trim, a S-Line 3-spoke multifunction steering wheel, 18-Inch 5-Arm quattro GmbH Wheels with 235/40 All-Season Tires, S-Line door entry plates, and aluminum optic pedals. Considering what Porsche charges you just to take a radio out of a car, that's not a bad deal, all in all. You then had the option to click the special package on the special package: the Titanium Package. This gave you the special Ronal-made 15 spoke quattro GmbH wheels in 18″, blacked out trim inside and out, and a black headliner. That would have cost you only $500 more, but the residual value of this package would have made it quite a good investment, indeed. With perhaps the best looking aesthetic of any A4 produced yet, the Titanium cars have taken on a life of their own, often asking near double what an equivalent S-Line would come to market for. That's especially true of manuals, and the market really loves the look of Ibis White. Ticking all of these boxes plus a few more, let's see if this particular example is worth the hefty premium: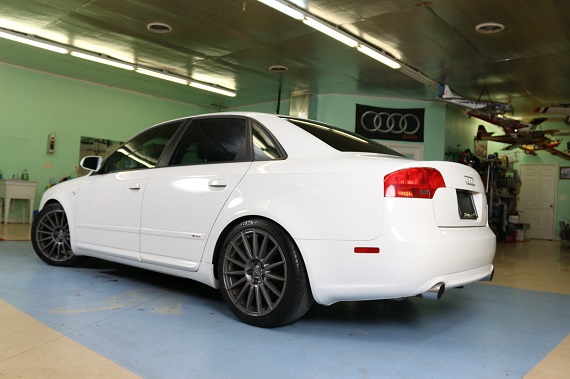 Year: 2008
Model: A4 2.0T quattro S-Line Titanium Package
Engine: 2.0 liter turbocharged inline-4
Transmission: 6-speed manual
Mileage: 86,589 mi
Price: $17,900 Buy It Now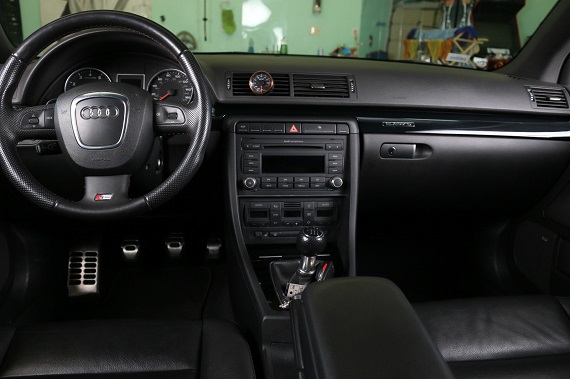 Welcome to your Audi A4 connection! We've been specializing in Audi A4 for over 15 years now. I am very excited to present this one of a kind purchase opportunity. This is a very interesting A4 to say the least. I purchased the car for myself about 2 years go as i am a huge Audi fan and have always been. It was a 1-owner off lease Audi Financial vehicle that was in impeccable shape that featured some very high quality modifications so i jumped on it. Well, about $30k later and nearly 2 years down the road, ive decided to part ways with the car which presents an excellent opportunity for a true Audi fan. Ive enhanced the vehicle gradually over the past 2 years and have driven it about 2k miles, its been stored in our service shop for the majority of time. We've worked on it here and there, mainly inspecting different areas for quality control purposes. In a nutshell, its a stage 3+ vehicle thats capable of putting down some serious power, which is why we have been careful with inspections and have not driven it much, the last thing i wanted was to take a chance on damaging something internally in the engine. It is a big turbo vehicle. The first item on the list was to inspect the engine upon its arrival. Number one was basic compression testing, which the compression tested out perfectly. Next was crankshaft bearing inspection and camshaft inspection, both checked out 100%. Last on the list was timing chain inspection which is located on back of cylinder head, it equally checked out solid. I also had every single modification inspected, i even removed the turbocharger and had a professional turbo shop here test it. After the initial engine inspections were completed and everything checked out, i decided to start investing in the car. I installed a stage 3+ Spec clutch kit which also included upgraded flywheel, new short shifter kit, full timing belt and water pump kit, new battery, new thermostat, new glove box repair kit, upgraded ECS tuning coil packs, Unitronic Stage 3 software, new spark plugs, new 034 motorsport front engine snub mount with brackets, new valve cover gasket, all fresh fluids, new intake manifold and more. The car arrived with the following modifications already installed: fully precision built bottom end with forged pistons and forged connecting rods, arp performance head studs, upgraded cylinder head with billet aluminum machined valve cover, S-max oil catch can system, hardware for potential methanol injection, APR large front mount inter cooler, upgraded cross drilled and slotted brake rotors, custom fabricated catless exhaust with custom headers, T67 precision turbo charger, Tial Blow off valve, amori vent boost gauge, KW fully adjustable coilovers, performance 3″ catless exhaust system, Audi R8 performance injectors, APR high performance high pressure fuel pump, high performance in-tank fuel pump, upgraded custom made camshafts, performance fully adjustable camshaft gear and more! The car was set up really nice in the beginning but we were not sure what software it was running. A friend of mine that does some tuning recommended Unitronic Stage 3+ software and reverting back to factory camshafts for a fail safe and very mild tune for the time being, so that's what i did. I had him install brand new factory oem camshafts and the stage 3+ software, he recommended this to me and said it it would fine until i could find a shop that could perform some "custom tuning" which could easily generate up to 600 hp with race gas. In summary, i no longer have time or wish to complete this car, its super clean, quiet, smooth, fun to drive and presents itself to you with an opportunity to have an Audi Race Car at half price! My guarantee to you is that the motor is healthy and properly assembled, i will be happy to drive the car to any shop for a 3rd party inspection if you wish. The car is sitting at about 300 hp which is nothing compared to what it can produce with the right tune, ALL the mods exist, it simply needs the correct tune. i accept trades and can ship nationwide. 615.390.4334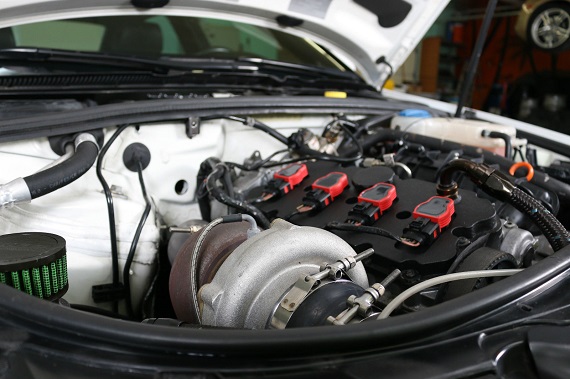 While this particular car sports a large amount of upgrades, outside it's hard to see the changes. Sharp eyes probably note that it's a bit lower than standard and has been debadged. Otherwise, it looks like a pretty stock S4. The Unitronic software is claimed to be good up to 500 horsepower, though, so with the plethora of upgrades this car should be ready to rip your face off. However, the seller claims it's currently running only 300 horsepower, which is under Stage 2 performance. The build sheet seems to be fairly top-notch and certainly would cost a pretty penny; does it justify the $18,000 asking price? For the right person that likes the mods, all told this is a performance deal. It should exceed the performance of a similar S4 or RS4 for less money, but the seller hasn't gone with the typical too-low, ridiculous wheel setup. Still, it's a hefty premium for a heavily modified car and it will take a very specific person to want this setup and be willing to forgo a more stock example.
-Carter