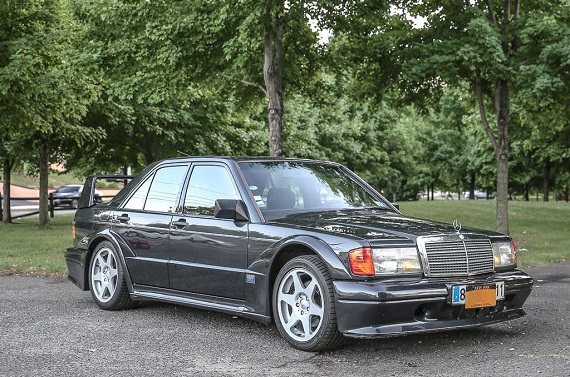 While the regular 190E 2.3-16 Cosworth had originally been intended to be a rally car, by the time the company got to producing the "Evolution" models they were fully embroiled in the DTM war of the late 1980s. Massive wings mounted trunklids, fenders flared, and engines roared to new heights of power. While most probably associate the E30 M3 as being the pinnacle of this period, the wildest road-going warrior was the 190E 2.5-16 Evolution II. Mercedes-Benz made 502 of these cars, replete with AMG-tuned motors and enough wings and flares to make an M3 jealous. It should be no surprise that these cars hold a special place in enthusiast's hearts and they've led the market in value because of their very limited nature: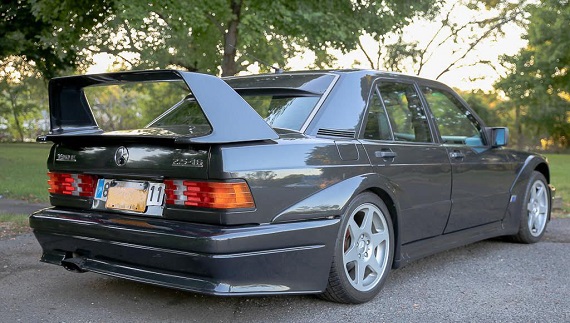 Year: 1990
Model: 190E 2.5-16 Evolution II
Engine: 2.5 liter inline-4
Transmission: 5-speed automatic
Mileage: 29,686 mi
Price: $185,000 Buy It Now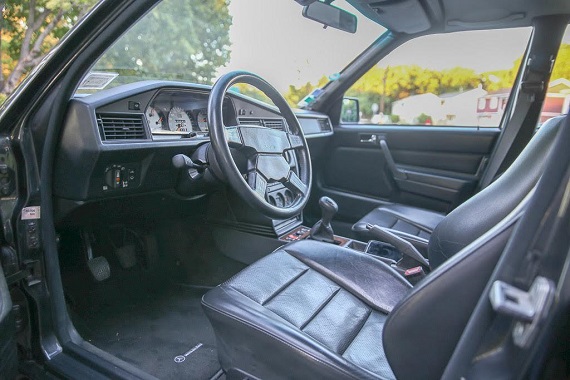 DESCRIPTION:

Up for grabs is a true collectible 1990 Mercedes-Benz 190 EVO2 non-sunroof car, #55 of 500 made!
If you are looking at this car you know what it is, this one is the 55th car out of a total production of 500.
2.5 liter 16v Cosworth engine, dogleg 5-speed gearbox, hydraulic suspension, bolstered seats front and rear, lap timer, the works.

The current owner, a NYC based collector purchased this vehicle from the original owner in the south of France.
We are handling the sale for the current owner as he is simply too busy to deal with it himself.
It is a beautiful example of an original, rust free and unmolested, EVO2 that has only seen 29,852 miles.
This vehicle has been gone over and has had approx 11k recent maintenance.

This car is tight, runs, pulls, shifts, turns, stops, handles and does all the things it should the way it was intended. Get in it and drive across country with no worries.

Original steering wheel was replaced with a period correct and extremely rare AMG wheel as on the DTM race cars (original wheel will go with car)
Original becker retrofitted with ipod cable in glove box,
tools, original spare tire, original emergency medical kit, and maintenance book

Please look over the photos and feel free to ask any questions, the vehicle is available for viewing by appointment in Northern NJ.

Vehicle is of course being offered in as is condition with no warranties express or implied.
Pick up arrangements and transportation are the buyer's responsibility.
$1000.00 non-refundable deposit in 24 hours. Please, serious buyers only, if you have zero, very low or no feedback please contact us prior to bidding.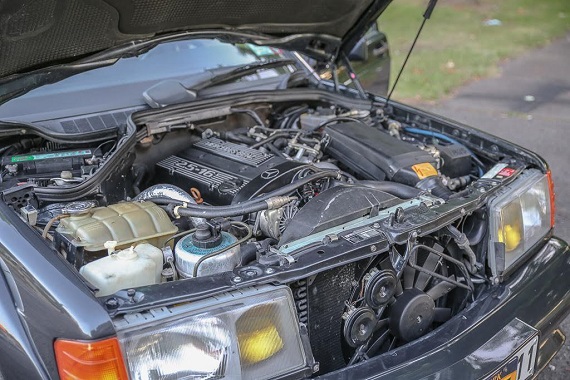 Compared to the price tags on the last few examples of the Evo II we've looked at, the $185,000 ask almost seems reasonable. Throughout the car looks to be in quite good shape, though it does show some signs of age under the hood. The only thing that really stands out to me is that in the photos, the car appears to sit low at the rear and high in front – perhaps a sign that the SLS suspension isn't functioning properly? However, the asking price is a few hundred thousand dollars less than most other examples we've looked at recently; it's also substantially more sane than those prices and probably closer to in line with the recent market. If a standard E30 M3 is a $100,000 car in this condition and mileage, the Evolution II should be that much more precious.
-Carter