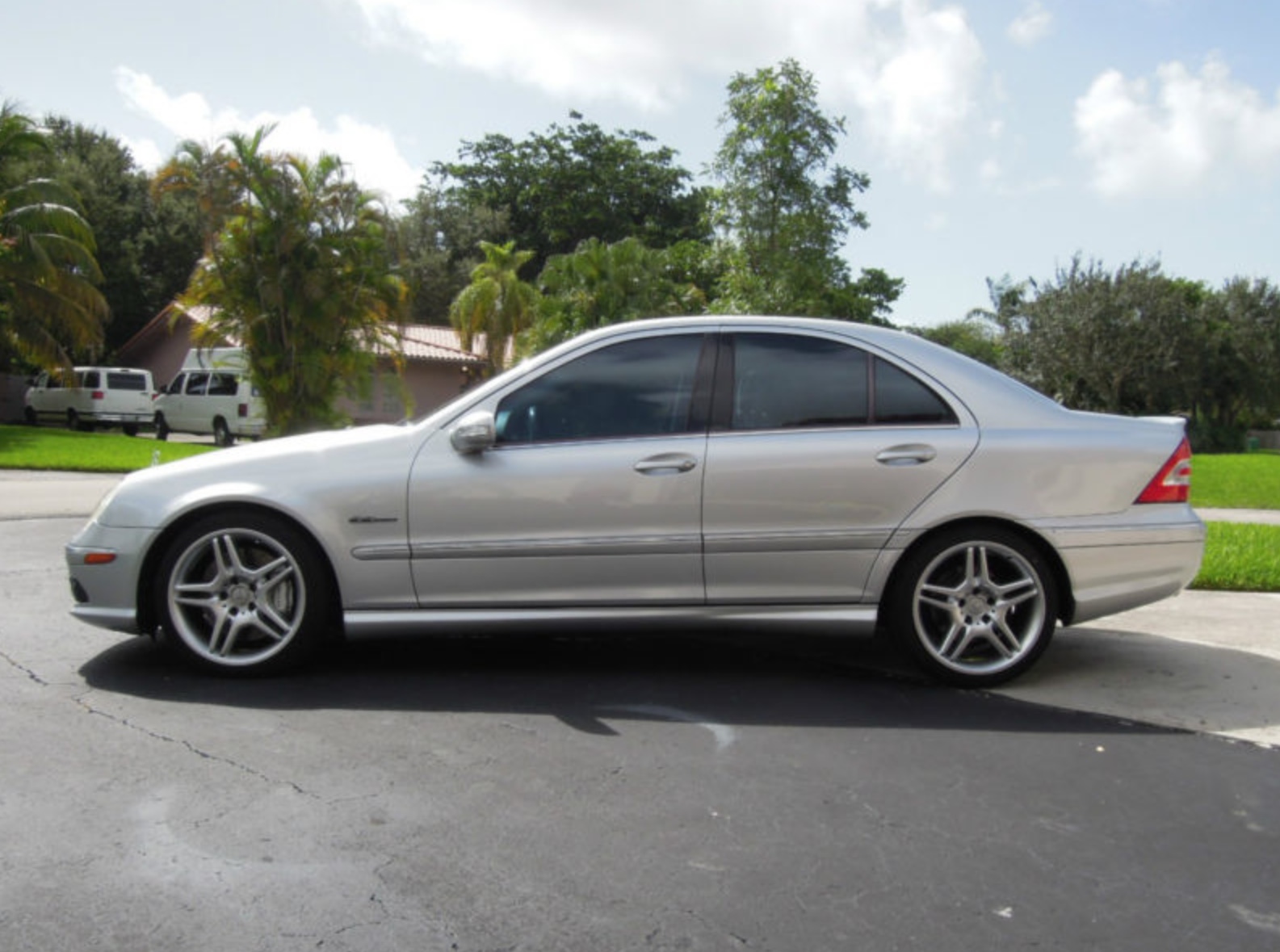 It's an age old formula. Big engine + small car = something greater than the sum of its parts. Pontiac realized this when they dropped a V8 into the pedestrian Tempest and created the GTO. Likewise, when Mercedes-Benz engineers shoehorned the 6.3 liter V8 from the 600 sedan into the 300SEL, they created a monster. Since then, Mercedes has been keen at fitting big engines in cars not normally designed for them. Witness the W124 500E/E500 and W202 C class with the 4.3 liter V8. When the W203 was introduced in 2002, the AMG variant first packed a supercharged 3.2 liter V6. This gave way to a 5.5 liter V8 in 2005, which is the car you see here for sale in Florida.
It wasn't just that easy as slipping the eight cylinder powerplant under the hood. While it may look like an ordinary C class from the front, look a bit more closely and you'll notice headlamps taken off of a CLK and lengthened front fenders, a result of the extra space needed for the longer block.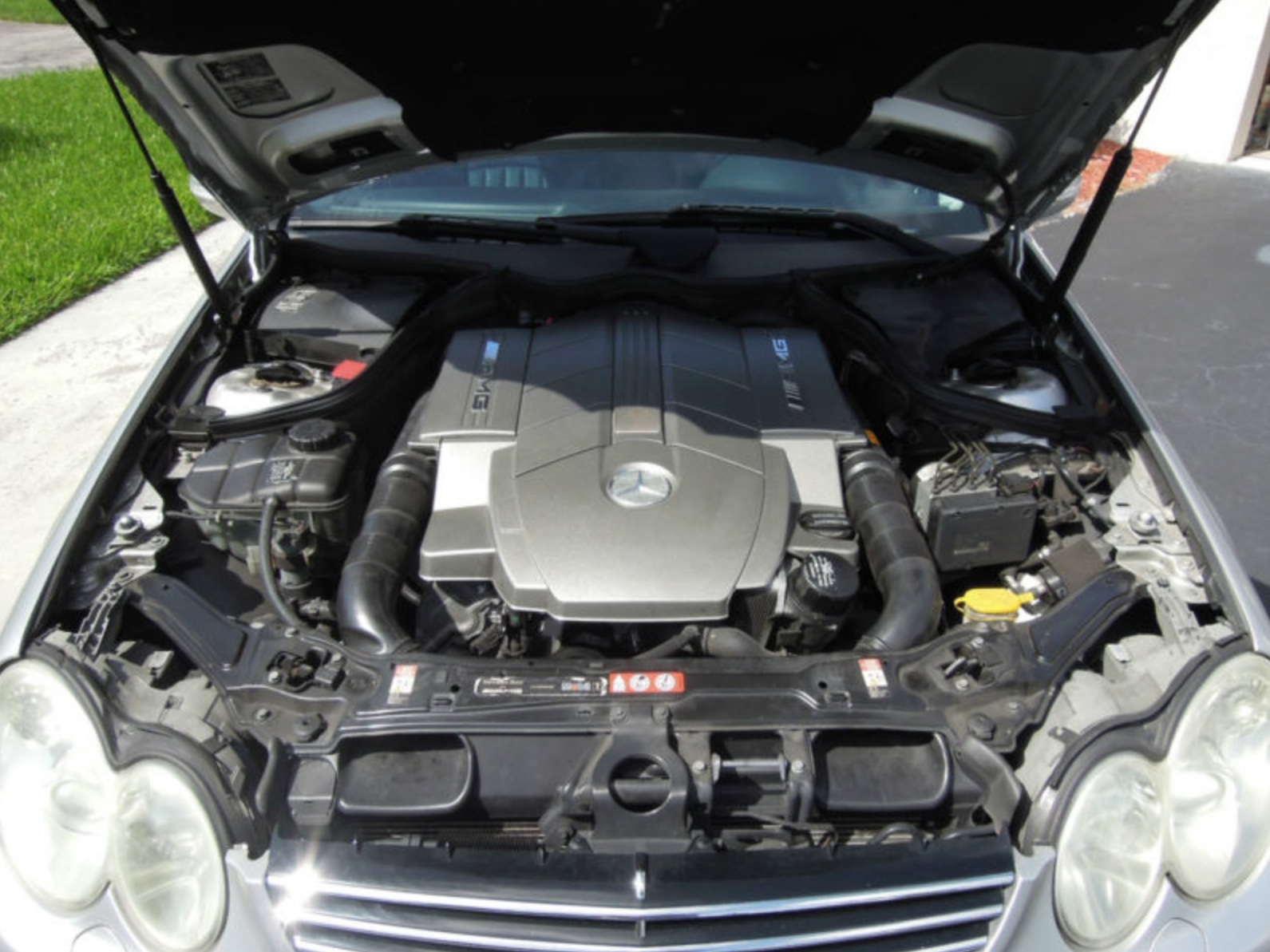 Year: 2005
Model: C55 AMG
Engine: 5.5 liter V8
Transmission: 5-speed automatic
Mileage: 87,900 mi
Price: $14,750 Buy It Now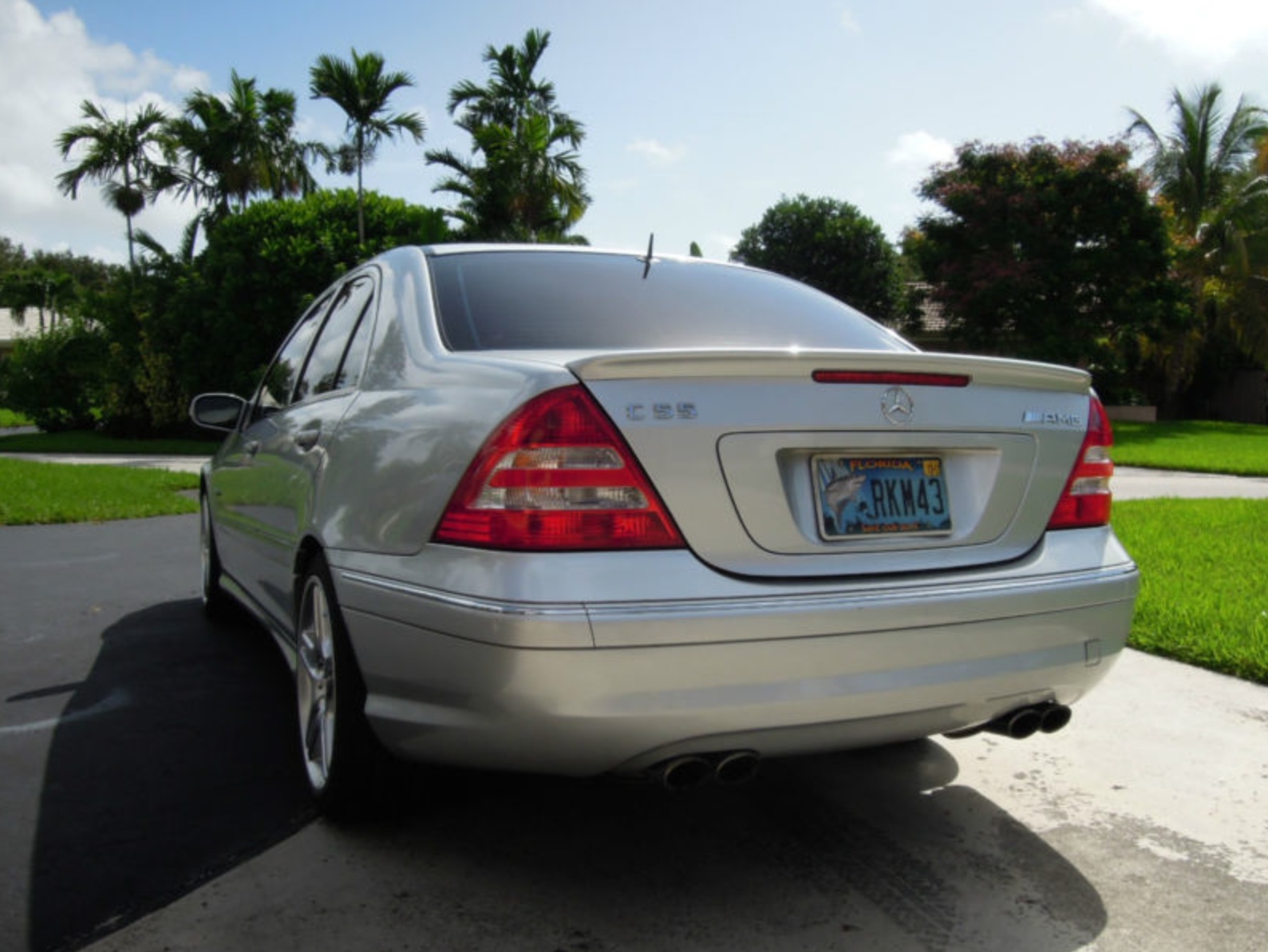 2005 Mercedes AMG C55, excellent condition, all options, NAV, CD Changer, aux connector, heated seats, harmon kardon, rear sunshade, sunroof, memory seats, silver on blk, new back tires, 75% front tires, just did the mobil 1 European blend oil/filter change and air filters, new battery, non smoker, car is in excellent condition in and out. Family does not fit in the car anymore, bought an SUV. I will miss this car and it will not disappoint. Runs awesome at any speed. I have had no accidents with the car and it had a clean carfax when I bought it. 87,900 miles, call or text Mark at 305-753-1148.

This car performs unbelievable well, 0-60 4.7 sec, 1/4 mile 13.2 sec. Handles incredibly well yet the ride is smooth. Car is super quiet at any speed with absolutely no wind noise yet the exhaust roars when the need for speed kicks in. Auto tranny responds well and has shift buttons on the back of the steering wheel. I have had this car at 130 mph and is solid as a rock, hugs the road as a true autobahn car should.

This car is a sleeper, most people have no idea how fast it is. I did add the 5.5 AMG emblems to the front fenders and shift knob cap was replaced from the plain one to a brushed alum AMG one. I also put on the SL55 wheels, they are 1″ wider front and back, provide a stock look with better handling. Front tires are the stock size, rears are up sized to 255's. Rims fit perfect, flush and no rubbing, should have been the way Mercedes sold it. All else is bone stock. Buyer will enjoy and I will be sad to see it go.

On Aug-27-13 at 10:43:02 PDT, seller added the following information:
Regarding maintenance, I am a car enthusiast and do all of the maintenance myself, I bought the car about 2 + years ago with a bit over 60k miles on it and performed the following: Oil/filter changes at regular intervals (7500 miles) with Mobil 1 European blend. Replaced front brake pads and rotors shortly after purchased. Replaced air filters. Replaced transmission fluid and filter with Mercedes fluid/filter at 65k miles (I have extra fluid that the buyer can have, its like $10/qt)Replaced engine mounts (common problem with Merc, they are fluid filled) at 80k miles. I do have a spare serpentine accessory drive belt, but I did not replace it yet (the one on the car is in good condition. Cleaned Mass air flow sensor. Replaced electric air pump (part of the emmission control system). New Bosch battery at 85k miles. Car runs great, everything works as it should, last 2k miles were put on driving to S Carolina, GA and Tenn with the family, car drove awesome.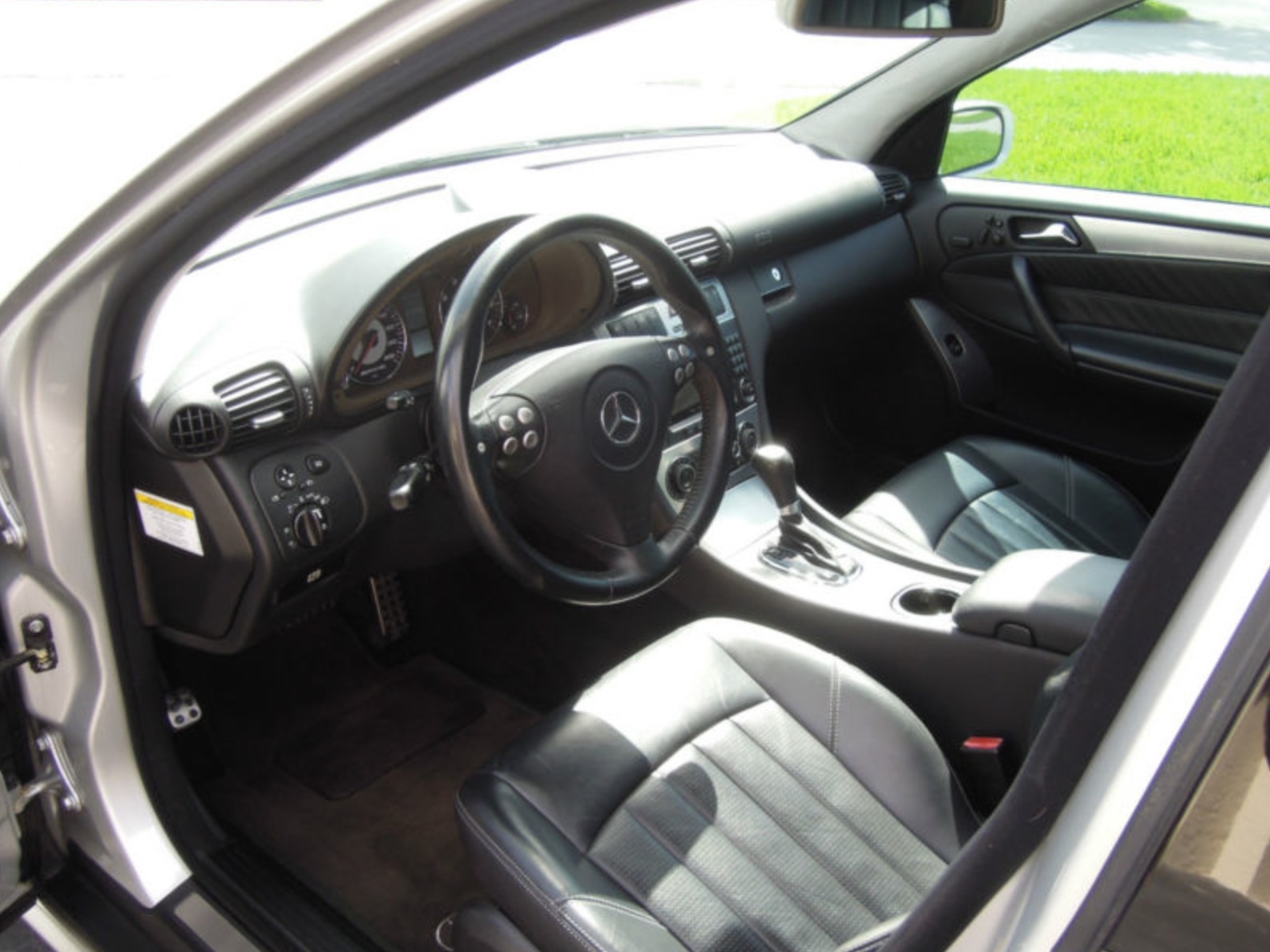 If you always wanted a V8 C class, you are in luck because the depreciation gods shine once again. You would be hard pressed to find even the best W203 C55 breaking $20,000 these days, with most examples hovering around $12,000 to $15,000. Considering the mileage is a bit less than average on this car, the price is about in line for the current market. It may not have the later 6.3 liter V8 or the supercharger that some 5.5 lumps had, but there is still plenty to like about this car. Considering most people would mistake it for a cooking variety C class, you'll have a lot of fun catching others by surprise with this C's pace.
-Paul