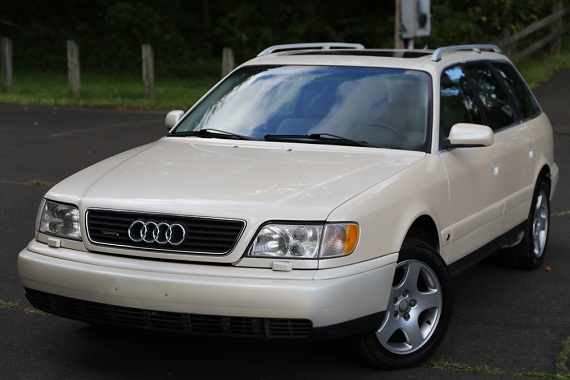 As I said when I originally wrote up our Featured Listing Emerald Green A6 2.8 Quattro Avant, the Audi A6 2.8 Quattro may not be the car of everyone's dreams, but it's a solid performer on a great platform. With outstanding style, quattro all-weather go-anywhere attitude and the long-life of the C4 platform, the A6 really is a great modern alternative to the venerable W124 Mercedes-Benz wagons. Today's example looks splendid in the signature Audi Pearlesant White Metallic over Ecru leather: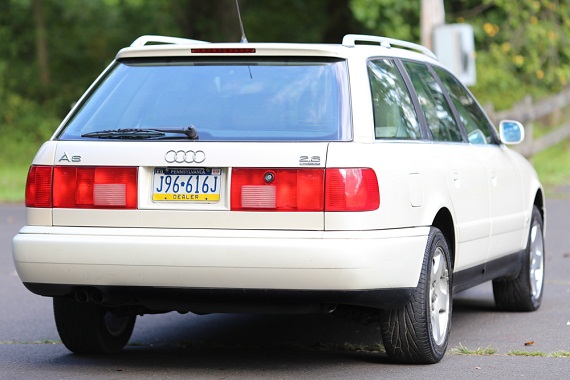 Year: 1997
Model: Audi A6 Quattro
Engine: 2.8 liter V6
Transmission: 4-speed automatic
Mileage: 74,646 mi
Price: $8,950 Buy It Now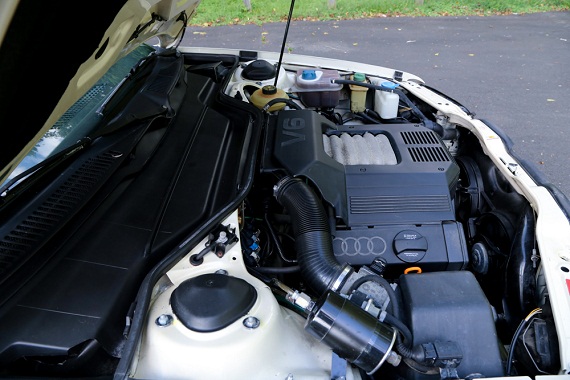 RARE SUPER LOW MILEAGE AUDI A6 WAGON QUATTRO WITH 3RD ROW SEAT!

HEATED SEATS!

MOONROOF!

1 OWNER
CARFAX CERTIFIED !!!
Only 74K Original Miles

A very Hard to Find A6 wagon AWD in gorgeous white paint!
4WD/AWD Powerful 2.8L Engine! LOW MILEAGE Vehicle! Third Row Seat!

You are looking at a sporty luxury vehicle that has been well kept and maintained; it's an all around great looking vehicle. The car has mostly been driven on the highway, and it is in great condition.

The famous Quattro all wheel drive provides superb traction whether its winter, fall or summer. Rain or dry you will get superior traction and security.

The engines is one of the finest German engines ever created – a 2.8 liter V6 that runs and feels smooth and provides abundant power. The transmission shifts like on a new car, no skips or slips on shifts.

The interior is in nice condition. The front seats lean all the way back to the rear, so you can actually sleep rather comfortably in the car!

All the electrical options appear to be in working order. A very good climate control system is present in this car, and the A/C blows ice-cold.

The trunk is clean and roomy as you can see from the pictures, and has all the AUDI tools that came with the car.

This is a unique hard to find car, that is painted with a color that really makes it stand out in the crowd.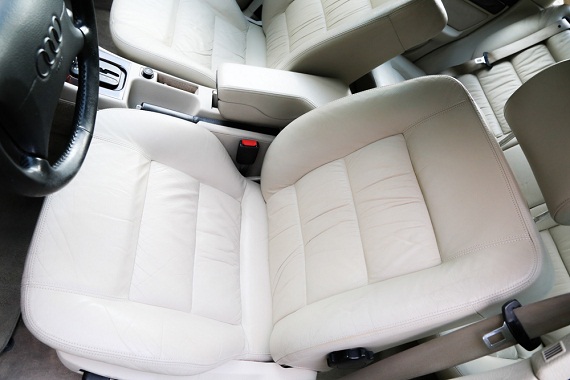 It always confuses me a little when second-hand dealers list cars as "one owner", since their ownership would mean it's a 2 owner car. I do like that the Car Fax is shown and lists the original owner, but a careful look will show you that the registration ran out around July 2012 and there is no renewal listed. That may in part be due to the asking price; at $9,000, this car is priced well outside the current market on A6 quattros. It appears to be in fantastic shape and the pictures document that, but as with all used dealers there are annoying details missing – like the $10 dollars worth of lug caps they could have replaced for a car that is top dollar. Heck, even if they had simply moved the caps wheel to wheel as they were taking photos it at least wouldn't show as an issue. I know it's minor, but if you're going to ask top dollar, get it right.
That said, it'd be hard to replicate the condition of this car from a lesser model for the asking price. Most A6s are pretty worn and the going rate seems to be $3,500 – $5,000 for a much higher mileage model. Factor in the cost of a repaint or bodywork and interior refresh into that price, and $9,000 suddenly isn't so outrageous. But of course, that would be predicated on you wanting an A6, and at this price, I'd hold out for even a higher mile 1995 S6 Avant, as I'm sure most of you would too. But if you want a mostly fresh, dependable daily driver and aren't worried about performance, the A6 remains a solid value for a solid car.
-Carter