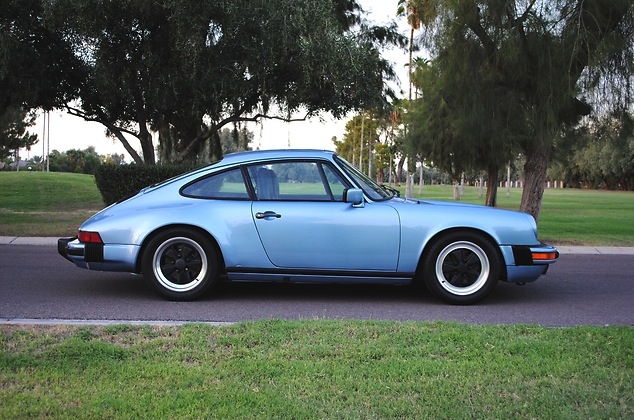 The Isis Blue 1984 911 Carrera we featured in September is back up for sale with a slightly lowered price of $23,900.
The below post originally appeared on our site September 18, 2013: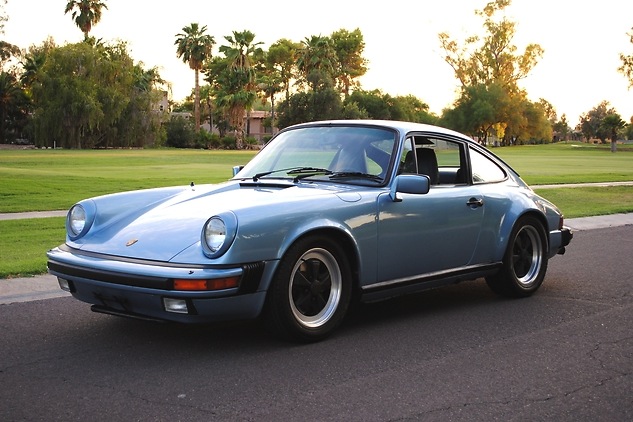 The first time I got behind the wheel of a 911, it was a slate blue '84 Carrera 3.2. I was still on my learner's permit then, but even to this day, there has been nothing quite like a 911 across my motoring career. It's one of those outliers in the automotive world; a layout that few have attempted, especially in a sports car. But for a staggering 50 years, the basic formula of a flat six swung out over the rear axle has stayed the same. Will the 911 be with us another 50 years from now? Personally, I wouldn't doubt it, because cars like this Isis Blue 1986 Carrera 3.2 for sale in Arizona have staying power.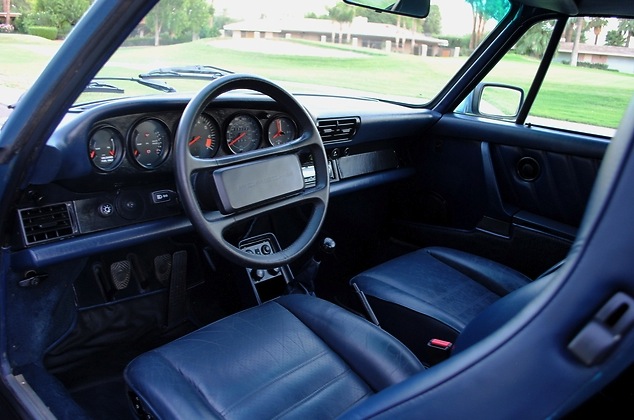 Year: 1986
Model: 911 Carrera
Engine: 3.2 liter flat-6
Transmission: 5-speed manual
Mileage: 108,480 mi
Price: $23,900 Buy It Now
Introduced to the public at the Frankfurt Motor Show in 1963, the 911 was a larger, more powerful and refined replacement to the much loved 356. The 911 made its debut in the United States for model year 1965 and was an instant success offering robust German engineering in a superbly balanced sports car. By the early 1980's Porsche AG was faced with a decision of whether or not to keep the 911 program going or replace it all together. A decision was made and the 911 program continued, making way for the redesigned 3.2 model. For model year 1984 Porsche introduced a much improved 911 and brought back the Carrera name. It was to be the very last iteration of the original 911 series, and offered more power, improved electronics, brakes, suspension and handling. Many Porsche enthusiast say the 3.2 is the best generation of the 911 and best value.

European Motor Studio is proud to offer this gorgeous Isis Blue on Navy blue leather 1986 Porsche 911 Carrera Coupe that has traveled only 108,530 miles. The car is finished in a very rare and desirable color combination of Isis Blue Metallic over Navy blue leather interior. The car is a complete rust free 3.2 911 and has never seen any snow or salt. Always garaged kept and only driven in dry climates this 911 has always been serviced correctly and only seen a Porsche dealer or certified Porsche mechanic for all of its needs. This car comes from a very large Porsche collection from Portland Oregon. The past owners were very religious on servicing and it shows in the way the car runs and drives. Everything works as it should, the power windows, the mirrors, power sunroof, the AC and heater, all of the exterior lights, brake lights, turn signals, reverse lights, dash lights, headlights, side marker lights, and all of the gauges read correctly and function as designed to. The AC was just completely sorted and a new compressor and the AC blower were just installed by a certified Porsche mechanic.

The Isis Blue Metallic paint is in gorgeous shape with very few flaws. There are a couple tiny stone chips on the front nose of the car, one tiny hairline scrape on the rear upper fender around the rear window, and a small scratch on the front fender around the headlight. Otherwise the paint shows incredibly well, the car has all of its original fenders and body panels. The body is completely straight and rust free, there are no signs of any kind of accidents or damage. This 911 still has its original leather faced interior in correct factory color of Navy blue. The interior shows very little wear, a few small stress cracks on the driver and passenger seats but free of any tears or scrapes.

The interior still has that great Porsche smell to it and is free from any smoke or mildew scents. The dashboard is completely free of any wear or cracks, all of the plastics and trim pieces are all intact and in excellent condition. All of the carpets are original and in really good shape, shows very little wear. The headliner is all original and in outstanding condition, the sunroof headliner does have slight sag to it but nothing serious. All of the glass and gauge lenses are original and clear without any hazing or pitting.

The tires are the correct size with the correct factory Fuchs Porsche wheels which are in excellent shape and free from any curb rash or scuffing. This car starts right up and idles superbly, the engine revs freely without any hesitations. The clutch is very tight and solid and once in gear the car accelerates as it should running through all of the gears effortlessly without any grinding or whining. The suspension feels nice and tight and free of any rattles or squeaks. The steering is tight and precise without any wondering or drifting. The brakes are newer and are very strong without any pulsating or pulling. The engine bay is very tidy and clean, there are no fluid leaks underneath the floor or on the engine. The front bonnet is very clean with original carpets. The original Porsche spare tires is present along with its original Porsche factory air pump, the original warranty book and Porsche cut key with flashlight are all present. This 911 sounds and runs like a proper 911 should and backed by Porsche's exceptional build quality these are very robust cars. This car comes with a clean and clear title, the car has never been wrecked or salvaged and has a box A actual mileage title.

Please call or email with any questions regarding this beautiful 1986 Porsche 911 Carrera Coupe' or if you would like to schedule a test drive or inspection.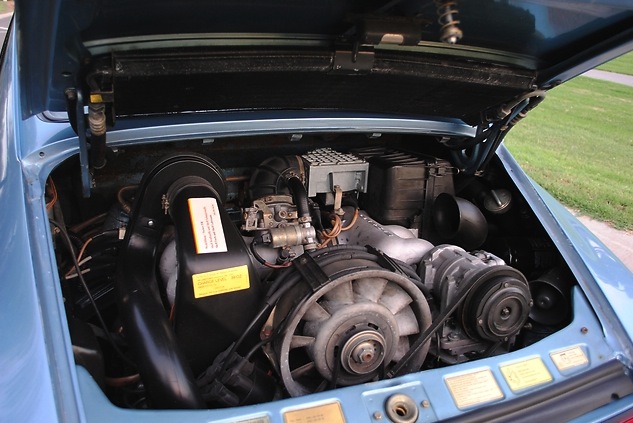 This one for sale is priced right in the sweet spots for 911 3.2s that have been used more regularly than your garage queens. By no means should folks be scared off by 911s of this era with over 100,000 miles, as these are fairly hearty cars that, if treated well, will pay you back with plenty of driving enjoyment. Sure, certain upkeep and parts may be pricey, but sometimes you've got to pay to play. Having driven my fair share of 911s over the years, I know it's my destiny to own one at some point. A 3.2 Carrera like this is squarely on my radar.
-Paul