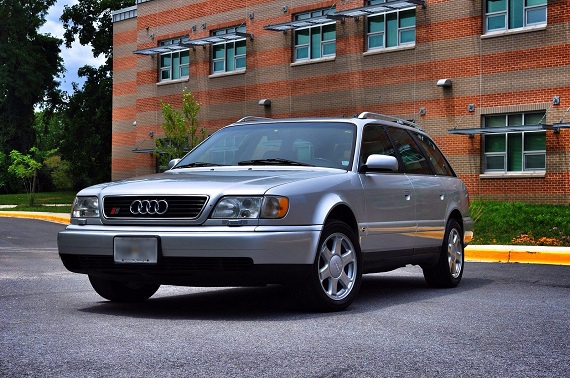 Let's get right to the elephant in the room; this is not a perfect S6 Avant. It has high miles, the description is rather nondescript, the leather has some heavy wear, underhood looks tired and oily and the expensive front bumper has been smashed. What we do learn from the description is that the brakes are probably warped, the fan squeaks, some of the trim is falling off and if your knee what's to know the current boost reading you're in luck. Yet, to me this Avant is more appealing than all three of the decade and a half newer models in my "End of an Era" post. Why? It's the platform that helped to make Audi what it is today – turbocharged, manual, mechanical quattro, with plenty of space and luxury outside and classic looks outside.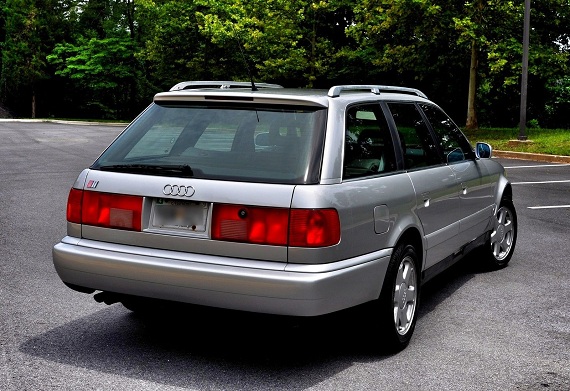 Year: 1995
Model: S6 Avant
Engine: 2.2 liter turbocharged inline-5
Transmission: 5-speed manual
Mileage: 203,451 mi
Price: $5,400 Buy It Now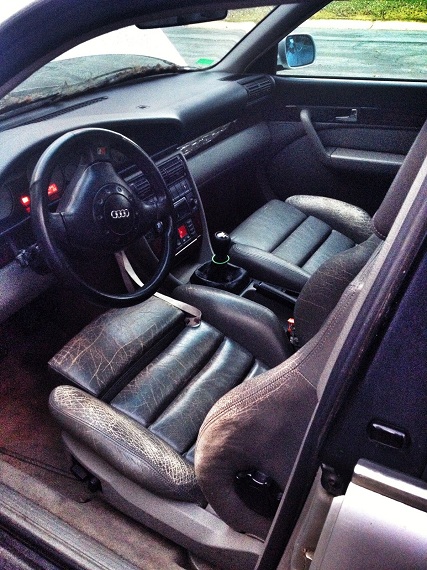 I would be very happy to see this Ur-S6 go to someone that knows and appreciates what it represents.

If you're not yet familiar with the model, what you'd find on Google is that the S6 is top of the line (it sold new for $44,000), performance-oriented, deceptively roomy and remarkably reliable; only about 600 S-6 Avants were imported into the US. 1995 was the last model year that the revered 5 cylinder, 20 valve, turbo-charged intercooled engine was sold in the US. It was the end of a long production line for the engine that secured Audi's dominance on the rally circuit for years; by the end of the production line they had worked out the kinks which resulted in a bullet-proof, 225 horsepower engine with proven longevity and reliability. As it is an Avant it has the magic third seat row in the back, a surprisingly small turn radius, heated seats front and rear. No one has smoked in the car. Virtually everything is original, except for an upgraded Alpine radio with an iPhone/iPod cable interface, a mild but effective stage I ECU performance upgrade (original chip is in the glove box) and a boost gauge discreetly mounted on passenger side knee bolster by the first owner (see picture). I have owned several of these over the years and IMO this is an unmolested example of arguably the best drivetrain Audi ever sold – In terms of cosmetic flaws: bumper and passenger side mirror have a crack and the rubber molding on passenger door could use replacing – it's easily replaceable if it bothers you (see pictures); mechanically everything works – the air ventilation fan chirps at a certain speed but it is fairly new… I believe one or more of the rotors could use turning to smooth out brake pedal pulse: it doesn't affect operation and may well smooth out with some spirited use – please see pics for condition and feel free to text or call with any questions – 202-422-9095

Specs:

All wheel drive with differential lock on demand
0 – 60 mph comes in at 6.6 seconds
Intercooled turbo compressor
2,226 cc 2.2 liters in-line 5 front longitudinal engine with 81 mm bore, 86.4 mm stroke, 9.3 compression ratio, cast iron block, light alloy head, double overhead cam, automatic valve adjustment and four valves per cylinder
Power: 169 kW , 227 HP @ 5,900 rpm; 258 ft lb @ 1,950 rpm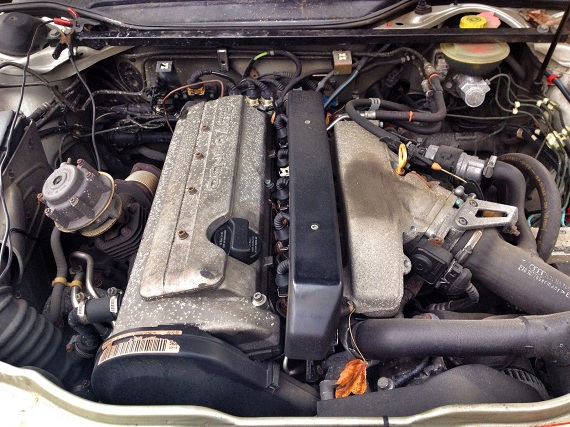 The description is certainly lacking, but at least the seller has noted the areas of issue – they could have easily skipped over the non-obvious issues like the fan and brakes, for example. You wouldn't really know those issues until you took delivery, and being a 20 year old car honestly issues like that wouldn't be unexpected. The reality is that this car won't cost you only $5,000 – but that's okay, as long as you go in with eyes wide open. If you want to fix the bumper and trim along with the issues you'll pay a lot to rectify the problems, and making this car perfect will probably drive you crazy. But, as many have done, you could suck it up and drive this battle-born quattro as is; make sure it's mechanically sorted and this legendary Avant will serve you well through many adventures. This car looks overall to be a great value in a very rare and specialized market.
Hey Audi, are you listening? You've got a great turbo inline-5 motor again; make this car, but brand new!
-Carter