Warning!
This post is in our archives. Links in this post may have been updated to point to similar cars available to bid on eBay.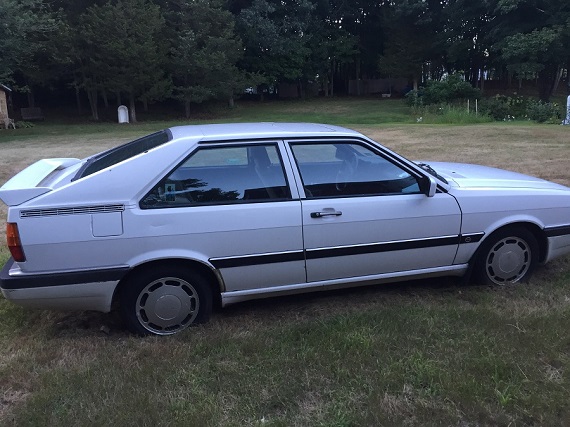 For those of you who follow the blog, my affinity for the Audi Coupe GT will come as no surprise. Few cars embody the "more than the sum of its parts" ideology better than the GT; a competent cruiser, fun to toss around corners, reliability and longevity all coupled with great and unique looks to create a package that was better than its peers. Previously, I've covered some of the history of my 1986 Coupe GT 20V; a unique car that's been with me since 1998. Still running strong and delivering smiles, it is the third of four coupes that passed through my hands. It's also an interesting example; a non-Commemorative Design car, it was one of the few 1986s delivered with a digital dashboard and in the rare shade of Oceanic Blue Metallic. I've also owned a Tornado Red, Graphite Metallic and another Oceanic Blue Metallic example – but there was one I always really wanted; a 1987.5 "Special Build" in Alpine White.
A few weeks ago, I received an email from a friend with the subject line "Coupe for sale". Of course, I didn't hesitate to open up the email even though I was on vacation and not looking to buy a car. But the message inside was too intriguing to pass up; my friend told me he could get a whole car minus wheels and radio for free – did I want it? The questions went down the rabbit hole; what color was it? White. What year? 87. And, according to my friend, it looked very solid. With each answer, my hopes increased. I asked for pictures; worst case, I could grab some parts for it. The picture above was the first one I got; there it was, a 87.5. I could tell right away by the white spoiler, mirrors and window trim. The wheels were wrong, but as they were slated to stay with my friend that didn't worry me. Inside, the interior looked remarkably clean and velour – more on that later. The downside to all of this? It was non-running and an automatic. Still, the images revealed a shocking number of NLA parts for the GTs that were just too good to pass up. The pictures showed a uncracked windshield (European order only these days), both front reflectors (NLA from Audi and trading for more in pristine shape than some whole cars), and the entire compliment of lower grills (also NLA from Audi and hard to find an entire set).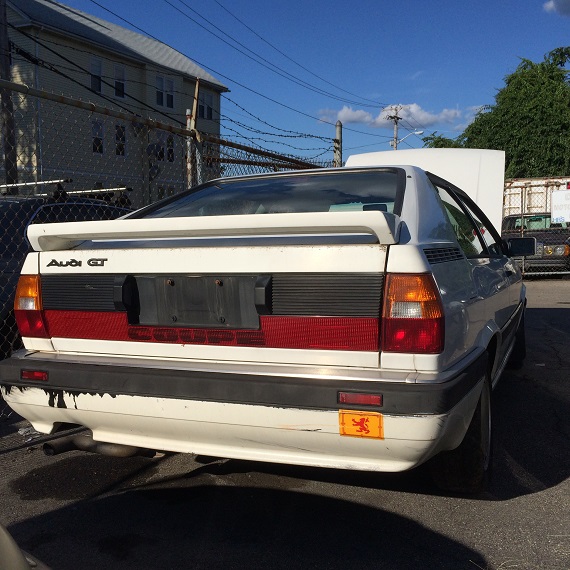 After a week and a half of trying to arrange a transport company to deliver the car, my friend told me he was heading to Rhode Island and could tote it along. In the process, he managed to track down the original build sticker! It arrived to me on August 27 in the evening; as it pulled up, if anything it actually looked better than I anticipated – and far, far too nice to part out. The bumpers had suffered some superficial damage; it looked like perhaps the previous owner had gotten a little too close with the lawn tractor tires a few times. But the body, short of a few minor spots, was shockingly straight. Even the paint still appeared to be in good shape overall. The car rolled easily and we popped it into it's new temporary hospital bed.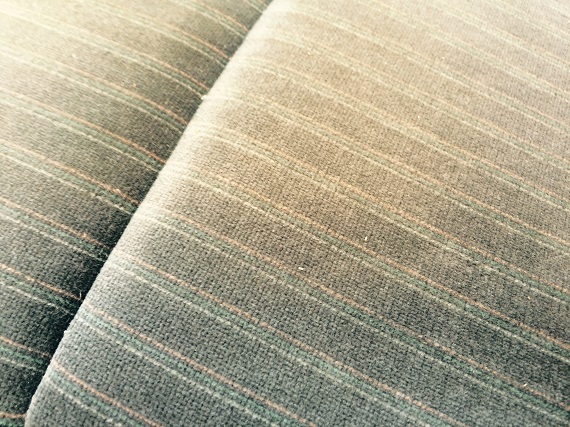 Inside was a fabric I hadn't previously seen. Before the 87.5s, the Kennsington Velour interior was available in three colors; Marine Blue, Brazil Brown, and Quartz Grey. But this color was halfway inbetween brown and grey; a look at the build sticker revealed it was "Graphite Velour". Excitedly, I sent a message to a few friends who also have Coupe GTs; none of us was familiar with it. Outside of a small lifted section and a deflated driver bolster, it's nearly fault free. Upon further investigation, it appears that for the 87.5 GTs Audi moved the Velour to the B3 model range colors. On top of that, the seats were heated; a very rare option on the GTs. That made this GT particularly expensive; the sticker revealed the base price of $20,250, plus the automatic transmission ($500) and the heated seats ($195). Plus destination, that made the original purchase price a staggering $21,257 – nearly the same price as a 1987 Porsche 924S, for argument's sake, and about $46,000 inflation corrected to today's dollars. Oddly, it could have been a bit more expensive; metallic paint would have added $500 to the price, and the rear wiper – standard on nearly every post 85 I've ever seen but not on this model – would have been $250 more. Add in optional leather, and you could crest the base price on a 924S at around $23,000 delivered. While not the most heavily optioned, this one was certainly uniquely optioned and pretty expensive.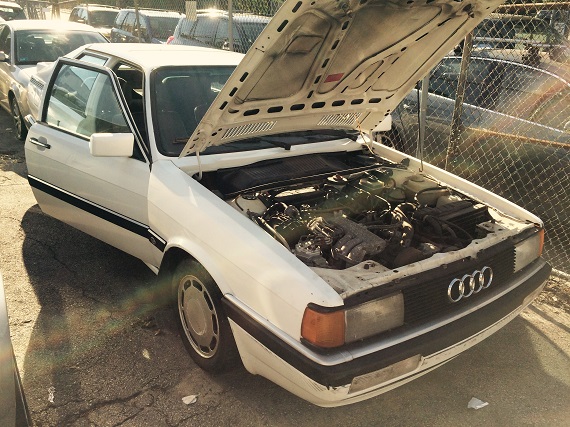 Under the hood, the upgraded engine was there – the 130 horsepower "NG" code 2.3 inline-5. While it didn't sound like much, it was a 20 horsepower bump over the standard GT from 1985-1987. 87.5s also received 4-wheel disc brakes; the only GT to do so from the factory. One last aspect that set the 87.5s apart was that they had digital instrumentation. That had been seen on the earlier 86 Commemorative Design GTs in the United States (as well as the Quattro in the rest of the world, with multiple dash configurations), but the 87.5 got a subtle change in the move from red to orange illumination. Perhaps a little too eager, I threw the battery pack on the car to see if it would fire up. The dash worked, and the car turned over; but alas, the car refused to fire. Still, as with each revolution the motor spun a touch more freely.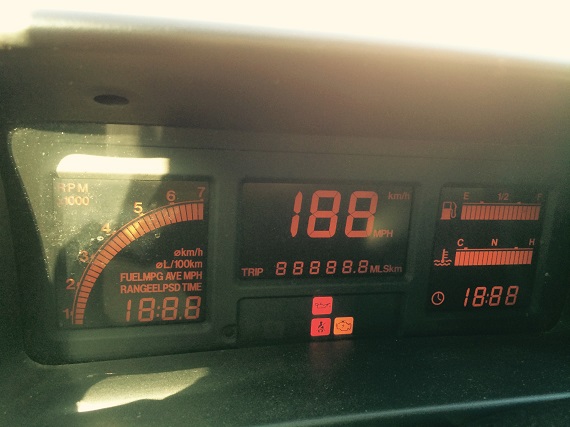 So, what now? Well, it's time to put it all together. The turn over revealed no typical buzz from the fuel pump, although the tank is also empty. So, I have to figure out if it's getting fuel to the motor. Last inspection was in 2002, so this car has been dormant well over a decade; fluid changes, tuneup and new brakes and brake lines are in order. There also may be an issue with the transmission, but they're fairly straightforward units which unfortunately are hard to swap for the 5-speed, so it'll likely be a rebuild if it's non-functional. Otherwise, it needs a lot of TLC outside; I'm hoping I can touch up the small rust spots before they become larger issues and the bumper covers both need a respray. Along with new wheels, it should make a fun driver that my entire family can go for a cruise in. Here's hoping I can save this one; look for more updates soon!
Many thanks go out to my friend Tom, who not only alerted me to the car but then took the time to help get it to me!
-Carter