Back from this outstanding event where many a German car are out being put through their paces on the track with my annual post of the German cars for sale that caught my eye. The car that most caught my eye this year, was unfortunatley not for sale. It was a stunning 1955 Mercedes 300SL Gullwing that won the Concours d'Elegance for the weekend. What made it extra special though was this car was driven to the event from Massachusetts, we're talking a journey of several hundred miles and hours. The owner, upon winning the top prize, took the microphone and remarked how concours cars should be used as they were intended and not trailered to events. This is a good reminder to those attending car shows that if you see a nice car and it has a few rock chips on the front, instead of being a dick and pointing them out, compliment the owner on actually having the balls to get the car on the road rather than using white gloved staff to drive the car the 10 yards off the enclosed trailer and onto the car show lawn. At the end of the weekend the Gullwing's owner was hopping back into his multiple $100k car and driving back to MA, a journey I'm sure the car and driver both enjoyed. Click the images to see large photos of just how clean this car was despite the highway journey.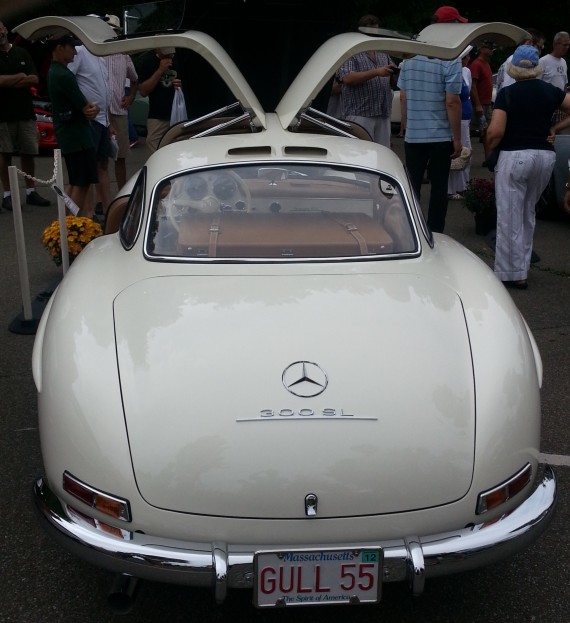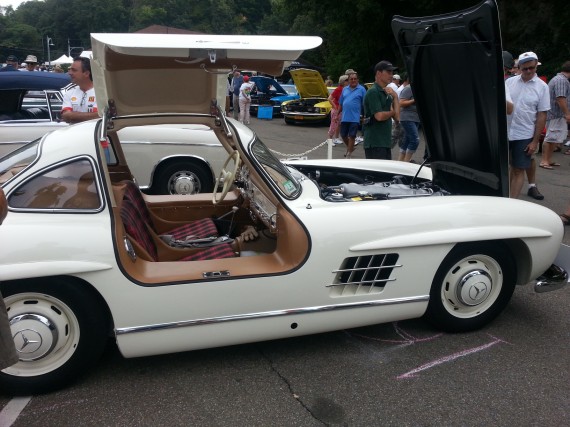 Ok on to my two picks for listings. This year the two I'll post are at vastly different ends of the spectrum.
The first is a facelifted, late 1980s, Audi GT Coupe that needs some love.
Audi Coupe GT
These coupes have unique lines and are pretty hard to come by these days, despite their observed scarcity, other than the Quattro model, they remain quite affordable.
This one has relatively low mileage for the year, 86,000 miles, and a ask price of $1,200. It clearly shows some wear and tear issues. Fading logos, a few rust bubbles, worn interior, etc. I know we usually try to find finer automobiles than this, but this car looked lonely parked on the side of the road under the overcast sky, watching as millions of dollars worth of vintage street and race cars drove past. It has a manual and if it runs well it is certainly worth saving and I bet the seller can knock a couple hundred off the price. You can give your kid a pretty unique fun first car to work on with this on the cheap. A few hours of elbow grease and this car could be a lot prouder. You can see from the photos its not a bad 10 footer at all. I don't want to post the seller's phone number, but post a comment if you are interested and I'll get it to you.

The other car for sale that I thought would be fun to list, it being a Grand Prix event and all, is this 1965 Elva Mk.VIIs racer.
1965 BMW powered Elva Mk.7s
The Elva 7s racers were tiny cars, barely coming up to the knee, and were powered by a range of under 2.0 liter engines. While Elva is a British car company, this race car is powered by a very German BMW engine and comes complete with a BMW badge out front. Some Elva cars, think Can-Am, were fitted with very much over 2.0 liter 500 horsepower V8s by McLaren, which must've been immensely scary to drive.
The car has eye catching looks, the covered headlights up front present a really nice smooth face. The looks maybe confused for a D type Jag or Porsche Spyder if you squint, but the Elva isn't like either of those, though Porsche power was found in other Mk.7 Elvas.
This particular car is super fresh, it has a recent restoration in which everything has been gone over. Basically everything is new or rebuilt from the body to the chassis to the engine. Transmission is a Hewland unit which is loaded with new internals. The new parts on the car are too many to list. The owner also states that the car can handle a 6′ + driver thanks to some modifications.
The car is available through Lee Chapman Racing, http://www.leechapmanracing.com
Obviously this is going to run you a bit more than the Audi listed above, but I suspect it isn't obscene. No price is given, but I'd bet we're looking at something in the $150,000 range with it in its race ready condition. I'm not really sure, I haven't seen to many Elva's cross the block in my time.
As always I highly recommend a pilgrimage to Watkins Glen, the birth place of modern road racing in the U.S., to any gearhead and the annual vintage festival is a perfect time to make the trip.
~Evan