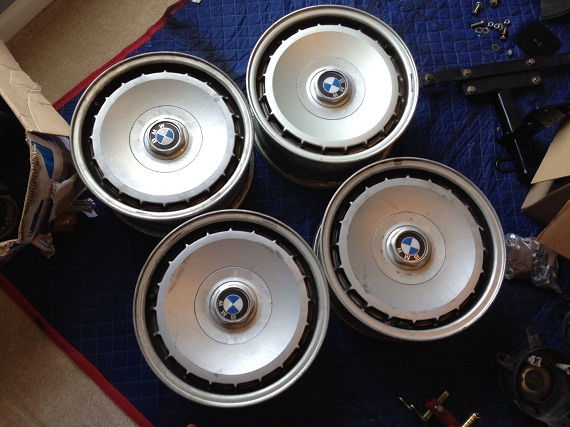 Another week, another roundup of some cool wheels! I found a set of Style 3 BMW wheels reasonably priced – they're not everyone's cup of tea, but I think they look pretty neat on some of the earlier cars and certainly are a bit different. I also found a set of Enkei 92s in rare 4×108 application. I'd guess they were originally Mustang wheels by the offset, but if you roll your fenders you may get them to work on a B2 Audi – but I bet they'd be perfectly suited to a B3 Coupe Quattro. I also ran across a set of 4×100 Epislon wheels that are crazy widths and and even crazier price. Finally, a set of my favorite M-System wheels that need a little love and a fantastically awesome and rare set of centerlock Gotti wheels that are priced right for some garage art if you don't have another use for them. Magnesium hose reel, anyone?
Price: $399 Buy It Now
I have for sale a very nice set of Rare euro Style 3 BMW wheels. These are 5×120 Bolt Pattern. The size is 15×7 with ET20. These are in great condition, just a little dirty. No bends, or chips, or curb rash. The cool thing about these are the center caps are all metal so would be great to be powder coated any color. I wanted to use these for a project but decided to go a different route. The last picture is them on an E21 which I think looks killer. Would be great to be run on an E30 with adapters from 4×100 to 5×120, or get them redrilled. Happy Bidding.

**SHIPPING TO USA ONLY**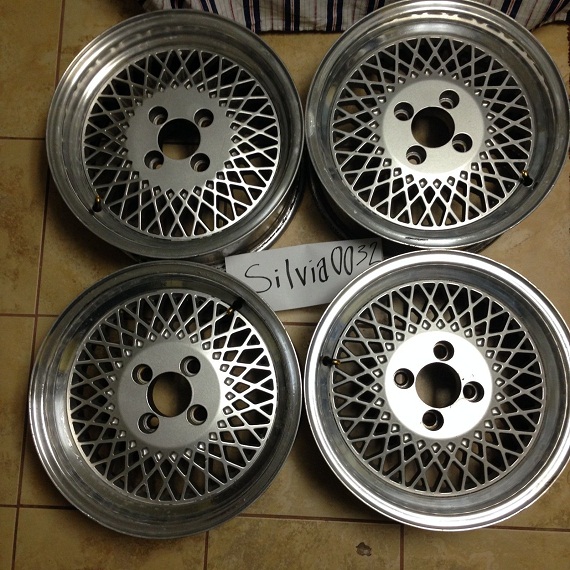 Price: $380 Buy It Now
Very rare lug pattern on Enkei 92 wheels.
lug pattern: 4×108
Size: 15*8
weight 15.6 lbs (the picture provided says 16lbs, but used a regular weight scale.)
I can work out shipping so it is the best for the purchaser, depending on their address.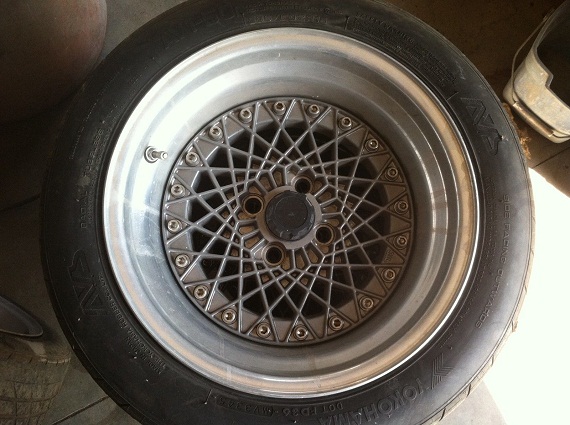 Price: $3,000 Buy It Now
This is a rare set of 15″ Epsilon wheels. 2 are 15×8 and the other 2 are 15×10. Four total wheels shipped in separate boxes. They are removed from a widebody BMW 2002 race car project that never left the barn. These are very high quality wheels with a steel lug insert. The barrels and bolts need polishing. The paint finish is very good. 4×100 bolt pattern. Polished rim. Dark grey center.

Worldwide shipping. Please remember the shipping cost will be more than calculated since there are 4 boxes.

Free shipping in the U.S.

Please call John at 336.575.0859 Eastern time with your questions.

I am searching for leads on cars and new old stock parts for 1853 to 1962 Fiat 1100 and 1200 models. Please contact me if you have information.

Leave your feedback if you wish.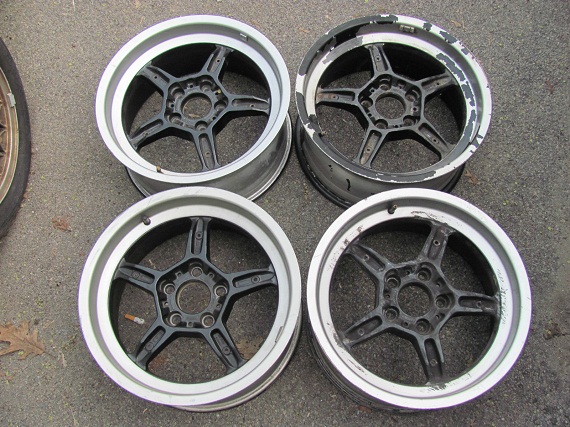 Price: $849 Buy It Now
DESCRIPTION

Sorry, I am not accepting offers for less than my listing price.

This listing is for a used set of 4 BMW "Throwing Star" M System I (AKA M System II) wheels used on the E34 M5 and 540i M-Sport. I have the wheels only (no covers are included). These can be fitted with either "Throwing Star" or "Turbine" covers. All 4 are forged 17″x8″ with an offset of et20. There are less-desirable cast versions of these wheels out there. Please click here for a website explaining the 2 different versions of this wheel. These wheels are in great condition considering their age, but they are not perfect. Please view the many pics I posted. There are no obvious bends or cracks, and all 4 had tires on them that held air fine for over a year. A common refinishing technique is to polish the lips and leave the spokes black, with no covers. The buyer is completely responsible for confirming fitment for his vehicle. All items sold as-is with no returns.

SHIPPING

Local pickups are always welcome, preferred, and free. Otherwise, please see the shipping section. I ship only to Paypal confirmed addresses.

PAYMENT

I accept cash in person for local pickup, or Paypal for shipped items.

FEEDBACK

Please check my feedback, as I worked hard for it and take pride in it. Actually take a few minutes and read some of them, as many buyers have made the effort to personalize their remarks. I intend to keep all my feedback positive!

Due to the large number of people who have neglected to leave me feedback (well over 1000 of them!), I will no longer leave feedback until I have received feedback myself. I have always been prompt with my feedback, but I feel this is the only way to get people to bother leaving feedback.

Thanks and happy ebaying!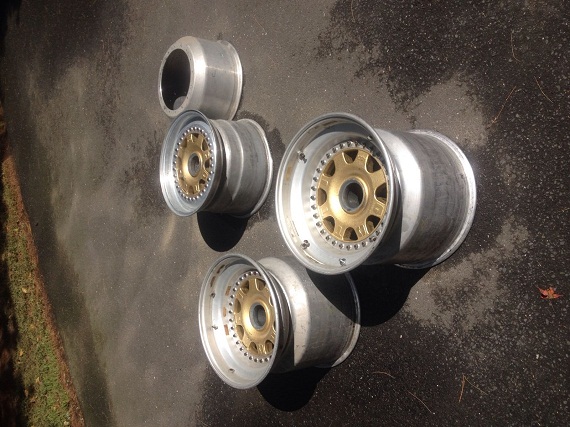 Price: $499 Buy It Now
You are bidding on a set of (3) Gotti Indy Wheels. 2 rears and 1 front. There is also 1 additional wheel half. I received these along with a bunch of Porsche parts I purchased. I know nothing about these wheels and what they fit. They appear to be knock off or some type of spindle mount wheels. Notice the bend on one of the rims. They are super light. Looks like some mods were made as there are some bolts on the rims. The rears measure aprox 16 x 15 and the front is 16 x 11. Other then the one bend in one wheel half they appear to be in good condition.

Shipping will be a flat $50 to the 48 states so figure that into your bidding. I will include free shipping with the Buy it now. I did do some research online and these appear to be rare . Thanks for looking.
-Carter