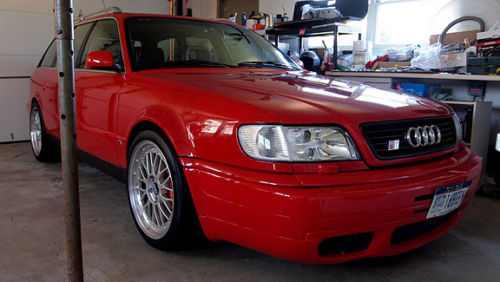 When opportunity knocks, sometimes you should answer the door; this may be one of those cases, especially if you're a fan of fast Audi wagons. The Audi S6 Avant has been a cult classic since new; near bullet-proof engines capable of monster power, all-wheel drive in a slick package, a manual gearbox and room to carry enough to satisfy even Hannibal's trips to Italy, the S6 is a unique package that relied underscored Audi's mission in the 1980s and 1990s – they were different than everyone else, but in a very good way. Sure, if you want pure driving bliss on switchbacks or near-silent Autobahn cruising, BMW and Mercedes were better options in those specific cases – but as an all around package, the S6 Avant had no peers in the marketplace. That didn't translate into overwhelming sales – but the exclusivity has if anything bolstered the legend of the Avants and artificially increased demand. How much has demand increased? Take a look at the bidding on this S6 Avant – at time of writing with 4 days left and the reserve still on, it's $8,100. That may not sound particularly shocking until you find out that the motor is blown: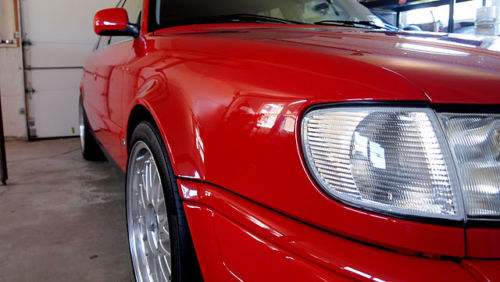 Year: 1995
Model: S6 Avant
Engine: 2.2 liter turbocharged inline-5
Transmission: 5-speed manual
Mileage: 205,000 mi
Price: Reserve Auction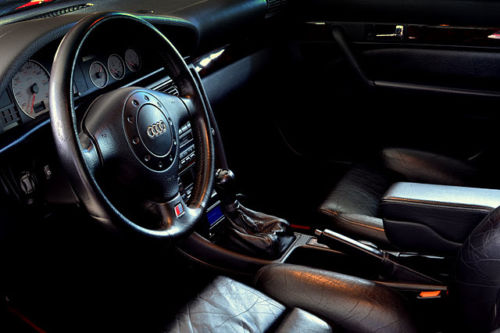 I have been asked to sell this car a hundred times. Here is your chance. It is going to be for sale locally as well so I reserve the right to end this auction if the car is sold locally. It's a huge loss for me!
THIS IS FOR PICKUP ONLY IN CT!

For those of you who know this car, well then you know it's a unicorn! It is a rare 1995 S6 Avant with Tornado red on black interior and truly one of the nicest in existence! The car is currently garaged in Connecticut, inoperable after the AAN block blew. It is loaded with goodies and ready for someone to put it back on the road. I have spent the past year and a half collecting rare or hard to find parts, customizing one-off parts and putting together the necessary recipe for a 93 Eurovan Stroker build. The following is the list of parts that are included. I have included some pics but I have hundreds available and would share via email to those interested. I will not part this car out either, it is too nice for that.

205,000K chassis miles
1 of only 300 in US with Tornado Red Ext. / Black Int.
5spd
VEMS
Lltech European Front Valance
European White Headlights and Corners
Apikol Center Mount Intercooler
2 Bennett Coil Over Suspension w/ Adjustable Camber Plates
BBS LM Rims (high quality replicas)
Porsche 993 "Big Red" Brakes
KKK "K26/27 Hybrid" Turbo
Stainless Steel Stromung Exhaust
Mance Custom Fuel Lines
Mance Titanium Alloy Adjustable Strut Brace
Custom Ported & Polished Intake Manifold w/ One-Off Custom Milled URS6 Logo
Custom One-Off Head cover / Injector Cover
Custom Throttle Body (70MM)
034 Motorsports HO Fuel Injectors
034 Motorsports HO Fuel Pump
034 Motorsports HO Ignition
034 Motorsports Short Shift Kit
034 Motorsports Custom Stainless Steel Throttle Cam
034 Motorsports Aluminum Catch Can
Apikol Custom Lead Weighted Gear Shift Rod
Polished Waste Gate
Stage 4 Southbend Clutch (new in box)
Apikol Aluminum Flywheel
Samco Hose Kit
Oil & Cooling Hose Kits (stainless & braided)
New Door Trims all around
Custom One-Off Carbon Fiber Coil Cover
Custom Floor Mats (hand stitched)
1993 Eurovan block (100K miles) – 95.5 Crank, Block Shot-Peened, Honed, Bored and Fitted w/ Custom Wiseco Pistons 83MM (wide skirts), Custom Rifle Drilled Rods
and more……….

This car has always been kept in a garage and as you can see from the pictures the paint is unbelievable for this age. There are of course little nicks and chips that are typical for the stance and speed of this car, but no real dents or scratches of any kind. Being a perfectionist, the rear bumper could use a respray to be perfect and there is a small rust spot beneath the rear left tail light that is the size of a quarter (no other rust anywhere on the car!). Before the motor blew it was about 425WHP. The new Stoker build has the potential for 600 WHP or better. This is the ultimate sleeper!!!!

On Sep-16-14 at 05:38:52 PDT, seller added the following information:

***** LOOK******

Hey All,

Thank you all for watching and bidding on my ride. I wanted to add some more clarity. I thought that my description was good and almost too much. I am realizing through questions that I am receiving that this is not the case. I should have been more prepared but I have never sold a car on ebay and I was sort of testing the waters. Truth be told, I am not exacltly happy about the prospects of selling this car.

I am going to be pulling the car from my garage later today or tomorrow (if not raining) and unloading the boxes of parts from the back. I will wash and detail it so that you can see that the car/paint looks just like the pictures. Those pictures were taken a few months prior to a bad tune blowning the engine. The paint looks that good! There are no substantial scratches or dents at all. As I said in my post, I intended on respraying the rear bumper and removing the one "quarter sized" rust spot under the rear driver's side tail. The car has NO OTHER RUST AT ALL! Please understand clearly that the front valance was removed as well as the headlights, corners, etc. etc. This was necessary to completely remove the motor and everything else. I did not just quit on this car because the motor blew. I went right to work trying to make it even better than it was when I bought it. I have collected so many extras to make the car even more equipped, and custom bling so that the engine bay looked like no other.

I wanted a motor that you could still wind out like the AAN, but has way more displacement and I would not have to boost to the point that this car was. It was running at times up to 29PSI and was violently fast. For those of you that don't know this, in the Audi circles the Eurovan stroker has become a sort of "best of both worlds' build that if done right can be bulletprooof. I bought a '93 Eurovan complete motor (optimal year), had it shot peened, honed and decked. I would recommend that whoever buys this and wants to continue with the stroker to go back over the work. It just makes sense for a local to back the work. I bought custom Wiseco Pistons (83MM) and custom rifle drilled rods. I wanted to replace the bearings and of course add ARP studs. This is where I stopped. I wanted one person only to do this work and they moved their shop to Vegas. The ONLY reason why this isn't completed, on the road and the sickest Avant out there is due to arranging and paying for the shipping 3500 miles away! It adds to the cost and is a big pain in the ass.

What I am selling here is one of the nicest URS6. I really want the buyer to be someone who is licking their chops because they can do the work and know exactly where to go with this. This is not a big project! Either they already have or will buy an AAN to put back in the car or continue with the stroker build. All of the rest of the parts are just putting them back on. Again, I have bought a ton more performance and dress up parts that just made sense while the motor was out. I even bought a whole new set of door trim for the entire car.

This is full disclosure. I will talk to anyone about this car until they are comfortable. As a matter of fact, I got an email from the 2nd owner of this car through this auction. They were psyched to see it again and said that they would gladly talk to anyone about this car. This goes for the person that I bought it from.

Again, so that nobody is confused, I will put up a few pics today or tomorrow showing the valance, headlights and corners off of the car so that I don't get anyone that says "I thought it was completely together like in the picture". I can also provide a link to dozens of photos and even videos going around the car while it was running. For those of you that get what I have said here and know what an Audi looks like that is in the shop getting engine work with the valance off, then bid with confidence. I already have a couple of people coming by this week to see it that are local. For anyone bidding here that is local enough to CT/NY, I encourage you to come and see the car!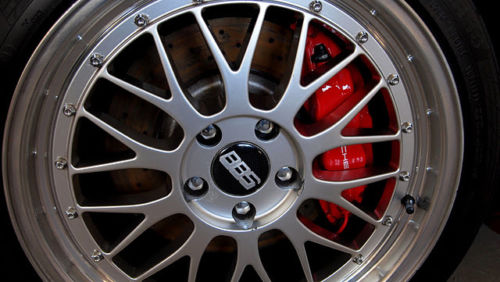 Outwardly, this car looks pretty spectacular despite the lack of photos. The Tornado Red exterior shines and the black leather sport seats – what you can see of it – appears to be nice. Though they look nice, I'm a bit wary of the replica BBS wheels on this package; for super stealth, I'd probably source some Ronal Boleros or even more rare Euro-market S6+ wheels.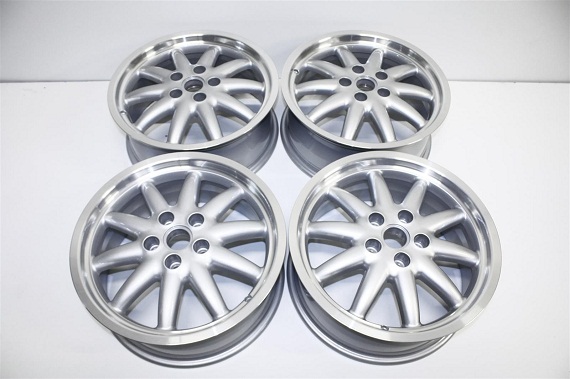 Included are most of the pieces you'd need to make the motor whole again, including a "stroker" 2.5 liter Eurovan block. The car also isn't quite as pictured, if you read the description – the front end has been removed for engine replacement. It's a bit worrying that there aren't actual photos of the condition of the car both outside and inside, but the strength of desire in the package shows in the quite strong bidding. Clean and running, it would be expected to see this car break $10,000 despite the 205,000 miles on the clock if the condition is as described. What's surprising is that the bidding is heading there even without the car being able to move under its own power. If you're handy, you can probably do the work yourself – but figure it's a few thousand dollars to get the car up and running if you pay someone between labor and some additional parts you'll need, plus the tune of the car, then another $1,000 or so to repaint the rear and correct the rust if you want to be perfect. That makes for a quite expensive Avant by used, 200,000 mile Audi standards – but as I said earlier, this car really has no peers. Some more careful inspection of the current condition would be warranted to justify the high price in my opinion, but then this is a rare opportunity….
-Carter