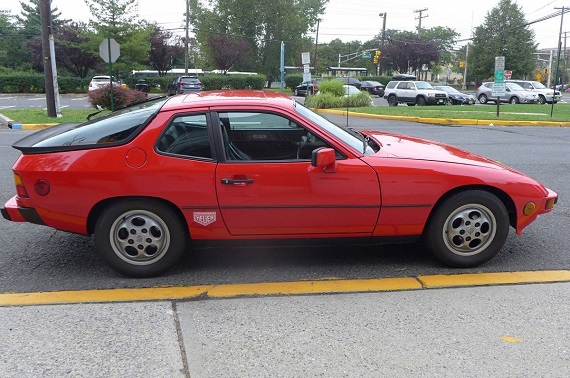 Strange though it may seem, the 1988 Porsche 924S is not a model we often write up. We do feature just about every Special Edition 924S I find, as they're a really neat fly-under-the-radar package. This isn't one of those cars. It's a "plain" 1988 924S, which you can immediately identify by it being Guards Red (all the SE models were black). But as I said in my article about limited 924 models back in September, the 1988 S is a subtle upgrade and the one to have if you don't go with a hard-to-find SE. The compression bump meant 160 horsepower, and coupled with the 944 driveline bits underneath it was a fun, sporty car. However, best of all – and unlike most of their other watercooled brethren of the same ilk, these 924S models are often overlooked by the market.
But there are a few reasons to look at this particular 924. First, the '88 models are pretty hard to find. They accounted for only 2,190 sales (including the 500 Special Edition models) compared to the near 7,000 1987s sold. But above scarcity, it's in pristine condition with only a claimed 25,000 miles covered since new. And while it seems most of the really nice late 924s that come to market are automatics, this one is a 5-speed manual: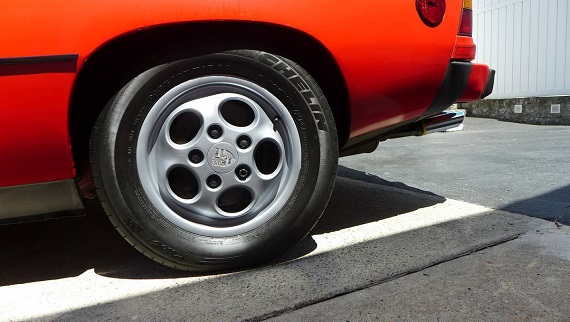 Year: 1988
Model: 924S
Engine: 2.5 liter inline-4
Transmission: 5-speed manual
Mileage: 25,000 mi
Price: $11,500 Buy It Now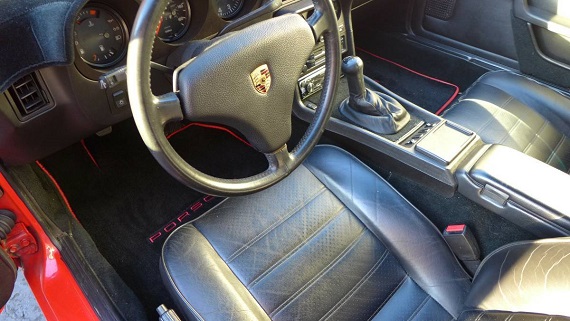 Beautiful 1988 Porsche 924S 160hp / 5 Speed manual transmission. With its Guards Red exterior and Black leather interior..this is what Porsche is all about. Meticulously maintained. This is the last of the great ones. Solid steel , very high quality construction, no plastic bumpers. Gorgeous euro body, with stunning lines- that looks like it's moving even when parked. There is nothing else like it on the road today. Even the 911 crowd takes a second look when I drive by.
It drives beautifully on the street and highway, no noises, no creaks no pulling. Gets around 30mpg! When the sunroof is taken out, it feels like you are in a convertible because of its huge opening. The clutch is perfect and shifts super smooth, no slipping at all and hits the sweet spot just right. The seating position is perfect and so is the layout of the pedals. Lot's of leg room for any driver. The seats are super comfortable as well. This was the last year for the 924S and Porsche gave it all the goodies. Power Windows, Power sunroof, Power assist steering, Power Mirrors.

If you are in the market for a classic Porsche and don't want to spend $40K on a beat up old 911 with no air-conditioning then this is your daisy. This is a car you will be proud to own and drive.

This car has been fully serviced by the best Porsche mechanic on the East Coast, I have plenty of receipts that will go with the car.

Rebuilt transmission – shifts nice and tight
Replaced O-rings and recharged AC – it blows ice cold now
Replaced water pump and rollers – an absolute must
Replaced Timing belt – you better do this or you engine will blow up when it breaks
Replaced all hoses – must be done or you will be stuck on a hot day when it blows
Replaced radiator – if you want proper cooling a new rad is the only way to go
Replaced spark plugs, wires and dizzy – this makes the engine run smooth
Replaced battery – car starts on the coldest day now
Replaced air filter – let's the engine breath properly now
Replaced wheel bearings – no road noise at all
New brake pads and rotors on all corners – safety comes first
New tires – car grips like a boss
New shocks on all four corners
New E -code headlights – huge improvement over the original lights
New gas tank and fuel lines – you have to drop the gas tank to change the gas lines- otherwise you will get nasty fumes in the cabin. This step is a must for all old Porsches.
Fixed all exhaust leaks – inspected and soldered up any small spots that needed it
Replaced speedometer cable – no more squeaking noise in the speedo.
New radio with USB + Bluetooth [I have the original radio]
New fabric dash cover [the dash has a few stress lines on the top near the vents] very hard to see
New center horn pad [I have the original]
New black floor-mats with red piping and Porsche lettering [original mats included]
New master + slave cylinders clutch and brake
Fresh oil and fluids all around
New hood and trunk lifts[shocks]
New Porsche crest on hood
Comes with two sets of keys, original books, original jack and original collapsible spare tire,original sunroof storage bag, original front headlight/bumper bra

The paint is an 9 out of 10. It has a very nice patina but it is an old car with some minor dings and blemishes here and there. I would leave it just as it is and let it age gracefully.It is only original once and it should stay that way. It has never been hit and the body is perfectly straight. There is zero rust and no leaks anywhere.

I am the third owner, the first two owners were car collectors, and they took it out for weekend drives [hence the low mileage]. When I bought it two years ago, I replaced all the things that got old and tired. Now it is like new again. I am selling it to make room for a new project: a Jaguar E-Type- my dream car.

The only thing that is wrong is the cruise control doesn't always work. I brought it to my mechanic to get fixed and each time I went there, it worked fine. But when I drive it on the highway it works when it wants to. I think it might be a dirty wire connection in the cruise control stalk. I find that on these old cars the electrical connections just get dirty and a good cleaning brings it back to life. I am not much of a cruise control person so I did not bother to look further into it.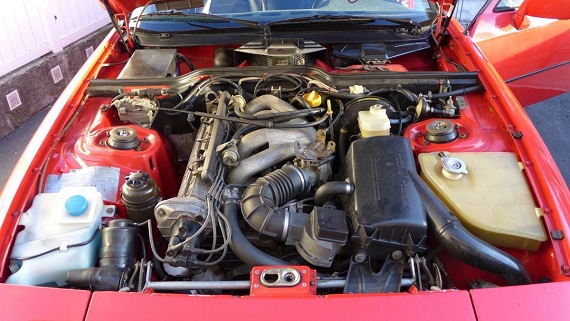 I think this line sums up this model well: "If you are in the market for a classic Porsche and don't want to spend $40K on a beat up old 911 with no air-conditioning then this is your daisy." The seller has done a good job with a fine starting base of a collector-quality 924 and making it a solid driver. It genuinely seems like a no excuses car, and while it's not as flashy as some other Porsche models from the period, it's also no where near as expensive. $11,500 is all the scratch for a 924S, but if one deserves to be in that realm this could be that car. The only things that stand out to me is the out-of-place Ansa exhaust, TAG decals and the lack of the typical '88 model mud flaps, all of which could be easily remedied. I also am not fond of the plug in piece for the steering wheel, but again a quick search of eBay solves that problem. The biggest issue for this car is that at $11,500, you need to pass up admittedly more needy and not as nice condition but better driver 944 Turbos. Yet if you enjoy standing apart from the crowd in an affordable package, this is a pretty interesting alternative to the typical German go-tos.
-Carter