Even though you'll always get the "why didn't you buy a 911″ look from people, I've always been a fan of the Porsche 944 as a stand alone entity. Sure, it isn't quite as iconic as its rear-engined sibling, but this was one of the best handling cars to hit the pavement and they are a relative bargain on the used market today. The Turbo S debuted in 1988 with the M44/52 engine with 250 horsepower, Koni adjustable shock absorbers, harder bushings and larger diameter anti-roll bars. Larger front brakes from the 928S4 were also fitted and ABS was standard. This Turbo S for sale in Georgia has 67,000 miles on the clock and comes equipped with what could best be described as a very '80s themed interior.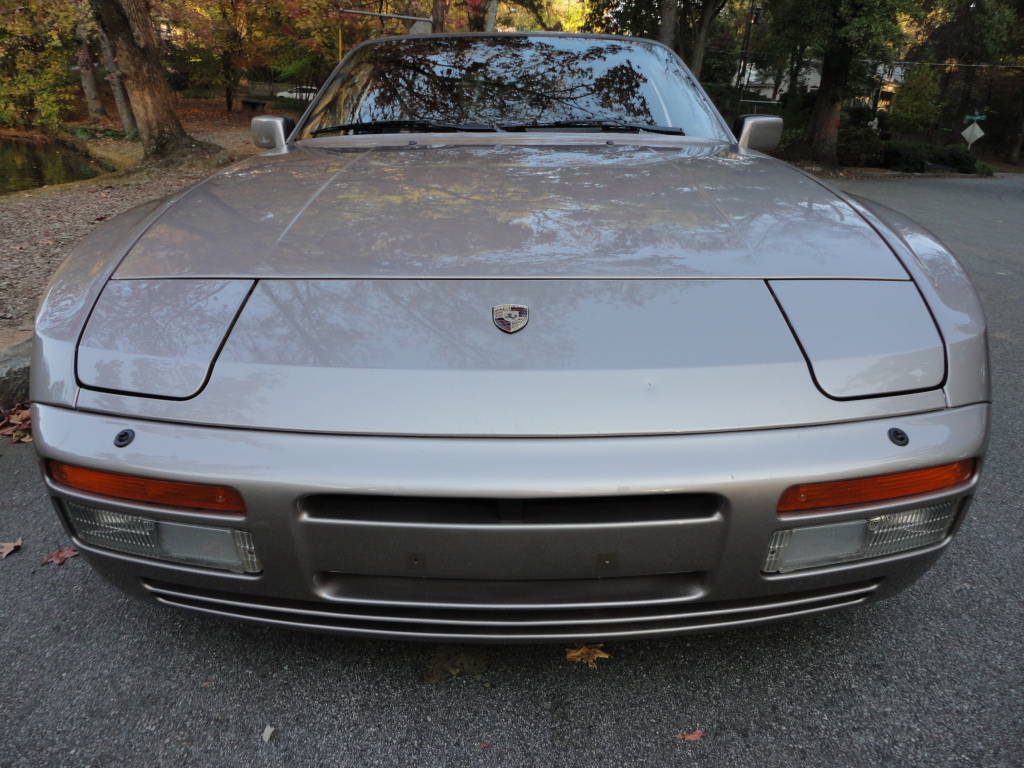 1988 Porsche 944 Turbo S Silver Rose Edition (1 of 339). Absolutely beautiful, garage kept, meticulously maintained 1988 Porsche 944 Turbo S Silver Rose Edition with 67K original miles. One meticulous owner with documentation including original window sticker, stamped factory maintenance book, all keys, and scores an 80 on AutoCheck (normal score range 24-50). Could be considered extremely close to a "10″ interior, exterior, and mechanically. One minor ding in the front valence and minor sand blasting of rocker panel behind front wheels and and ahead of rear wheels on both sides of car (see pictures). Everything functions as it should including A/C, Heat, Sunroof, etc. She was just serviced and completely gone through by Technica Motorsports in Atlanta. Belts, Rollers, Tensioner, Water Pump, Oil and filter change, Transaxle fluid change, Hood Shocks, H4 Headlight upgrade with 55/100w bulbs, etc. No paintwork or damage history, factory paint is untouched, please see detailed Paint Meter results.

Car will come with either Polished Club Sport Wheels or Refinished Club Sport Wheels, buyer's choice, either set is perfect with new tires in proper factory sizing (225/50-16 and 245/45-16). I am a long time PCA member and have owned a 356B, 911′s, 928S4, 930′s, 944 Turbos, and a 996 GT2. I am a connoisseur of unique automobiles and I personally buy and sell 5-10 cars per year (hence the dealer's license). I fully disclose every known detail about my cars so that there are never any surprises. I have exported several automobiles and I will gladly assist overseas buyers.
The last 944 Turbo S we featured had 35,000 miles and sold for $21,000. With almost double the mileage, can this car bring $20,000? Maybe $17,000 to $18,000 would be more realistic. But there might be someone out there looking for the best 944 they can find, and given that this car was owned by a Porsche enthusiast and PCA member certainly has its merits. Personally, this color combination isn't my favorite, but the 944 is one of those bucket list cars for me. A Turbo S in this kind of condition would certainly be high on my shopping list when the time came.
-Paul