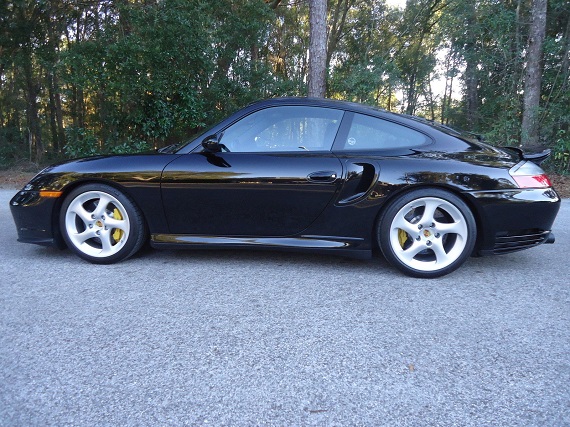 The more I write about these cars, the more they have grown on me. Like many, I was never a huge fan of the body design of the 996, but I have gradually come to admire these cars over time. I will never like the headlights, but the rest of the shape bothers me far less than it once did and for any buyer's performance dollars the 996TT is seriously tough to beat. I especially like a black 996TT, like the one featured here: a Black on Black 2002 Porsche 911 Turbo that clocks in with a mere 6,200 miles. While a standard 996TT is hardly a slouch, this one has had some engine work that's sure to make what was already a quick car, even quicker still. Thankfully, the car retains its stock appearance, something that anyone shopping for a 996TT knows, sadly, is not always the case.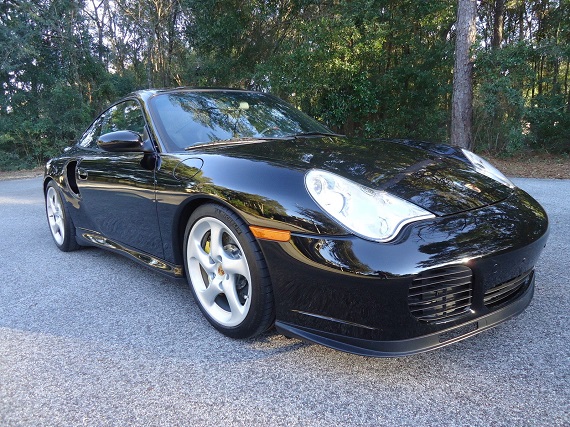 Year: 2002
Model: 911 Turbo
Engine: 3.6 liter twin turbocharged flat-6
Transmission: 6-speed manual
Mileage: 6,200 mi
Price: Reserve Auction (Buy It Now $58,500)
It has been amazing to own this beautiful 911 turbo, but now the family has grown, leaving me less time to enjoy this perfect car. I have decided to pass the car along to someone who can more fully enjoy it! The highlights of this very low mileage extensively optioned Porsche includes full leather interior, 6 disc cd changer, RUF aluminum petals, Porsche factory short shifter, and Porsche carbon ceramic brakes. The best thing about the brakes, is that they last almost forever and leave no dust anywhere! Champion Porsche, formally Rennsport One in South Florida upgraded the car with an Evolution Motorsports GT660 upgrade in March of 2010 which included Tial Alpha 28 ball-bearing turbos, EVOMSit software, Bilstein PSS10 suspension, Sachs II clutch upgrade, and a custom 200 cell cat exhaust by BBI which complies with CA emissions. Porsche GT2RS intercoolers were installed which are much larger than stock and reduce air intake temperature a full 40 degrees Celsius. Only quality upgrades were chosen which costed over $40,000, not including labor to improve and enhance the already amazing existing Porsche platform. The tune is reliable, safe, and the boost was kept low for maintaining longevity, up to 1.1 bar. Driving the car is an absolute dream with precise handling and best of all, the raw feeling of the 6-speed manual transmission. I must say, the power is incredible and actually much more than I ever needed. I still keep in touch with the last owner, and I know the complete history of the car. It has never been tracked, abused or pushed to or beyond its limit. The car needs nothing and is ready for the next owner. Before you buy, be sure to look at the wheels, brakes, and under the engine bay for areas of corrosion on other cars. I can assure you, this car has none, but is as clean as a whistle! Oil, coolant, brake fluid, pentosin, have all recently been changed. There is only 6200 original miles on the car since new, and I only drove it 2000 miles over the past few years. It still drives as if just off the showroom floor! The car may be shipped at owner's expense. A smooth transaction would consist of the following: inspection if desired at buyers expense, deposit then payment in full, or just payment in full, bill of sale, then sign over the title, then ship the car at buyers expense. Please call Matt for any questions or to discuss any terms at 352-219-6766. Thank you for taking the time to view this opportunity!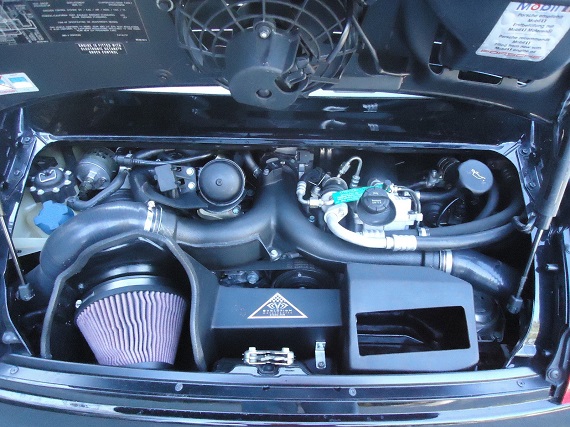 Modified cars inherently contain some additional risk, but things here look to be in good order. The interior and exterior appear in good shape and the engine bay presents rather well: clean and with everything showing little wear. Bidding has been strong with the price sitting at $49,900 at the present time. While that's certainly towards the upper end of the 996TT market, given the mileage and condition the price here seems reasonable. Compared with other options in its performance category, it's probably a steal.
-Rob