Foreign-market cars are always interesting, whether it's custom trim or a model completely absent from the US market. The Mk1 Jetta was certainly sold in the US, but I'm guessing you've never quite seen one like this Mexican example. I love the GLS striping, and overall this is an extremely clean example of the great original Jetta. You may be wondering about that elephant in the room though… Just how big are normal wheels on all cars these days? Check out these stock "Detroit" style wheels from a 2010 GTI making the Jetta look like a donk (definitely a "box," not a "bubble") I'd see in Oakland. Just another reason I think brand-new cars are merely caricatures of when they were simpler, better. Well, enough ranting, it's certainly a new take on "OEM Plus," and I kind of like it. Other than being grossly oversized, they fit the overall scheme of the car. The 1.8l with a 3-speed auto must have a hell of a time getting those ferris wheels turning, but the great part of old VWs is that a remedy for that is almost as accessible as switching the wheels.
1980 VW Jetta GLS for sale in Mexico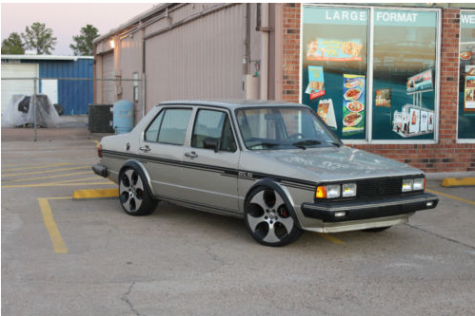 Description, in English and Spanish!
Up for Sale is a VW Jetta GLS MK1

Engine size is 1.8liter
Automatic 3 speed Transmission
Disk Brakes on all wheels
18″ Rims coming from a 2010 GTI
Brembo Disk Braking system
Good overall body and Paint
133,000 Kilometers
HID LIghts
No frame damage or accidents
Sold As Is with no warranty.

Vehicle currently has a Mexican Title under the state of Jalisco in Mexico.
Don't know what it would if possible, take to make this car legal here in the US.
Buy at your own discretion.

This car is currently being used as a commuter car, engine runs strong with no oil leaks.

All original moldings and accessories.

Tengo de Venta de Oportunidad un Atlantic gls 1986 Jetta mk1,
Motor 1.8 Automatico , Vidrios traseros automaticos solamente
Frenos de disco Brembo en las cuatro llantas
Rines 18″ de modelo gti 2010
Buena Pintura sin garantia
133,000 kilometros
Luces HID y nunca chocado
Pintura en optima condicion.
4 bids have budged the price up to $560, but the Buy-It-Now is $4000. Factoring in that the wheels are worth at least $1k and it has just 82k miles on it, and I think $3,000 would be a nice price for this. Getting it into the US may hold its own problems, but it really is a clean Mk1 Jetta for someone looking for low mileage. You may be able to redo the stickers under the hood and the giant wheels, but then you wouldn't have the story of being this hilariously awesome Jetta from Mexico!
-NR