I've been so obsessively wrapped in my E28 search recently that I feel the need to step back and simplify a bit. Few cars sport simplicity as well as the Guigiaro-designed Mk1 GTI. An uncomplicated 2-box design with sharp angles, it comes together as clean, elegant and sporty in a way few other cars can. Viewed against the modern blobs of clay that VWs have become, it makes one wonder why good car design has to be so complicated. You guys nailed it 30 years ago; try that again!
The owner of today's Mk1 has taken impressive steps to highlight the GTI's beauty. Not only has it covered a mere 110k miles, but it's been treated to a show-car paint process yielding one of the most beautiful Royal Red examples I've seen. If you get a chance, check out the reflections you can see in the pictures; this car is clean. Backed up with a clean interior and few needs, this is GTI purity at its best.
1984 Volkswagen GTI for sale on eBay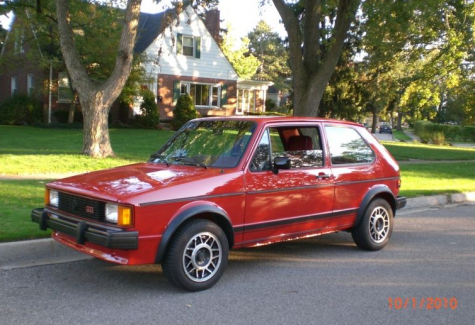 From the seller:
It looks better than new. Car was sealed with epoxy primer, as were the doors and decklid, inside and out, it was wet-sanded and painted with Spies-Hecker single stage paint and the cleared over with Glasurit 450 Clear, the car was then wet sanded again and buffed out to a high gloss luster. All new OEM weatherstrips, all door seals, hatch seal, decals, mirror & door rubber gaskets, wheel flares, body-side moldings.

The interior is in very good condition. The seats are in good shape and the bolsters are not torn. The headliner and carpet and dashboard have been replaced or refreshed. The previous owner replaced the odometer with a correct, but used one that reads 143,000. I don't know the mileage, but estimate it at 105-110k, based on Carfax and previous owner.

The car is a blast to drive! You drive this car—nice, honest manual steering. The shifter is precise, as is the new clutch. And the engine is smooth, powerful, and makes a nice mellow sound. The compession is good. You can drive it anywhere.

The only things I would change or fix are the wiring and speakers for the (new) radio, and the washers. That's it. Everything else is fine. The car is pretty much stock. Tires, brakes, clutch, engine mounts, and starter are newer. I have receipts.

I am selling it because I don't have time to enjoy it, and more importantly, I don't have room for it. It's in my garage during the summer, and I pay to store it during winter (it has not seen snow or salt since the repaint).

Whoever wins this is getting a bargain–the paint job and body trim alone are worth at least $7000, and the car drives great. Bid with confidence! If possible, I encourage you to come drive the car.
Just a gorgeous, correct example of one of the greatest cars ever built. Bidding is fierce, with 55 bids pushing it to a reserve-not-met $4,050 at time of writing. With the mileage and beautiful paint job, anything up to $6k is a fair price in my eyes.
-NR