Check out this very cool e34 535i based ! I love almost everything about it: Incredibly exclusive, relatively low miles at 67k, and I'm a sucker for e34's. The articles included state the car has 245hp and is a close match for the Alpina B10 (not to be confused with the biturbo).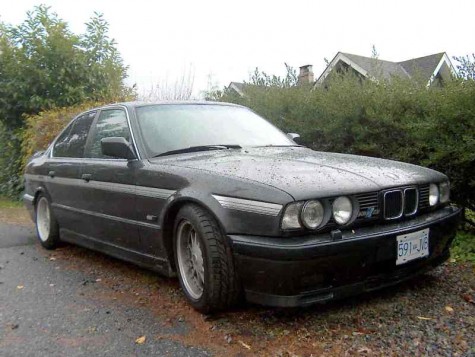 Videos from the seller. The walk-around:
And make sure to be wearing good headphones or a subwoofer before playing this clip:
quote from seller's listing:
1990 BMW 535I : 1990 BMW HARTGE H5SP (535i). Super RARE – COLLECTIBLE BMW – Hartge H5SP. 3.5L automatic inline 6, Hartge Camshaft, Hartge Exhaust /headers, Hartge Suspension, Brakes and Muffler. Very powerful car. Black Metalic with Black Leather. Sunroof, and all options available. 67,000 miles / 114,000 km. Overall this is a fabulous running, driving and handling E34 sedan that is virtually irreplaceable.

I have owned the car for 5 years. This is a great investment on a very collectable car, the value will only go up if car is kept in the condition that it is now. My reason for selling is that i have too many collector cars and not enough storage space. Car always kept in heated garage. Originally Imported from Germany to Japan by a Consular and then Imported to Canada . In Dash Computer is in German Language.
The downside on this one is obviously the automatic transmission. It would be worth it to swap to a manual in my mind as I don't believe any cutting is required to swap between auto and manual, so it's originality could preserved for future owners if needed. And of course importing this to the U.S. will require a broker at the very least (if possible at all). Could make for an interesting restoration car/track day/show car for the next 5 years until it can be legally registered though — or move to Canada!…