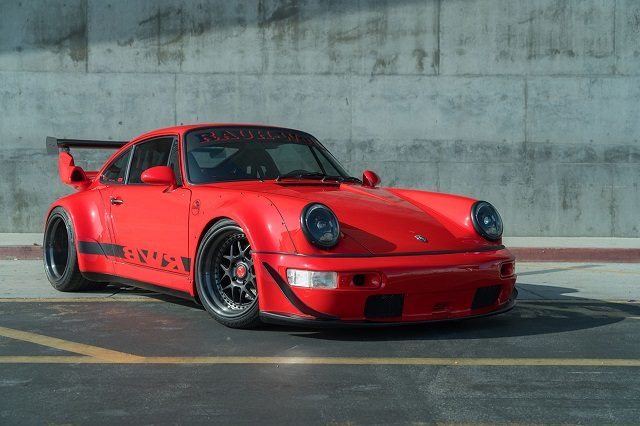 Last week: Gemballa. This week: RAUH-Welt Begriff. We might as well look at something from the two most divisive Porsche tuners in back-to-back weeks right? I said in last week's post that I don't mind over the top designs from tuners and along those lines I typically enjoy the work we see from RWB. While many don't like them, Akira Nakai's builds do follow a line that is recognizable within Porsche's own racing designs. Of course, those are purpose built race cars and RWB builds street cars. None the less, the look itself is not necessarily off base.
And here lies the primary criticism of many RWB designs: they are all show and no go. For many, in fact most, of their builds that is true; RWB focuses much more on the appearance of the car than on making it faster. This build addresses that criticism, and it addresses it pretty significantly.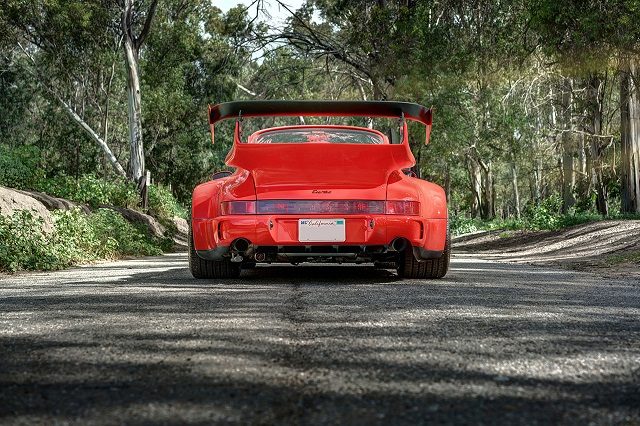 Year: 1989
Model: 911 Carrera 4
Engine: 3.6 liter turbocharged flat-6
Transmission: 5-speed manual
Mileage: 77,795 mi
Price: $149,999 Buy It Now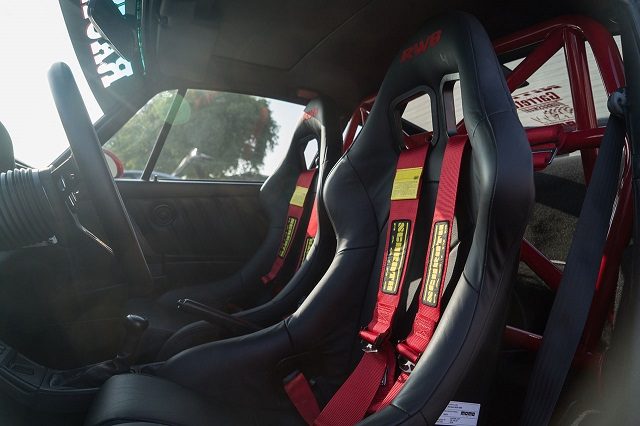 KEY FEATURES:
– The only fully branded RWB in United States signed and documented by Akira Nakai
– Most desirable model RWB 964 Street Version
– Latest Project by World Renowned Car Builder Vincent Wong
– Rebuilt Top and Bottom Motor to 0 mile spec
– Single Turbo System making 400 WHEEL HP 393 FT LB OF TORQUE ON PUMP GAS
– Painted by the World Famous LT Motorwerks in El Monte California
– One of the lowest mileage Rauh Welt RWB Cars in the World
– SEMA 2015 Booth Car Rauh Welt Begriff Booth
– SEMA 2016 Booth Car CCW Wheels Booth

EXTERIOR:
– Rauh Welt 15pc widebody kit hand crafted and installed by Akira Nakai
– Full Respray to BASF Glasurit Porsche Guards Red by World Famous LT Motorwerks in El Monte California
– Porsche OEM Clear Corners
– Custom Bi Xenon HID Headlights with RWB etched in the glass housing

ENGINE:
– Single Turbo Kit Designed by Bisimoto Engineering 400 Rear Wheel Horsepower
– AEM Infinity 6, 30-7106 ECU
– AEM Infinity 6 pin kit, 30-3704
– AEM AIT and MAP Harness, 30-3510-00
– Infinity UEGO harness, 30-3600
– 3.5 bar map sensor, 30-2130-50
– Boost control solenoid, 30-2400
– Air temp sensor, 30-2010
– LSU 4.2 wideband sensor, 30-2001
– GTX3076R with turbine part #740902-8
– Turbosmart wastegate, with red 4.35 spring
– Turbosmart 50mm blowoff valve
– Garrett Intercooler core, Part #487085-6002
– Bisimoto Custom 1000CC Injectors
– JDS Porsche SSD Lateral Acceleration Sensor

– Rebuild 964 Engine Top End by Turbo Kraft in Arizona to 0 miles
– * remove, disassemble, clean engine; spec & document all major components
– * reassemble with performance parts listed above
– * time camshafts

– 3.6 CARRERA HEAD GASKET KIT — upgraded all-Viton version
– CAMSHAFT DRIVE GEAR (large sprocket)
– TIMING CHAIN RAIL — 1-3 straight
– TIMING CHAIN RAIL — 4-6 straight
– TIMING CHAIN RAIL — (2x req'd)
– 993 ALTERNATOR (INNER) BELT, 9.5×776 (964 = both, 5sp)
– TK/JE CUSTOM TURBO PISTON SET — lightweight FSR pistons with rings, pins, locks
– PERFORMANCE COATINGS : Coat piston skirts & undersides
– Remanufacture cylinders — strip, bore, re-plate with Nikasil
– ARP RACING CYLINDER HEAD STUD SET with BILLET WASHERS & 12-pt NUTS

– Rebuild 964 Engine Bottom End by Turbo Kraft in Arizona to 0 miles

– COMPLETE MOTORSPORT ENGINE BEARING SET
– 3.6 (964) CARRERA CASE GASKET SET (Viton)
– MOTORSPORT TIMING CHAIN *WITHOUT* MASTER LINK — increased strength
– ARP RACING CONNECTING ROD BOLT SET, 9mm
– Recondition rods incl.
…