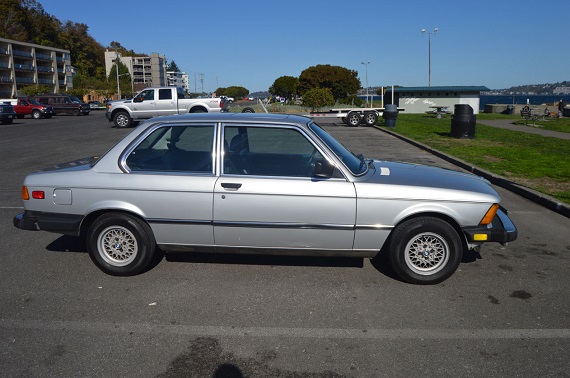 Rightly so, I've been accused of comparing everything to BMWs – so for today's 10K Friday, I thought why not compare BMWs to BMWs? Part of the reason I compare various cars I write up to the alternative BMW products is because for some time they have been considered the benchmark, and their popularity from new to the used classic market means that they set the pricing trends against which others can be judged. That's especially true of the 3 series; for some time, the go-to performance product from Germany, increasingly many earlier generations of the 3 are being viewed as not only collectable, but indeed as investments. So, what does your $10,000 budget buy these days? I've rounded up five examples from the first five generations, covering nearly every configuration the small executive platform has been available in. Which is the winner?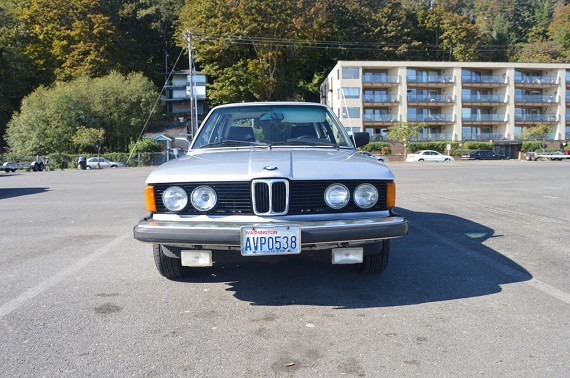 Year: 1980
Model: 320is
Engine: 2.0 liter inline-4
Transmission: 5-speed manual
Mileage: 218,750 mi
Price: Reserve Auction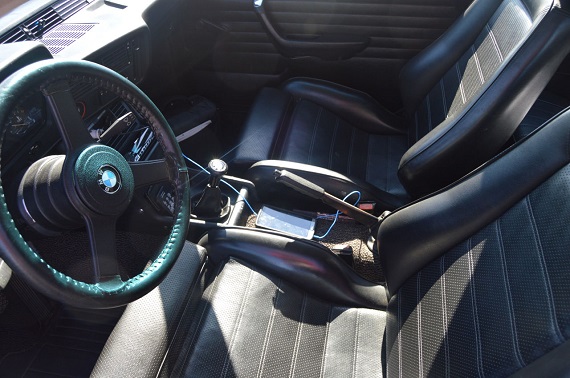 1980 BMW 320is

I bought this car from someone who bought it off an "old lady", but didn't have the means to get her road ready. He never registered the car, so technically I am the second owner. I've had the car for a few months and have put a lot of work and parts into her.

New parts as follows:

tires
battery
chassis to engine block ground
plugs
fuel injector bushings
intake manifold gaskets
complete vacuum hose set
valve cover gasket, distributor housing gasket, oil pressure sensor
changed LSD differential fluid, new gasket
muffler
fresh mobil 1 synthetic oil and filter
wipers
pioneer stereo
valve lash

The IS model comes standard with the LSD differential, black leather Recaro seats, fog lights, 5 speed tranny, sunroof, leather wrapped steering wheel, etc.

This car is a real gem! The paint has a few nicks, but it is nearly pristine. It almost looks like a respray. The leather interior is near flawless. Beautiful white/ cream leather roof liner and sun shades.

NEEDS ATTENTION

**It has a slight stumble at idle and some throttle dips at low RPMs. Probably a vacuum leak. Nevertheless, the car drives smoothly and goes wherever you need it to. Starts every time.
** AC components are attached but there is no belt so I haven't tested it.
** Very, Very light surface rust on chassis and little bit on bumper where paint has chipped.
** Small dent in the passenger side metal trim. A few dings here and there.
** 2 small cracks in dash near windshield.

This car will need a little bit more work to be fully restored, but it is really close. It looks like a time warp. Someone really loved this car.

Completely stock. No modifications.

Thanks for looking.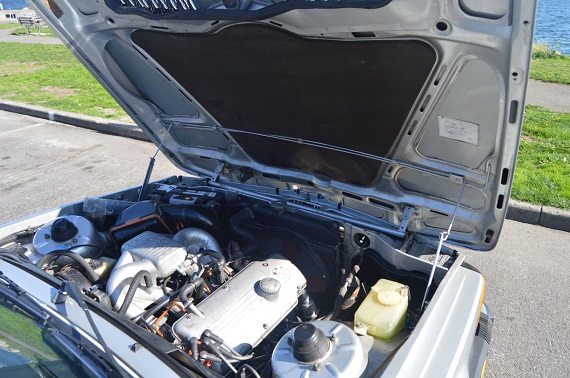 The original 3 series has a lot of appeal from a collector standpoint; they're generally the most affordable of the small classic BMW range, they offer a classic combination of rear drive, manual gear box and naturally aspirated motors, they're easy to work on, and they are infrequently seen compared to their older siblings. This example appears to be a nice survivor; miles are high, but the condition is certainly above average in comparison to how most come to the market. Additionally, this is the sport-equipped 320is model, the most highly sought of U.S. variants and features the awesome Recaro interior paired with BBS wheels, limited slip differential and the 5-speed manual. Sure, the M10 isn't the most powerful engine fit to a 3-series, but if you like the 2002 then the E21 should be appealing too. Overall there are some minor condition issues but this appears to be a good driver and occasional show car that could be improved upon and has the potential to increase in value. Market value is low on these models right now, but I would guess the reserve is set around $5,000 – $6,000 – a nice classic BMW for that amount.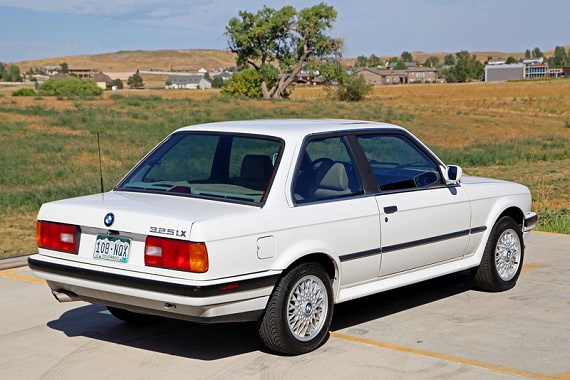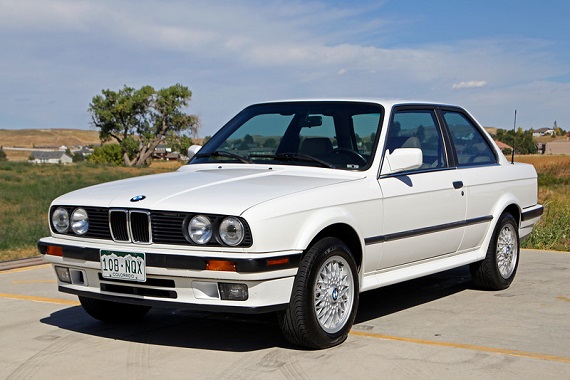 Year: 1989
Model: 325ix
Engine: 2.5 liter inline-6
Transmission: 5-speed manual
Mileage: 166,100 mi
Price: $10,800 Buy It Now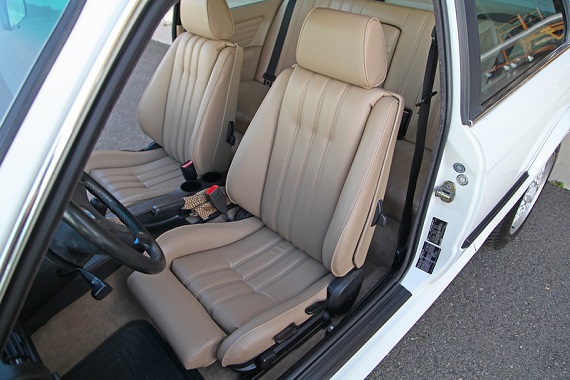 1989 BMW 325ix (AWD)

Alpine White II Exterior

Natur (Tan) Leather Sport Seats

166,100 Miles

Working AWD (Jack Test Video Below)

Crack Free Dash

Euro Smiley Projector Headlights

M Tech I Steering Wheel

ZHP Leather Shift Knob

Z3 Antenna

Ski Pass Through

Bilstein HD Shocks with OEM Springs

BMW E81 Rubber Floor Mats

Lightly Tinted Windows (70%)

Houndstooth Shift and E-Brake Boots

Custom Center Console Cup Holder

Kenwood KDC-X989 Headunit w/ Matching Illumination

Original Factory Option Codes:

S410A Power Windows, Fog Lights

S464A Ski Pass-Through

S530A Air Conditioning

S540A Cruise Control

S556A Outside Temperature Display

S925A Destination (Shipping) Protection Package

BMW E30's (1984-1991 3 Series) are one of our specialty vehicles at Glen Shelly Auto Brokers. I have restored, rebuilt, and sorted a dozen E30's over the years. I currently own three 1989 E30's including an IX, an IS and a Touring. I am selling this one on consignment for a friend. It is a 3-owner 325ix coupe that has spent its entire life in Colorado. At first glance it presents fantastically with no major cosmetic issues and an exceptionally clean crack and tear-free interior. Clean IX's are rare, but what makes this one special is its documented maintenance history. E30's are like airplanes. Age and mileage are relevant, but not nearly as relevant as maintenance history and the replacement of common wear items that they all eventually need. This is especially true with IX's due to their additional AWD parts, lower original production numbers, and likely exposure to harsh winter conditions.

This IX has been the beneficiary of impeccable stewardship from its previous owners. It has clearly been garage kept and protected from the UV exposure that unzips E30 interiors at the seams and makes the dashboards look like dried up riverbeds. A glance underneath reveals no rust- indicative of it being a Colorado car. For the last two decades it has been meticulously and professionally maintained by Paddock Imports, a BMW specialist shop in Denver. I have detailed records for the last eight years, which are as far back as their current computer system stores data. This timeframe covers the mileage when most major items need replacement (about 100,000 to 150,000 miles in my opinion). The 2nd owner was obsessive in their maintenance, sparing no expense and having even the slightest issues addressed. From 2008 to 2014 they spent over $11,000 maintaining the car. The 3rd owner (for whom I'm selling the car,) spent an additional $6500 to bring it up to spec. He is an avid enthusiast who also owns a Porsche 993 generation 911. The result of this maintenance pedigree is an IX that operates, drives, and handles like it did when it was originally purchased back in October of 1989. It is a time capsule of what defined BMW for a generation and earned it the reputation as the Ultimate Driving Machine.

Mechanical: I have summarized the work done in the receipts into a spreadsheet that I can email on request. A major service including the timing belt was done at 159,000 miles. The engine oil and filter were last changed at 164,000 miles. Here is a summary of all major components replaced in the last 7,000 miles.

Timing Belt

Timing Belt Tensioner Spring

Water Pump

Thermostat

Distributor Cap and Rotor

Valve Adjustment

Alternator, Power Steering, and Air Conditioning Drive Belts

Coolant Level Switch

Coolant Flush

Front Wheel Bearings

Front Shock Mounts

Front Shock Inserts

Front Shock Assemblies (IX specific)

Front Coil Springs

Gear Shifter Cup

Shift Selector Knuckle

Shift Carrier Bushing

Shift Selector Bushings

Left Front Axle

Front Driveshaft Spline Service

Front Driveshaft Flex Disc

Power Steering Flush

Power Steering Suction Hose

Front End Alignment

Air Conditioning Service

Emergency Brake Adjustment

Here is what has been replaced in the last 40,000 miles

Fuel Filter

Spark Plugs

Front Brake Rotors

Front Brake Pads

Front Brake Wear Sensor

Alternator

Intake Boot

Rear Shocks

Rear Shock Mounts

Rear Brake Rotors

Rear Brake Pads

Rear Brake Wear Sensor

Muffler

Driver's Dashboard Knee Bolster Trim

Fuel Pump

Fuel Pump Relay

Fog Light Switch

Brake Master Cylinder

Brake Light Switch

Front Control Arms and Bushings

Front Sway Bar Bushings and End Links

Right Front Axle

Speedometer Sensor

SI Circuit Board

ECU Coolant Temp Sensor

Cluster Coolant Temp Sensor

Oil Relief Valve and Filter Housing O-Rings

Heater Control Valve

The result is a turn-key 325ix that needs nothing. The biggest mechanical gripe I can find is a little noise from the air conditioning, which blows perfectly cold. I've driven it on 100-degree days, in stop and go traffic with the air conditioning running full blast, and the temp gauge never crept above twelve O'Clock. The engine idles smoothly and pulls super strong to redline. The drive train is quiet with no excessive whine or vibrations. The shifter feels amazingly tight, not the spoon in a bowl of spaghetti that so many E30's have if not rebuilt . The suspension is firm yet compliant, with no creaks or noise. Even a full left or right slow speed turn over bumps results in no noise (sway bar bushings, end links, or shock mounts usually creak on IX's in this situation). There is a significant amount of cosmoline protectant left over from the original delivery in the engine bay, but it is entirely superficial.

Exterior:

The Alpine White II paint is in very good condition and presents fantastically. It has no indications of underlying rust, one of the reasons Colorado cars fare so well over time. The downside of sand instead of salt is minor pitting on the leading edges. The worst areas are the leading edge of the lower hood and the fender flares. I have included pictures of these areas. The lower valence was re-painted by Paddock Imports and looks great. All VIN tags are present. The black trim is also very nice, but there are a few scuffs, which I have photographed. The underneath of the car is equally rust free. The fenders, floor pans, battery tray and lower windshield are all rust free. The rear lower valence does have some staining that is visible on the white portion above the black paint line. You can see this in the pictures on our website. The windshield glass has minimal pitting and no cracks. The side and rear glass are also very nice. The 70% ceramic tint is a subtle and functional modern touch, protecting the interior from heat and UV exposure. There is what appears to be some type of water marking on the driver's side window, but it is faint. I asked the seller about it and he said it was there before the tint. I tried to remove it with various remedies and nothing worked. The Euro Smiley Projectors headlights are one of the best OEM upgrades you can do to an E30. The headlight and fog light glass are in above average condition, indicative of their replacement, which is documented in the records. The Z3 Antenna is a modern and functional touch that looks stock. The wheels are in great shape, although the left rear one appears to have been repaired at some point. I am swapping this one with the spare, which is perfect.

Interior:

The interior is exceptional. The dashboard is crack free. The vents do not sag. The sport seats are in excellent condition. The leather is soft and supple with no tears or creases. It has definitely been replaced at some point. Their recline shocks work, along with all other adjustments. . The 3rd owner installed the sport seats. The original comfort seats in matching Natur leatherette are included and are in very nice condition. The rear ski pass through seat is still leatherette, but it matches nicely. There is a small 2" tear in the front bottom portion of the rear seat cushion, but not on the part you sit on, (see picture on our website). The M Tech Steering wheel looks great, the leather is soft and the M badge color is not faded. There is some slight wear on the top portion of the wheel. All instrument cluster functions including the odometer work correctly. The houndstooth gearshift and parking brake boots are very nice accents that match the Natur leather. A black leather gearshift boot and stock rubber parking brake boot are included if the houndstooth is not your taste. The leather ZHP shift knob is a modern touch you are reminded with at each shift. The driver's side window switch has been replaced with a newer style switch that I don't care for. I will replace it with an older style switch from my stock if you like. The center console cup holder is a must have. The texture is slightly different that the gear shift console. The stock center console is included. The E81 rubber floor mats are a perfect fit for an E30. I have a set in my own IX.

Glen Shelly is a low volume auto brokerage focused only on the highest quality vehicles. We are two airline pilots, mechanics, and auto enthusiasts who bring a high level of professionalism and attention to detail to the automobile business. Our philosophy is to keep our inventory small so that we can focus on thorough mechanical and cosmetic preparation of the vehicles we select. We have over 20 years of experience restoring and repairing automobiles and are intimately familiar with our cars. We do the inspections, service, detailing, and corrective maintenance using only OEM parts and service manuals. We offer an informed and low-pressure sales environment resulting in a premium buying experience for you. Find out more about us at www.Glenshelly.com.

***$250 non-refundable PayPal deposit is due immediately after the end of the auction. Balance is due in 7 business days after the end of this auction in cash or bank/certified funds. If you can not or unwilling to follow this terms than please do not bid. Vehicle description represents our subjective and biased opinion. Vehicle sold absolutely as-is, where is, with all faults that it may or may not have. Miles could differ slightly due to occasional use. Buyer is responsible for shipping, however, I will assist in any way I can, just ask me. Please absolutely no "zero" or "negative" feedback bidders (you must contact me prior to bidding). Non-paying bidders will be reported to eBay and pursued by a collection agency. Inspections are welcomed and encouraged prior to placing a bid. This vehicle is also advertised locally. Seller reserves the right to end/cancel this auction at any time at sole discretion. Thank you and GOOD LUCK!***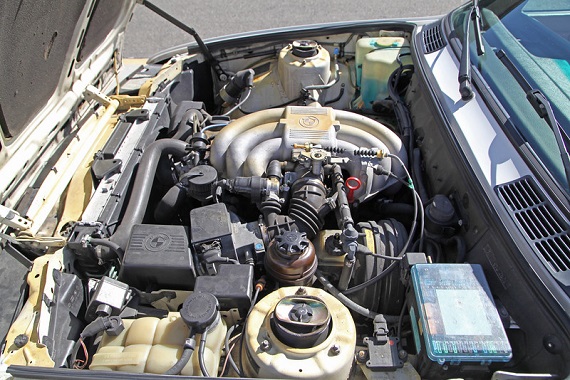 The seller goes through a thorough justification of why this is a good condition E30, and I'd have to agree it's on the upper levels of ix models that I've seen. From the clean exterior to the mostly original interior, this car appears to have only a fraction of the displayed miles. Maintenance history is there, too, and reading through the list of replaced parts lends credence to the claim that this is a turn-key car. For a more infrequently seen ix model that adds up to a high asking price, but with market demand still high on these models I think the nearly $11,000 ask is justified here.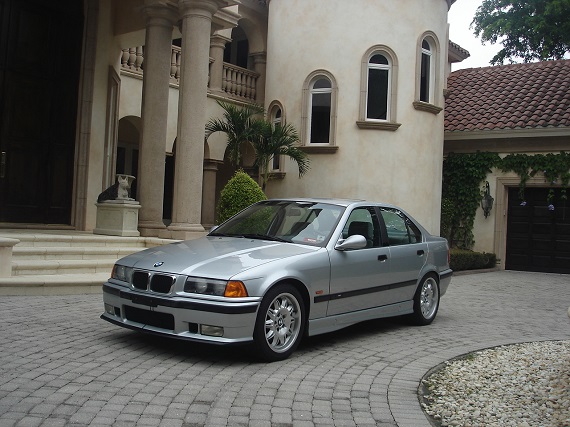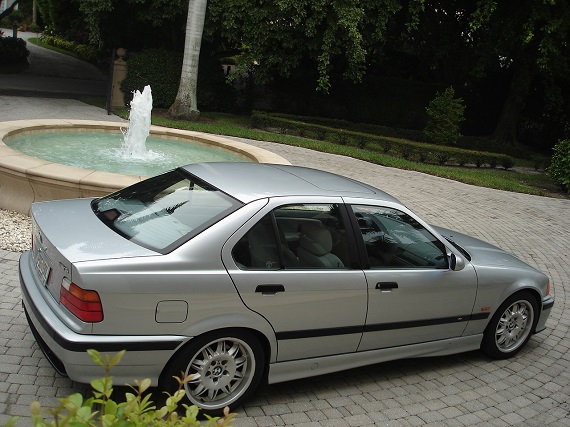 Year: 1997
Model: M3 Sedan
Engine: 3.2 liter inline-6
Transmission: 5-speed manual
Mileage: 109,000 mi
Price: $9,500 Buy It Now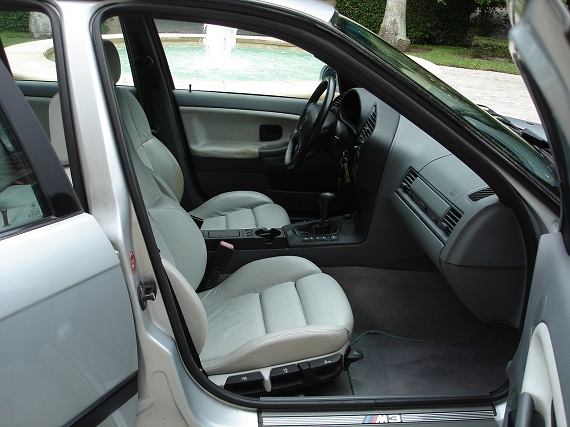 THIS IS AN AWESOME LOOKING AND PERFORMING 1997 BMW M3. BEAUTIFUL SILVER METALLIC EXTERIOR OVER LIGHT GRAY LEATHER INTERIOR. ONE OWNER FROM NEW. ALWAYS GARAGED AND SERVICED NEVER SMOKED IN. CARFAX CERTIFIED. REALLY GREAT RUNNING CAR WITH NO ISSUES AT ALL. FEEL FREE TO CALL ME AT 239-250-3003 OR EMAIL ME WITH QUESTIONS. WILL PICK UP WINNER FROM FT. MYERS AIRPORT OR ASSIST WITH SHIPPING THE M3 TO YOUR HOME. CLEAN AND CLEAR FLORIDA TITLE IN HAND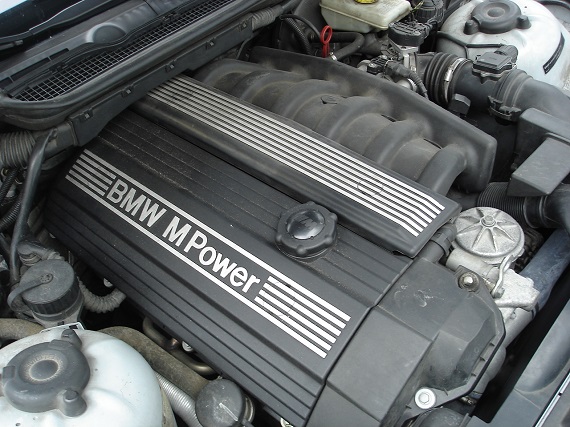 If you can get over the fact that the U.S. bound E36 M3 was the least Motorsport GmbH imbued model in comparison to its other M brethren, the model offers a tremendous amount of performance on a budget. It's still possible to find clean examples for around $10,000, and today's sedan is proof in the pudding. These sedans, when manually equipped, have gained the moniker 3/4/5 and are generally considered one of the more desirable configurations. The sedan was also slightly stiffer than the coupe, making it popular with track-junkies and racers. Parts are relatively cheap and plentiful and there's a very active community supporting these E36 models. The color combination isn't the most beautiful but it looks nice, condition over all seems to be better than most and miles are relatively low. Were I in the market for this car, I'd like to know the mechanical history from the one owner, but otherwise this looks like a well bought M car and offers the greatest performance of the group.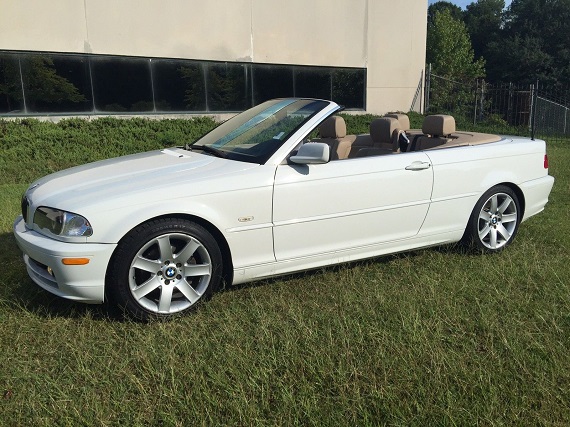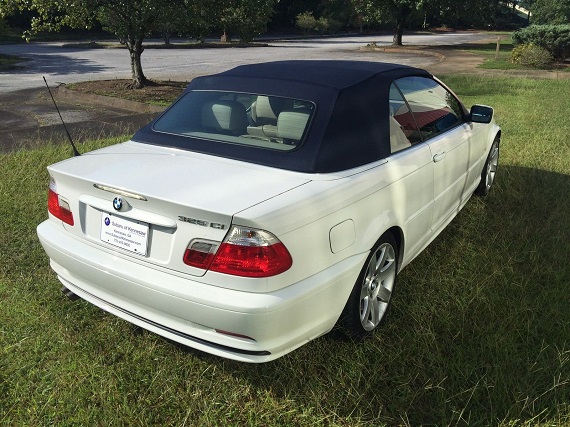 Year: 2002
Model: 325Cic
Engine: 2.5 liter inline-6
Transmission: 5-speed automatic
Mileage: 76,005 mi
Price: $9,975 Buy It Now
2002 BMW 325CIC CONVERTIBLE

WHITE/TAN NONSMOKER

SPORT,PREMIUM

NEAR PERFECT

YOU ARE LOOKING AT A 2002 BMW 325CIC CONVERTIBLE FINISHED IN ALPINE WHITE OVER TAN LEATHER. FIRST I WILL STATE THAT IF YOU ARE LOOKING FOR A CHEAP CAR WITH ISSUES, THIS IS NOT THE ONE FOR YOU. IF YOU ARE LOOKING FOR THE NICEST E46 CONVERTIBLE YOU CAN FIND THEN READ ON. THIS ONE HAS SPORT AND PREMIUM PACAGE, POWER TOP WORKS JUST AS IT SHOULD ALONG WITH ALL OF THE WINDOWS AND EVERYTHING ELSE FOR THAT MATTER. THE BODY IS STRAIGHT AS AN ARROW AND DAMAGE FREE. THE INTERIOR LOOKS AS IF IT IS NEAR NEW, NO RIPS OR TEARS IN THE SEATS AND THE CARPETS ARE ALMOST FLAWLESS. NO WARNING LIGHTS, SERVICE IS UP TO DATE ETC. THIS CAR LOOKS AND RUNS LIKE A MILLION DOLLARS. YOU DO NOT NEED TO DO ANYTHING EXCEPT TUEN THE KEY AND GO! THIS WILL BE THE NICEST 325 CONVERTIBLE YOU WILL SEE! PLEASE CALL WITH ANY QUESTIONS YOU MAY HAVE. WE WILL BE HAPPY TO GET YOU A SHIPPING QUOTE FOR THOSE OF YOU WHO ARE OUT OF STATE. ALL CARS ARE SOLD AS IS WITH NO WARRANTY IMPLIED. 770-652-6871

FACTORY OPTION LIST:

VIN long WBABS33422PG88452

Type code BS33

Type 325CI (USA)

Dev. series E46 (C)

Line 3

Body type CABRIO

Steering LL

Door count 2

Engine M54

Cubical capacity 2.50

Power 141

Transmision HECK

Gearbox AUT

Colour ALPINWEISS 3 (300)

Upholstery STANDARDLEDER/HELLBEIGE 2 (ARBEITSN (N6HC)

Prod. date 2002-08-08

Order options
No. Description
205 AUTOMATIC TRANSMISSION

210 DYNAMIC STABILITY CONTROL (DSC)

226 SPORTS SUSPENSION SETTINGS

290 LT/ALY WHEELS STAR SPOKE 44

391 SOFTTOP DARK BLUE

399 SOFTTOP OPERATION, FULLY AUTOMATIC

431 INTERIOR RR VW MIRROR W AUT ANTI-D

438 WOOD TRIM

441 SMOKERS PACKAGE

459 SEAT ADJUSTM., ELECTR. W. MEMORY

473 ARMREST, FRONT

481 SPORT SEATS F DRIVER/FRONT PASSENGER

520 FOGLIGHTS

522 XENON LIGHT

534 AUTOMATIC AIR CONDITIONING

640 CAR TELEPHONE PREPARATION

650 CD PLAYER

674 HIFI LOUDSPEAKER SYSTEM HARMAN KARDON

692 CD CHANGER I-BUS PREPARATION

785 WHITE DIRECTION INDICATOR LIGHTS

925 SHIPPING PROTECTION PACKAGE

Series options
No. Description
249 MULTI-FUNCTION FOR STEERING WHEEL

255 SPORTS LEATHER STEERING WHEEL

354 GREEN STRIPE WINDSCREEN

550 ON-BOARD COMPUTER

645 RADIO CONTROL US

661 RADIO BMW BUSINESS

823 HOT CLIMATE VERSION

832 BATTERY IN LUGGAGE COMPARTMENT

845 ACOUSTIC BELT WARNING

853 LANGUAGE VERSION ENGLISH

876 RADIO FREQUENCY 315 MHZ

992 NUMBER PLATE ATTACHEMENT MANAGEMENT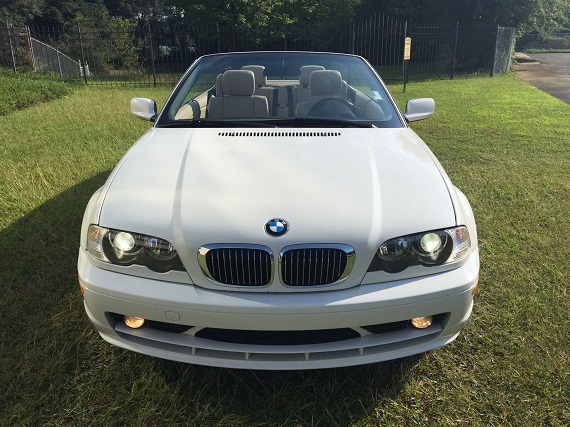 Starting with in the early 1990s, BMW model designations really start to get a bit murky, with both the engine displacement and letters that follow changing based upon model, year, and marketing campaign. For example, when we got to the E46 convertible, it retained the "ic" that had previously been utilized by the E30 and E36. However, it also retained the "Coupe" designation of "Ci" that was added for the E46, resulting in the slightly convoluted "Cic" moniker, albeit only briefly. However, on the continuity front BMW did correct the model number designation to be more accurate, as the E36 and earlier E46 "323" in fact had a 2.5 liter motor. The upgrade to the M54B25 from the M52B25 in 2001 resulted in 15 more horsepower. This 325 model is presented with lower miles in a nice color combination and overall very good condition. The options are good with both premium and sport extras, and I'd argue as a top-down cruiser the automatic isn't even that much of a detriment. What is, though, is that if you'd be willing to spend a few dollars more, you can easily find E46 M3 convertibles in the low teens. Granted, they'd have likely great miles and perhaps not as pristine condition as this example, but were I looking for a top-down E46 I'd probably start with the M variant first.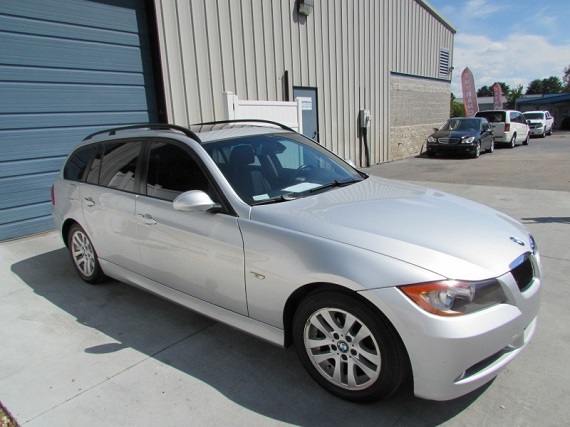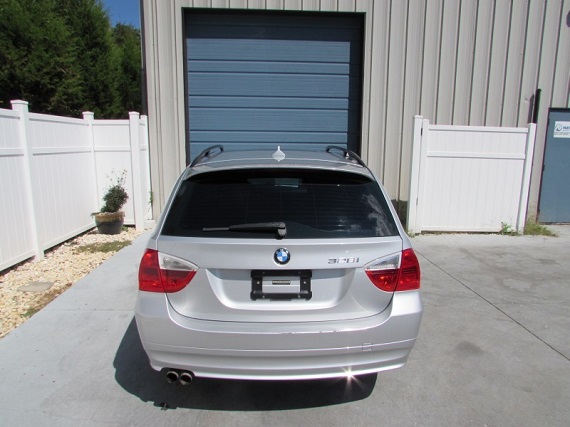 Year: 2007
Model: 328i Sports Wagon
Engine: 3.0 liter inline-6
Transmission: 6-speed automatic
Mileage: 113,182 mi
Price: $10,950 Buy It Now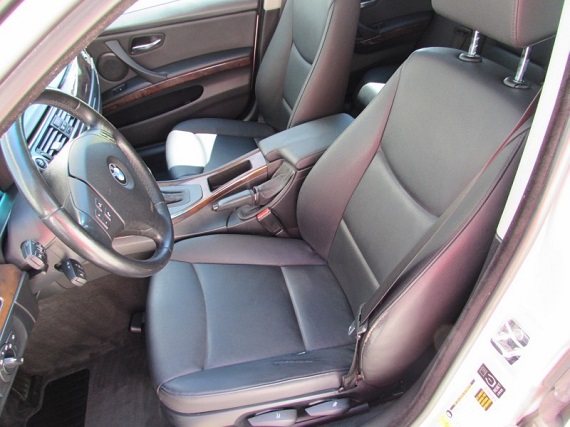 This 2007 BMW 3-Series 328i 6-Speed Automatic Sports Wagon is proudly offered to you for sale by
National Auto Warehouse
Knoxville, TN …FREE AUTOCHECK VEHICLE HISTORY REPORT …Buy with Confidence!!

This 2007 BMW 328i Sports Wagon is in Great condition both inside and out. The interior has been well kept. This BMW was traded into our dealership. EPA Rating of 31 mpg.

Very Well Equipped… Power Dual-Panel Panoramic Sunroof, Alloy Wheels, Fog Lights, Rain-Sensing Windshield Wipers, Power & Heated Exterior Mirrors, Heated Front Seats, Dual-Zone Automatic Climate Control, CD Audio, Auto-Dim Rearview Mirror, Cruise Control, Remote Keyless Entry, Rollover Protection System, Stability & Traction Control Systems, Front/Side/Head Airbags, LATCH Child-Seat Anchor System, and more…

For more information, please call or email:

Eric Watts
(800) 971-7492
sales@nationalautowarehouse.com

Inspection & Service Information

National Auto Warehouse has inspected and professionally serviced this 2007 BMW 328i Sports Wagon, which included:

Oil Change with Filter Service
New Spark Plugs

The 3.0L Inline 6-cylinder engine runs strong & the 6-speed automatic transmission shifts properly.

The air-conditioning (A/C) blows cold & the heater blows hot. The brakes are in good condition and this 2007 BMW drives straight on the highway with no tire vibration.

This 2007 BMW rides on a set of tires with 6/32 (front & rear) tread depth remaining (approximately 50%).

The Owner's Manual is included.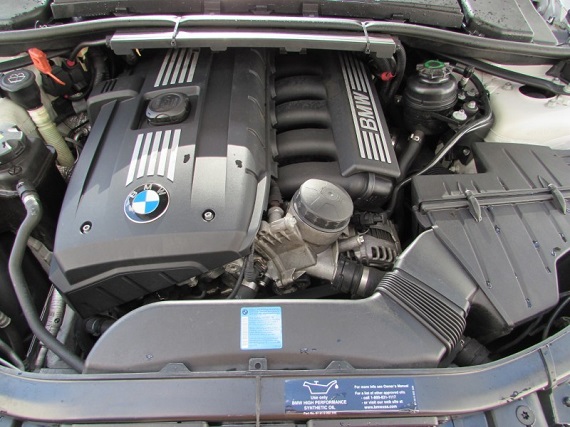 The newest of the group, the E91 carried the 5-door offering of the E-series on from the torch the E46 had passed. As with the previous generation, there were several model designation changes – and those designations didn't follow the traditional pattern of model numbers. For example, in 2007 BMW changed the name of the 330 models – which carried a predictable 3.0 inline-6, to "328i". They still carried a 3-liter inline-6, unlike previous 328i models, but power was slightly down 26 horsepower to 228. The name of the wagon also changed from the traditional "Touring" designation to the new "Sports Wagon" title, and the 328i was also available with the updated "xDrive" all-wheel drive system. However, this particular 328i doesn't sport many of the sought items, such as the Sport package or all-wheel drive, or even a manual. It does have the virtue of being the newest and theoretically the most dependable daily driver, though, and if it had the more desirable items it would be priced out of this competition.
Which is the winner? The Sports Wagon is immediately ruled out for me, as it doesn't have any of the options I'd personally want. Despite the nice condition and presentation of the Cic, that too isn't the model I'd like. I don't believe either of those two models have a future as a potential collector, either. The 320is a neat little car, but if I were going for an E21 I'd seek out a clean 323i personally for the Euro bits and 6-cylinder experience. That leaves the 325ix and the M3, and between those two it's hard to rule against the M3. The greater performance coupled with the potentially greater appreciation are a recipe for a good purchase in my mind. Which would you choose?
-Carter