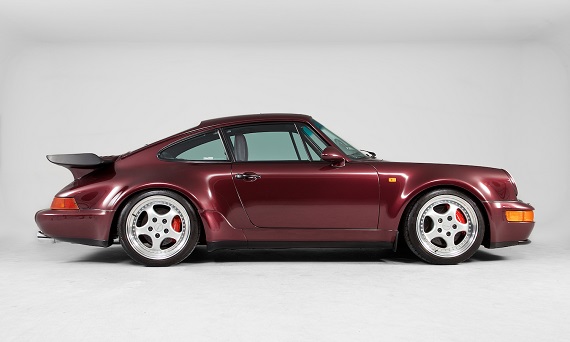 It has been a while since I've written about the Porsche 911 Turbo 3.6. The reasons for that might seem somewhat odd given the nature of the model in question, but for the most part I've ignored them because so many seemed the same. They're all great cars, sure, but nearly all are similar colors, with similar mileage, at similar prices. Once you write about one, you've written about them all. The example we see here, however, is an exception: an Amethyst Metallic 1994 Porsche 911 Turbo 3.6 with Magenta leather interior and 27,588 miles on it. Amethyst Metallic is one of those early-'90s colors that we come across pretty rarely and provides a strong note of elegance to the aggressive lines of the Turbo 3.6. It's generally a pretty well regarded color. The interior choice of Magenta will likely be hit or miss with many interested buyers, but it does compound the rarity of the car in general, which given their market should be a point in this Turbo's favor.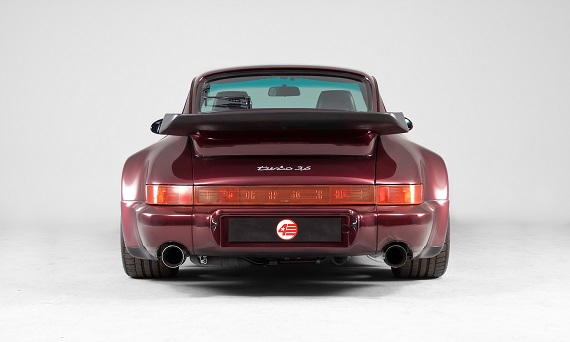 Year: 1994
Model: 911 Turbo
Engine: 3.6 liter turbocharged flat-6
Transmission: 5-speed manual
Mileage: 44,400 km (27,588 mi)
Price: £204,995 ($313,917)
MODEL HISTORY
Porsche introduced the 964 Turbo in March 1990 as the successor to the 930. Unfortunately, they hadn't had the necessary time to develop a turbocharged version of the 3.6-litre M64 engine, and chose to re-use the 3.3-litre engine from the 930 instead.

However, in January 1993 Porsche released an updated 964 Turbo (Turbo II), now featuring a turbocharged version of the 3.6-litre engine, which produced close to 360hp. Road & Track described the result as "an engine that produces not only more horsepower but considerably more torque at low RPM …while delivering plenty of low-end performance and all-round smoothness. In short, a turbocharged powerplant with the instantaneous response and linear power delivery of an aspro (normally aspirated)."

On first glance the exterior of the 3.6 appeared much like the 3.3, but had striking 18-inch split rim alloys as standard, as well as a lowered suspension. The limited slip differential was tighter, and bigger brakes with red calipers were also fitted.

Interestingly, the 3.6 Turbo was only produced for model year 1993/1994 with a mere 1,437 units manufactured in total. This makes it one of the rarest and most sought after Porsches produced since the 959.

EQUIPMENT
Porsche 'X88' power upgrade, Electrically adjustable and heated leather seats, Electric sunroof, Tinted glass, Air conditioning, CD player, Electric windows, Electric mirrors, Wood trim, Dash clock, Space saver spare wheel, Toolkit.

EXTERIOR
The striking Amethyst metallic paintwork is a stunning choice for such an exceptional Porsche, guaranteed to draw attention even amongst the most celebrated supercars. The near-flawless body is in great condition with absolutely no dents, scuffs or scratches to note whatsoever.

Having spent its life in a dry climate, there is no corrosion on the car to be found. In fact, aside from one or two minor chips to the front end, the 964 is almost entirely blemish-free. All black trim around the car appears factory-fresh, as do the lenses, which are crystal clear and free from any cracks.

INTERIOR
The interior of the Turbo is in fine order. The vibrant Magenta leather upholstery presents beautifully and, aside from the tiniest amount of wear, is in outstanding condition. The leather extends to the door cards, dash, and headlining which all retains a good finish.

The carpets throughout are pristine, and the wood trim adorning the steering wheel and gear knob shows no signs of any fading. The switchgear and electric seat adjustments operate just as they should, and the rear seats are also in excellent order.

ENGINE & TRANSMISSION
This rare 3.6 Turbo is also equipped with the 'X88' power upgrade, as fitted by Porsche from new. This highly desirable feature increases the power output to 385hp and launches the car from 0-60 in just 4.6 seconds.

Looking beneath the large intercooler all components appear in fine fettle, with zero corrosion to be found in the engine bay. The 5-speed gearbox is remarkably tight and precise; unquestionably the car drives as good as it looks.

WHEELS, TYRES & BRAKES
The 964 sits on the original 18-inch split-rim Speedline alloys. Each wheel is in impeccable condition with absolutely no age-related wear or curb marking to note.

The alloys are shod in a new set of Michelin tyres. Between the spokes the red Porsche calipers present well, with the ventilated discs showing plenty of life left.

HISTORY FILE
Having covered a mere 27,588 miles it comes as no surprise that this German-supplied example presents as well as it does, both cosmetically and mechanically. Present in the history file is the original leather Porsche book pack, complete with its dealer-stamped service book that contains no less than ten stamps. An MOT certificate with no advisories, expiring in April 2016, accompanies the paperwork.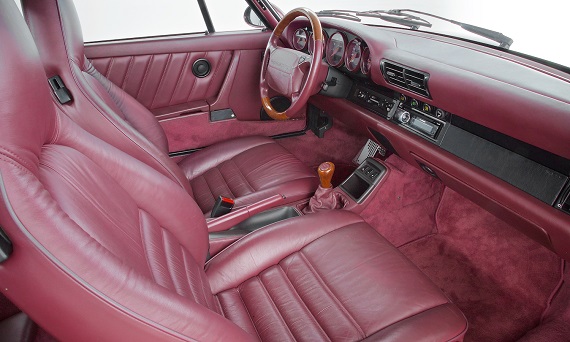 Like with other similar sorts of cars, I remain interested by the contrast of hard and soft created when these colors are selected on the 911 Turbo. Granted, the Turbo 3.6 is a pretty luxurious version of the Turbo that stood at the top of Porsche's lineup for both performance and luxury when it was around, so we could certainly see the elegant nature of this exterior color as an enhancement to this car's luxury rather than as an enhancement of its aggressive lines and demeanor. Though as I said when opening this post, most examples of this model we see have avoided this route, which makes this one somewhat of an outlier. The wood trim in the interior, of which frankly I'm not a fan, moves in this direction as well. Regardless of the color palette the Turbo 3.6 remains an outstanding performance machine and a brutally efficient means of transport. Unlike its successor for the 993, there is no all-wheel drive to help keep things under control, nor twin turbocharging to help reduce lag. It's a potent wallop of power directed entirely to the rear wheels and even with such an elegant exterior still commands quite a bit of respect.
-Rob