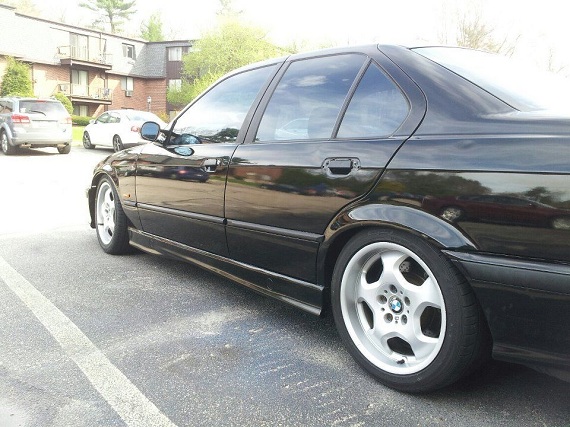 Without a doubt, two of the favorite tuning platforms of the past two decades have been the E36 M3 and B5 Audi S4. Almost a right of passage for recent Euro car ownership, they took middle-class sedans to the track offering out of the box 240 and 250hp respectively, though in very different ways. Out of the box, the E36 was the more lively of the two, though the Audi was undoubtedly more refined and a better all-arounder than the E36 was. In an almost Yankees/Red Sox-esque rivalry, both have their supporters who either respect the other's performance or point out its multiple flaws. Production didn't overlap on these two, but it was close and pricing is similarly close these days. Which is the better deal? Well, you can help decide – let's look at the BMW first: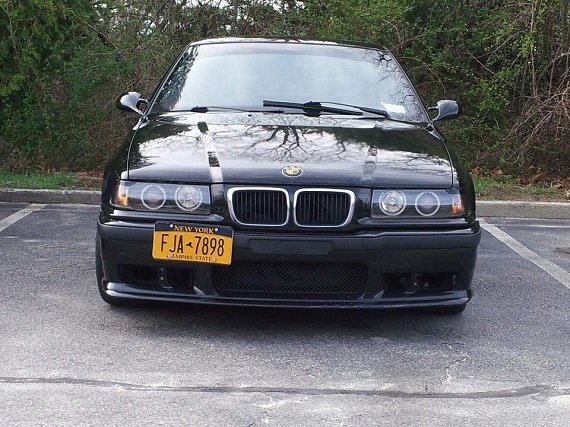 Year: 1998
Model: M3
Engine: 3.2 liter inline-6
Transmission: 5-speed manual
Mileage: 196,000 mi
Price: $8,700 Buy It Now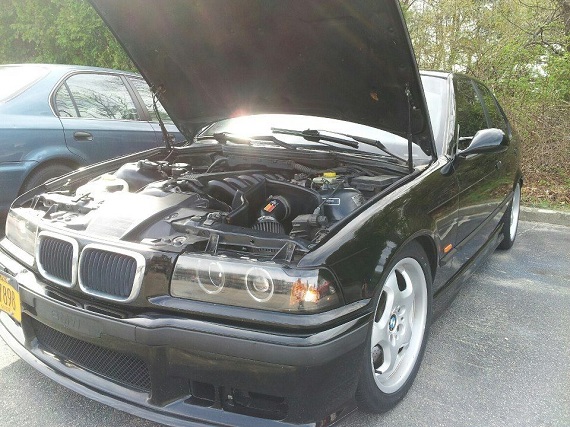 I'm finally selling my e36 m3. I love this car but I've had my fun with it and it time for someone else to enjoy this beauty. here's what you get: engine; mostly original s52 engine. New starter, New spark plugs, New valve cover gasket, k&n intake. ( also had active autowerkes cat back exhaust.) engine starts up and runs perfectly. Car was dyno'd about 6 months ago, it made 218 hp and 222lb/ft of torque at the rear wheels which is awesome considering they were rated at 240hp and tq from the factory at the flywheel! drive train; the drive train is all original except for a new clutch master cylinder. transmission shift good into all gears. feels kinda clunky but they all do. the diff and everything else work perfectly chassis; suspension was completely re done with bilstein shocks and tein s tech springs and polyurithane bushings on the front control arms.ride is firm but not uncomfortable. the brakes are Turner motorsports drilled rotors and stoptech pads and we're done in June. exterior; paint is in relatively good considering the age. had the normal chips you'd except from being driven. there is no rust anywhere, I bought the car in Orlando 2 years ago so no rust from road salt. interior; this is the cool part. this car has the 2 tone blue swade /black leather Vader seats. this interior package in a 4 door with a manual transmission is a very rare trim package. there are very few with this combo. the driver seat is a little worn out from all the miles but all the electronics in the seat work. now for the cons: the front power windows don't work but the rears and sunroof still do. there is also a power steering fluid leak. it still works it just means out fluid slowly. the rear tires are bald ( result of offset tire sizes that can't be rotated) I replaced the front tires less than a year ago. also the are stereo doesn't work. the Kenwood head into does but it isn't connected tho the speakers. there was an amplifier in the trunk that powered them but it was stolen. aside from that the car is in great shape. if you have any question feel free to ask away. if you would like more i can still e-mail more detailed pics of any part of the car you would like to see.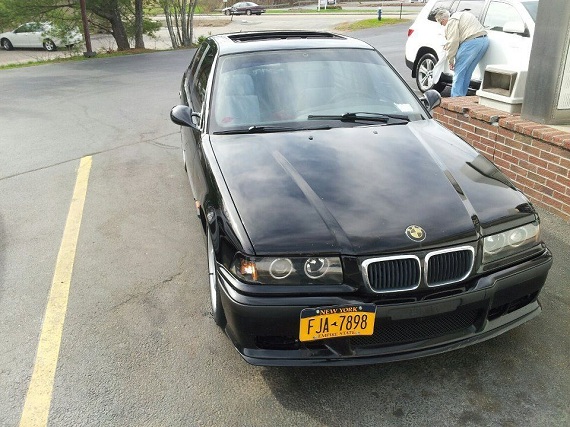 The sedan version of the M3 is a very popular, short run car. Slightly lighter and stiffer than the coupes, it was also a favorite of track-bound individuals. This car has some desirable modifications, with upgraded Bilstein/Tein suspension, Turner brakes and Active Autowerkes exhaust. It also sports the neat two-tone blue and black suede seats, though unfortunately we don't get to see them. Outside thankfully mods have been limited to the easily reversible halo headlights and plate holder. There's work to be done; the windows and radio don't work, the tires are bald and the mileage is pretty high at a touch below 200,000. But, the owner claims dyno numbers that are quite strong. Is it enough to distract you from the speeding Laser Red Audi train?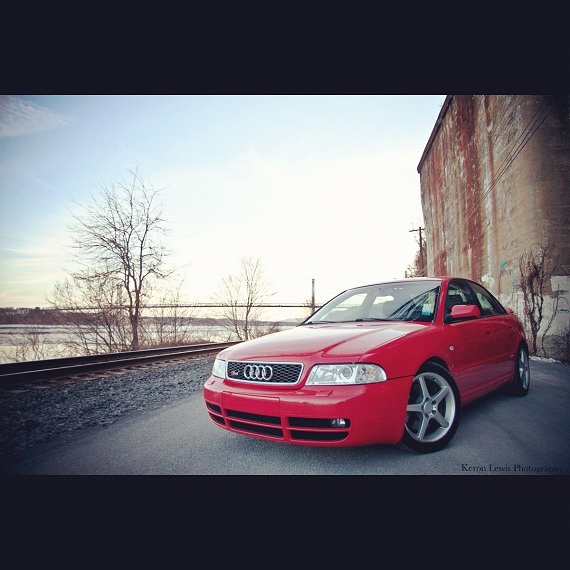 The B5 is most impressive when turned up a notch; it's then that the incredible tuning potential of the V6 shows through. It's nearly enough to make you forget the original inline-5 turbo S4 – but not quite. This particular model is stage "2+" – which apparently roughly equates to 400 horsepower. That's a serious upgrade over stock, and there are some accompanying mods to help with that power, including clutch, exhaust and intercoolers. With a few exterior tweaks, the professional photography shows how great these cars can look:

Year: 2000
Model: S4
Engine: 2.7 liter twin-turbocharged V6
Transmission: 6-speed manual
Mileage: 151,744 mi
Price: $10,000 Buy It Now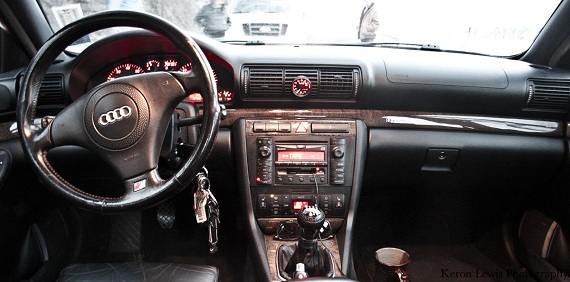 2000 Lazer Red Audi S4 147xxx Miles
NO SHAFT PLAY IN NEW K03 TURBOS. 400hp. Stage 3 ready.

Stage 2+ tune w/ No lift shift, and Launch Control(400$)
Vibrant Stainless Turbo-back exhaust (1500$)
Stage 4 Clutch 10k miles (600$) Steel slave cylinder w/ stainless line(200$)
Full Tein coilovers (1500$)
Valeo E code Headlights (900$) (SUPER RARE)
RS4 Grille – (120$)
Euro Bumper
AWE boost gauge
Vented Oil cap (20$)
ECS Valve cover gasket FULL kit (100$)
NEW OEM rear wheel bearings (150$ parts 300$ labor)
Updated S4 rear badge
Five spoke wheels and 85-90% tread on rubber!!
AWE side mount intercoolers (1200$)
NEW valeo alternator (360$)
ALL 6 NEW coilpacks (40$ each)
All new spark plugs (2$ each)
NEW Front and rear Brake pads
Oettinger Rear euro spoiler. (Extremely rare)

Comes with an extra set of porsche wheels 18×8 and 18×10 w/ adapters. 80-85% tread. 225/40/18 gforce front and falken 512 rears. (2000$)

comes with a set of BORGWARNER K04 turbos one needs a rebuild (900$ for both) but I recommend both getting a rebuild. (which are priced at 3800$ new)

PERFECT transmission, Motor runs FLAWLESS.
Interior is BEAUTIFUL.

Minor dent on hood above passenger head light. Metal is not creased so it can be popped out clean. Slight hole on floor where heel sits for gas pedal.

Will ship if buyer pays and arranges all shipping. But pickup preferred.

Contact me for inquiries or more pictures. 5184298099

Thanks for bidding!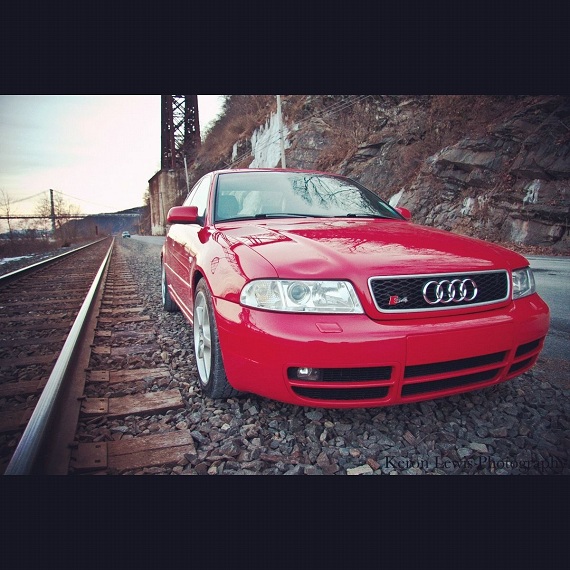 Condition overall on the S4 seems to be much better and it includes a spare set of wheels. Still, it's strong money for either; I've seen M3s down around $5,000 with similar miles and the same goes for the S4. With both, previous maintenance is key to future ownership success. You'll save yourself thousands of dollars buying the "right" one versus one that's been abused. While neither is really the one that I would choose for my ownership – preferring something more stock – if I had to pick between these two the S4 looks to me to be the much better purchase. What are your thoughts?
-Carter