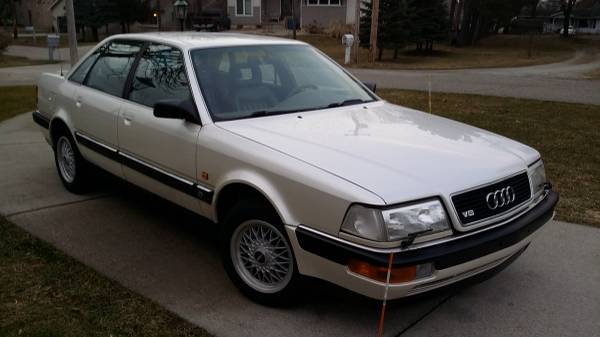 Update 8/8/18: An interesting follow-up to the clean V8 quattro I posted the other day, this 1991 V8 5-speed has returned in a no reserve auction format with a $5,500 opening price – down $1,000 from May.
Back to big Audis! The early 1990s were, as I've described in the past two posts, a period of change for the Ingolstadt firm as they closed down production on the Type 44 to introduce its new replacement, the C4. That led to a dizzying assortment of models from the one chassis. There was the aforementioned 100 and 100 quattro. You could move up to two turbocharged models, too – the 200 Turbo gave you 165 horsepower through the front wheels, and the new-and-only-for-91 in the U.S. was 200 20V quattro. Europe and the rest of the world got even more options; production lasted right up through 2006 in parts of China, where they even made a crazy long-wheel base 4-door convertible version of the Hongqi.
But the top of the heap for the U.S. market was a derivative of the Type 44, the D11 chassis. Of course, that was Audi's foray into the top-tier luxury market with its new all-aluminum 32 valve double-overhead cam V8. Body revisions to the front and rear along with flared fenders made the V8 quattro seem like a completely different car to the slab-sided 100. V8s had, and have, serious presence. Big news, too, was that for the first time Audi was able to match its all-wheel drive quattro setup with a new 4-speed automatic transmission.
For die-hard Audi faithful, though, for a short while you could still opt to row-your-own with the 240 horsepower 3.6 liter V8 singing to your right foot. These manual V8 quattros are legendary because of their rarity and that they are the only car Audi brought to market with twin Torsen differentials. The combination of a more rearward weight bias, big and instant torque from the V8 and those clever diffs made for one of the best driving experiences in a big sedan from Audi:
13 Comments