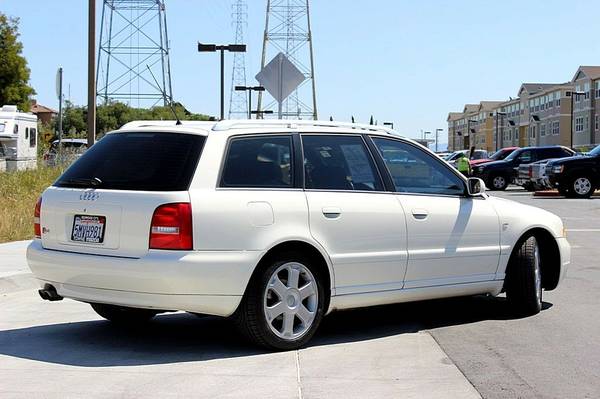 It's been a while since I wrote up a 10K Friday article; they take some time both in determining the thread, finding the car and then writing them all up. Sometimes all it takes is a bit of inspiration though, and Wagon Week was just that for me. While we've covered many of the most popular fast and practical wagons this week, again I'm going to do a bit of an unusual comparison to cover some unloved models that are potential deals: automatic Audi S Avants. So, in today's comparison we have a B5 S4, a B6 S4, a C5 S4 and to compare values a C4 S6 (the only row-your-own here). Which is the right choice for a fast Audi wagon?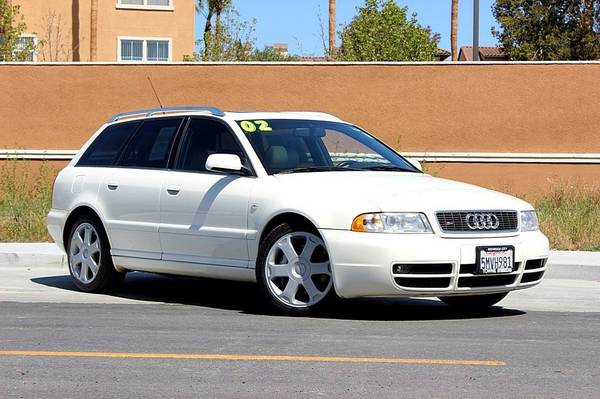 Year: 2002
Model: S4 Avant
Engine: 2.7 liter twin-turbocharged V6
Transmission: 5-speed automatic
Mileage: 109,497 mi
Price: $8,954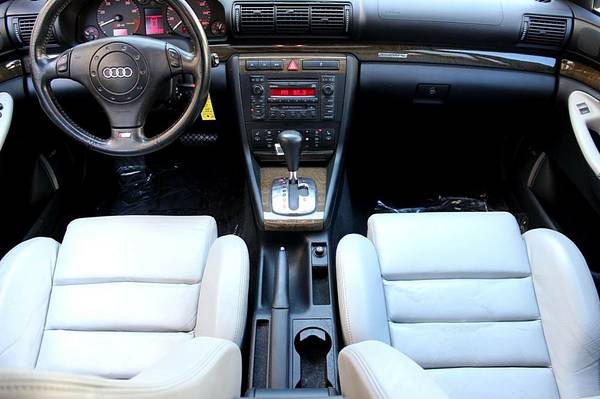 Turbocharged! Leather, Moonroof, Heated/Power Seats, Bose Premium Sound System, Roof Racks & Premium Wheels. Very Rare Low Mileage S4! Won't Last Inquire or Stop in Today!
Prices Terms and Conditions are subject to change without notice. Not responsible for errors or omissions.
Towne Mazda
(888) 501-6387
1A Bair Island Road
Redwood City, CA 94063
In the Boardwalk Auto Center

Call us today at (888) 501-6387
Or use the link below
to view more information!
http://www.carprices.com/AF2/vdp/39362159.html
Price: $8,954.00
Mileage: 109,497
Stock #: M10830A

Type: Used
Trim: 2.7T Avant 4D Station Wagon
Bodystyle: Wagon
Transmission: 5-Speed Automatic with Tiptronic and DSP
Drive: AWD
Engine: 2.7L V6 SMPI DOHC
Fuel Type: Regular Gasoline
Exterior Color: White
Interior Color: Silver w/Silk Nappa Leather Seat Trim
Seats: 5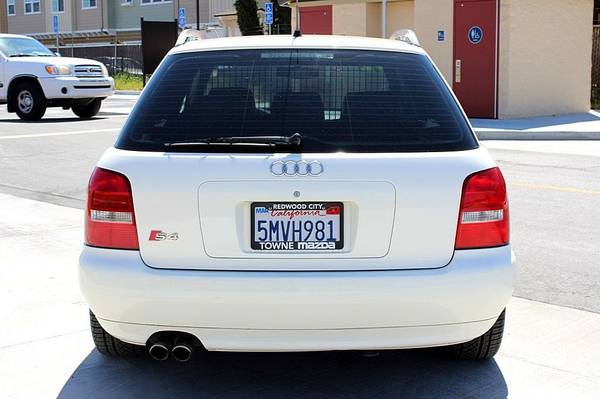 Silver S4 Avants are nearly cliche, so it's really neat to see a much more rare Casablanca White example. That splash of freshness outside is matched by a light silver interior that really wakes up the normally drab B5 interior. Miles are lower at 109,500 compared to most on the market, but the 5-speed tiptronic mated to the twin-turbo V6 is a bit of a bad match and consequently tends to keep the value down. As such, this pretty clean Avant is available for just below $9,000. You can find cheaper examples, but they're typically not quite as good looking as this one. As with any 2000s Audi, a careful PPI is in order, but this car seems pretty appropriately priced for the market.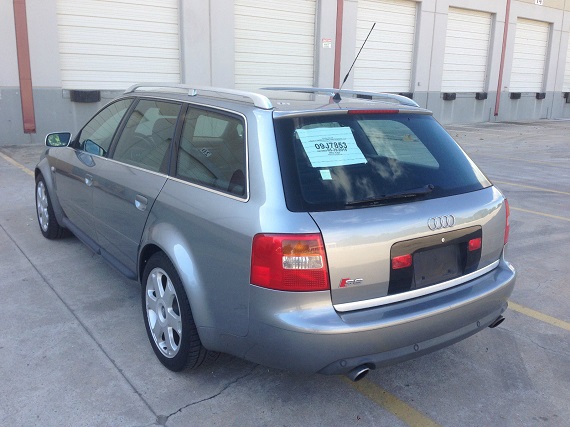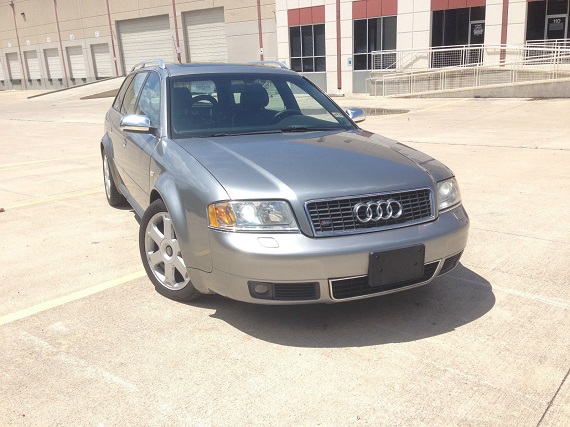 Year: 2002
Model: S6 Avant
Engine: 4.2 liter V8
Transmission: 5-speed automatic
Mileage: 116,000 mi
Price: $8,990 Buy It Now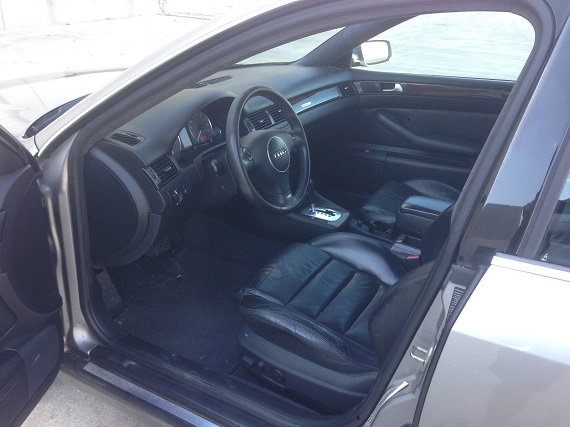 The best priced S6 on the market. Only one owner and accident free per Autocheck! This is a very rare C5 Audi S6 Avant ( wagon ). There were only a little over 1000 of these cars imported into the U.S. From Germany. It has a 4.2 liter V8, pumping out 340 horsepower that meet the road through Audi's excellent all-wheel drive system called the Quattro. There are no fault lights or issues of any sort. All of the power options work, including: windows, seats, door locks, mirrors, and the sun roof. Some of the other features are: bi-xenon headlights, heated seats, power folding mirrors (good for tight parking places), parking sensors, and alcanatara headliner.

If you have any questions or would like to do live video to see the car, it can certainly be arranged. Please feel free to call me @ 561-303-5555.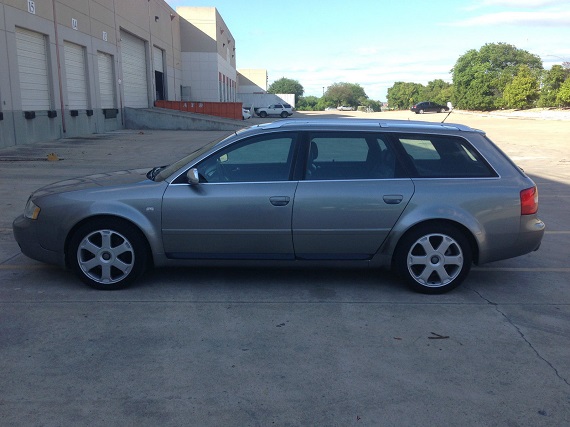 Did I say cliche? Yes, it's an Atlas Grey Metallic S6 Avant – silver was very popular on these and other Audi S wagons from the period. The C5 has a healthy dose of instant power versus the twin-turbo V6; nearly 100 horsepower up on the B5 without much more weight, this car punches a little quicker and if you like discrete performance, it'd probably be my choice versus the slightly smaller, peakier B5. However, the transmissions are known weak points, so again a careful check would be in order. Still, this example is priced pretty appropriately for what it is.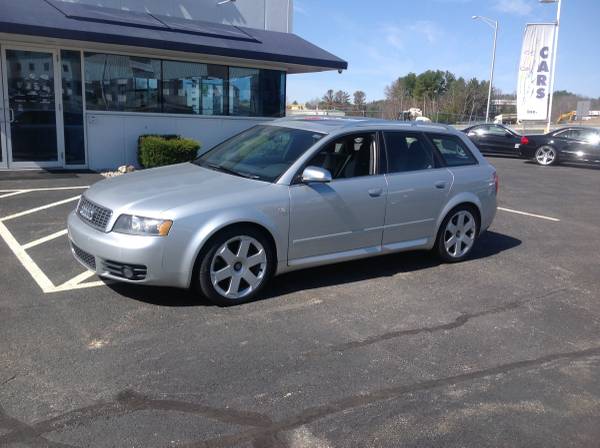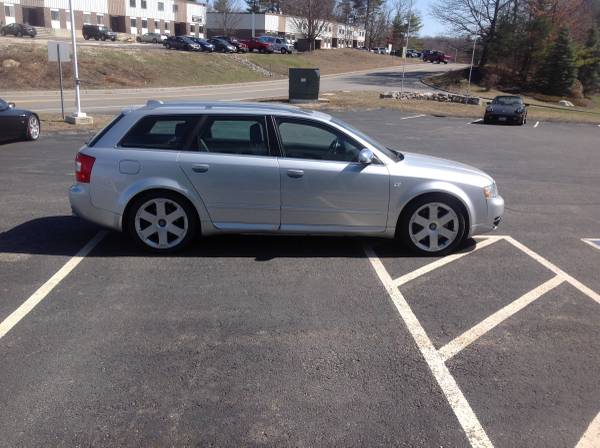 Year: 2004
Model: S4 Avant
Engine: 4.2 liter V8
Transmission: 6-speed automatic
Mileage: 128,000 mi
Price: $7,399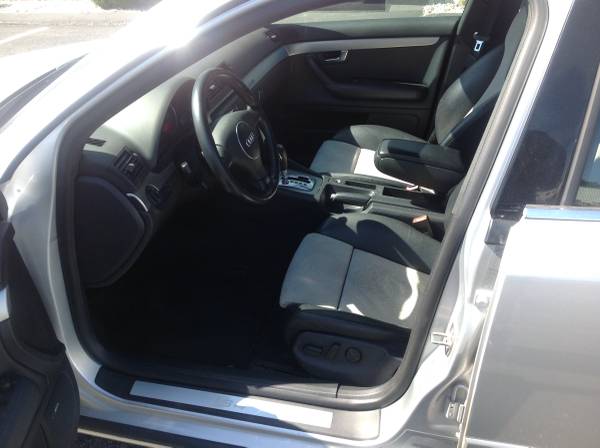 2004 AUDI S4 AVANT WAGON
SILVER
RECARO SEATS TWO TONE
AUTO TRANS
NEW TIRES
MILES 128K
IN ON TRADE
PHONE CALLS ONLY !!!!!!!!
CARS INC
SALEM NH
603-893-3393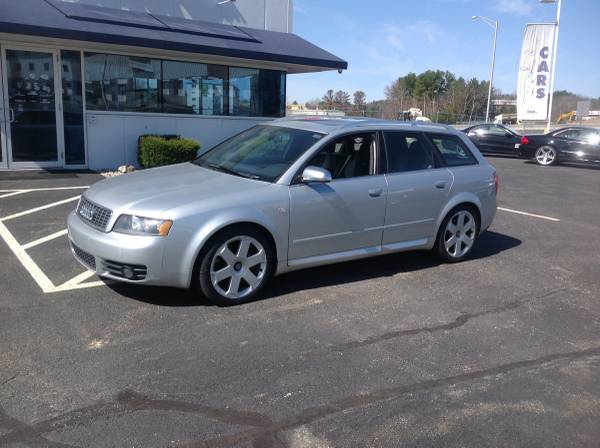 V8, Avant, Silver. That was the recipe for a while, and this Light Silver Metallic S4 is a reminder. Again there's a small splash of color inside with the two-tone Alcantara Recaros which is nice to see. Again the instant response of the V8 is a better match for the tiptronic transmission; however, as documented, there exists the potential that the timing chains on these V8s could be an issue as the miles grow, and this car has a few more than the S4 and S6s just shown. Condition still appears nice, and in this group despite being the newest it's the lowest priced.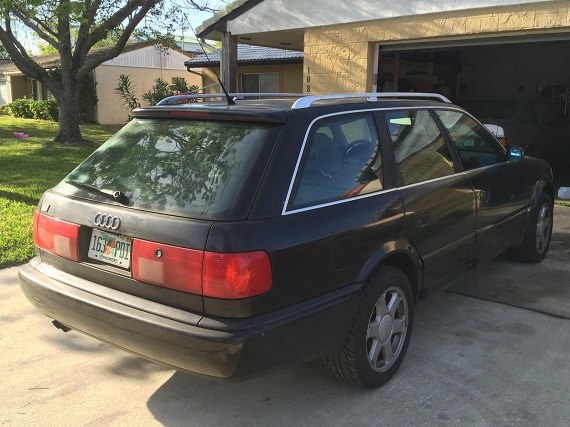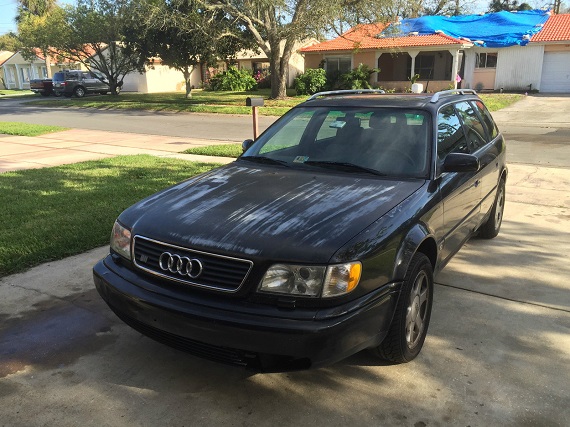 Year: 1995
Model: S6 Avant
Engine: 2.2 liter turbocharged inline-5
Transmission: 5-speed manual
Mileage: 167,000 mi
Price: $7,500 Buy It Now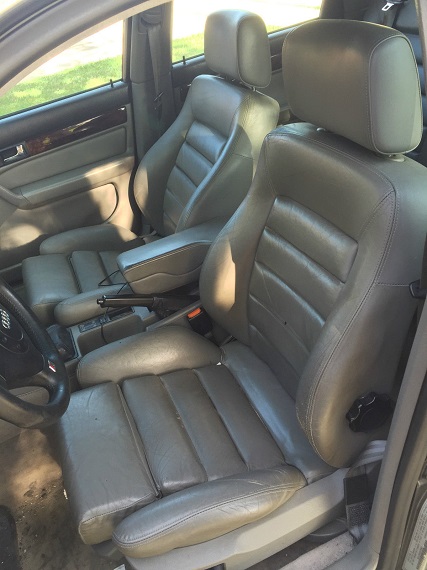 Up for sale is my 1995 Audi URS6 Avant, one of roughly 300 imported into the US. I bought this car last year and after a few months of ownership the engine developed a knock at 161k miles. I diagnosed it and decided to replace the motor with an AAN with 130k miles on it. Currently the car has roughly 167k miles on it, with 6k miles on it since the swap with no issues. While the motor was out I did a bunch of upgrades (listed below), resealed the motor and transmission (transmission input shaft seal was leaking when I bought it), and did some preventative maintenance items. The previous owner had the front end rebuilt as well as the axles rebooted. I also put new tires on it (listed below) and a new Kenwood head unit with bluetooth.

The locking rear differential works perfectly, as do all of the electronics except what is listed below. The headlight bulbs have been replaced by HID's and work really well with the projectors.

The car does need some cosmetic work, as the front bumper is pretty cracked as per usual for these cars. The car definitely needs a paint job, which I was intending to do before I had to replace the motor. The interior is in decent shape, though the rear bench is cracked. I put leatherique on it several times and it softened up a good bit. The drivers seat switch does not work, though the memory does and it moves. It should only need a switch. Drivers side heated seat also does not work. Cruise control does not work due to a hole in the vacuum diaphragm. The coolant hoses should probably be updated as they appear original. The timing belt has 40k miles on it and will need to be done in the next year, but it is in good shape and a brand new timing belt is included.

Upgrades:
MTM Stage 1
Southbend Stage 2 clutch
034 Silicone boost hoses
034 Cold Air Intake
034 Snub Nose Mount
STR Exhaust Manifold
Apikol Coil Packs
Kenwood KDC-352U bluetooth head unit
HID headlights

New Parts (under my ownership):
All above mods minus the coil packs and MTM tune
Clutch and slave master cylinders
Engine mounts
Fan clutch
Input shaft seal
Rear crank seal
Timing belt tensioner pulley
Water pump
Correct NGK spark plugs
Power steering bracket
Gray suede headliner
Power steering lines (due to corrosion)
Front and rear brake pads
All gaskets on entire motor
General G-Max as-03 tires
Coolant system citric acid flushed and filled

New parts (previous owner, records included):
All axles rebooted
Transmission mounts
Front struts
Front lower control arms and bushings
Tie rods

Overall it's been a great car and it's an absolutely blast to drive. The MTM tune pushes about 260hp to the wheels which makes it a real sleeper. Mechanically it is in great shape and a paint job will do it wonders.

I am willing to ship at buyers expense, or can deliver within an hours drive of Orlando. I have disclosed as much as I can to the best of my ability, and am willing to answer any questions. I will continue to update the ad with any other information I may have forgotten.

Thanks for looking!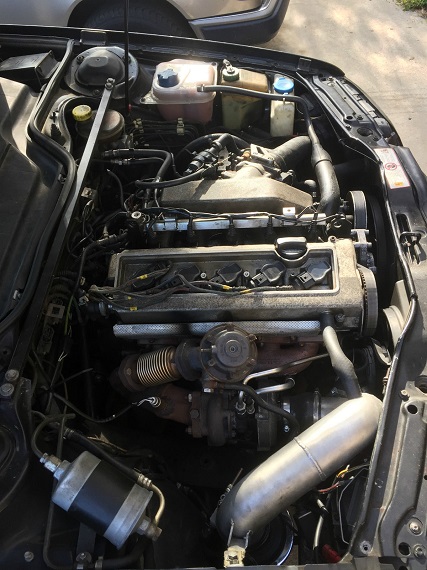 How strong is the C4 market? What used to be a deal amongst turbocharged Audis is quickly turning into a hunt for good examples. And when you're discussing the Avant version, since there were only 300 to choose from 20 years ago and more than a few have gone the way of the Dodo, your choices are limited. We had a beautiful example pop up earlier in the week; a one-owner, all original example in – you guessed it, silver, it was snatched up in only a few hours. This example popped up though, so it's worth a look for comparison's sake. Right away, this car is apropos for our discussion of what an average C4 looks like; paint has failed, some trim is broken, it's dirty, it's been modified, the interior is worn, some electrics don't work and it's got quite a few miles. There's also, according to Autocheck, some undisclosed issue in the past. Mechanically, though, this is the package that enthusiasts want, and this particular example has had a fair amount of servicing. Does that make it a $7,500 example? I think that's strong for the market, and in comparison to the other three, it's pretty hard to justify the price for this car that arguably still needs $5,000 or more of work.
So what's my choice? Thinking a bit outside the box at which of these examples arguably needs the least amount of work, I'd opt for the C5 S6 Avant. However, the color combination isn't the one I like – perhaps if it was Nemo Blue, I'd be convinced. The color combination that really stands out to me is the B5 S4 in Casablanca White; but dynamically it's not the driver I'd like. Between those two, I'm just not sure which I'd end up with – which would you want, and why?
-Carter