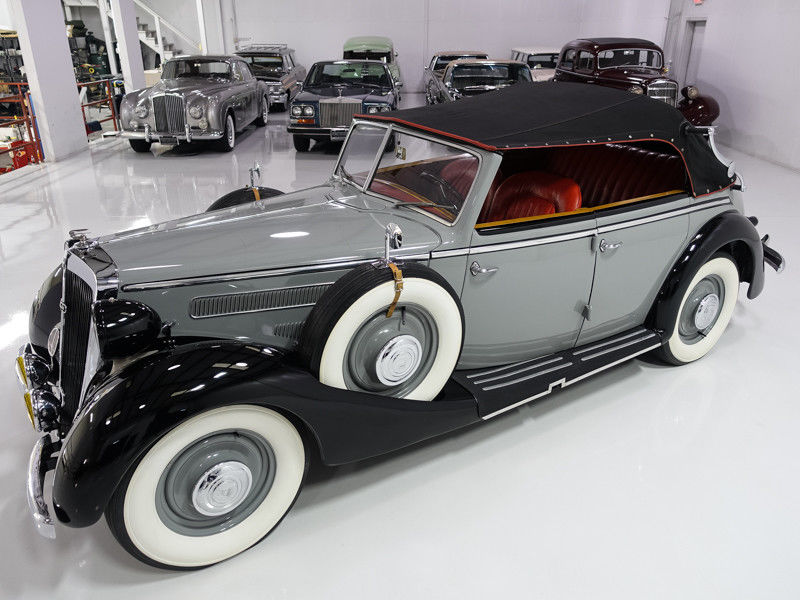 Okay, I'll admit that we don't spend a lot of time on pre-War German cars. The why is quite simple; outside of an occasional Mercedes-Benz model, there just weren't a lot of pre-War German cars exported to the United States. Heck, there just weren't a lot of pre-War German cars, period.
Contrary to popular belief, German wasn't a nation of drivers until well after World War II. It was something that Mercedes-Benz and upstart conglomerate Auto Union lamented to a certain then-new German Chancellor by the name of Adolf Hitler. Hitler agreed; he wanted and needed the automobile industry in Germany to prosper to help resurrect the economy. But he also needed German car firms to take to new markets. The results you likely know; Hitler spurred the industry through lowering of automobile taxes, and more notable, the encouragement and funding of international-level automobile racing. It's one of the few times in history that a government has undertaken full sponsorship of a race effort, and without a doubt it was the most successful and evocative. Should you care to on this blustery and very cold late December evening (at least here in New England, where temperatures are struggling to reach double digits), you can read all about it in my dissertation:
Motorsports Monday Special: Racing to Sell – The 'Silberpfeil': Part 6
The result of all of that racing and support of the automobile industry was that both Mercedes-Benz and Auto Union prospered – for a while. The unfortunate side-effect of the buildup for the Spanish Civil War and World War II, along with re-arming several areas of taken from Germany through the Versailles Treaty was that by the late 1930s, automobile production had ceased to accelerate because of artificial shortages of items like metal and rubber. Couple that with the fact that most Germans, though much better off in aggregate following the NSDAP takeover in 1933 than they had been during the Great Depression from 1929-1932, still weren't very rich. So although both Auto Union and Daimler-Benz produced ultra-luxury models like the Mercedes-Benz 540 series and the Horch 853, few outside of high-ranking party officials could afford them. And even then, they were often gifts to gain favor with the notoriously corrupt government.
Today, some 80 years on from that time period, these incredible machines have gained a new appreciation in the market place. Long second fiddle to the pre-War stand-bys – Rolls Royce, Packard, Bentley, and Duesenberg, the rare models from Mercedes-Benz have come to surpass the value of nearly all pre-War cars outside of some real exotics, and Horch models, too, have come to be much more highly valued: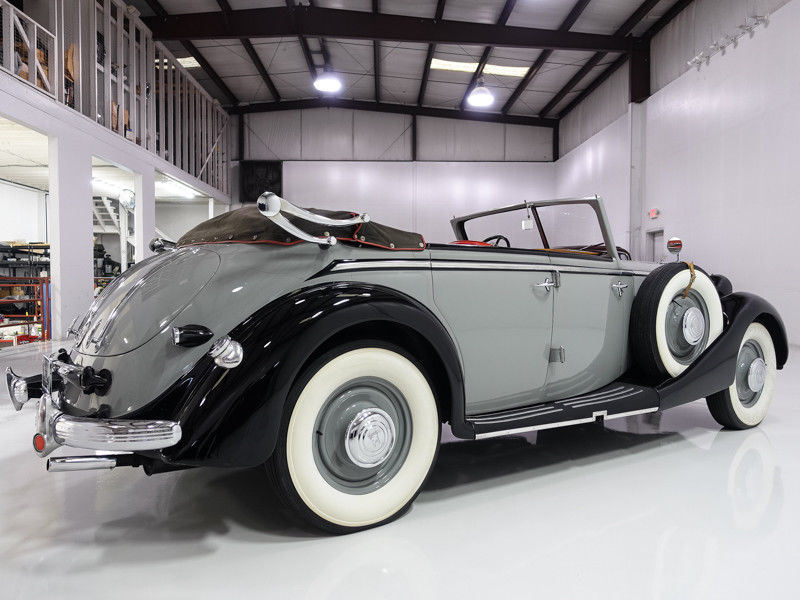 Year: 1939
Model: 903V Phaeton
Engine: 3.0 liter V8
Transmission: 4-speed manual
Mileage: 26,686 mi
Price: $249,900 Buy It Now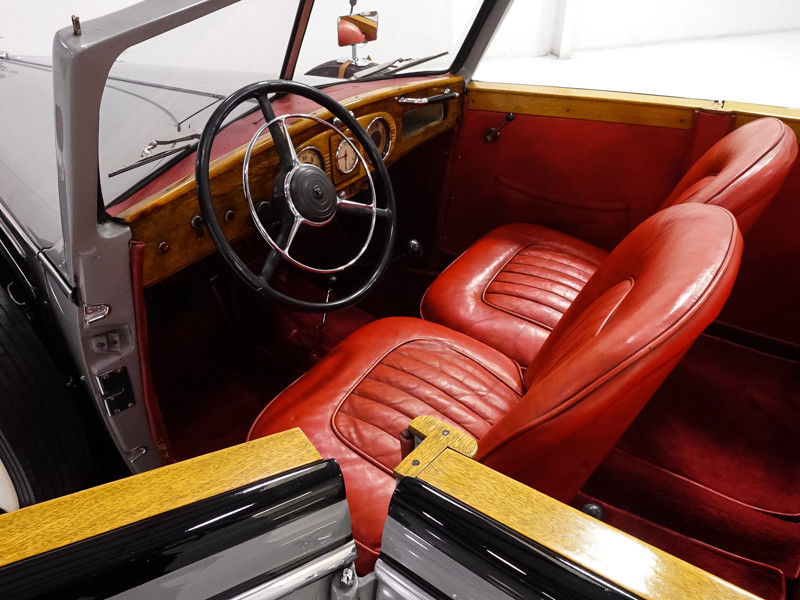 Highlights
JUST RELEASED FROM OVER 35 YEARS OF SINGLE COLLECTOR OWNERSHIP
INCREDIBLY RARE 930V 4-DOOR PHAETON
A RUNNING/DRIVING GERMAN PRE-WAR CLASSIC
ONE OF ONLY THREE BUILT
ONE OF ONLY TWO KNOWN TO EXIST
GORGEOUS COLOR COMBINATION
PERFECT CANDIDATE FOR A FULL CONCOURS LEVEL RESTORATION
SHOWN TWICE AT THE PEBBLE BEACH CONCOURS D'ELEGANCE
INCLUDES PEBBLE BEACH DISPLAY CARD, RIBBON AND MORE
A DREAM FIND FOR THE ELITE COLLECTOR OR INVESTOR!
Options Include:
DUAL SIDE MOUNT SPARES
WHITEWALL TIRES
FOG LIGHTS

Shown at Pebble Beach Concours d'Elegance

August Horch got his start in the automobile industry working for inventor Karl Benz, however the dream of building his own car resulted in him starting the company, Horch & Cie. Motorwagenwerke AG, in 1904. After some disagreements with the board of directors, August Horch left the company to go start another one in 1909 that still used his family name. This however was viewed as a trademark violation since the original Horch Company had the rights to the brand name, forcing Mr. Horch to find another title for his second car company. The son of one of Horch's business partners had been studding Latin and suggested the name Audi. The Latin word for horch, Audi means "to listen" and in April 1910 August Horch founded Audi Automobilwerke. Ironically, both Horch and Audi were facing financial pressure by the 1930's due to the great depression. In order to survive both companies merged combining with the forces of automakers DKW and Wanderer to form the four companies strong Auto Union, with Horch cars being designated the Auto Union's luxury brand. All four brands from then on would carry a unique four interlocking ring logo that represented the four separate companies that made the Auto Union.

By the 1930's the Horch brand of the Auto Union had established itself as one of the premier luxury marques from Germany with quality and performance that rivaled Mercedes-Benz. The Horch 830 line was unveiled in 1933 and offered an extensive range of coach built bodies based around a new 3-liter V8 engine. The pinnacle of the 830 line, the 930V was unveiled in 1937 and originally featured an enlarged 3.5-liter version of the 830's V8 engine. Horch would increase the displacement again to 3.8 liters in 1938. This gave the 930V a 90 horsepower engine combined with a 4-speed gearbox with a separately engaged overdrive; an excellent platform for a wide arrange of bodies including a two door cabriolet, four door sports saloon, two door roadster and a four door phaeton cabriolet. Approximately 1,991 Horch 930V's were built between 1937 and 1940 of which very few remain today. The 930V's exclusivity combined with the range of bodies, meant that very few would be built in each specific style, including the incredibly rare 4-door Phaeton of which three were built and only two are known to exist today.

The 1939 Horch 930V Phaeton featured here is finished in stunning black over Ascot Grey with a gorgeous dark red leather interior. It has been previously shown in the Auto Union Anniversary Class at the 1999 Pebble Beach Concours d'Elegance and again at the 2009 Pebble Beach Concours d'Elegance. This incredible motorcar has just been released from long-term ownership; its beautiful older restoration is now showing some age and patina and though it can be driven as is it would make a perfect candidate for a concours level restoration. We are proud to offer this incredibly rare and desirable Horch 930V Phaeton to the most sophisticated collector, investor or enthusiast who understands and appreciates the rarity of this great German marque. Classic cars have proven to be among the most resilient and rewarding investments in recent years with the Historic Automobile Group Index (HAGI) jumping 39% in 2013, 16% in 2014 and 17% in 2015 while posting gains of 467% over the last 10 years. Ready to make an investment you can actually enjoy? Please contact one of our expert sales consultants for more information. They will be happy to give you a complete walk-around, supply you with a more detailed description, and answer any questions that you may have. Buy with confidence.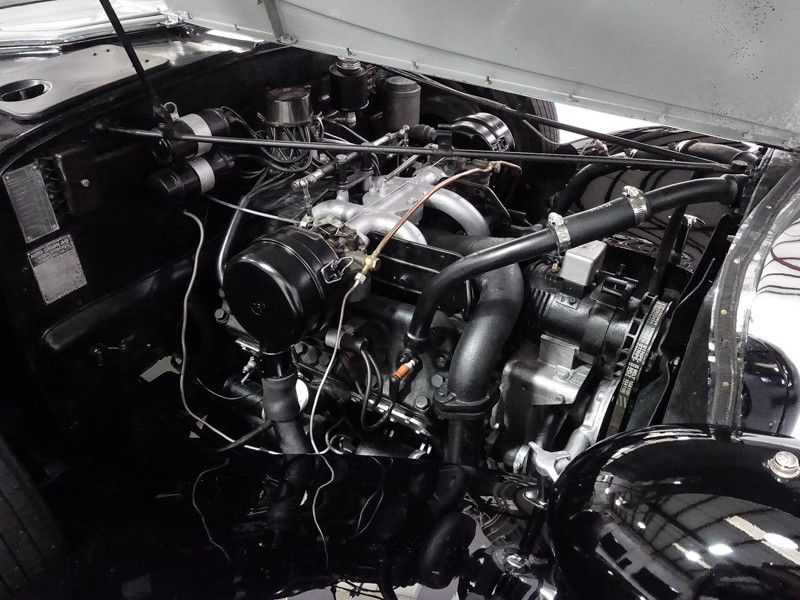 While this example is exceedingly rare as all Horch models are, it's not really the most desirable model. That honor would fall to the more expensive in period straight-8 100hp 853 and 855 models. With a 5 liter straight-8 and classic looks to rival Mercedes-Benz's 540K Special Roadsters, models like this 853 Sport Cabriolet really highlight how pretty the classic Horch models were. The V8 models, like this 930V, were aimed at more affordable luxury, akin to the 5-series v. 7-series or E-Class v. S-Class. Even within the V8 range, this 930V isn't the more highly sought model. There are prettier examples out there, like this gorgeous 930V Roadster, that are more valuable. Horch also produced a slightly more potent 3.2 liter V8 (as well as a 6 liter V12!), and those are more rare and valuable, too.
Yet this car is still quite neat to consider. And it appears to have a bit of an interesting history, having lived for some time post-War in Guatemala. There were, of course, quite a few Germans who left Europe in the 19th and 20th Centuries and traveled to South America, and this Horch was apparently among the post-War ex-patriots. Condition is quite good overall, but not really outstanding as admitted by the seller. It's an older restoration that likely needs to be redone if you really want to draw prizes at top-level shows. The rarity and obscurity is the real draw here, and in terms of pre-War pricing it's not really outrageous. For example, it's relative equivalent at Daimler-Benz would be this Mercedes-Benz 320 Cabriolet, currently for sale at nearly half a million dollars.
Of course, you weren't seriously considering buying this car. But, it's fun to look at, and interesting to think about the history which both created and stifled these cars. Class, dismissed!
-Carter