Warning!
This post is in our archives. Links in this post may have been updated to point to similar cars available to bid on eBay.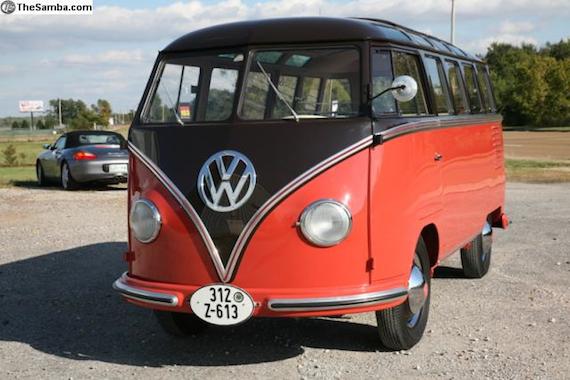 I get wound up at times by Volkswagen of America's product decisions. The cool cars that helped establish the company in this market are somehow now back burner issues for the company. VW had a perfectly good van in the Transporter (known as the Eurovan on these shores), yet decided to sully their brand by rebadging a Dodge Caravan into a People's Minivan. Bad move. After a few short years, the Routan was pulled from the lineup and we have yet to see a return of a van with the VW badge here in the US.
If Volkswagen is worried the current generation Transporter wouldn't work in the US market, maybe they should take a look back at their history and see how much brand equity is tied up in this workhorse. Fewer vehicles these days seem as versatile. A vintage Type 2 Microbus such as this restored example for sale in San Diego is on offer for mega bucks, but this seems to be the new norm for these vans.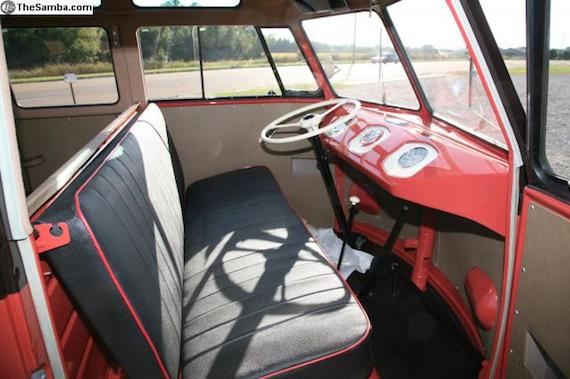 Year: 1954
Model: Type 2 Deluxe Microbus
Engine: 1.2 liter flat-4
Transmission: 4-speed manual
Mileage: 211 mi
Price: $350,000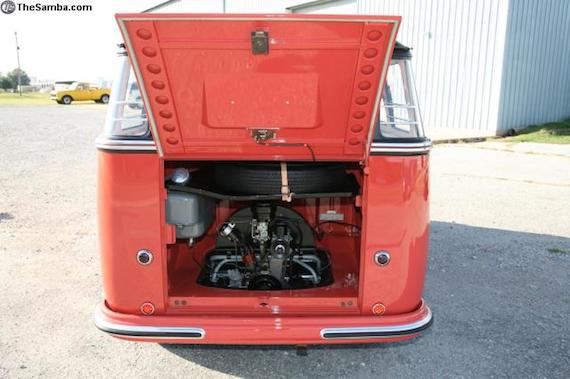 1954 Barndoor 23 Window Deluxe Sunroof Microbus, World Class Restored Example, Incredible Documentation and Known History!

Holy Grail Garage is proud to present what is undoubtedly one of the most spectacular Vintage Volkswagen Buses in existence today, "The Smith Family Deluxe".

This absolutely stunning 1954 Deluxe Sunroof Microbus has a fully known history since new, unparalleled documentation for a Bus of the Barndoor era, and a photographic story that is the icing on the cake of a truly remarkable example. There is an entire web site dedicated to the history, absolutely incredible vintage photographs depicting the Smith family's travels in the Bus throughout Europe and the USA, details, pre-restoration, and restoration process of this one-of-a-kind Barndoor 23 Window that can be seen at the link below…

www.1954samba.com

It is important to recognize that this Bus was truly a "best case scenario", ~64,000 mile, super dry, and always roadworthy example prior to the first rate restoration at the hands of a team of the most talented and knowledgeable Barndoor Bus specialists in the USA. Those skilled craftsmen include Mark Lapriore of Lapriore Restorations in Rhode Island, George Schmidt of The Butcher Shop in Southern California, Mark Rafferty of The Bus Transfer in North Carolina, and Matt Howard of Deluxe Customs in Arizona. The Bus had never really deteriorated and was consistently winning First In Class and Best Of Show awards prior to the restoration.

The body is simply phenomenal, beautiful, one of the best in the world, and has been expertly painted in the original colors of Sealing Wax Red and Chestnut Brown. The bare metal pics on my site will clearly demonstrate that this body is in a class all its own. Great care was taken during the restoration to replicate the factory overspray patterns on the underside, belly pans, and inside the wheel wells. Important details to note include the original Barndoor Deluxe trim, original Barndoor bumpers with original Deluxe bumper trim, correct Barndoor Deluxe vent trim, all 5 match dated 16 inch wheels, all 4 match dated Lemmerz wheel trim rings, Barndoor hubcaps with frosted centers, original VW and Hella stamped bezel Barndoor taillights, original Barndoor Frese glass reflectors, large logo SEKURIT glass, Plexiglas corner windows, correct no-logo Barndoor side view mirror head with original sharp peak mounting clamp, the list goes on and on! During the restoration process, the Bus was disassembled, all the original hardware was tagged, cleaned, replated, and reinstalled in the same place it was removed from. Only 10 pieces of hardware were replaced with nicer pieces and exact original pieces were sourced!

The interior has been completely refreshed and is as faithful-to-original and high quality as I have ever seen in my years of involvement with Vintage Volkswagens. Details to note include the correct and original-to-the-Bus seats including the Barndoor 6 leg middle, Barndoor rear, and Barndoor front as well. Other details include the original snowflake kick panels, Bakelite dome lights, original Barndoor Deluxe rear view mirror, original Deluxe aluminum coat hooks, original Barndoor Deluxe only dash ashtray, mint 3 spoke Deluxe steering wheel, correct original dash pod parts, original Deluxe luggage bar, luggage rails, original Barndoor Deluxe only jail bars, German square weave carpeting, and high quality wool headliner, too.

Mechanically the Bus is as good as it gets, matching numbers original 1192cc 36hp engine, original Barndoor transaxle, 6 volt electrical, and completely restored by one of the pioneers of the Barndoor community. The Bus only had approximately 64,000 original miles prior to the all-inclusive mechanical restoration and only has in the vicinity of 200 gentle miles since completion. I was lucky enough to drive this Bus and can tell you that it's not just an out-of-control cosmetic beauty but it starts, runs, drives, shifts, and stops as a new Bus. It is smooth, tight, positive, quiet, and just as designed. The desired goal of making this Bus like new has been achieved both cosmetically and functionally and with the utmost respect for the way Volkswagen originally intended.

Plainly and simply, this is as good as it gets, a world class example of one of the pinnacle Volkswagens in the hobby. You will never find a nicer restored example, not to mention the unbeatable history and provenance. This Bus is certain to be a superstar at any event or in any collection worldwide.

As always, please call for additional information and details of this remarkable Barndoor. Thanks!

$350,000

Please visit www.1954samba.com for the life story and photographic documentation of this unique Barndoor as well as my website at www.holygrailgarage.com to see the full album of 180 fresh pics of it, more interesting Vintage VW's, Classic Cars, Holy Grail Garage Gear, and Parts for sale.

Brendan Finn (858)366-2549
http://www.holygrailgarage.com
brendanfinn666@yahoo.com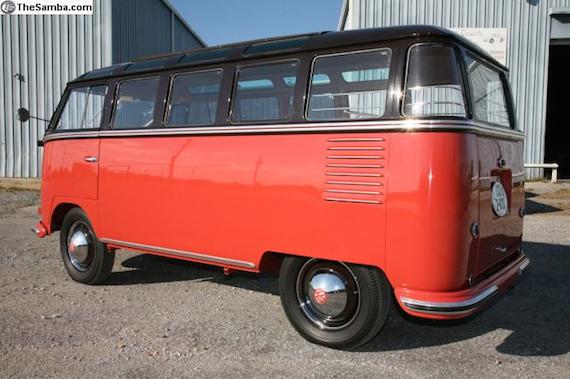 If only one knew just how valuable these vans would be today, it would have been worth stashing an extra one away from new to make a tidy profit. These vehicles have jumped in value almost as much as their sporty air-cooled cousins, the Porsche 911. An early Deluxe Microbus, or Samba as it has come to be known in VW circles, is one of the most collectible of the breed. Add in the early barn door style that was marketed until 1955 and you really have something special.
-Paul