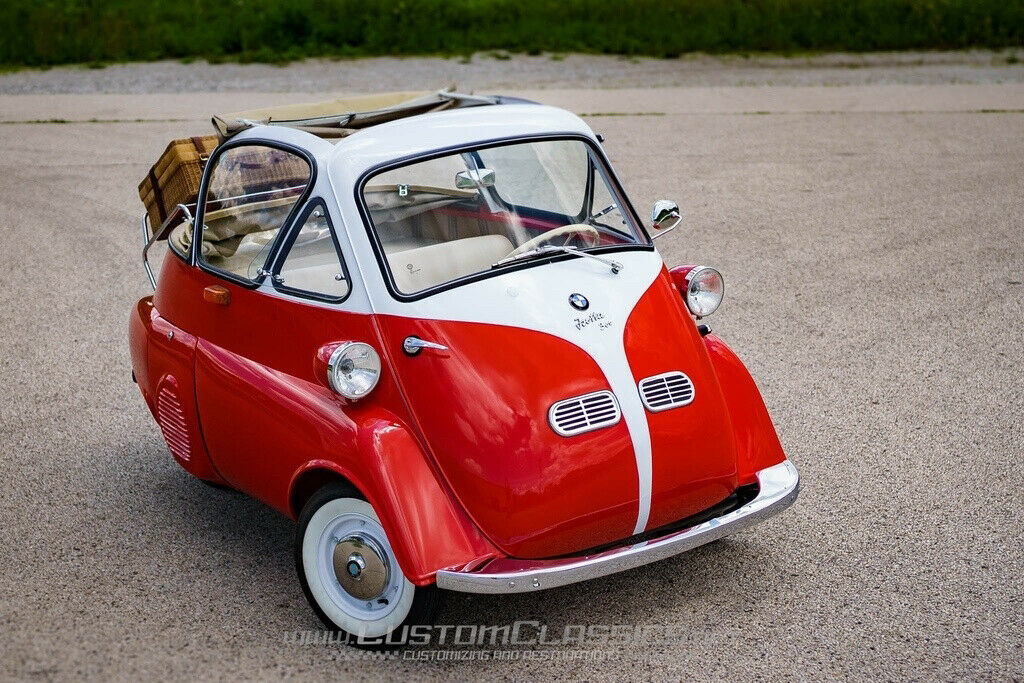 Following up on the hugely popular Fuldamobile, it seems appropriate to talk about the more successful and instantly recognizable Isetta. Like the Fuldamobile, BMW's quirky bubble car was a licensed production. The original design was the Iso Autoveicoli company's property in Italy, and its owner – Renzo Rivolta, who would go on to support the production of some beautiful Italian-American V8 GT cars – started production in 1954 after showing the car at the '53 Turin Automobile Show. Rivolta was happy to license production and did so with VELAM in France, De Carlo in Argentina, and Romi in Brazil. But, of course, the most famous and numerous version was the BMW variant.
Produced first as a 250, then upgraded to 300 (and finally 600, where the stretched chassis would go on to foster BMW's 700 model), some 160,000-odd Isettas were produced by BMW in their cash-strapped post-War years. But among the most rare variations of production was the Cabriolet model: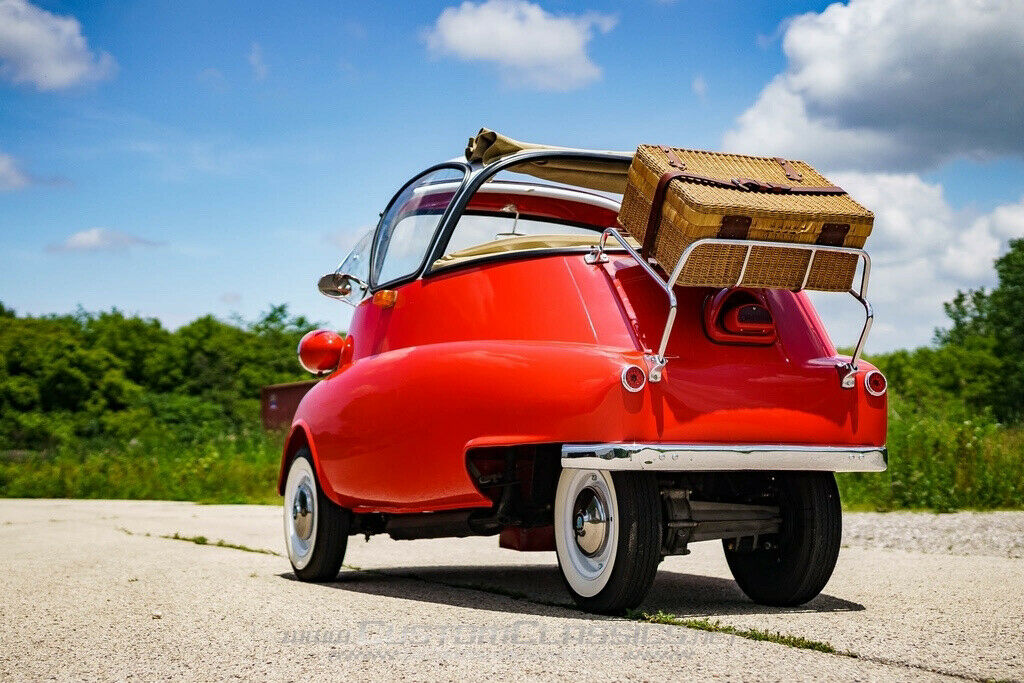 Year: 1959
Model: Isetta 300 Cabriolet
VIN: 494905
Engine: .3 liter single cylinder
Transmission: 4-speed manual
Mileage: Not Listed
Location: Island Lake, Illinois
Price: Reserve Auction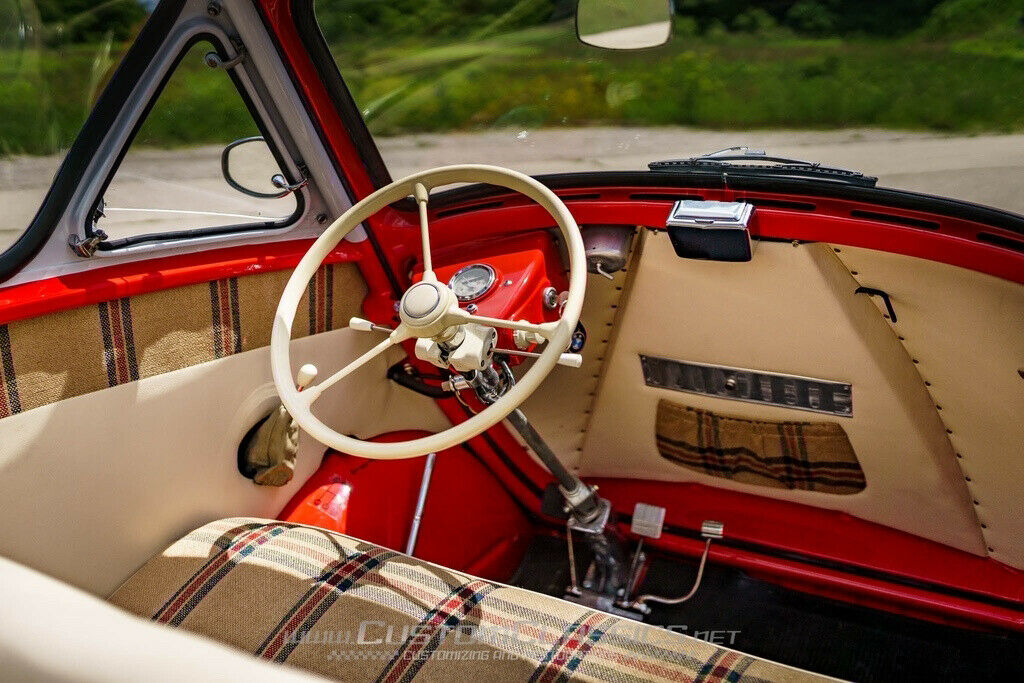 FRAME-OFF RESTORED, VERY RARE 1 OF 15 CONVERTIBLES, 4-SPEED, 300CC BMW 1-CYLINDER

HIGHLIGHTS
• The beneficiary of a frame-off restoration
• Very rare Convertible (according to what we have researched, only 3 known to be built)
• 300cc BMW 1-cylinder
• 4-speed manual transmission
• Retractable canvas convertible roof
• 10-inch BF Good Rich tires on 10″ steel wheels

In the collector car world, unique cars usually command big attention and serious money. That begs the question: how do you get a stellar style that's wrapped around road-ready mechanicals without draining your kid's college fund? Well, you can start by taking a serious look at this cool Isetta 300 Convertible! A Teutonic take on Italy's beloved Iso bubble car, this classic wraps 298cc of BMW power and a row-it-yourself 4-speed in crowd-pleasing aesthetics that are the direct result of a detailed restoration. If you're in the market for a cool collectible that's guaranteed to fit anywhere in your collection and draw a big crowd, you may have found your next obsession!

BODYWORK/TRIM
Fresh out of a frame-off restoration, this tidy BMW layers a fresh combination of red and white 2-stage on bulbous metal that, prior to its massage, was essentially rust-free. At the front of that little red body, a vented door hangs correct BMW badging and a mirrored Euro Front bumper with a polished wiper, and a polished handle & hinges. At the sides of that big door, a highly polished body leads the eye to chrome-trimmed headlights and amber side marker lamps, which is only found on the Euro cars. And at the back of that Convertible roof, a small luggage rack with a cute picnic basket that shades a polished rear bumper & chrome trimmed tail lights.

ENGINE/DRIVETRAIN
When the original BMW Isetta hit the scene, it featured a 250cc, 12 horsepower motorcycle engine. But, thanks to regulations adjustments, 1959 saw the introduction of the 300 model and its 298cc, 13 horsepower mill. Interestingly, that micro mill spins torque to a tough 4-speed transmission. Naturally, that drivetrain rolls in a fully reconditioned chassis that's ready to hit the pavement. There's a quartet of drum brakes, which have no problem bringing this lightweight rig to a fast stop. And power meets the pavement through stainless-capped steelies, which twist 145/80R10 BF Goodrich with white walls and 758s in front of 145SR10 also with white walls.

INTERIOR
Simplicity has always been a main selling point of the Isetta, even in the realm of classics. And you can't get much more basic than this coupe's clean cockpit. An upright bench features an appealing combination of plaid and vinyl. In front of that seat, a small mirror reflects a simple speedometer. To the left of that speedo, a pristine inner fender props a small shifter behind sparse climate control. And in front of the driver, a color-keyed steering wheel laps small foot pedals.

Vintage European metal has aged with more grace than most, wearing designs that are still capable of turning heads in their basic factory form. And since they're pretty scarce in many parts of the world, polished bubble cars get snapped up almost as quickly as they hit the market. Ready to cruise something truly unique? It's time to "rendezvous at the Isetta!"

Vin Number 494905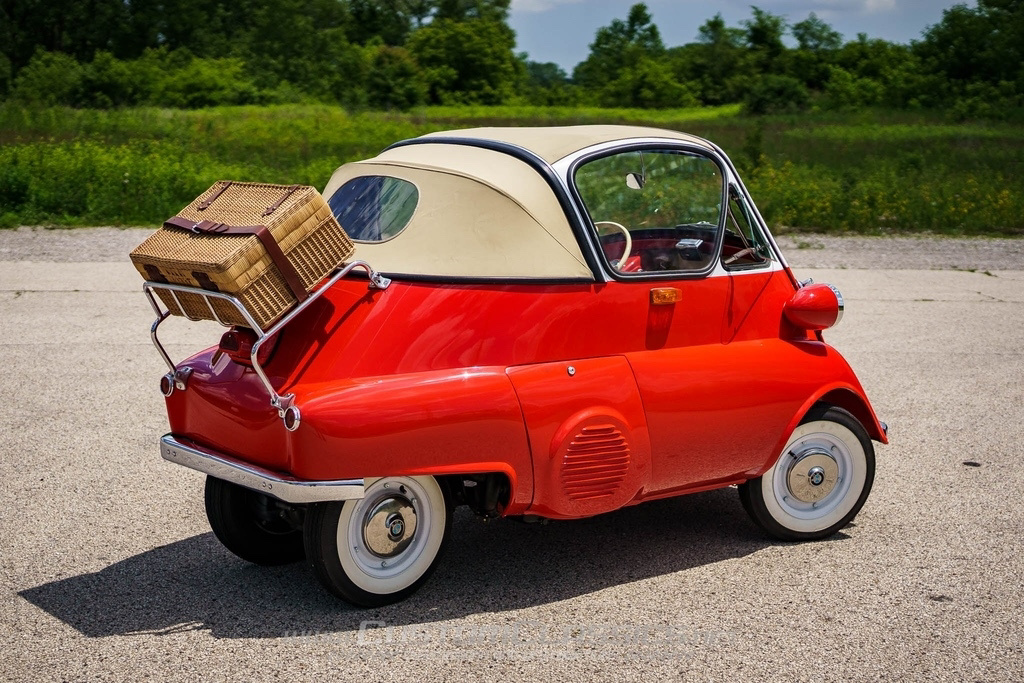 Production numbers on the Cabriolet are hard to find and vary greatly. Some claim 15 were produced, like this seller. But then they also claim that only three were made. That's definitely an exaggeration as you don't have to look all that hard to have found several for sale, including on this site. Even the Isetta Registry is claimed to have 19 Cabriolets listed and it is incomplete. More realistic seems the suggestion that 300 were imported. Regardless, you're not likely to see one cruising down the road today – or maybe even at a show.
This example looks well restored and is lovely – a great color combination matched with a unique interior and kitschy details like the wicker luggage on the rack. Attention getter? Without doubt. This isn't a Mercedes-Benz 300SL Gullwing, but you might get near the same attention wherever you pull up and the entry price is but a fraction. Today these rare Cabriolet models change hands in the 50s for top condition examples. Bidding is slow on this one so far, so it'll probably remain for sale for some time.
-Carter