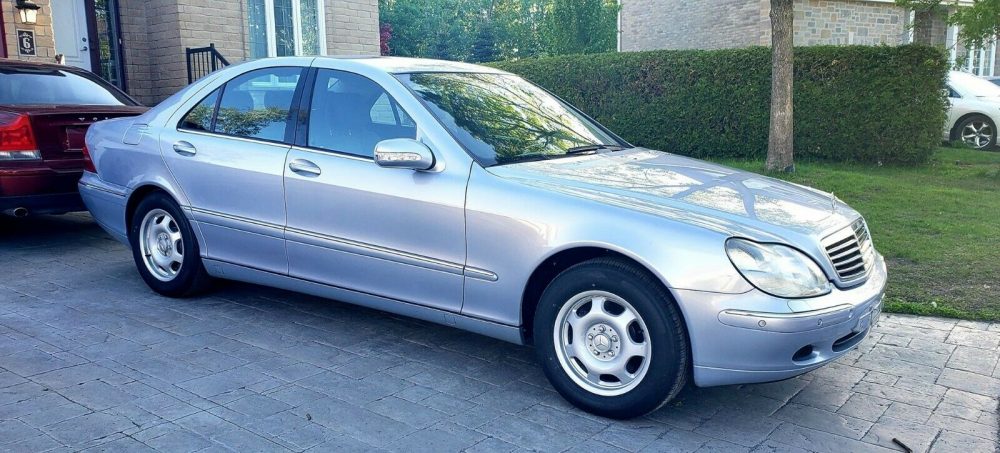 Update 10/18/19: This unusual W220 sold for $7,090.
I certainly didn't expect to see this on U.S. soil. "This" is a 2001 Mercedes-Benz S320 CDI. That means this is a short wheelbase W220 with the OM613 turbo diesel engine. Produced from 2000 to 2002, this S-Class was never brought to North America because the diesel S-Class was killed off in the early-90s during the W140 chassis and still hasn't returned…and probably never will. It was very light on equipment and options, but it wasn't about that in this car. It was about that sweet OM613. Have a gentle foot, and you could return 30 miles per gallon out of this boat of a car. I know an economical S-Class is a bit of an oxymoron (more of those here), but this is very much a situation of having it all. Let me explain.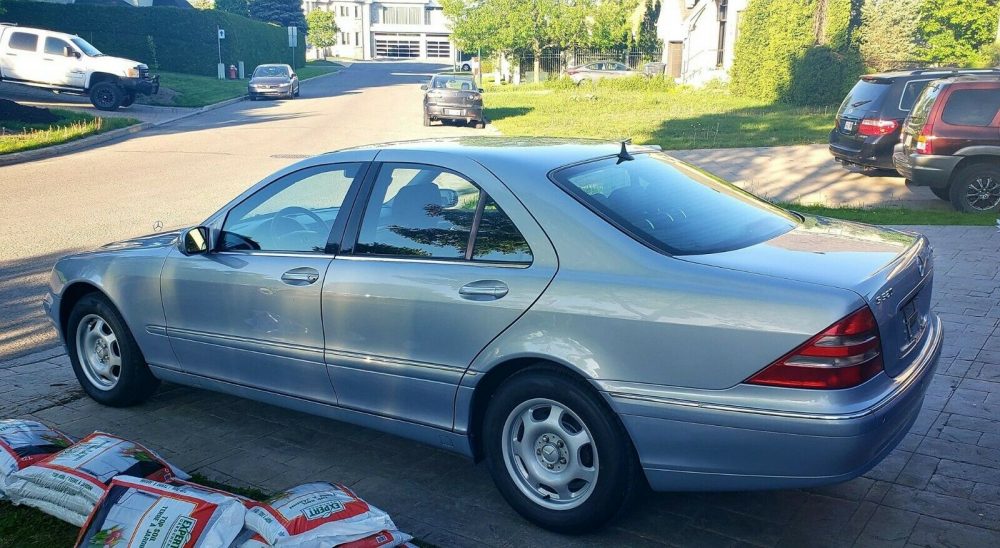 Year: 2001
Model: S320 CDI
VIN: WDB2200261A202562
Engine: Turbo diesel 3.2 liter Inline-6
Transmission: 5-speed automatic
Mileage: 80,000 mi
Location: Champlain, New York
Price: Reserve Auction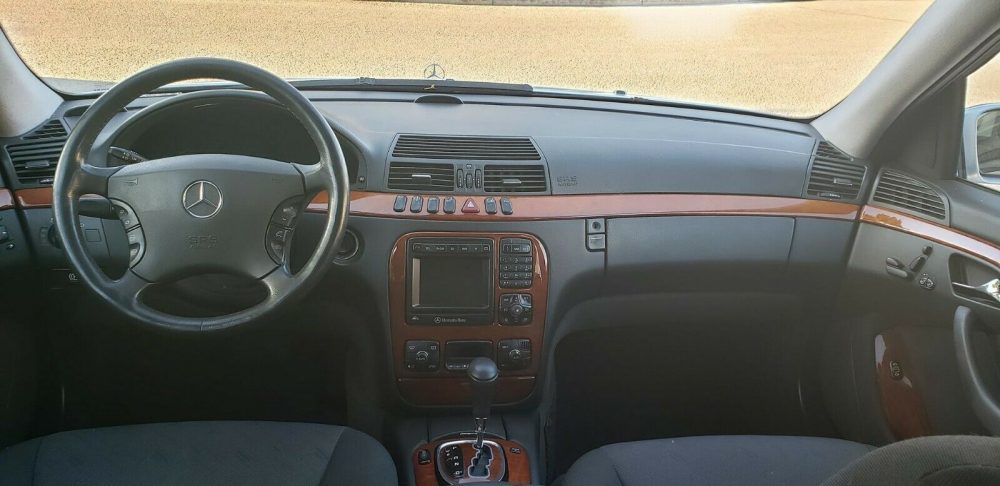 – For sale a very rare , nice , accident free , extra clean Mercedes-Benz Class S ( 320 CDI ) Diesel cumminrails direct injection . métallic light blue with clean ohio title .

– Cluster in MILES ( 80 000 Miles )

– Maintained with great love

– Clean OHIO Title ,

– I am the second owner , previous owner was a diplomat in europe and bought it new in 2001 and imported in october of last year ( 2018 )

– Car drive as new , as a real Mercedes Class S , stable , silent , extra economic vehicle

– To avoid any troubles or misunderstanding ! ! ! I will describe this car as HONESTLY as possible , i put it for sale because i have 2 others Mercedes G-Class Diesel and i don't like to keep this S-Class outside for the coming winter , but if she did not sell i will find a heated indoor parking lot to keep it inside .

– The exterior is in extra clean condition 9 / 10 . little scratch on the rear left door molding ( very minimal ) , ltlle minimal scratch on the front left side bumper , please see picture for all scratches ,,,,,,,,, but nothing major ( please don't forget that the car has 18 years old )

– The interior is more than extra clean , i can say 9,5 / 10

– Before deciding to put it for sale ! i brought it to dealership to have it inspected and repaired if necessary , front tires was worn because ther was a loose on front left Ball Joint , dealer change the ball joint , 4 new tires ( 0 miles ) , make alignment , change front brake pads and sensor , rear brake pads + discs + sensor + hand brake shoes , ,,, change olso the engine oil , transmission oil , engine and radiator coolant , brake oil , air filter , fuel filter , etc ,,,,,,,,,,,

– ABSOLUTLY NO OIL LEAK the underside of the car is completely dry , NO OIL LEAK

– In the future the car need a few reparation ( NOTHING MAJOR ) front right lower ball joint and interior cabine filter because the A/C is not very cold , nothing defective on the a/c system , sometime the abs light gos on and engine drive on limp mode , dealer say it'necessary in the future to change rear left abs sensor but now it's working very good and the light on the dash never go on since i left the garage . The navigation system need USA c/d because it's working on europe map for the moment .

– The radio is original and working very good , all lights , flashers , interior molding , seat , seat belts , carpets , dash , door panel , etc ,,,, are in perfect condition 10 / 10
vary small imperfection next to ashtry ( very small about 0,30" , please see picture )

– Rear headrest work ( vacuum ) very good and the door lock also

– The thermos glasses are in excellent condition ( NO LEACK OR CRACK )

– 4 magwheels are in perfect condition ( like new )

– Exterior outdoor mirrors are éléctrically adjustable , but are NOT foldable

– Spare tire and original Mercedes-Benz tools almost new NEVER BEEN USED

– The trunk smell as new

VIN ( WDB2200261A202562

**** PLEASE TAKE THIS IN CONSIDERATION ****** I described this car as honestly as possible , but it remains a used car NOT a new car , but so far she has no hidden problem .

– I f you have any question, please feel free to contact me throught ebay –

– Thank you so much –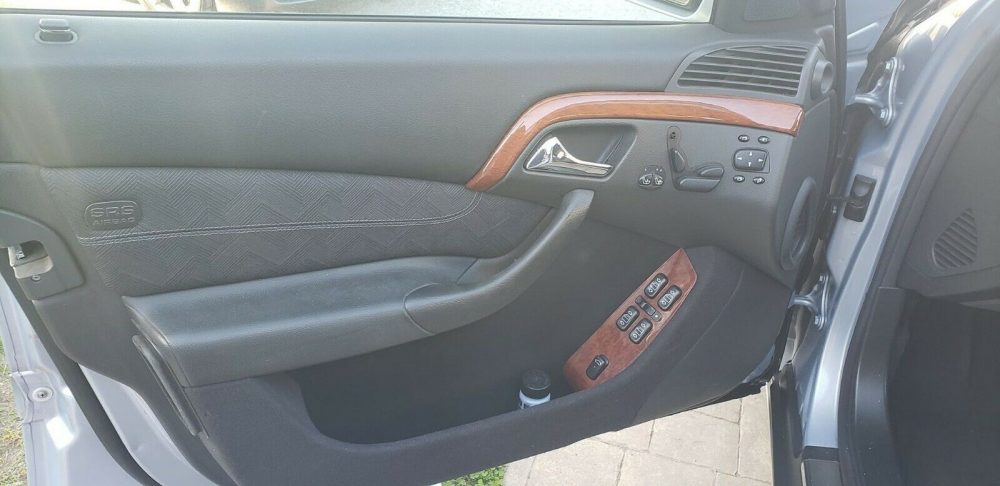 I have a lot of questions about this car. First, it is located literally right on the US/Canadian border south of Montreal. However, it has a Ohio title. Usually situations where a title is out of state in private hands, it means it is trying to be skipped. Second, how did it even get an Ohio title? The seller says the first owner was a European diplomat and it was imported in 2018. It seems very strange that a European diplomat would keep an S-Class this old and even stranger it is titled in Ohio of all places. Combine all this with what looks like the seller not speaking English as a first language, this seems all very suspicious to me.
As for the car itself, it has a strange spec if there ever was one. It has all lightweight 16″ wheels, a cloth interior, but also has front and rear parking sensors. Interesting to note that the seller did take the car in for a bunch of repairs before listing it as seller's usually do the opposite when trying to sell an old German car. I personally dig it and think this could be a great daily driver if you want all the modern luxuries but still want great MPGs. The question is, how much?
I have no real idea how to value this. Pre-facelift W220s are basically worth nothing, but the W211 E-Class diesel cars have a cult following because of their engine. The market has to be extremely small, but I suppose it only takes two people to drive the price up. I think anything over $7,500 probably isn't worth it, but I think the seller has a much bigger number in mind.
– Andrew