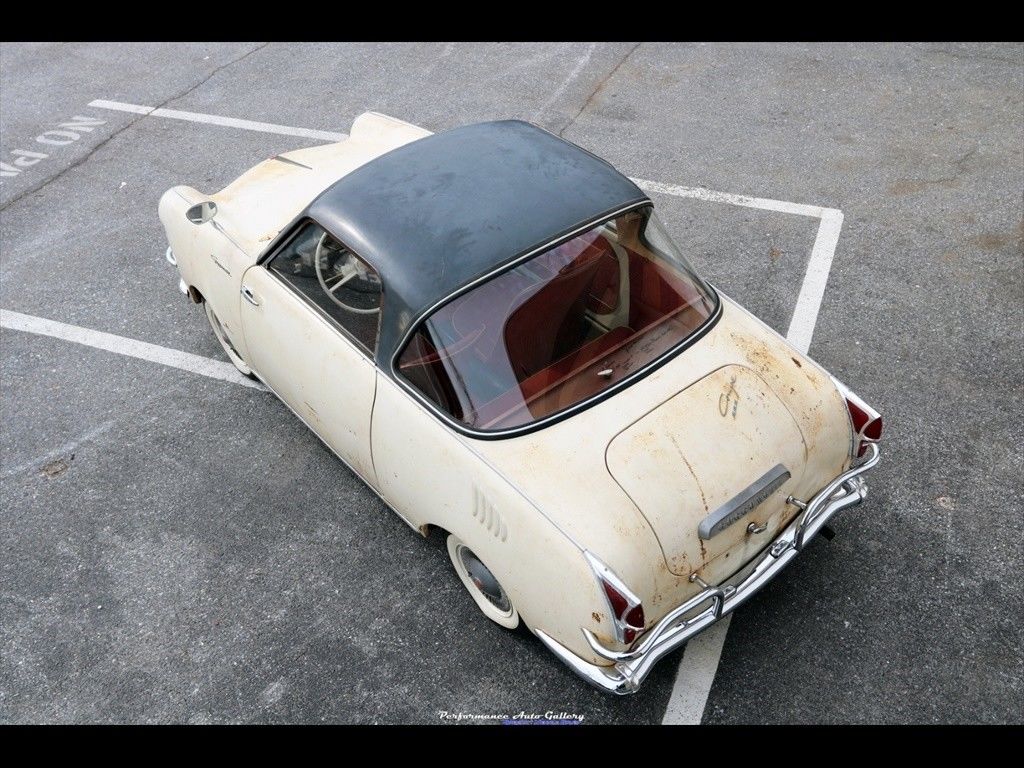 The Goggomobil TS400 isn't the kind of car you see every day. In fact, it's not the kind of car that pretty much anyone ever sees. It's the kind of car you might expect to see Jerry Seinfeld show up with if he invited you out for coffee, or perhaps the camera might pan by one in Jay Leno's garage. They're obscure, but they're also odd – so you probably won't see Wayne Carini seeking one out. Yet the model played a very important part in the development of German car manufacturers pertinent to our interests.
That's because of where they were produced. Goggomobiles were bubble cars produced by Hans Glas GmbH in Dingolfing, Germany – in the heart of Bavaria. Yes, that's the same Glas that built the beautiful 3000 V8 Grand Tourer and lovely 1700GT. The Goggomobil was far less glamorous, but no less important in the survival of the Dingolfing plant – in total, over a quarter million sedans and coupes were produced, and a few were even brought stateside. Like many bubble cars, the technology was 2-stroke motorcycle-based, which kept production costs very low and the car affordable to the masses. Goggomobiles even outlasted Glas itself, as BMW swallowed up its competitor in 1966 and used the Dingolfing plant for some of its newer models.
Goggomogiles are quite rare to find today, despite their relatively prodigious production (consider, for a moment, that there were only about 8,500 DeLorean DMC12s produced – and that this car ended production only 12 years before the gullwing time traveler emerged on the market!) so it's neat to remember their quirkiness: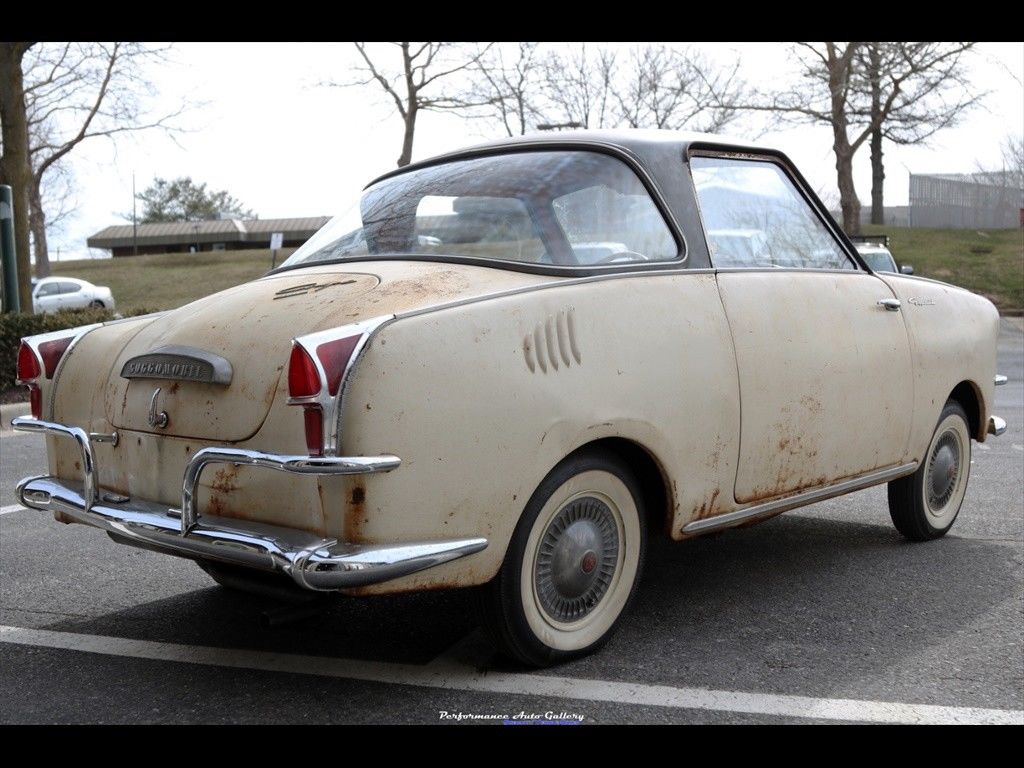 Year: 1959
Model: TS400
Engine: 0.4 liter twin
Transmission: 4-speed manual
Mileage: 32,000 mi (TMU)
Price: $29,999 Buy It Now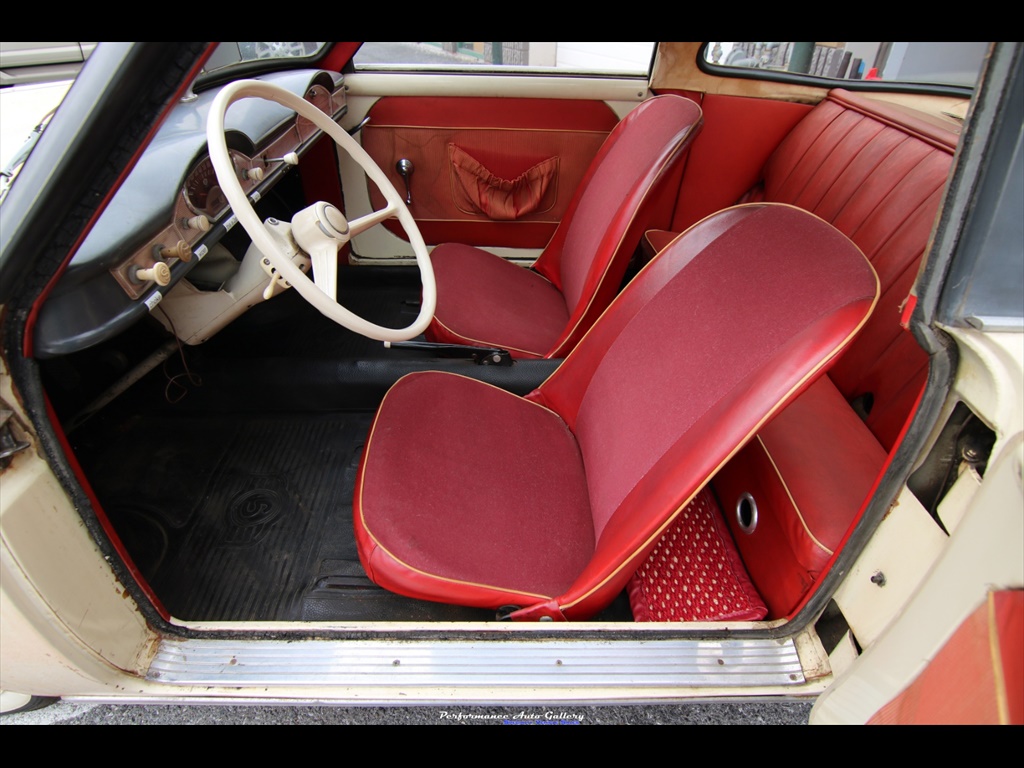 Vehicle Description
1959 Glas Goggomobil TS400 Coupe

-392cc 2-stroke straight twin cylinder (18.5hp)
-4-Speed Manual (w Electromagnetic pre-selector)
-Preserved survivor condition
-Rebuilt engine by marque expert Larry Newberry
-Rare 400 Coupe model
-Rear hinged suicide doors
-Original, unrestored paintwork and interior
-Running condition

__
The Goggomobil was produced by Hans Glas GmbH from 1955 until 1969 during the post-war microcar craze which arose largely out of the economic conditions of the time in Europe. The company was acquired by BMW in 1966 and later shelved.

This rare coupe model has been kept in highly original condition and presents with exceptional patina which cannot be recreated. Mechanical and electrical systems have been addressed for safety and reliability during the 2016 reconditioning by marque expert Larry Newberry.

A video of the vehicle being driven by the owner responsible for the restoration can be seen here: YouTube Video

Addtional photos not on-site (150+ Images) can be found at the following link —-> blog.performanceautogallery.com

Connect with us for additional details at info@performanceautogallery or 240-224-7071.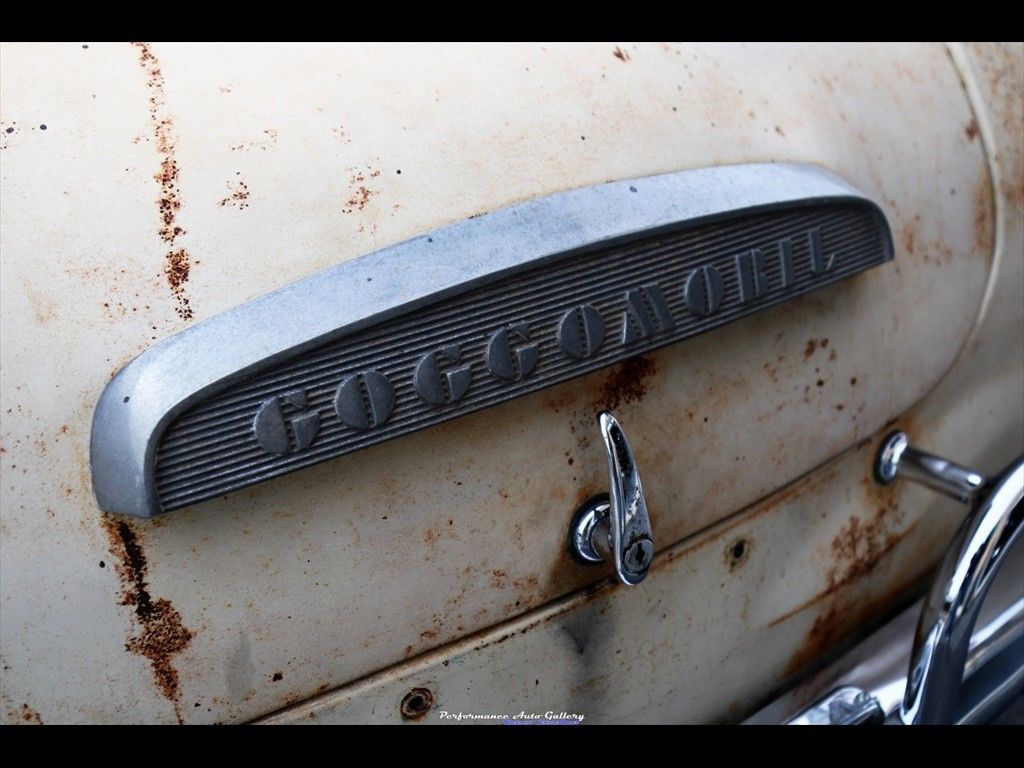 I recently just bought a house made in 1959. Like this Goggomobil, it's a bit eccentric. It's also full of great period details that I love. Also, like the TS400, it was crammed full of notes regarding how bits worked (or, didn't). I had to laugh at all the various labels written or stickers slapped on this car. It's got a lovely period patina and definitely looks better from the driver's seat than it does from the outside. The car has been upgraded as a driver but retains much of its original charm.
This isn't the first Goggomobil TS400 I've looked at, as I checked out the ex-Walter Cronkite racer that appears to have been for sale from the same seller, but it's not. Strangely, both seller chose near identical camera angles. The Cronkite car was fully restored but not road legal, and it was asking $8,000 more. Does that make this one a good value? Not really to me. It's a neat curiosity, but I think you'd be much better off with Andrew's 280SE and $10,000 more in your pocket.
-Carter