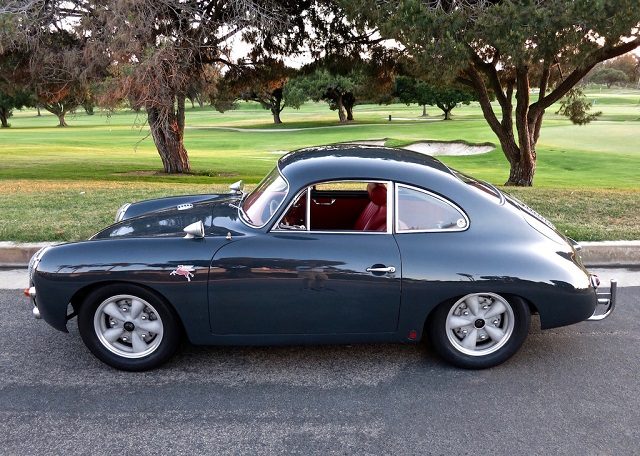 I'm not going to pretend to be intimately familiar with the Porsche hot rod culture of California, especially as it relates to the 356 since that's well before my time, but we've come across a few of these cars over the years and this one seems to be by far the best one I've seen. The general look of the various modifications seems near perfect for the genre and the overall condition is fantastic. Slate Grey over Red makes for just the right color combination for such a car. Even though most any 356 probably would not truly be considered quick by today's standards, I can imagine this one would be a hoot to drive. Perhaps even better: it is up for auction with no reserve so someone is taking this home!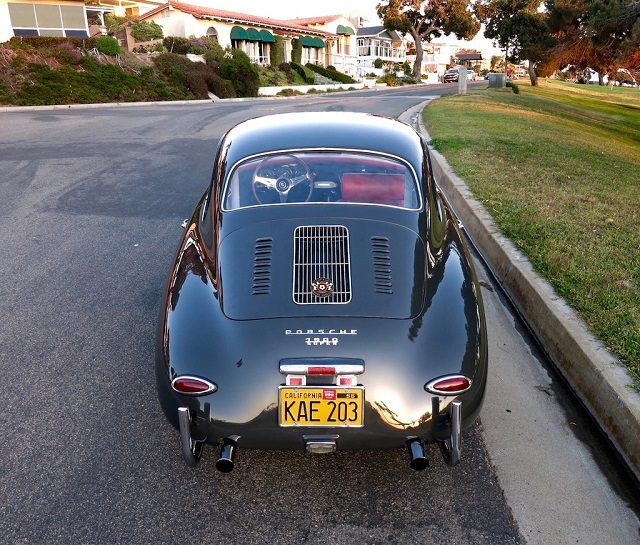 Year: 1961
Model: 356B
Engine: 1.9 liter flat-4
Transmission: 4-speed manual
Mileage: 75,886 mi
Price: Reserve Auction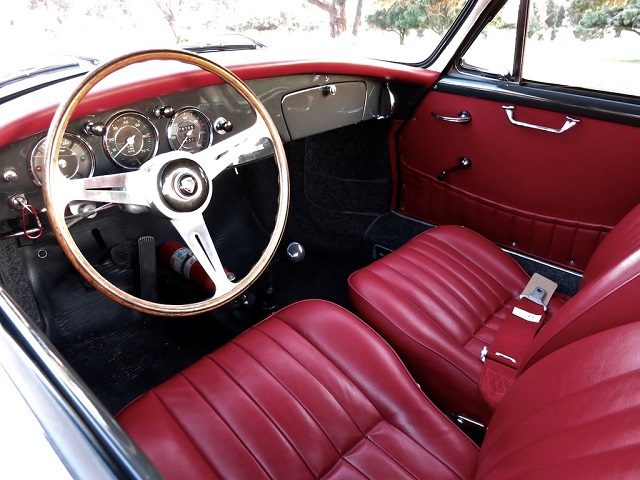 1961 Porsche 356B (T5B) Reutter Coupe

"Porsche Werks meets SoCal Hot Rod"

SHOW/DRIVER
(COND #2+)

356 Concour Dana Point Class Winner
356 Club Magazine Cover Car

75886 Original Miles
(since factory delivery)
30000 Since Restoration 20 Years Ago
10,000 Since D&I Refreshen

VIN # 115128

Southern CA YELLOW PLATE's
(matched pair)

Slate Gray
Red Interior
Charcoal Square Weave
Factory Style Round Headrests
Unaltered Dash
Period Correct Nardi Mushroom Steering Wheel
Red 4-Point Racing Style Seat Belts
Fully Removable Custom Made Roll Bar
(still uses factory interior and back seat unlike factory roll bar)

1904cc 912 bored to 90.5mm
Completely Rebuild w/ NeuTek Cam
Full Flow Oil Filter
External Oil Cooler
Crankcase Breather System
Internally Modified Stock Muffler
w/Twin 912 Chrome Tips
Aux Electric Fuel Pump
Modified 4-Speed Transmission
w/ taller 2nd, 3rd & 4th

Weltmeister Front Sway Bar
Vic Skimants' Camber Regulator Rear
Factory Alloy Drum Brakes
w/ Ferodo Shoes

GT Style Through-Hood Fuel Filler
Shaved Hood Handle
Deco Strips
Rear Bumper Side Depressions
Engine Lid Louvers
Chrome Nerf Bar Bumpers
Hella 128 Fog Lamps
Driving Lights
Wire Headlight Screens
Fender Mounted Spun Aluminum Talbot GT Junior Mirrors
Pre-A Style "Shine Down" License Plate Light
w/ Third Brake Light

American Racing Empi 5-Spoke Style Wheels
Bridgestone Potenza 195/65/15 Tires

There are roughly 175 pictures that load below the text of this write-up. If you have an older computer or a slow speed connection to the internet it may take up to five minute for all the photos to load to your screen. If they do not appear you may simply cut and paste or click on this link to go directly to my Photobucket account where the pictures are hosted in rather large format, so you can blow them up as large as your screen can accommodate. The link is here:

http://s669.photobucket.com/user/fmattingly/library/Porsche%201961%20356B%20Rally%20Gray%20Car%20JS

A Walk-Around Video is on YouTube here:

A Start-Up Video is here:

A Drive-By Video is here:

I grew up on the East Coast and was a Corvette guy most of my life, well I still own a 1957 & a 1964. Fortunately for me I met a guy when I first moved to San Clemente nearly 30 years ago named Jack Staggs… YES … THAT JACK STAGGS!!! The legendary and one and only…

Jack helped me refine my skills in car collecting by getting me hooked on 356's, to which I now own two. He has the most discriminating taste in anything 356 and his personal touch is all over this little Gray Road Rocket he put together for another one of his many long-time "friends" in the 356 World. They have been on lots of Rally's together and had a wonderful companion in this fine specimen.

If you don't know Jack and you don't believe me just refer to this April 2017 Road & Track Magazine Article about Jack and his trusty sidekick Kerry Sink in their home office at the Beach in San Clemente, CA… where Jack has been holed up for 45 years!!! Working on ONE type of car… 356

Road & Track article here:
http://www.roadandtrack.com/car-culture/news/a32871/shops-we-love-california-calling/

Jack was kind enough to put together this narrative on this special rally car, so here we go.

Porsche 356 # 115128

"My name Is Jack Staggs. I operate a small shop in San Clemente where we have been for 45 years. 95% of the work we do is on 356, with a client base of appox 200 cars.

This car is a 1961 T5 coupe, my favorite for outlaw/old speed modifications, consisting of a delightful combination of early and later features, both in appearance, and mechanical advances.

The colors are Slate Grey exterior, with a red interior, a fairly rare combination, quite striking but subtle and racy at the same time. The paint and body work was done to a high standard 20 years ago, and still looks fantastic. The panel gaps are very good and the body is super straight everywhere, with no dings or scrapes. Any needed rust repairs on the undercarriage was done at the same time, again to a high standard.

Exterior appearance modifications include a "GT" style through the hood fuel filler, shaved hood handle, deco strips, and rear bumper side depressions, engine lid louvers, chrome old school nerf bars, Hella 128 fog lamps, driving lights, wire headlight screens, fender mounted spun aluminum Talbot GT junior mirrors with convex lenses, PreA style "shine down" license plate light with third brake light, California yellow plates with correct 1961 sticker, riding on nearly new Bridgestone Potenza 195/65/15 tires fitted to aluminum wheels in the American Racing/Empi 5 spoke style.

The engine is based on a 912 unit which has been bored out to 90.5mm, giving 1904cc, a NeuTek cam, full flow oil filter and external oil cooler, crankcase breather system, internally modified stock muffler with twin 912 chrome tips exiting through the factory body cut outs, auxiliary electric fuel pump, and more.

Up front, an oversize Weltmeister sway bar takes the place of the smaller original part, and the rear features Vic Skimants' camber regulator. Brakes are factory alloy drums, front and rear, with Ferodo shoes that are showing some wear, but still plenty of life left.

The beautiful red vinyl interior shows no wear, as well as the square weave charcoal carpeting, and headliner. Stock front seats have factory style round headrests (driver side was off during pictures and will be back on before delivery). Red 4 point racing type seat belts keep you securely in place. A fully removable custom made roll bar is installed, giving better headroom and rear visibility than a factory bar. An added benefit to this roll bar is that it allowed a completely stock interior to be used, including rear jump seats, a feature that the factory bar does not have. The dash has not been altered, drilled or cut to accommodate any of the needed switches to operate the added front lamps, fuel pump or intermittent windshield wipers. These items have been added under the dash to allow easy removal, if so desired, without visible damage. The only modification here is that the radio hole has been expertly filled and painted in slate grey at the same time the entire dash was painted, so if a radio, gauges, switches, etc, were desired there, cutting of the needed openings can be done without paint work. A factory radio delete plate currently resides there, and speaker holes have not been cut in the carpet, although an antennae is installed in the factory location outside. Other modifications include an electric SC tach (6k red line) in place of the original cable driven tach, and a period correct Nardi "mushroom" steering wheel, (unrestored).

The transmission has had changes as well. A taller 2nd, 3rd, and 4th gears, purchased from Carquip, have been installed. Careful attention was made to allow wider splits to the lower gears, and closer ratios in the higher, where torque drops off. This arrangement allows speeds at 6k engine rpm of 55mph in 2nd, 95mph in 3rd and speeds of 135 in 4th, if you dare! I personally have driven this car well over 120 mph indicated (speedo markings end at 120mph). If you think that this car may be too high strung, you are mistaken. The great low end torque of the engine allows easy "old man" cruising around town and short shifting at freeway speeds. You would have to drive it to believe it. It behaves like a completely stock car. I'm not kidding.

Every thing works on this car… heaters, door locks, interior lights, etc. Electrical system has been converted to 12 volts.

All of these mods/paint/upholstery were done 20 years ago. When the build of this car was finished, Mike C. (the owner) and I drove it the same day to Nevada to participate in the "Silver State Classic Challenge" a 100 mile section of public highway that is closed to traffic for this event. We broke out of our class, averaging 97+mph over the 100 mile course. Shortly after that, Mike entered it in the prestigious Dana Point 356 Concourse, taking first place in his class, and the car was featured on the cover of the 356 Club magazine (magazine cover picture at the end of the photo section). Since then, Mike has run it in the Snowball rally (2010), and the Targa California (2011), as well as numerous road trips, including the 356 Registry holiday in Sedona Az., events in Cambria, Ca., Monterey, Ca., etc. In the 20 years of ownership, he has driven the car appox 30k miles, with less than 10,000 on general engine d&i/freshen up.

The car is currently fully serviced and detailed, requiring nothing more than buckling up, turning the key, and having fun. This car is a fabulous example of Porsche Werks, meets Southern California hot rod car culture in every sense of the word. It would be impossible to re-create this car for 100k, even if you got a complete car for free.

This car has not been offered on the open market.

The car is available for inspection and test drive just about any time you would like.

____________________________________________________________________
____________________________________________________________________

My Comments:

This is an extremely well sorted and gorgeous example of the 356B, modified to perfection by one of the hobbies best builders. I judge all types of cars at Concour Events and also do inspections and appraisals. This car to me is a strong 2+ vehicle. Show quality but obviously been driven, however maintained to perfection mechanically foremost with outstanding cosmetic care.

The body is nearly perfect from my perspective and does not look like a car that has ever been damaged beyond maybe a bump here or there, although I surely see no evidence of such. Whatever work was done was done by skilled craftsmen.

The paint was done years ago and was obviously very high-dollar as it still looks like it was painted yesterday. Glasurit was surely used. The color match and smooth mirror finish matches from panel to panel all the way around the car. Some small chips on the nose were touched up with the original matching paint.

The walk-around video I did was in very direct light and looks totally washed out… so look to the pictures for the content of color uniformity. Again, lighting conditions changed as I was shooting pictures, but I think you will get it.

The undercarriage appears near totally original to me and would be surprised if this car indeed had ever been anywhere but Southern California, but we do not know its entire history so we can only speculate. When we were shooting pictures on the rack we cleaned the area with a spray bottle of water and some areas were not completely dry when we snapped away, so be aware of that.

The Interior is in magnificent condition and has some of the richest vinyl I have seen in decades. I had to smell it to be sure it wasn't leather. The square weave is not worn and looks fresh, as well the rubber mats, headliner and door panels. All rubber is new to the car when restored.

To drive this car is simply a BLAST. Other than a Carrera from this period I drove once, this is the finest running 356 I have ever driven.

I would likely get in this car and absolutely take on the adventure of driving across this land from coast to coast if I had the opportunity to do so. The quality of Jacks work is beyond reproach. The way this engine revs and the way the car handles is way beyond that of my C Coupe. It is a phenomenal car to look at and drive.

Jack is extremely busy working on more cars than his shop can hold. He is one of the hardest working people I know and sometimes a little difficult to get a hold of when he has a wrench in his hand.

I would request that serious buyers call me about the car, unless of course you already know Jack and have his number. I will be happy to pass on Jacks number to people that want to speak with him, but would like to be somewhat selective in the process.

I can be reached at 949-310-6262. My name is Frank. I am available from 7AM-11PM seven days a week.

356. For millions of people in the world, just a number. For some, however, it is the numerical code for a phenomenon that defies technical description. To put it another way: for them, it is the legend of the Porsche 356.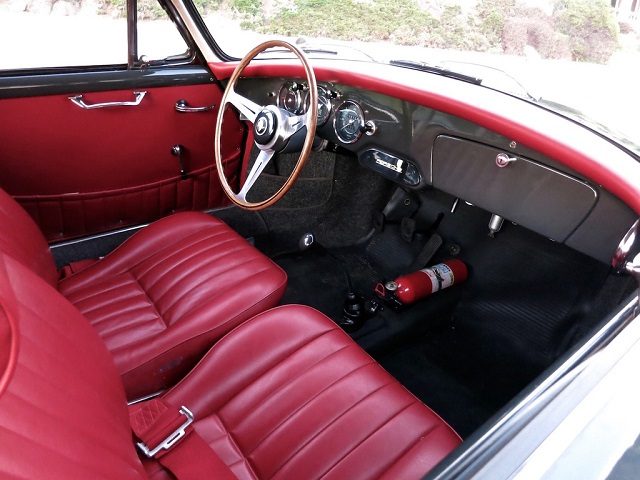 The ad pretty much tells us just about everything we'd need to know about this 356 apart from sitting behind the wheel and getting a feel for the thing itself. The text is a mix of details from the seller and details from a well known 356 specialist who is familiar with this 356. There really isn't much for me to say in addition. There are a ton of pictures and a ton of words, we really can't ask for too much more when viewing any car for sale from a distance.
At the moment bidding sits at $45,433. Relative to the work put in and the condition of this 356 that seems like a very nice price. You'd certainly be hard pressed to ever replicate this car for the same money – at least without already owning a 356 upon which to begin your creation. I typically feature the 356 because of its vintage beauty and simplicity. This one is something much, much, more.
-Rob