Anyone who is a frequent reader will know that I love new and interesting colors. It's one of the aspects of any car that is most likely to attract me to it and make we want to investigate it further. I'm certainly not alone in this as color represents anyone's most immediate apprehension of a vehicle, but I find it especially important and even find myself giving significant attention to colors I don't even necessarily like! What does this have to do with this 1964 Porsche 356C 1600 SC Cabriolet? 1) It's beautiful, as most any 356 Cabriolet is. 2) Until now I've never come across this color. It's Champagne Yellow, a color Porsche only made available in the '60s, and as the name suggests it's a very light version of yellow with hints of gold. It looks great on this vintage 356!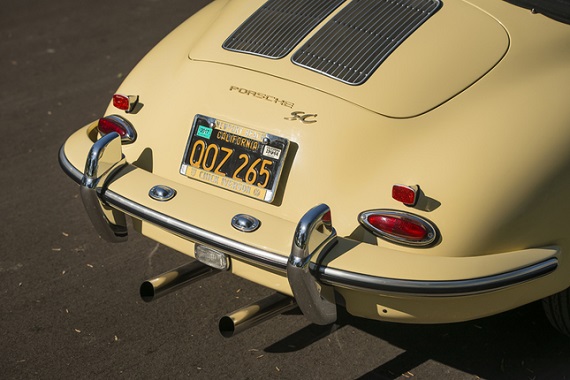 Year: 1964
Model: 356C SC Cabriolet
Engine: 1.6 liter flat-4
Transmission: 4-speed manual
Mileage: not listed
Price: $239,000
We have for sale a limited production 1964 Reutter SC Cabriolet, restored by 356 Specialist Liberty Motorsports in Costa Mesa, California in 2013. This was 1 of 917 SC Cabs built in 1964 making this car a very desirable model/year. Porsche only built the C-series for one more year and ended production of the 356 in 1965. This car is matching numbers and was restored to the original factory specifications using the Porsche Certificate of Authenticity.

The restoration was done by Jim Liberty Motorsports, a one man shop specializing in 356 restorations. He is known to work on one car at a time, giving each restoration the attention it deserves and making sure no detail is overlooked. Liberty Motorsports is as obsessed with details and originality as we are and we can proudly stand behind his work.

A Concourse level restoration was performed including a bare metal, glass out repaint of the original Champagne Yellow color, which looks fantastic. Per the COA, the interior is finished with Black Leather, including custom stitched seats/door panels and German wool square weave carpets with matching front floor mats. A beautiful Hartz top was installed with matching boot and split full tonneau. A period correct dash mounted outside temperature gauge was installed along with Blaupunkt deluxe radio, clock with sweep second hand, wood steering wheel with chrome horn ring and fog lights actuated with correct yellow pilot light switch.

The desirable 1600 SC engine originally rated at 95hp is numbers matching, rebuilt with Carrello rods, Shasta pistons and cylinders and "Hot Street" cam, giving the car a very distinct 356 thrum. All engine tin was powder coated and hardware and fuel lines plated. Period correct Solex Carburetors finish the engine bay with a rebuilt Bosch distributor by Carburetor Rescue of Sedona, AZ. The fuel pump was rebuilt in house along with auxiliary "priming" under passenger kick panel, actuated by correct dash mounted switch.

The suspension was completely rebuilt using high quality parts and refinished in black semi-gloss paint. Soft brake lines were replaced and the brake calipers were rebuilt with new pads. Throughout the whole car all bushings were replaced and new Koni shock absorbers were installed. The underside sheet metal of the car was re-coated with Würth Schutz for future rust protection. A sport exhaust with SS tips was installed as well. The trunk includes a matching spare with jack, tools and owners manual.

Only a few hundred miles have been added since the restoration and it is ready to be driven and enjoyed!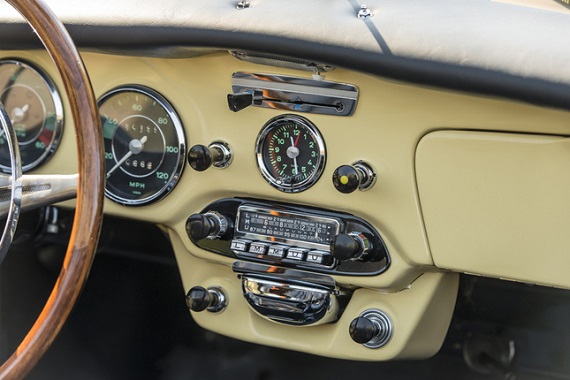 I always find the 356 Cabriolet to possess a separate level of automotive beauty. I like the 356 Coupe, it's an attractive car. But once the top is chopped these are taken to an entirely new dimension where they stand with some of the best vintage automobiles. In comparison with certain vintage machines they're quite simple with easy lines. They aren't an E-Type, but they share a simplicity of design that makes the E-Type so desirable. That said, color matters on the 356. Drab colors can take the life away from the design and this Champagne Yellow walks an fine line in that regard, but I think it works. There's just enough brightness to help its curves stand out. This one also looks to have been restored very well with attention paid to every detail. The price being asked is top market and we don't hear much about documentation outside of the CoA. So it may not achieve this sort of number, but good examples do command high prices so I'm sure the value will still be quite good.
-Rob