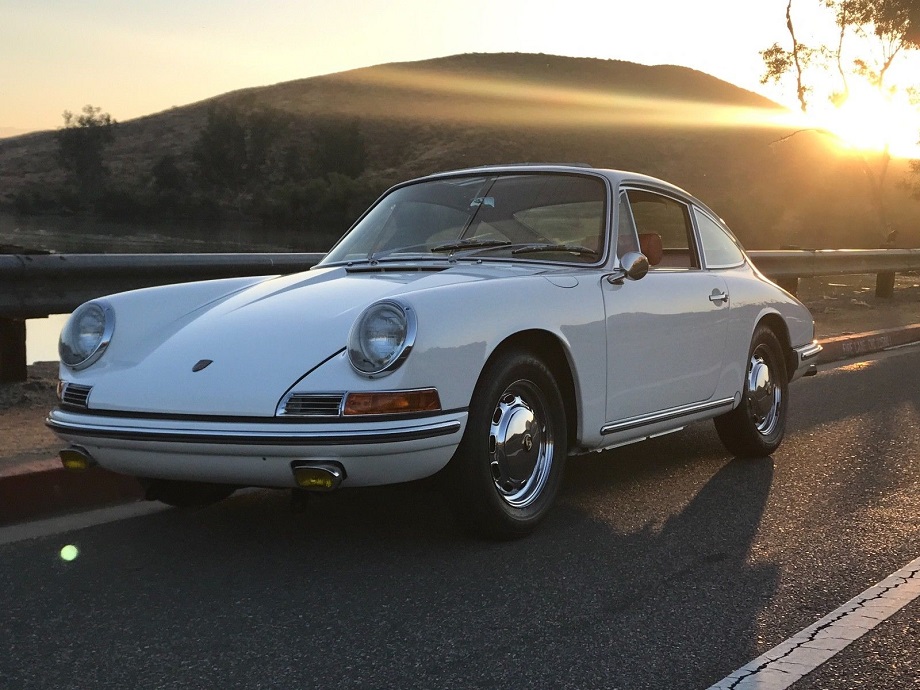 When I read about entry-level 911s these days they never really seem all that entry level. Even the most basic model will run you pretty close to six figures and selecting a few options can quickly move that price well above six figures. There's always the Cayman and with a starting price below $60K we probably shouldn't expect any Porsche to go much cheaper than that. As a luxury brand they have certain standards to uphold. But a Cayman isn't a 911.
I don't expect it to ever happen again, but I would love another 912. I know technically it's not a 911 either, but it's a heck of a lot closer to a 911 than a Cayman so for entry-level purposes it would do nicely. It's been more than 40 years since the last 912 was produced and even that final one-year run in 1976 wasn't really intended. For all intents and purposes 1969 marked the end for the 911's little brother.
Its brief existence was a good one though. With its smaller 1.6 liter flat-4 many thought it a better handling car than the 911 due to its better balance. Sure, the 912 wasn't as quick, but it could be just as fun. In the present market, relative to the typical high prices we see for a long-hood 911, the 912 still represents a nice value as well. Like many early Porsches that value isn't quite as good as it once was, but outside of a few very high priced examples most 912s can still be had fairly reasonably.
This one, a Light Ivory 1966 Porsche 912 with Red interior, makes for an interesting example as it looks quite good, but isn't entirely original. So we'll have to be careful in fully understanding the details, but I think it makes for a worthwhile investigation.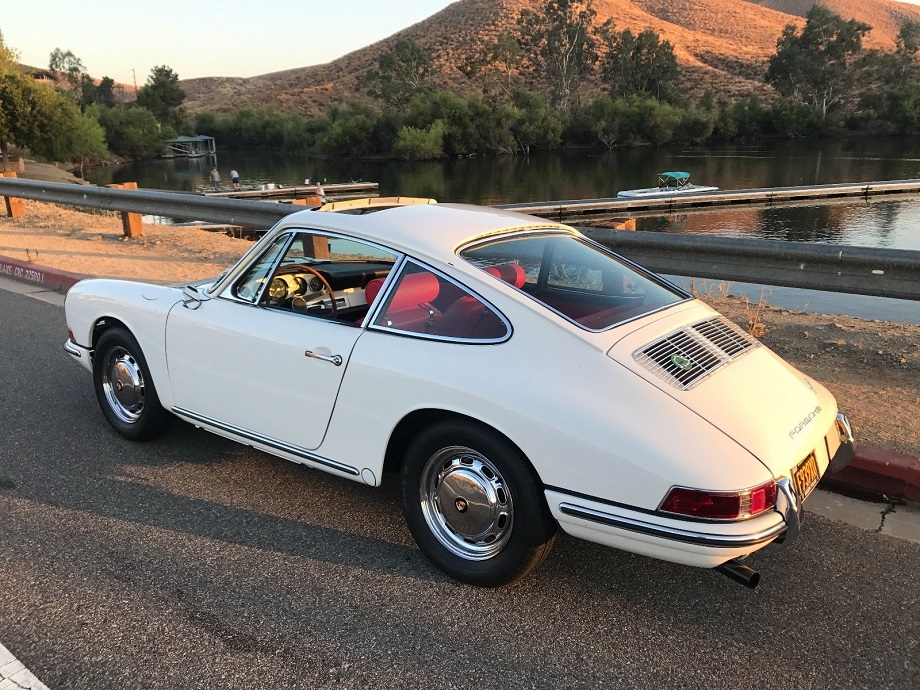 Year: 1966
Model: 912
Engine: 1.6 liter flat-4
Transmission: 4-speed manual
Mileage: 85,500 mi
Price: Reserve Auction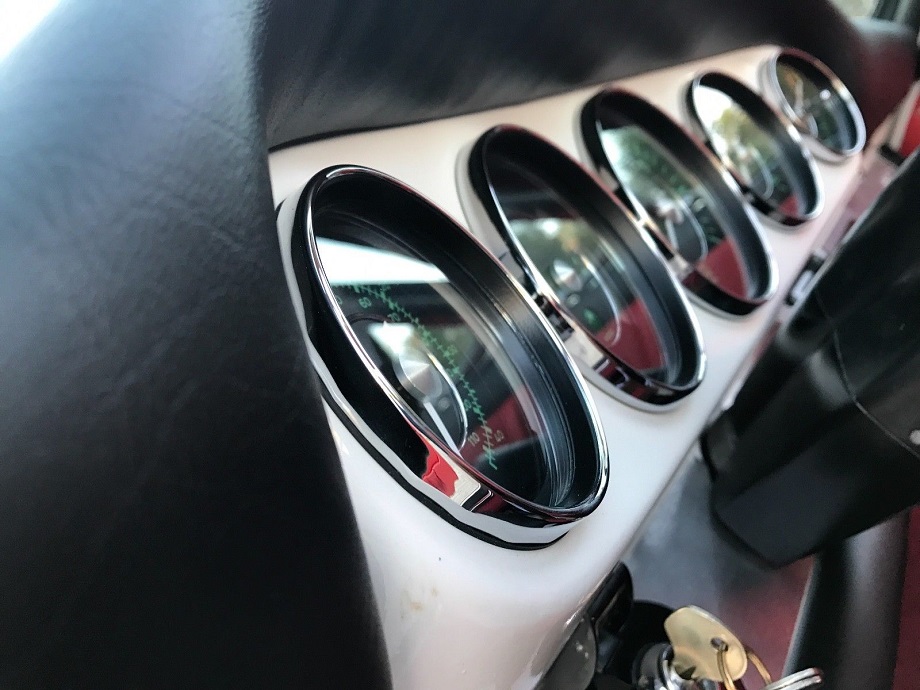 1966 Porsche 912 Factory Sunroof Ivory Red
Full restoration all new floors and front suspension pan restoration design panels.
Painted in the original light ivory This porsche had everything restored
Paint and body : PPG correct color code door have last three digits of VIN factory sunroof with drains above Quarter windows. Chrome and glass is in great condition all glass has green factory green tint.

Motor Transmission : Non Matching engine full rebuilt with 86mm pistons cyl Solex carburators all tin powder coated all hardware cad plated with all parts as per factory carb heaters highly detailed bay.
Runs excellent puller hard threw all gears.
Transmission installed now is a 4SPD i have a 5 SPD that can be installed this is fully rebuilt.

Interior : unbelievable full red leather door panels,quarter panels,rear deck, very nice and new leather Seats are padded perfectly i over saw all the interior process.
even the carpet trim was done in leather.you can see in one of the pics that i bought 3 pellets to do this porsche
Gauges : all restored by Palo Alto Speedometer Super rare 5 gauge dash with clock that was updated outside temp motometer was converted to electric pick up all new benzels
No radio and a factory wood steering wheel not a reproduction
Sunroof is factory installed very rare air deflectors are amazing
This is very nice Porsche 912 that we built in the last three years all wiring was redone in factory wiring with correct color codes I have taken it to our local car show to win three best trophy
countless hours of wonderful time i spent on my 912 now to build another porsche
Please contact me on any question you may have and we have a lot of pics
David Bustamente (818) 535-5645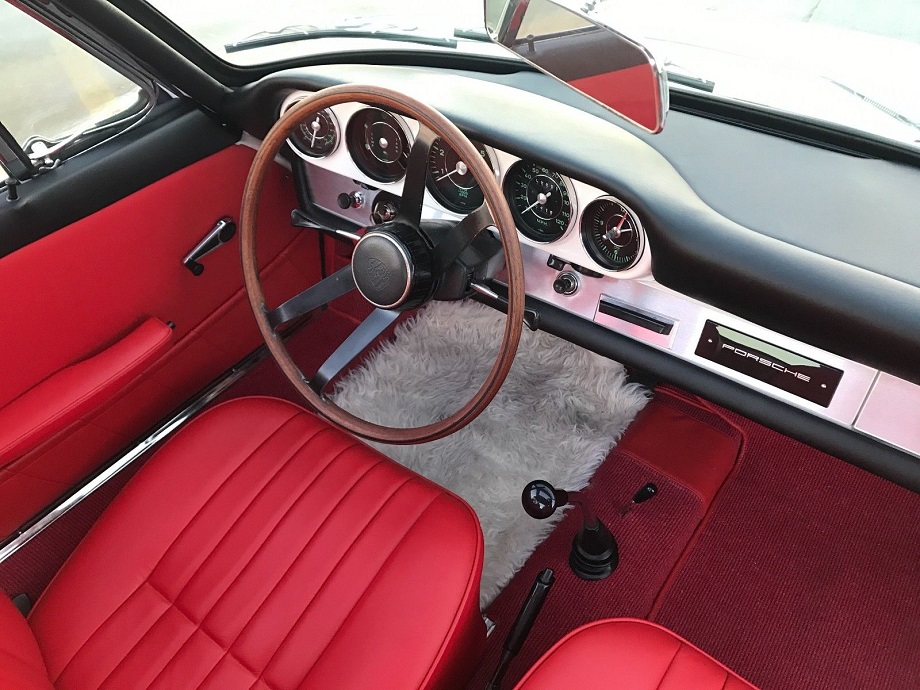 All in all I really like this 912. The color combination is great and the overall condition of both the exterior and interior look very good. All of the chrome looks in good shape, the metal dash looks really nice, it has a factory wood steering wheel and sunroof. It's restored rather than in fully original condition, but the restoration work looks good. I'd probably prefer it had a radio rather than Porsche-script panel, but that's a minor issue.
What is of a bit less certainty is some of the originality, combined with a few definitively non-original items. We aren't provided any documentation, but the seller states that the exterior color is its original factory color of Light Ivory. The very pretty red leather interior is likely not the original color, though that is left unsaid. The interior has a very pretty 5-gauge dash, rather than the more common 3 gauges. My reading of the ad leads me to believe this 912 originally came with a 5-gauge dash, which has now been restored, but I'd like more clarity there. The engine and transmission clearly are not original to the car. It also currently has a 4-speed transmission installed rather than a 5-speed. The seller has a 5 speed should you prefer that. I'm not sure whether he'd be willing to swap it out or if you have the option of purchasing both, but it exists.
There's definitely a lot to digest with this one and certainly some questions in need of answers. It looks great though and the seller has provided the clues to give us a start in putting everything together. There's just some details to work out along with determining a fair price.
-Rob