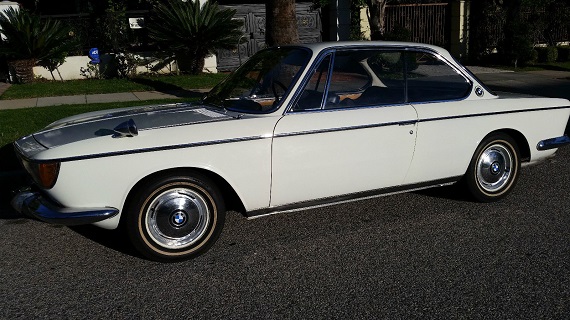 If you like the classic BMW E9 coupe, odds are that you also think the earlier New Class Coupe is pretty awesome too. Granted, some don't appreciate the more delicate look of the 4-cylinder big pillarless coupe, but most of the design features that Wilhelm Hofmeister penned into the 2000C and 2000CS were directly translated into the E9 coupe. That means, of course, that the design language was effectively the same for over twenty years until the last of the similar designs – the E24 – finally left production in 1989. Even then, the "Hofmeister Kink" remained a styling cue that was incorporated into the new designs from Munich. The 2000CS, though, held some unique details such as the front end which looked distinctly different than the models that followed. Shared with some of the New Class sedans, the dual beam lights hid behind a glass cover – something that wouldn't occur again until the 1990s. But the profile was classic BMW coupe; a long hood and delicate A and C pillars with plenty of glass along with a sharply cut tail. Squint, and you can still see some details that are incorporated even into modern BMWs:
Year: 1967
Model: 2000CS
Engine: 2.0 liter inline-4
Transmission: 5-speed manual
Mileage: 23,998 mi
Price: Reserve Auction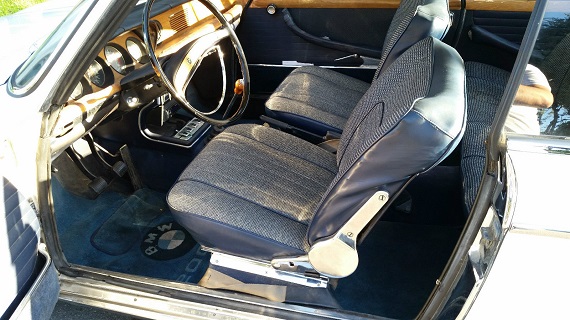 https://1967bmw2000cs.shutterfly.com/

here is a beautiful and very, very rare, super collector 1967 bmw 2000cs coupe.!!!!

California car !!!!!!!!!!!!!!!!!!!!!

absolutely no rust !!!!!!!!!!!!!!!!!!!!!!!!!!

one of the best examples of a survivor California car !!!!!!!!!

one of the nicest and very hard to find classic BMW's out there.

own a peace of history and a great classic!!!!!!!

BMW 2000cs coupe,the legend that changed BMW !!!!!

one of the best color combos, white on blue.

seats are original and in good shape.

car runs and drives great.

5 speed upgrade!!!!!!!!!!!!!!

upgraded twin carburetors !!!!!!!!!!!!!!!!!!

super Low miles !!!!!!!!!!!!!!!!!!

trans shifts smooth. the clutch is great.

engine is great and very strong.

no bad smoke or any bad oil leaks.

no need to smog ever.

no rust under the car, or anywhere else. very very dry car. clean shock towers as you see in the photos: https://1967bmw2000cs.shutterfly.com/

the car has clean title,

the car is located in Beverly hills, California.

the buyer is responsible to check the car and be satisfied with the sale and the condition of the car.

outside state and country buyers, please have someone check the car for you,since this is an "AS IS" sale and there are no warranty or any guarantee with this car.

all of the gadgets work including odometer and speedometer.all the lights work.

new ebayers and ebayers with less that 5 positive feedback, do not bid before contacting me.

the buyer is responsible for all DMV fees and transfer fees and transport of the car.

the car is "AS IS" please ask all you need and come for a test drive or email and call for more info.

due to the age of the car, some features that are working now,may not be working or stop working at the time of delivery.

for more info or to see the car please email or call me at 213-909-1061

the car is listed for sale locally and can be removed from this auction at anytime without any notice.

please check this link for lots of photos of this beauty: https://1967bmw2000cs.shutterfly.com/

thanks for looking.

see over 300 photos here: https://1967bmw2000cs.shutterfly.com/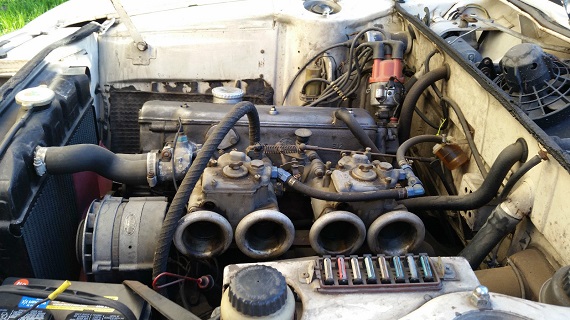 The twin carbs and 5-speed are nice upgrades, but outside of that this car remains nicely original and looks quite good overall. Under the hood needs some cleaning and attention, but everything seems to be there. I especially love the fender-mounted rear mirror and hubcaps, though were this mine I'd probably look for some period alloys. The market on these cars has remained pretty flat for a decade; the E10 and E9 remain much more collectable cars than the 2000 and 2000 Coupe, but the effect of these cars is very similar. Absolute top market on this car is just over $30,000 for a condition 1 car; this example, while nice, probably lies between 2 and 3, making it probably a high teen to at most $20,000 on the open market. The auction is no reserve, but it's no surprise that there have been no bids at the opening $26,000 price point. It's nice and very neat to see, but that's a strong ask for this car. If you could get it for $19,000 – $20,000, though, you'd have room to improve the car and have a well-bought classic BMW that most don't know exists, but was an important step in the development of BMW's modern character and reputation for building large luxury GT cars.
-Carter