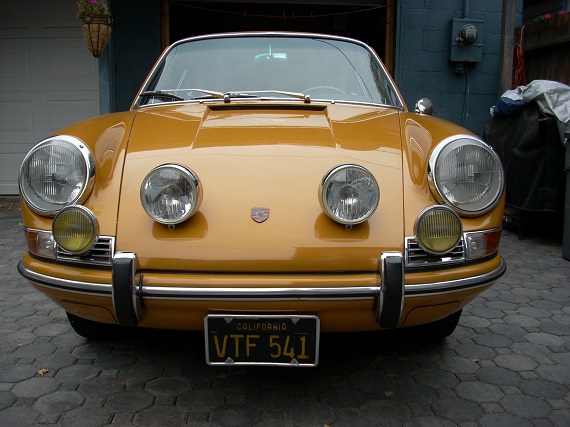 We're always on the look out for interesting and/or rare cars here at GCFSB and this excellent looking Bahama Yellow 1967 Porsche 912 with Caramel interior certainly ticks the first box. The seller hasn't listed the mileage, but it appears to be just under 80K (assuming the odometer hasn't rolled over) and in its past has had a rebuilt big bore engine. Other additions include a set of Fuchs and wood steering wheel from the 911S parts bin along with rally lighting and grille-mounted fog lights. The vast majority of 912s we come across, even those in great condition, reflect their entry-level roots and remain simple cars. This one here though has been turned up a notch and really appears to be an excellent example of what, for a short time, was an alternative to the 911.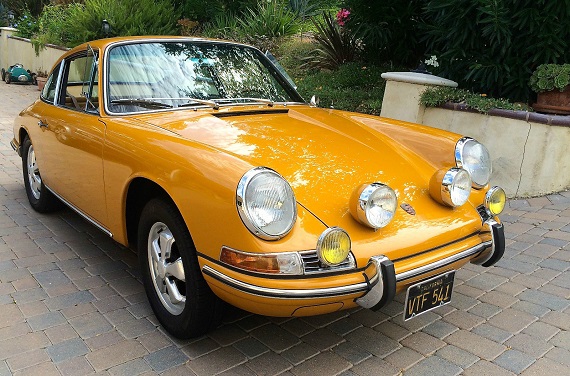 Year: 1967
Model: 912 Coupe
Engine: 1.75 liter flat-4
Transmission: 4-speed manual
Mileage: 79,440?
Price: Buy It Now $75,000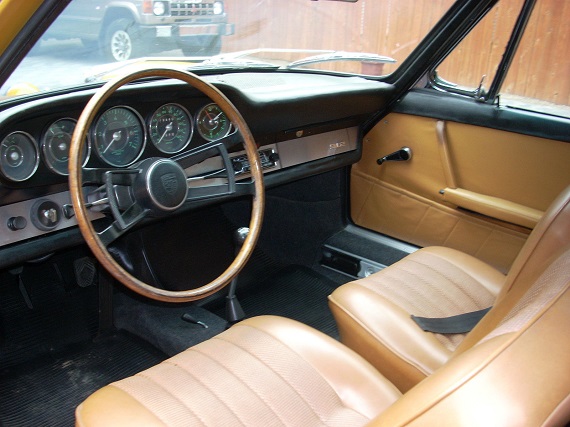 1967 Porsche 912 Coupe Bahama Yellow

This is a fantastic 912 Coupe, I purchased this 912 through a friend of the owner, who was selling due to illness, he'd apparently owned the Bahama Yellow 912 since the early 1970s and had kept the car in Southern California where he had a Porsche based business. This is an incredible car, just take your time to go through the Photobucket album and study the many pictures there. It is a true time capsule of Porsche engineering, the body shell is absolutely straight and lovely, all gaps are excellent, I can find no damage nor rust anywhere, it is appointed with some lovely period accessories which are rare and valuable in their own right.
This car represents what I believe to be one of the finest 912 cars on the market, it ticks all of the right boxes, its rust free,its a great color "Bahama Yellow" it retains its correct and original California issued black license plates front and rear, has some super rare factory parts, a rear seat delete luggage compartment, stainless steel trim above the exhaust on the lower rear valence, 4 spectacular original anodized 4 1/2 x 15″ Fuchs wheels from a 1967 911S, a 1967 911S wood rim steering wheel, Cibie Rally Oscar lamps and a set of through the grille fog lights.

The body shell is superb, its appears all original apart from one repaint from the 1980s which was done to a very high standard, such is the age of the paint that it looks original, the gaps are superb and the doors clunk shut like no other 911 bodied car I've had in 10 years, the doors are incredible and have the lovely metal ring to them that you instantly notice, they shut easily and have perfect door gaps.
The trunk and engine lid too are straight and perfect and reflect the love and care that has been given to this car all the way through its life, when I bought it the 912 had just been taken out of ;long term storage due to the owners illness, the motor had been rebuilt at some stage with a big bore 1750cc kit and ws being detailed and refitted by a very competent and knowledgeable restorer, he had also "woken the 912 up" replacing the clutch and rebuilding the carbs and brakes. At the same time all four tires were replaced with new and the black paint on the original anodized Fuchs wheels was touched up.
The interior is a lesson in originality, the seats , rubber mats and perimeter carpets are like stepping back in time, they are superb, the 912 even retains its original Blaupunkt radio. The dash top speaker area is the only part showing any significant wear, it has a couple of small tears in the vinyl. The headlines, rear seat delete and the period seat belts are fantastic, it reminds you of a museum quality car.

The motor is very responsive and tight, it has benefitted from a rebuild with a big bore kit ad has lots of power and makes no smoke, the clutch is new and the motor compartment is very nicely detailed. The transmission shifts without problems both up and down the gate, the four speed 901 box works flawlessly.

The 912 is rapidly gaining on value, and rightly so, it is now seen properly as not a sub model to the 911 but a model all on its own, it has long been seen as a better handling act than its 6 cylinder brother and prices are rising. It is a great concept and the 356 SC motor propels it along nicely. This is a superb car and has to represent a blue chip investment today.

The 912 is being sold through my dealership, I am a licensed California car dealer therefore all sales to California residents are subject to CA Taxes and DMV fees, out of state buyers can avoid CA taxes by using a bonded and insured trucking company, overseas buyers, I have been working with a shipper for over 10 years and can offer competitive rates to all overseas destinations.
This is an auction, please bod to win, inspections are welcome before auctions end, please contact me if you need further information or to view.
925 789 9825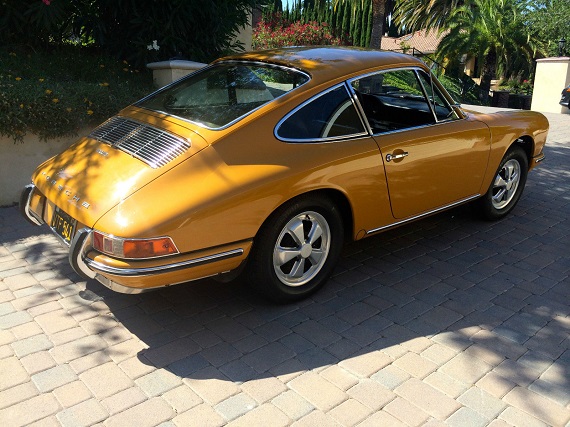 As interesting as I think this 912 is the price seems very high. At this price you could get a 911T that is in excellent condition and while it wouldn't have the spectator appeal a car like this one possesses, it may actually hold better long term value. I love the color and the overall look, I'm just not convinced we're at a point where a 912 with some modifications will see $75K.
-Rob