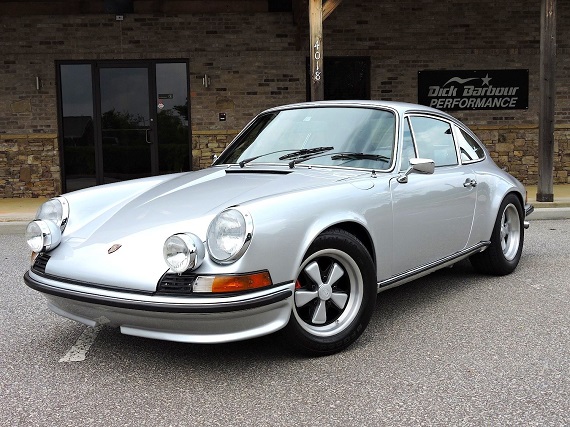 With an entry-level car comes entry-level performance and appearance, two things that many people might seek to change. On a performance coupe like the 911 such desires become even more understandable and it's easy to find a wide variety of builds with just such an objective in mind. Many of the high-end builds have used the 964 chassis and running gear as the foundation for designing a car with vintage 911 looks, but modern 911 performance. Yet, we also see builds work in the other direction, taking one of the early 911s as its foundation and then fitting the engine, transmission, and suspension from a later model in order to complete the package. Such builds are somewhat more rare given the very high value attached to an original long-hood 911, but when no longer in original condition perhaps it begins to make more sense. Here is one such build: a Silver Metallic 1973 Porsche 911T, located in Georgia, with a rare 3.1 liter flat-six from an early 911SC mated to a 915 5-speed transmission. The body has been fitted with RS flares to give it a more aggressive look and the interior has received minor revisions in the guise of the early 911 outlaw builds.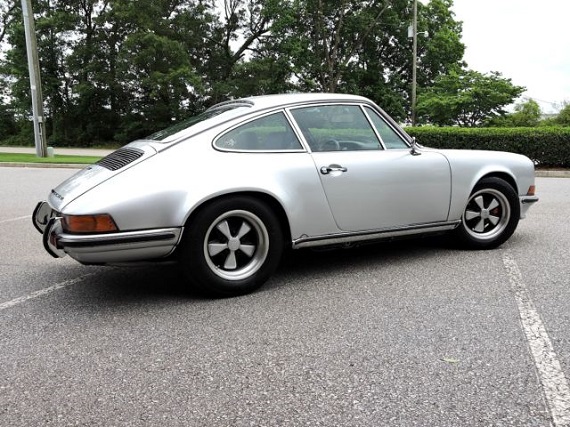 Year: 1973
Model: 911T
Engine: 3.1 liter flat-6
Transmission: 5-speed manual
Mileage: 17,476 mi
Price: $78,000 Buy It Now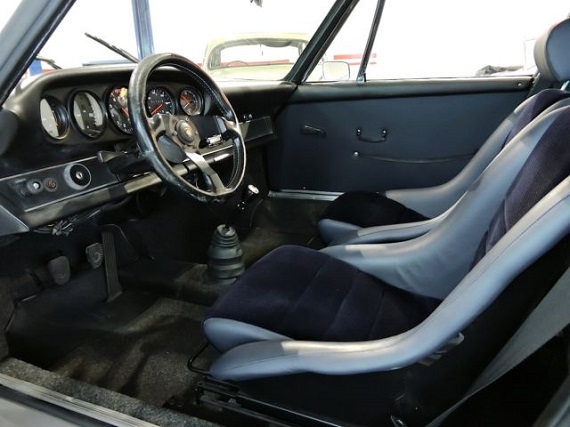 This beautiful "Outlaw" started life as a '73 911T. VIN# 9113102977. It was stripped to bare metal and had original "RS" steel fender flares butt welded. Factory "RS" front and rear bumpers were installed (not fiberglass). Factory "RS" rockerpanels were also installed. It is a non sunroof car which is great for an "Outlaw". It was repainted in its original Silver Metallic, color code 936.

Body Features:
– Original Fuel tank replaced with 21 Gallon SC tank with space saver spare
– Carrera fender oil cooler with thermostatically controlled fan
– Clock replaced with dual CIS WUR pressure/voltmeter gauge
– Matching mirror added to passenger door

Interior Features:
– New "RS" door panels with door release straps
– New headliner
– New "RS" carpets
– Recovered dash by Tony Garcia
– New parcel shelf cover
– Corduroy and leather seat from GT Classics
– Updated gauges
– Modern retro look AM/FM

Suspension Features:
– Full aluminum Carrera suspension and brakes
– Raised spindle Bilstein coil-over front struts
– Top front strut mounts replaced with spherical ball mounts from TRG
– Aluminum (SC) rear trailing arms – (adjustable height/camber)
– Rear Bilstein HD shocks
– Elephant Racing bump steer tie rod drop links with Turbo tie rod ends
– Aluminum front cross member (for structural rigidity)
– Adjustable ant-roll bar links front and rear
– Torsion Bar tube stiffening brace brackets (welded in)
– A arm and torsion bar bushings replaced

Mechanical Features:
– The engine is a 3.1 Liter Euro special factory option, of which only 100 are believed to have been built.
– It was available only in ROW 1978-1980 SC models. The type number stamped on this engine – 930/03 *3.1*
– It is rebuilt with Mahle Turbo cylinders with custom Mahle 9.8:1 pistons
– The only deviation from the original configuration is the addition of 964 cams instead of the SC cams (much better power and torque)
– Original '73 oil tank replaced with an SC oil tank
– 915 5 speed aluminum transmission

Wheels and Tires:
– 7X15 and 8X15 original factory Fuchs wheels with new Goodyear Z rated tires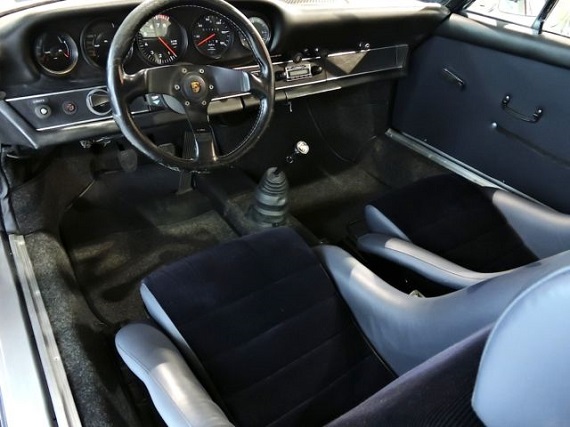 From an appearance standpoint it seems like they could have pushed things a bit more with this build. The RS flares and front and rear bumpers are nice and definitely improve the look, but sticking with the original Silver Metallic paint seems a waste. While it's always nice when a 911 retains its original color, on a car with so little other original items, who really cares? Something more head-turning would seem more appropriate here. The mechanical components, on the other hand, are far more interesting. The fabled 3.1 engine from the 911SC; a mysterious powerplant that it's always difficult to fully figure out. Porsche utilized the cylinders from the 930 to effectively produce a powerkit for owners who sought more power from the SC's 3.0 liter flat-six. Information on these engines is scarce, including any kind of accurate numbers on how many existed, but it appears one of them has made its way into the 911T we see here. Obviously, the scarcity of the 3.1 engine should make them pretty valuable, but I imagine that value gets diminished significantly when that engine is not paired with its original chassis. That still makes valuing this 911 tough as it is a conglomeration of relatively valuable pieces, though all of which might be more valuable within their original configurations. None the less, this 911T should have really nice performance and it's got a look that even if somewhat subdued will still be recognizable as a fairly serious machine.
-Rob