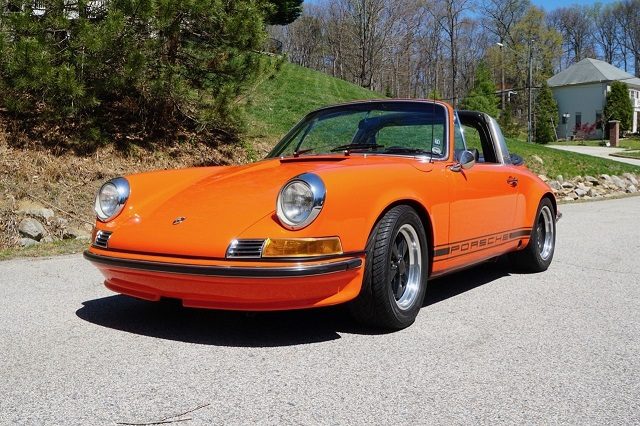 Honestly, I don't really like to feature modified Porsches all that often. Some are really attractive and well executed, but the reality is that from a distance it's always hard to truly gauge them and there is so much subjectivity built into modified cars in general that the market can be extremely narrow. Then there are the asking prices, which in many cases tend to be…let's just say they're very optimistic.
That bit of preamble leads me to the modified Porsche we see here: originally a 1967 Porsche 912 Soft-window Targa, but now sporting a 3.2 liter flat-six. It is intended to mirror the ethos of the outlaw and R-Gruppe 911s popular in California and in that regard it serves as an interesting example. I also find it a very interesting use of a 912 Soft-window Targa platform, something which in itself possesses a good deal of quirkiness and which rarely serves this purpose. And that's why I'm featuring it: among the many modified Porsche 911s and 912s I see this one stands apart quite a bit. It still won't be for everyone, but there is something very cool about this car that I could see really attracting a lot of attention and conversation.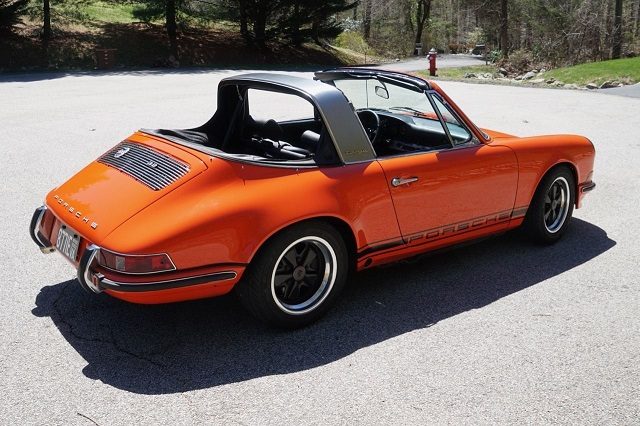 Year: 1967
Model: 912 Targa
Engine: 3.2 liter flat-6
Transmission: 5-speed manual
Mileage: not listed
Price: Reserve Auction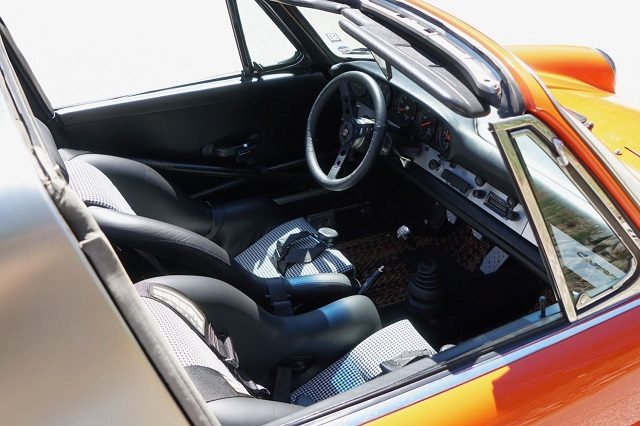 This is a 911 hotrod (or "Outlaw" or "R Gruppe") made from a 1967 912. It was built by TLG Porsche of N. Hollywood, CA. It was built to imagine what a Soft Window Targa (SWT) R Gruppe 911 would have been. It was an expensive build at the time and built to a high standard of quality. The car started as a stripped 1967 SWT tub. Steel '73 911 fenders, RS flares and bumpers, RS torsion bars, 930 brakes, and a 915 tranny were added. The wheels are 15″ 7's and 8's. A new 3.2 block was built to 285 HP using a mild cam, bigger valves, and a Haltech engine management system. An RS oil cooler was added in the front wheel well. The easily torqued SWT tub was stiffened using a full roll cage that isn't too visible. It has a heater and a radio.

When I bought this car in 2012, it was running very rough. But without the Haltech software or expertise to tune it, we just couldn't get it to run properly. So we replaced the EMS with a new PMO carb set. The transmission was also rebuilt. It is now the best shifting 915 I've driven. New GTS Classics seats were added, as well as new Schroth Profi II 6-point harnesses. Recently, a MSD 6A ignition unit was added.

The paint is still very nice with only some minor imperfections. The targa top and back window are believed to be original and all in very good shape.

You can't help but smile when you drive this car. It is stiffer than a coupe. It is a different kind of sleeper that will frustrate the car ahead of or beside you.

Message for more high resolution photos.

Here is a recent cold start video. https://youtu.be/oJGkUmJEesQ Note for some reason, the car shows up as more red than orange in the video. The photos do a better job showing the real color.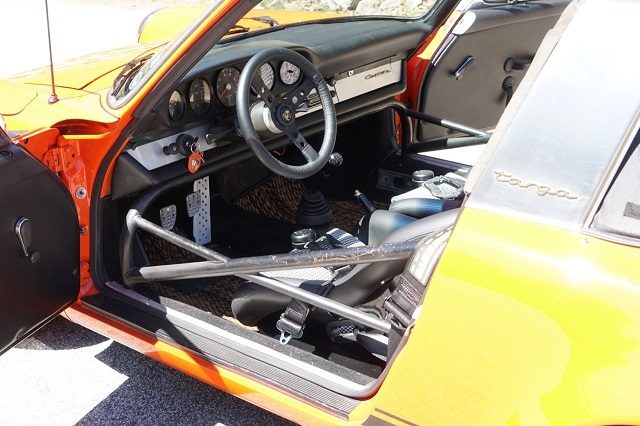 We don't see many short-wheelbase 911/912 with a widened rear like this one, but it makes for a neat design. It's a bit more squat and rounded looking than the typical 911 of this period. It reminds me a little of the 964 in that regard. The Soft-window Targa completes the aesthetic and this is about as unique a Porsche as you're likely to see. The strangeness of the SWT rounds out this car's personality well. I got a bit of a chuckle out of the seller's comment that the added roll cage "isn't too visible." I mean, I'm not really sure how you'd miss it! I suppose from a distance outside the car the point stands, but close up and certainly inside it's pretty apparent. It doesn't bother me at all, but I did think it was funny.
Naturally, assuming a buyer's particular desire for a build like this, you'll want to give it a full mechanical appraisal. It sounds like the current owner has a decent knowledge of the build and its current operation, but he wasn't the owner that instigated the original work so there may be issues unknown to this point, or just general points of troubleshooting that it'd be worthwhile to know. If the power is as advertised I imagine it's a hell of a lot of fun to drive and the added stiffness of the roll cage probably much appreciated. And really that's just what you're after with a car like this. Get in and enjoy the drive!
-Rob