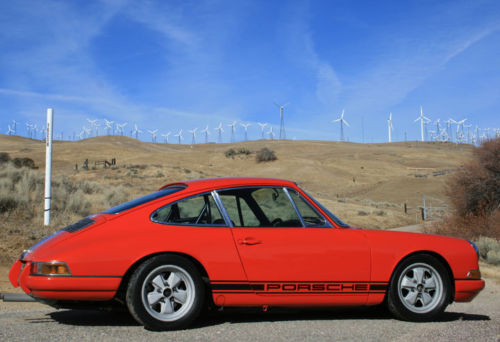 Back in October we featured one of Magnus Walker's cars, a 1977 Turbo Carrera, that garnered quite a bit of appeal given the mileage and overall condition. That build mostly held true to the original build and character of the car, restoring it to driver-quality shape rather than turning it into something else entirely. On an early 930, that sort of build makes a lot of sense. Here we have another car built by the Urban Outlaw, though in this case it is being sold by the current owner rather than by Magnus himself. This is a 1968 Porsche 911 whose build in 2009 was inspired by the 911R, an ultra-light-weight high power 911 that was intended to help Porsche meet homologation requirements in 1967. With a 2.2 liter flat-six tuned to S specifications, which I assume means it is putting out around 180hp, and less than 2100 lbs to move around this '68 911 should be a very capable performer and with the short wheel-base it likely will make for some very exciting driving. Oh, and it's Tangerine so obviously I could not turn away.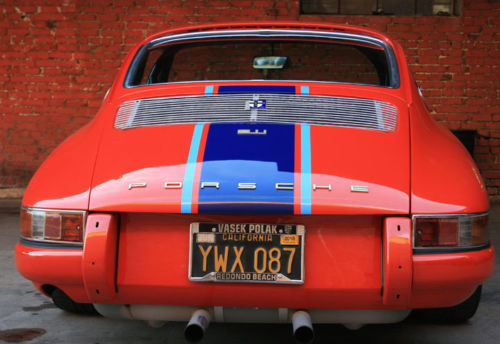 Year: 1968
Model: 911
Engine: 2.2 liter flat-6
Transmission: 5-speed manual
Mileage: 95,013 mi
Price: Reserve auction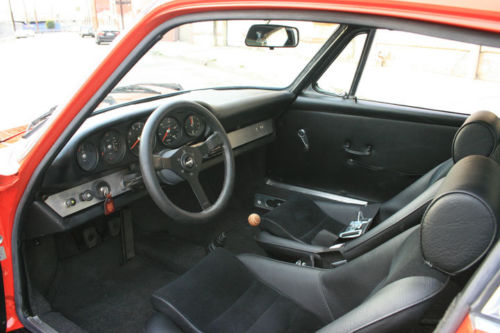 68-911 PORSCHE, BUILT BY MAGNUS WALKER IN 2009
The car is a lifelong 68-911 California black plate car that has been in LA until sold at the end of 2010
It was done on a 6 month restoration COMPLETED december 20-2009 with a bare metal paint job.
Magnus spent a lot of time, energy & money building what he felt as a great R inspired SWB 68-911.
The 2.2 S SPEC motor runs strong, revs quick & sounds great.
The 901 5 speed Trans shifts very smooth.
The upgrading suspension & brakes handle & stop the 2050lb car extremely well.
The car has a stripped race inspired interior complete with vintage momo steering wheel,gts seats,& bolt in roll bar.
In short the car is a blast to drive, has the right stance, look, & feel & turns heads…
Perfect for those early morning canyon blasts, track day events or just simply making your friends envious.

BUILD SHEET
68-911 Porsche R inspired
Vin # 11835516.
Lived in California until 2010
MOTOR
2.2 S SPEC MOTOR WITH 2850 MILES AS OF JAN 2015
Built from a 2 liter case
40 IDA Webbers.
MSDS Headers & Dansk twin pipe sport muffler.
RSR motor bracket
SUSPENSION.
19 & 27 MM Torrsion bars
87 carrera front suspension-rebuilt brakes –new rotors- pads-master cylinder
930 tie rods & ball joints-new A arm bushings-powder coated A arms
New bilstien inserts-front& Rear bilstien shocks.
Adjustable weltmiester sway bars –front & rear.
Powdercaoted- adjustable spring plates.
All new trailing arm bushings.
Long wheel studs.
Corner balanced & aligned….
Undercoated & detailed wheel wells
BODY.
Replaced front suspension pan
Original floors.
Slight front & rear R fender faired lip.
Bare metal 2 stage paint job in the original color –tangerine.
INTERIOR.
Recovered dash-knee guard & RSR door panels in German vinyl.
Replaced headliner.
GTS nerberghring seats
TRE rolbar.
RSR lightweight carpet kit.
painted floors.
radio delete.
EXTRIOR.
,All new rubber weather stripping.
Replaced front windshield-all other glass is orginal
Deco trim –delete.
Great panel fit & gaps-painted R door handles
Orginal orange Porsche hood crest.
Detailed front trunk & wheel wells,
WHEELS.
Bead blasted 6 &7 " Fuchs with 205/50/15 tires

This 911 has been in Mexico since 2010 and has not been driven more than 2000 miles, it participated on the Hill Country Rally on 2013 and has been pampered always. It has the original title with Magnus Walker's name on it, and it has Mexican papers also. It can be delivered in Laredo Texas at no extra cost.
The car runs and drives perfectly, it has not been hit or misstreated, it is perfect, as it was when we first bought it in 2010. It looks as if it just has been restored.
The car is actually in Mexico, 3 hours away from the Texas border.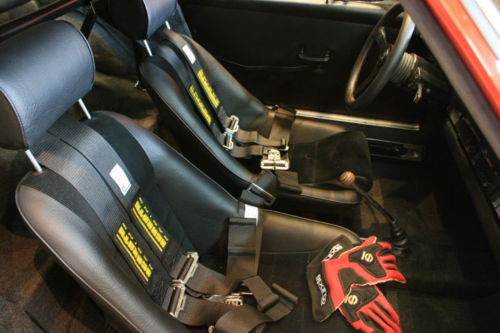 Like with most modified 911s, Magnus' builds won't suit everyone, but he's developed quite a reputation as a builder capable of producing fantastic cars to be driven whenever their owners might please. His cars are definitely not intended to spend their time in a collection! I'm not sure what a good price for a car like this would be, but there has been a lot of bidding already and the auction currently sits at $80,100 with the reserve unmet. I'll be curious to see how high it might go. Any SWB 911 is quite valuable, and Magnus' cars tend to fetch pretty good value themselves so even a modified 911 like this one will bring in a good price.
-Rob