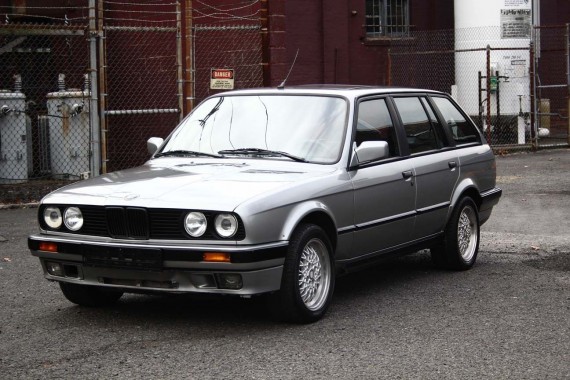 The E30 Touring I wrote up last week was a fine example but not for me as it was a.) Red and b.) a RHD model. I quickly moved on from that vehicle and wasn't really giving the E30 Touring much thought, that is until I came across this beauty on eBay.
Certain cars just catch my eye and immediately I feel a connection to them. Such is the case with this 1988 320i Touring that currently resides in New Jersey. The overall condition of the car looks to be quite good for its age and living in a state that still thinks it's ok to use road salt. Most people think silver is a boring exterior choice but here, I think it works splendidly. The blacked out kidneys are a nice touch, something I would have wanted to do myself. It's such a minor detail but one that really makes the car pop given that the window trim is also black, not of that chrome garbage. The 15″ BBS mesh wheels also look to be in good condition, some scratches and curbage are present but not so much that I'd take issue with their condition.
The interior of this car is what really sells me on it, no tears, cracking on the dash or droopy headliner. The grey cloth seats are wonderfully simple and the grey door cards only add to the clean, elegant vibe of the car. It's getting harder and harder to find BMWs with appealing interiors, whether it's the condition or the color choices, that makes this car even more of a rarity in today's market. I'd go so far as to say this is the most lust inducing classic BMW I've come across in over a year of carefully watching the used market, that includes M variants as well.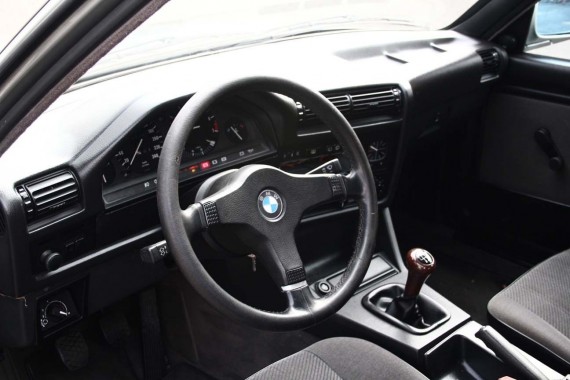 Year: 1988
Model: 320i Touring
Engine: 2.0 liter inline-6
Transmission: 5-speed manual
Mileage: 100,122 mi
Price: Reserve auction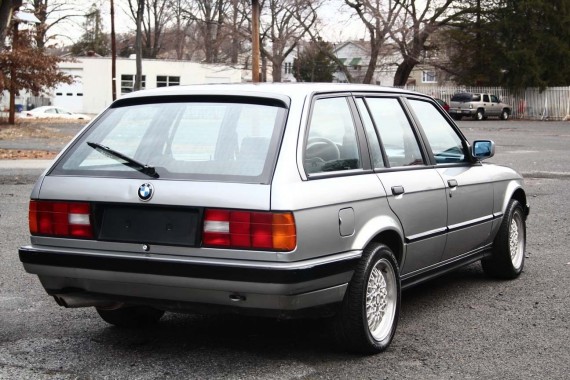 FOR SALE IS MY 1988 E30 BMW 320I TOURING WITH ONLY 100K
THIS BMW WILL COME WITH NJ CLEAN VIN MATCHING TITLE
CAR RUNS AMAZING IT HAS 6 CYL ENGINE AND 5 SPEED MANUAL TRANS.
MANUAL WINDOWS
BLACK HEADLINER
SUNROOF
15″ ORIGINAL BBS WHEELS
GOOD TIRES
CLOTH SEATS
NO A/C
NEW MUFFLER
FOR MORE INFO OR QUESTIONS YOU MIGHT HAVE
CALL OR TEXT ME AT 201 259 7370 MATT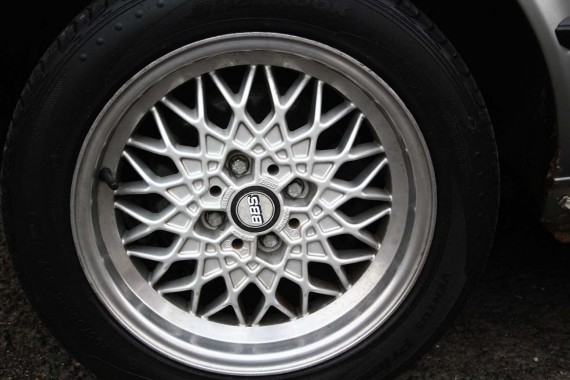 Now there are a few negatives present on this vehicle, the small dent in the trunk, no A/C, no radio and no map lights. Could I live with that small dent? Damn right I could, gives the car character. Can you pop in a period correct radio on the cheap? Of course but who needs music when you've got the M20B20 to sing to you. As for the map lights, I'm not sure why they even put these in new cars anymore, who carries a map when you've got a phone? More importantly, why would you need to know where you're going in this car? These E30 Touring models should inspire spontaneity and fuel a sense of adventure. Throw a blanket and a sleeping pad in the back and just hit the road. Where ever you end up is where you should be.
I'm going to be watching this auction very, very carefully because I'm quite curious as to what this vehicle will pull in. With just over a 100k on the clock and appearing to be very clean, I'd expect the reserve on this car to be set around $5,000 given the current state of the E30 market. With bidding already sitting at $3,050 I would imagine that the buyer's reserve will be met but if not, that only gives me a little more time to sell the S4 and then get straight out to Jersey to pick this thing up. The Silver Bullet I would call her and we'd have all kinds of adventures, starting with a cross country road trip back to California where she could live out her days free from the icy grip of winter and road salt.
Cheers,
-Andrew