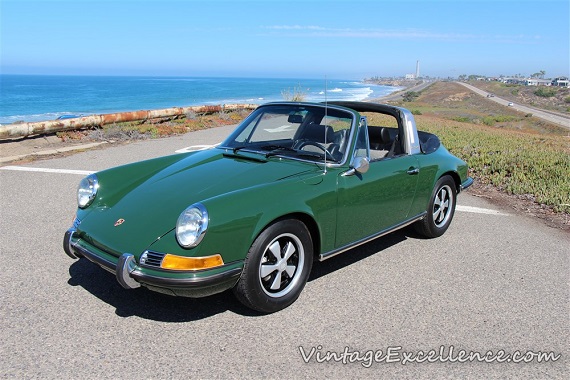 We've seen this story before: we come across an already rare Porsche model, this time a 911S, which has its rarity compounded by other factors and we end up with a super rare model. But there's always a minor hiccup. In the case here, added to the rarity of the S is that this is a long-wheel-base soft-window targa. However, it has a non-original engine that while correct for the model was not the engine particular to this car. Exactly how many of these cars exist appears to be unknown, though the R&T article the seller directs us to states that there were a total of 9 of this specific model built in 1969. Even if that number is incorrect, the total is still going to be very low. A non-numbers matching example in this condition can still do very well for collectors, but there is always going to be that sticking point about originality. For the car itself: we have here an Irish Green 1969 Porsche 911S Soft-window Targa, located in California, with 153,000 miles on it.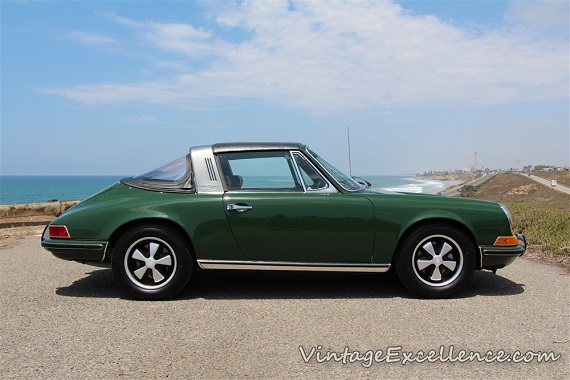 Year: 1969
Model: 911S Targa
Engine: 2.0 liter flat-6
Transmission: 5-speed manual
Mileage: 153,000 mi
Price: $225,000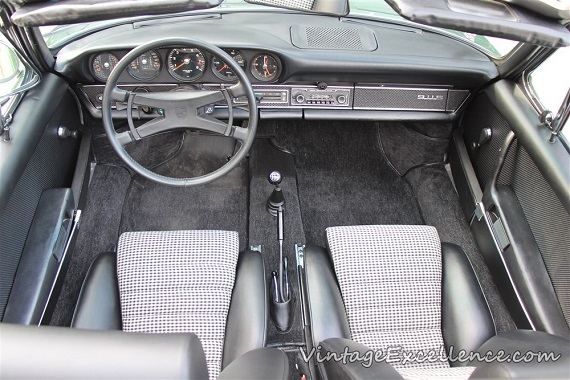 VIN# 119310176

Engine# 6390223 type 911/10

Transmission# 7192199 5spd type 901/07

Color# 6806 Irish Green

Rare long wheel base soft window – LAST OF THE SOFT WINDOW

Last of the 2.0L engine, first of the mechanical fuel injection

1 of 6 cars known

Recaro Sports Seats with Black/White Houndstooth inserts

Rear seat delete

Raised hub leather sport steering wheel

Becker Europa II AM/FM radio

Bosch H1 headlights

Tool kit/tire jack/Owners Manual/Porsche keys included

The first targas Porsche built were outfitted with a plastic soft rear window that could be removed for a true open air driving experience. By the middle of 1968 Porsche developed a fixed glass window which eliminated the hassle of raising/lowering the plastic window. 1969 was the first year of the new improved Long Wheel Base chassis; ALL targas were now equipped with glass window standard. Operating a soft window in cold weather proved to be very challenging so the fixed glass was a welcome addition for those who were not just on a leisurely drive. All targas now had glass rear windows except the very few that were special order cars where the unique owner went out of their way to get a soft window option added to their new targa. Every Long Wheel Base Soft Window Targa was a special order car. These long wheel base soft window targas are among the rarest of any Porsche models ever produced. Add the 911S model to a SWT and you have 1 of 6 or so cars made. Today adverse weather is no longer an issue so the flair and uniqueness of the soft window is an admired rarity and coveted among collectors.

This particular car was delivered to Porsche of America Corporation in November 1968. Interesting that this car was delivered to the Porsche USA headquarters rather than a distributor, it could be that this car was first owned by a Porsche USA executive or even used for promotional purposes – history back that far has yet to be discovered. Original options delivered on this car were – S model, retractable Soft Rear Window, color: Irish Green, Antenna, Becker Europa radio, Colored glass, leather seats, and a raised steering wheel hub. In 1968+ the department of transportation required USA soft window targas to have no rear seats in the name of safety – so the rear seat delete option was created and only installed on soft window targas. So in order to have a genuine USA delivered Soft Window car in 1969 it should have a rear seat delete. This car retains its original and very rare light wooden box – rear seat delete.

Aside from the Soft Window option the 911S version is a very special car all in itself. In 1969 the 911S was finally brought back to the USA market but this time outfitted with improved Bosch Mechanical Fuel Injection (similar to the 906 race car) and an increased power output of 170hp. The mechanical fuel injection is complex but it improves power output, it is sexy as can be, and has a sound unlike any other early car – magnesium intake with metal air cleaner = engine music. Last year of the 2.0L displacement and the most REV HAPPY engine of all the early cars. For 1969 only a new cylinder head was created with very large intake valves (similar to 906) combined with new pistons that had the highest ever compression ratio on a production 911 at 9.9:1 (similar to 906); finally the engine case was now made of light weight magnesium which took 65 pounds of weight off the rear of the car (similar to 906). All of this created an engine with the highest volumetric efficiency of any air cooled production 911 engine ever built, the most power per liter ever. The feeling of this engine is the closest to a race car engine that the 911 ever got. There is not a tremendous amount of power in the low RPM range however once it spins to 5000-7300 RPM this car is a true rocket. High RPM power means lots of rowing through the gears, an experience that is lost with modern technology. You must know how to drive this car in order to get the power out of it, once you understand the power band then there are few cars as much fun to drive as a 1969 911S.

Now that the power output was increased over the original S design for the first time ever all 911S cars came standard with a front mounted oil cooling system thermostatically controlled at the oil tank. This system drastically reduces temperatures and increases the life of the engine significantly (we recently drove the car through the central California valley for a 100+ miles where the outside temperature was 115 degrees, the oil temp never got above 220 degrees!). Brakes were also addressed with a large aluminum caliper borrowed from the Porsche race cars. The long wheel base moved the wheels back 2.25" back which made the car much more stable at high speeds, much more comfortable on long drives, the revised suspension took most of the twitchy feeling that the early S had out of the car. This is one of those cars that has some of the most refinements without the future burdens of emissions and safety bumper regulations.

This 1969 911S Soft Window Targa is truly a special car. It is configured exactly the way it would have been when it was delivered in 1969. The engine in the car is not the original but it is a period correct 1969 2.0L 911S engine with a serial number close to what would have been in this car. The transmission is the correct one and may be matching. The Irish Green color #6806 is original to the car. The soft window is 100% original to this car. The overall mechanical condition is excellent. Everything on the car functions the way it should. The interior is excellent and really is a comfortable drive in sports seats. The older paint job shines very well, it is not a concours quality job but looks nice the way it is; in order to take the car up another level a concours quality paint job would really make this car perfect but for now just drive it. The parts on this car are authentic and quality, this car is not full of reproduction parts like many "restorations" or more like "quick flips" we see today. Recent comprehensive mechanical restoration means it is fresh and ready to drive. Only 1500 miles on the car since all the work was completed – receipt showing the work is available to interested buyers. A very correct car done right the first time by professional Porsche people.

Please look through the pictures, feel free to ask questions. The Porsche market is on fire right now. The world is realizing how great these good looking reliable sports cars are. Only the best, rarest, most desirable models like this car are the ones that will have true value well into the future – are you going to get a car that appreciates 10% a year or one that can double in price? That being said I do want to sell this car so feel free to make an offer.

Mark 760-522-0090

Here is an interesting read which backs up some of the numbers, search google for:

1969 Porsche 911E Soft Window Targa – 2011 Road & Track Concours d'Elegance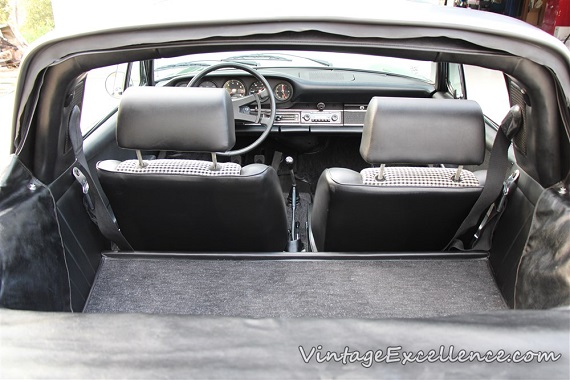 If you make it through the very long text you can get some information on the drivetrain. It is a 2.0 liter flat-six from a 911S, but it is not the original engine to this car and the transmission, the seller notes, might be the original transmission. My guess then is that despite the rarity of this car it won't fetch quite this high a price. However, it looks in excellent shape with a fantastic interior and does have a proper 911S engine in it so it's sure to command a lot of money. How much I suppose is the question and given that this is the only year a Soft-window Targa was produced on a long-wheelbase 911, and that it is the highly desirable S model, the odds of coming across another one are extremely low.
-Rob